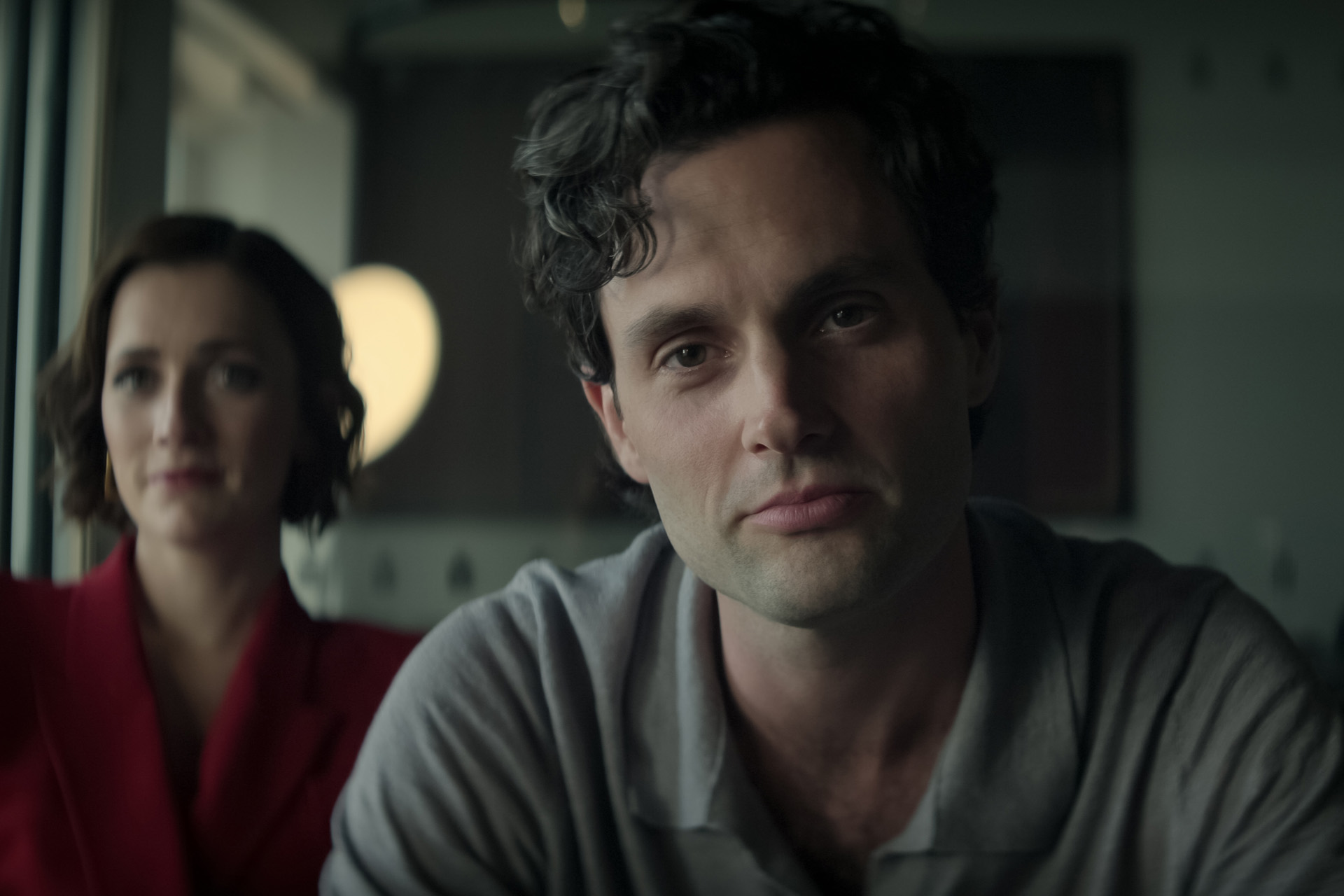 It's Official: YOU Is Returning For A Fifth And Final Season
Health warning: spoilers ahead...
It's official: Netflix's popular stalker drama is returning for a fifth and final season, with Penn Badgley taking centre stage as Joe/Will/Jonathan for the final time. Here's everything we know so far. 
YOU Season 5: Everything We Know So Far
From New York to Los Angeles, Paris to London, YOU arrived on Netflix in 2018 after premiering on Lifetime in the US, and has now been renewed for a fifth and final season. The news was teased at Netflix's recent TUDUM fan event in Brazil, with Penn Badgley himself addressing fans of the show, with an 'Hola, Brazil!'
The popular series follows Penn as Joe Goldberg, a bookseller with a shady past, as he falls in love with a writer named Guinevere Beck. But, for various blood-soaked reasons, with season two comes a new location (Los Angeles) and love interest: Love Quinn. And in season three it's off to the Californian suburbs and it's Marienne Bellamy who catches Joe's eye. And in season four we're in London, swooning over Kate Galvin-Lockwood. All of this is to say that Joe (who adopts a new identity with each new city and love interest) is a hopeless romantic who falls in love hard – with quite a few dramatic consequences.
What Will Happen In Season 5 of YOU?
In season five, we expect a return to New York City. In Penn's teaser, he addresses fans, saying: 'I've heard you're on the edge of your seats waiting and theorising about the epic conclusion to YOU. More importantly, you're considering what – or should I say who – Joe will come up against as he finally returns to New York.
'Though I can't say who just yet, we all know there are many loose ends from Joe's past. The question is, who are you?' Penn says. Cryptic indeed.
Season four left us in London, with Joe and Kate in front of the camera pursuing philanthropic causes and rehabilitating Joe's image after information regarding the dramatic end to his marriage to Love Quinn in season three comes to light. So, who exactly will Joe come up against? With a return to season one's setting and Guinevere Beck's memoir, The Dark Face of Love, referenced a handful of times throughout the series, we expect season five to have something to do with YOU's first leading lady. Plus, the teaser ends with Penn saying, 'I'll see you in Mooney's', a reference to the bookshop Joe manages in season one, and where Joe and Beck met for the first time. Of course, spoilers, Beck is dead – but we're looking to Dr Nicky, Beck's therapist, who was framed by Joe and imprisoned for Beck's murder. Not exactly a watertight conviction, we consider this a 'loose end' indeed. In Penn's teaser, a series of faces from the past pop up, including Dr Nicky, who is played by John Stamos.
Who else could it be? There's also a flash of Marienne (Tati Gabrielle), who remains alive despite Joe's best efforts. Plus, there's a flash of Nadia (Amy Leigh-Hickman), who Joe framed for his murder of her friend, Edward, after Nadia learned all about Joe's storied past. Lady Phoebe also appears on screen looking especially fearful; again, though she was admitted to a psychiatric hospital in season four, she remains alive. In short, there are lots of skeletons in Joe's closet – but lots of living, breathing enemies, too.
When Is Season 5 Of YOU Released?
There's no official release date yet, but we expect a premiere sometime in 2024, with the season most likely split into two halves like season four.
Catch up with seasons one to four of YOU on Netflix.
Featured image: Charlotte Ritchie as Kate, Penn Badgley as Joe Goldberg in episode 410 of YOU. Netflix © 2023