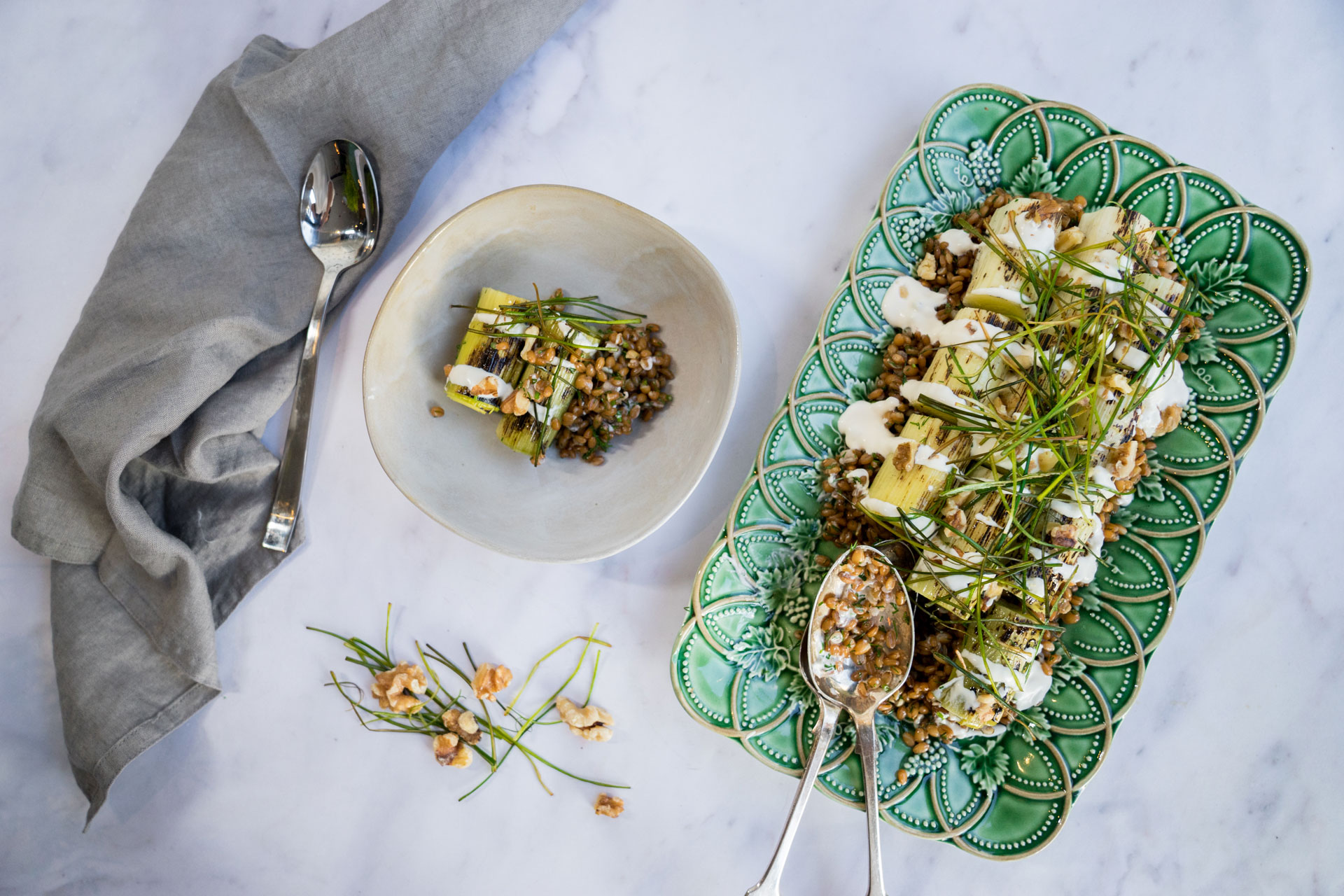 Baked Salad Recipe: Freekeh & Roasted Leeks with Cashew
---
Get involved with the TikTok trend this winter
When it's freezing outside, we don't often crave salad – but what to have for lunch when we still fancy something healthy? Enter baked salad: the trend that's blowing up on TikTok right now. These tend to feature similar ingredients to classic salads, served with a warm grain, such as quinoa or bulgur wheat. Here we share an idea for a recipe to try, courtesy of Sarah Turner, Head of Development at catering company to the stars Social Pantry.
Baked Salad Recipe: Freekeh & Roasted Leeks with Cashew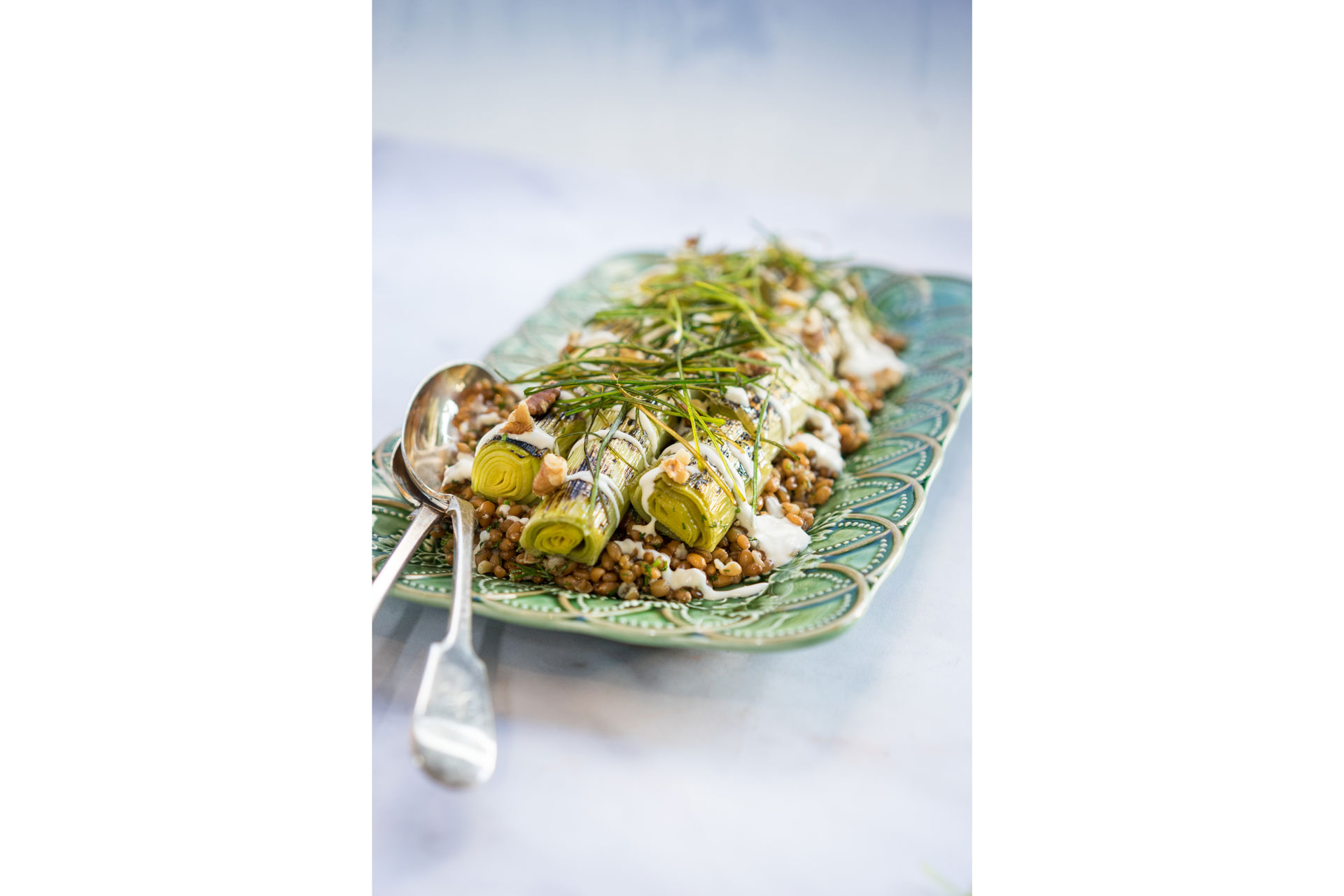 Serves 4
Freekeh is a delicious grain made from durum wheat. It is widely available in large supermarkets, but this recipe would still work well with other grains or puy lentils. Just cook them according to the packet instructions. 
Ingredients:
250g freekeh

1 litre vegetable stock

3 x small leeks

A few thyme sprigs

3 x garlic cloves, lightly crushed

Vegetable oil, for frying

150g unsalted raw cashews

1 tbsp tahini

1 x lemon, zested and juiced

1 x bunch dill, finely chopped

50g walnut halves, toasted and roughly chopped

Olive oil

Sea salt
Method:
At least 4 hours before you are planning to serve you will need to soak the raw cashews in cold water.

Heat the oven to 180C/160C Fan.

Place the vegetable stock in a pan and bring to a simmer. Rinse the freekeh in cold running water and once the stock is simmering, add to the pan. Cook slowly, check packet instructions as cooking time will depend for cracked or whole freekeh. I used whole which I cooked for 35-40 minutes.

Prepare the leeks by removing the first few tough outer leaves and wash the leeks very well under running water. Cut away the upper green leaves and the root from the bottom. Thinly slice the leek tops into approx. 5cm long matchsticks.

Cut a large piece of foil and lay the whole leeks inside, drizzle with olive oil, plenty of sea salt flakes, thyme and garlic. Wrap in the foil, place on a baking tray and bake in the oven for 25-30 minutes. Check the leeks are soft but not falling apart, keep wrapped in the foil to keep warm for serving.

Meanwhile, vegetable oil in a large pan for frying on a medium heat. You do not need much, but make sure you don't fill the pan over 1/3 of the volume. If you have a thermometer, the oil should be between 160-180C. If you do not have a thermometer, drop a 2cm piece of bread into the oil, it should brown in about 60 seconds.

Once the oil is ready, carefully drop the leek tops in. Stand back as they spit, this is due to the water content in the leeks and will stop as they dry out. Fry for 60-90 seconds until slightly golden and crisp. Lift out and drain on some kitchen paper, keep somewhere warm.

Strain away the water from the cashew nuts, reserving the water. Place the cashew nuts in a blender along with the lemon juice, tahini, 50ml of the cashew water and a good pinch of salt. Blend until smooth, adding small amounts of water at a time. While blending slowly pour in 50ml olive oil which will emulsify and make the dressing look super shiny. Check for seasoning and loosen if needed with a little more water if needed. Gently warm, or serve cold. 

Once the freekeh is cooked, drain and mix in the dill and lemon zest with a little sea salt. Open up the leeks and blister the skin with a blow torch if you have one, then cut leeks into 4.

We served this on a long platter by piling the freekeh on the bottom and arranging the leeks on top. Dress all over with the cashew and tahini dressing and top with the crispy leek tops and chopped walnuts.