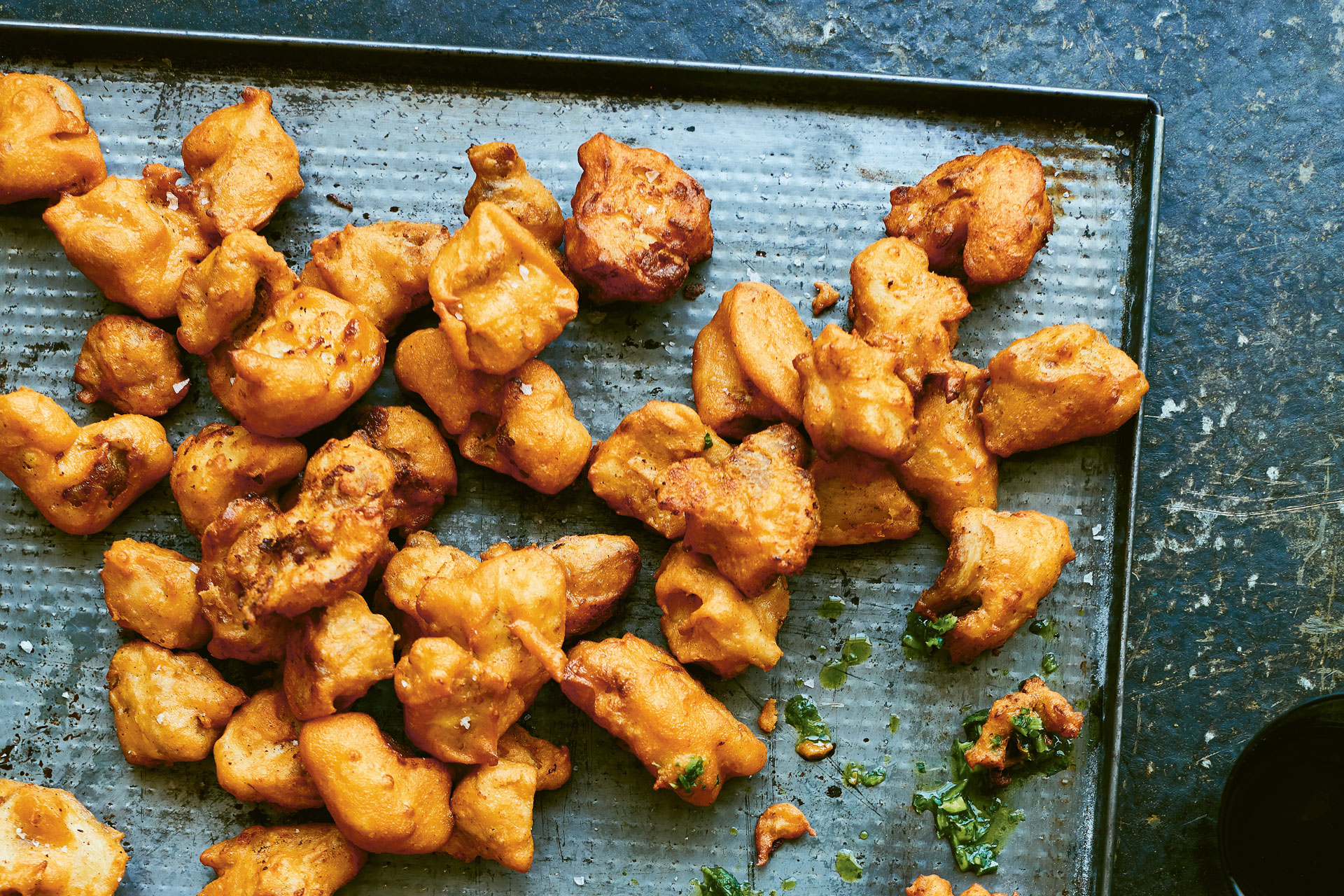 3 Asma Khan Recipes To Try Now
---
Jazz up your classic curry
Looking for new Indian-inspired recipes to cook this winter? Below we share three recipes from the Asma Khan cookbook, Ammu, which celebrates the relationship between mother and daughter, and the recipes that made Asma who she is today and continue to root her to home.
3 Asma Khan Recipes To Try Now
Asma Khan's Buttermilk Chicken Pakoras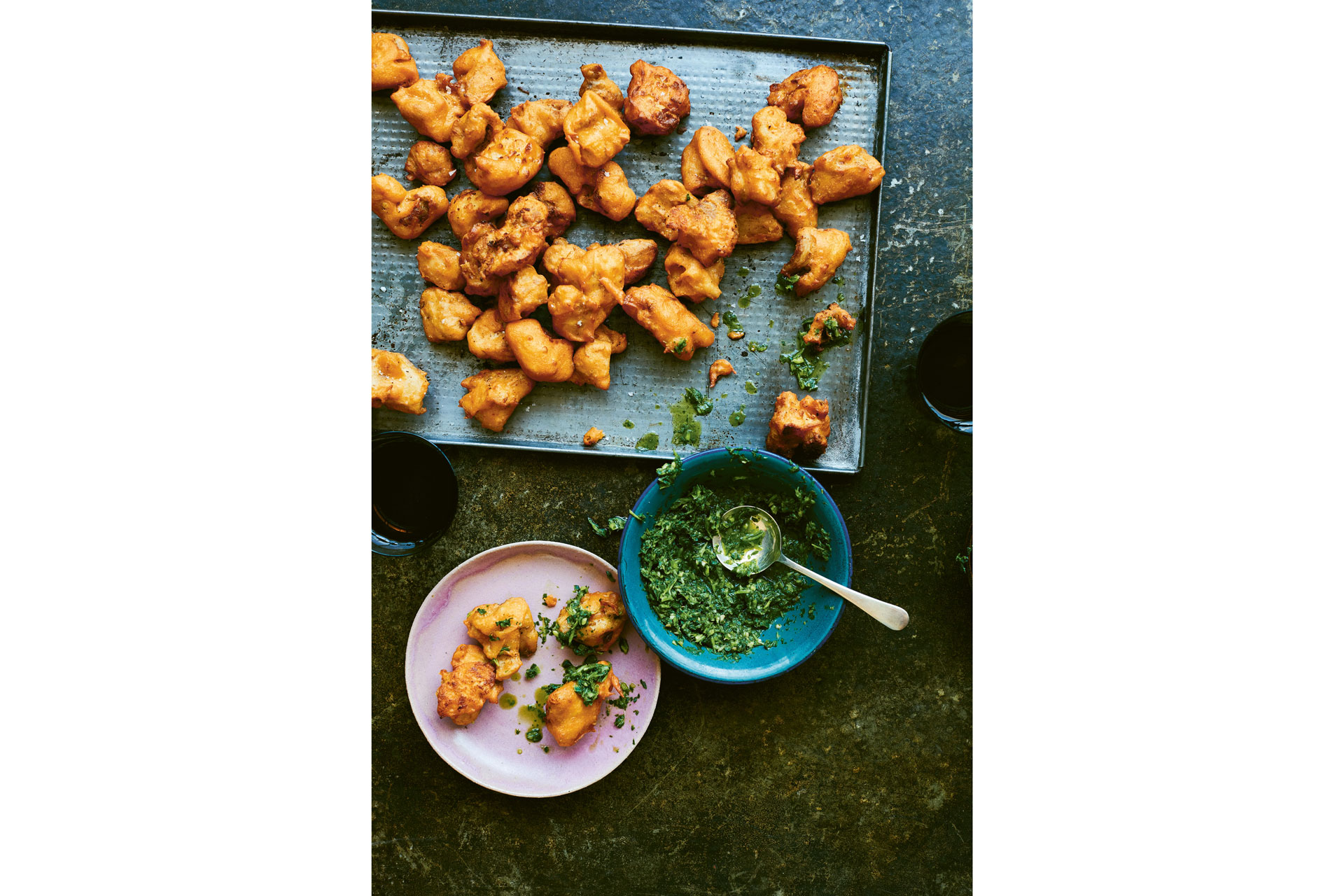 This is a halfway house between a chicken nugget and a spicy pakora, which is sold in dhabas, or roadside eateries, along the Indian highway. These are very delicious and can also be fried in a deep-fat fryer, if you have one. My boys use random dips with these pakoras, including mayonnaise. If you are serving this as a starter, it may be nice to serve it with the Coriander and Mint Chutney or the Raw Mango Chutney.
Ingredients:
Serves 4 – 6
1kg boneless skinless chicken thighs,
cut into 2.5-cm cubes
500ml buttermilk
2 cloves
2.5-cm piece of cinnamon stick 2 bay leaves
3 tsp fennel seeds
3 green cardamom pods
2 tsp salt
150g rice flour
1 tsp ground cumin
11/2 tsp chilli powder
125ml full-fat Greek-style yoghurt vegetable oil, for deep-frying
Method:
Put the chicken in a pan with the buttermilk, cloves, cinnamon, bay leaves, fennel seeds, cardamoms and 1 teaspoon of the salt. Bring to the boil, then reduce the heat and simmer, uncovered, for about 20 minutes until the chicken is cooked and tender. To check, take out one piece of chicken and cut it in half
to ensure it is no longer pink in the middle. Remove the chicken from the buttermilk and spread out on a plate. Strain the liquid and keep aside; discard the spices.
Put the rice flour in a bowl, add the cumin, chilli powder and the remaining salt and whisk in 200ml of the strained buttermilk, followed by the yoghurt, until evenly combined.
Heat the oil in a deep pan over a high heat. Drop a little of the batter into the oil to test if it is ready – it should immediately start to sizzle and darken. If the oil is not hot enough, heat it for a bit longer and test again. Using a slotted spoon, remove the trial batter and lower the heat to medium. Do not fry pakoras over a high heat as the outside will burn and the inside of the batter will remain raw.
Dip the chicken pieces in the batter, ensuring they are totally covered, and then fry the pakoras in the hot oil in small batches.
Do not overfill the pan as that will reduce the temperature of the oil and the pakoras will not get crisp. Drain on kitchen paper as you take each batch out of the oil. Serve hot.
Asma Khan's Navratan Korma
Nine-Jewel Korma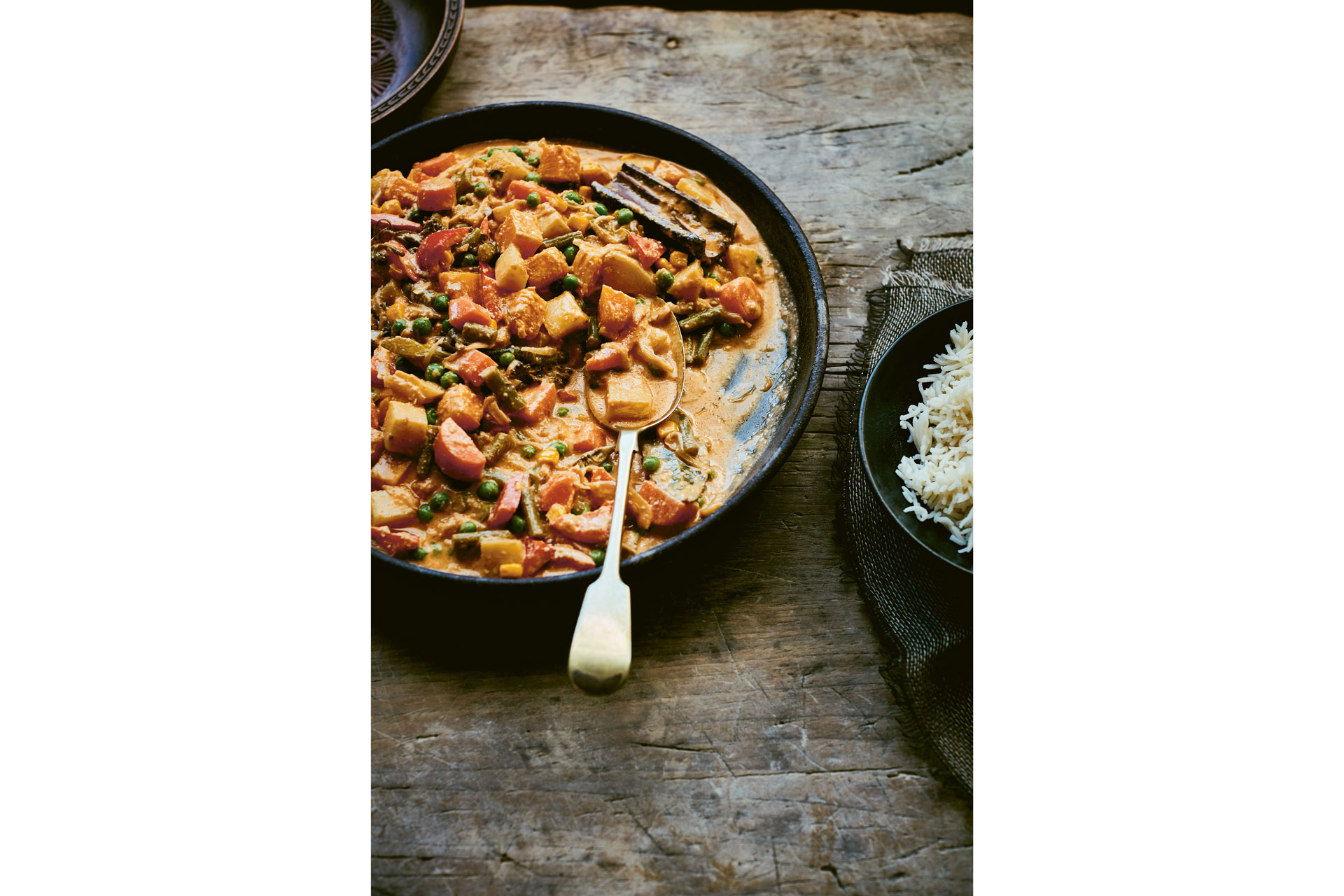 Navratan is a traditional South Asian style of gem-setting based on nine different precious stones. This korma is made up of nine colourful vegetables. It's a great way to use up odd veg from your fridge. Try red, yellow and orange peppers, aubergine, courgettes, baby sweetcorn, mangetout, cabbage and spinach. Or you could par-boil some carrots, parsnips, potatoes, French beans and pumpkin, then add red pepper, peas, sweetcorn and purple sprouting broccoli. A comforting, creamy (and extremely nutritious) curry that is ideal for children, too!
Ingredients:
Serves 6
1kg mixed vegetables
6 tbsp vegetable oil
2.5-cm piece of cassia bark
2 green cardamom pods
1 clove
1 large bay leaf
2 large onions, cut in half and thinly sliced 3–4 garlic cloves, crushed
6-cm piece of fresh ginger, grated
2 tsp ground coriander
1 tsp chilli powder
1/2 tsp sugar
2 tsp salt
250g full-fat Greek-style yoghurt
400ml thick coconut milk
2 tbsp ground almonds
Method:
Cut all the vegetables into evenly sized pieces and set aside on a tray.
Heat the oil in a deep pan over a medium–high heat. Add the cassia bark, cardamoms, clove and bay leaf, then immediately add the onions and fry until golden brown.
Add the garlic and ginger and stir for 1 minute. Then add the ground coriander, chilli powder, sugar and salt and stir for 2 minutes.
Add the yoghurt, lower the heat to medium and stir until most of the liquid has evaporated. Add all the vegetables, stir and cook until tender. If the vegetables start to stick, add a splash of water. When they are cooked, add the coconut milk and ground almonds, and stir until the gravy thickens.
Taste and adjust the seasoning before serving. This korma goes very well with any kind of rice or pulao, and is a great accompaniment for meat or fish.
Asma Khan's Zarda
Sweet Rice with Saffron and Nuts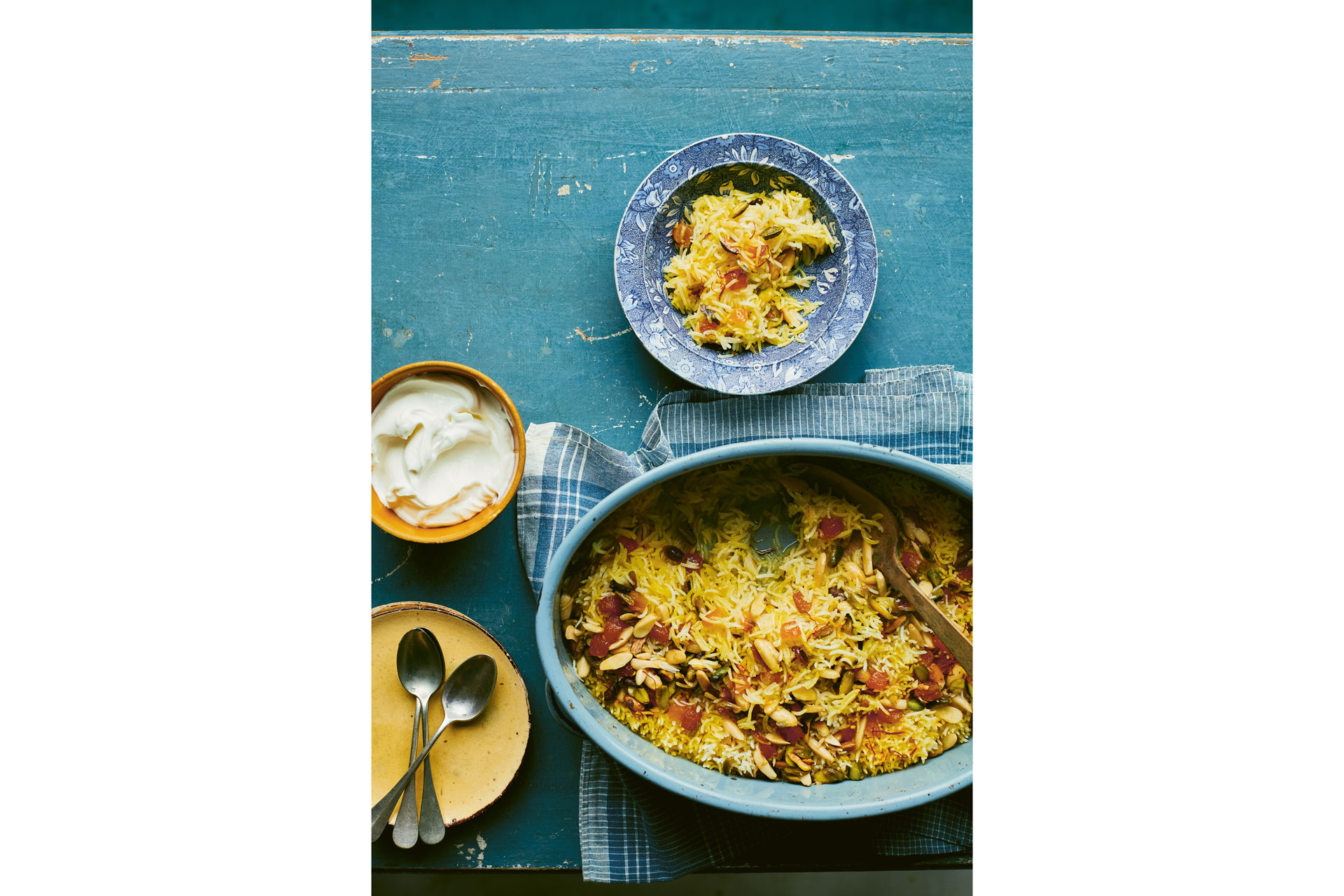 Anyone attending a milad (religious gathering) or a Muslim wedding in the subcontinent would have come across this saffron-infused glistening dessert. Saffron is one of the world's most expensive spices, but you only need a little, and infusing it in warm milk is a very effective way to bring out its flavour. The addition of nuts gives this dessert a further luxurious touch. Definitely serve with some thick or clotted cream on the side.
Ingredients:
Serves 4 – 6
1/2 tsp saffron strands
2 tbsp milk
250g basmati rice
100g ghee or butter (or flavourless vegetable oil), plus extra for greasing
6 cloves
8 green cardamom pods
40g each shelled unsalted pistachios and unsalted blanched almonds, cut into thick slivers
30g dried apricots, cut into small cubes
150g granulated sugar
2 tbsp kewra (screwpine) water or rose water
Method:
Put the saffron in a small bowl, warm the milk to tepid and pour over the saffron strands.
Gently wash the rice in a large bowl with cold water (not under running water as this will break the tips of the rice, which will make the
rice sticky). Change the water several times until it looks clear, then soak the rice in cold water for at least 30 minutes or up to 3 hours. Drain the rice well in a strainer.
Bring 1.5 litres water to the boil in a large pan. Add the rice once the water is boiling and boil until it is half done. It is hard to give an exact time for this as there are too many variables, but the way to check is to remove a single grain of rice from the hot water and squeeze it between your fingers – there should still be a hard core of slightly uncooked rice. Drain the half-cooked rice in a strainer and spread the rice thinly on a platter to cool and prevent it from continuing to cook.
Preheat the oven to 180°C/160°C fan/gas 4.
Heat the ghee or butter in a heavy-based pan over a medium–high heat. Add the cloves
and cardamoms, followed by the pistachios, almonds and apricots. Add 250ml cold water and the sugar and stir until the sugar dissolves.
Butter a casserole dish and add the rice, then pour over the warm, spice-infused sugar syrup. Add the saffron-infused milk and stir gently to ensure the saffron is evenly distributed. Cover tightly with foil and bake for 15 minutes.
Take the dish out of the oven. Gently fluff the rice, then re-cover and bake for another 10–15 minutes. Remove the foil and leave the dessert to stand for a few minutes.
Sprinkle the kewra or rose water over the warm rice before serving.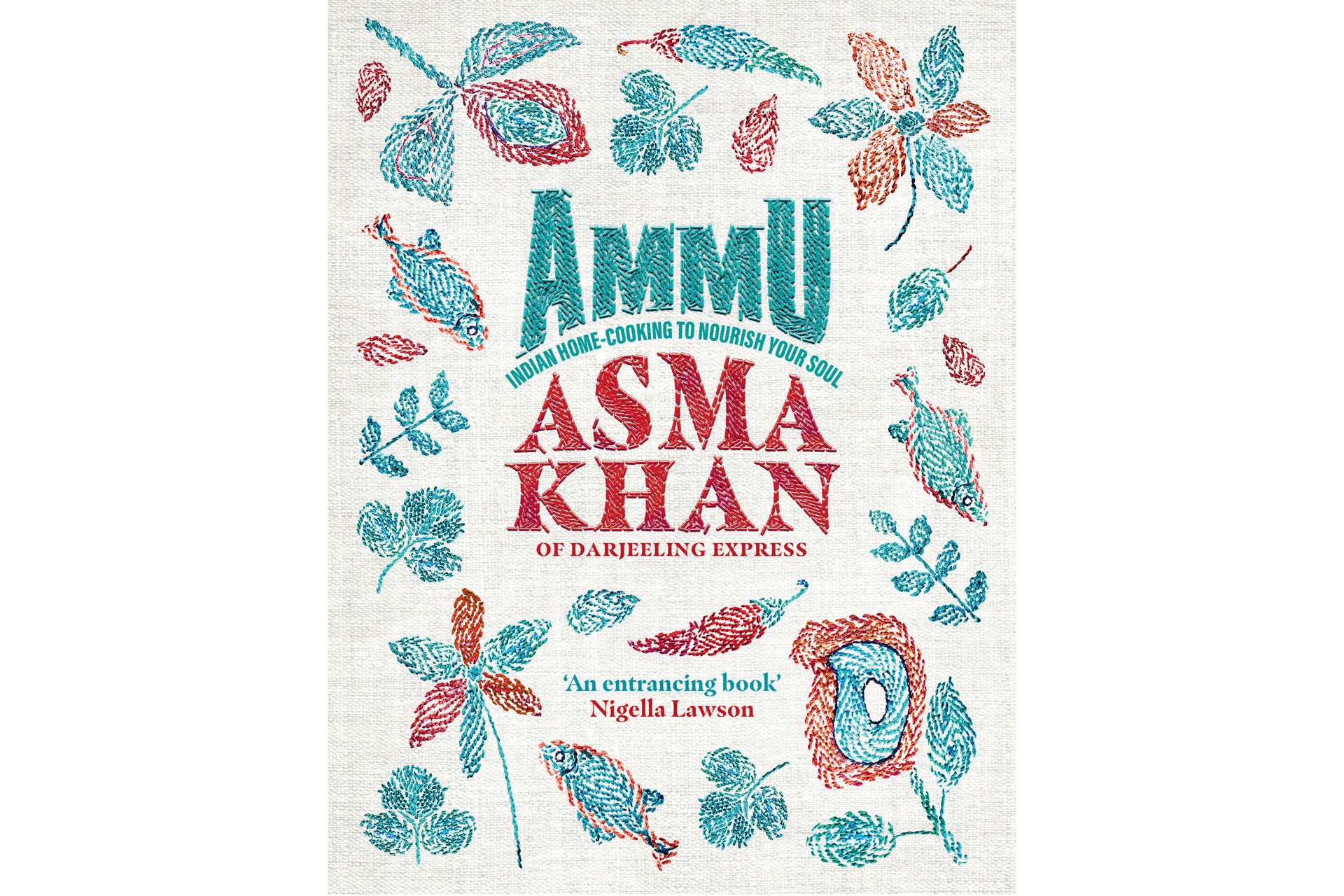 Extracted from Ammu by Asma Khan (Ebury Press). Photography by Laura Edwards.