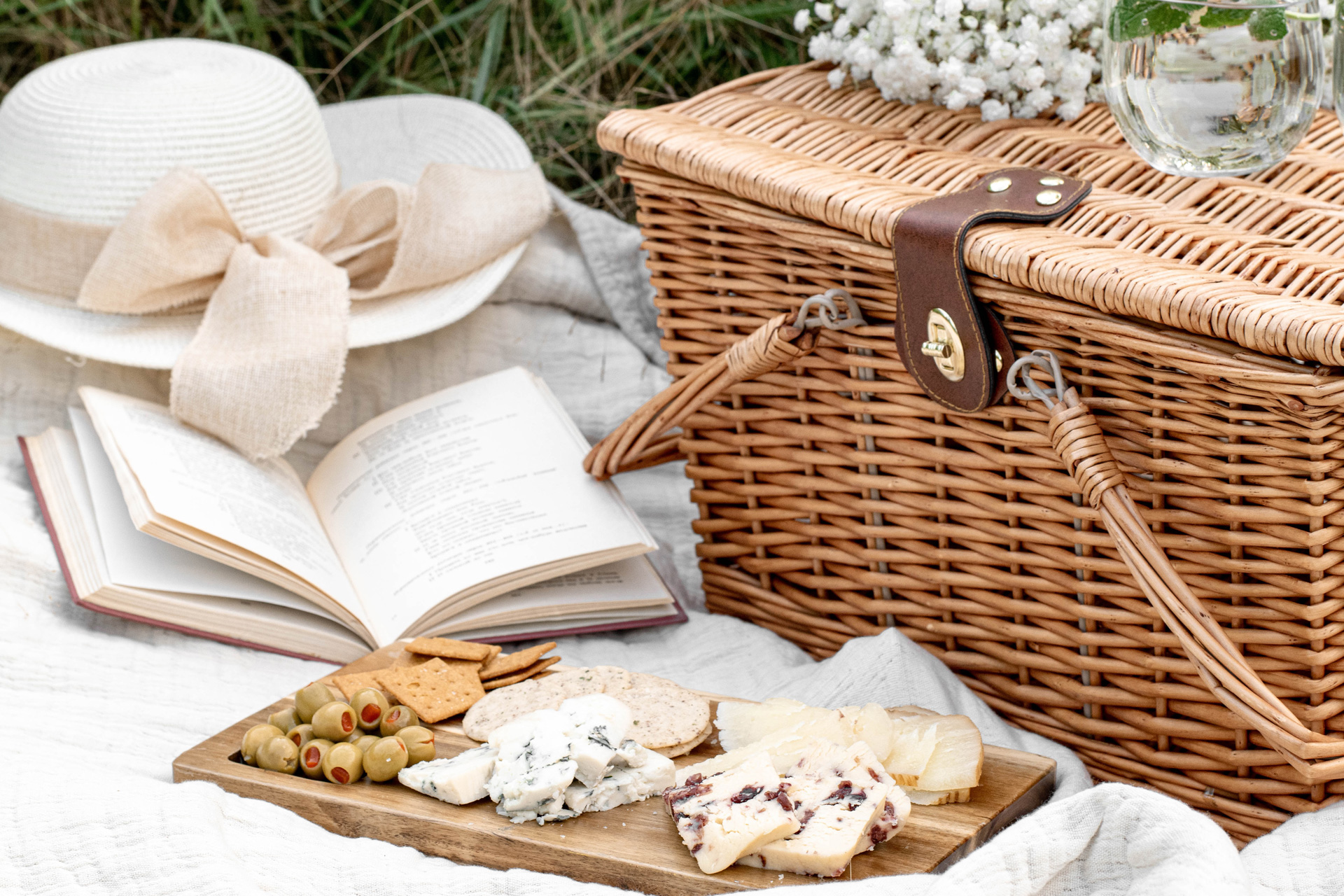 6 British Picnic Recipes For Summer
Traditional British dishes to bring to your picnics
The weather may not be delivering the summer vibes just yet, but warmer days are coming – which means picnic season is in sight. Impress your fellow al fresco diners by whizzing up one of these British picnic recipes beforehand. From dips to tarts and puddings, these treats are designed to travel well and are perfect for eating outdoors.
6 British Picnic Recipes For Summer
Strawberry and Raspberry Ripple Eton Mess
Make up the strawberry swirled meringues and fruit puree the day before, then just layer with whipped cream and extra fruit in recycled jam jars and screw on the lids, take out to the garden in a basket or pack into a cool box for a picnic pud.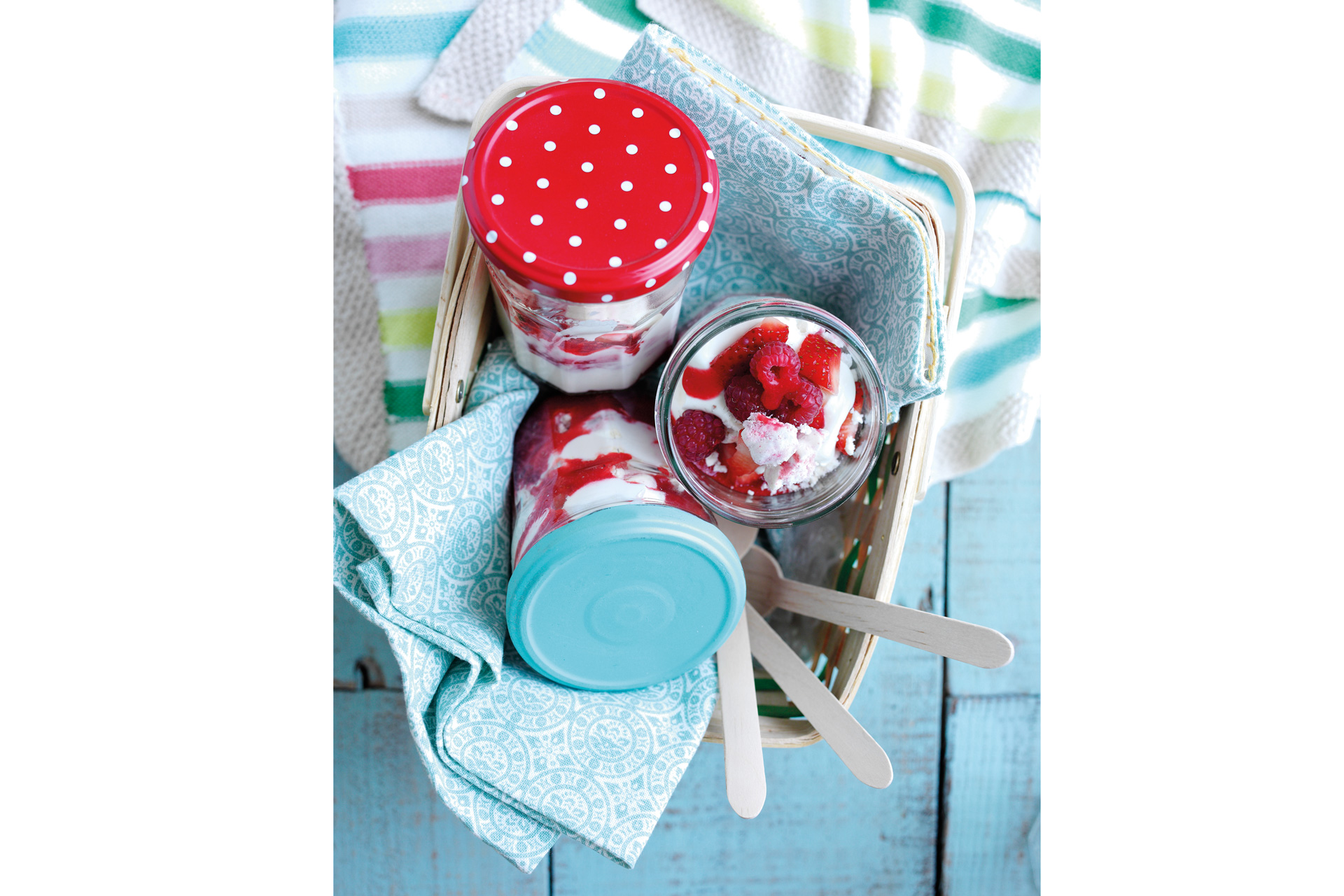 Serves 6
Preparation time: 35 minutes
Cooking time: 1¼ -1½ hours
Ingredients:
225g (8oz) strawberries, hulled

100g (4oz) raspberries
Meringues

2 egg whites




100g (4oz) caster sugar
To finish
300ml (1/2 pint) double cream

200g (7oz) 0.1% fat fromage frais

225g (8oz) strawberries, hulled, roughly chopped

50g (2oz) raspberries
Method:
Preheat the oven to 110oC (225oF), Gas Mark ¼. Line a large baking sheet with non-stick baking paper.

Puree the strawberries and raspberries in a liquidiser or food processor then press through a sieve.

Whisk the egg whites in a large clean dry bowl until they form stiff moist looking peaks and you feel confident that if the bowl was turned upside down the egg whites wouldn't fall out! Gradually whisk in the sugar a teaspoonful at a time then continue whisking for a minute or two until really thick and glossy.

Add 2 tablespoons of the berry puree then very briefly mix until marbled. Spoon into a large piping bag fitted with a 1.5cm (¾ inch) plain piping tube, pipe small rounds on to the lined baking sheet. Bake for 11/4-11/2 hours or until the meringues may be easily lifted off the paper. Leave to cool.

To serve, lightly whip the cream until it forms soft swirls then fold in the fromage frais. Crumble the meringues then layer in jam jars or plastic containers with the remaining berry puree and diced strawberries. Decorate with the raspberries.  Add the lids and keep in the fridge until ready to serve or transport to a picnic in a cool bag with a frozen ice block to keep them cold. Serve within 1½ hours or the meringues tend to lose their crunch.
Recipe from Love Fresh Berries
Green Pea and Mint Rolls
A vibrant seasonal British picnic recipe which elevates traditional flavours and encases them in a delicate and flaky pastry which is perfectly portable for picnics.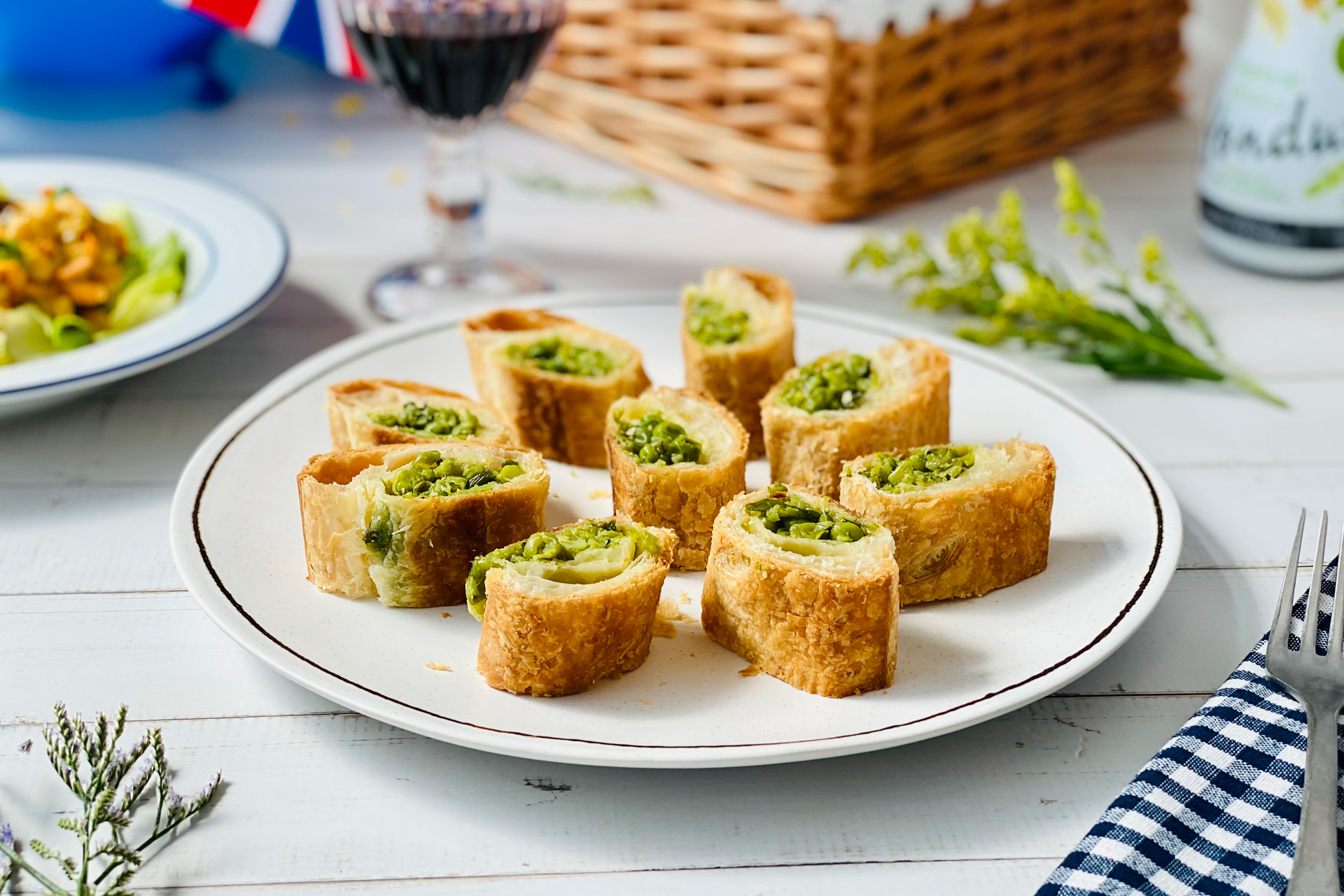 Total time: 40 minutes
Serves: 4
Ingredients:
1 sheet puff pastry (250g)

200g green peas (thawed if frozen)

1 tbsp Yondu vegetable umami

1 tbsp olive oil

1 tbsp cornstarch

3 spring onions, chopped

5-8 mint leaves, chopped

Freshly ground black pepper
Method:
Preheat the oven to 200C.

In a bowl, combine green peas, Yondu and olive oil. Partially mash these peas with a fork, making sure some remain entire.

Add corn starch, green onions, fresh mint and black pepper to the pea mixture and stir all together.

Using a rolling pin, roll out the sheet of puff pastry until it is about 0.5cm thick.

Cut the pastry into two equal pieces – approximately 40cm x 10cm.

Divide the pea filling into half and place down the middle of each sheet of pastry.

Roll the pastry tightly over the filling to form a long roll.

Place both rolls on a baking tray with parchment.

Bake in the oven for 25 minutes or until puffed and golden brown.

Allow to cool completely before cutting into 2-3cm segments with a serrated knife.
Recipe by El Bulli chef de partie, Jaume Biarnes
Tartlet of Yorkshire Wensleydale with Apple Chutney, Crunchy Walnuts and Wilted Baby Spinach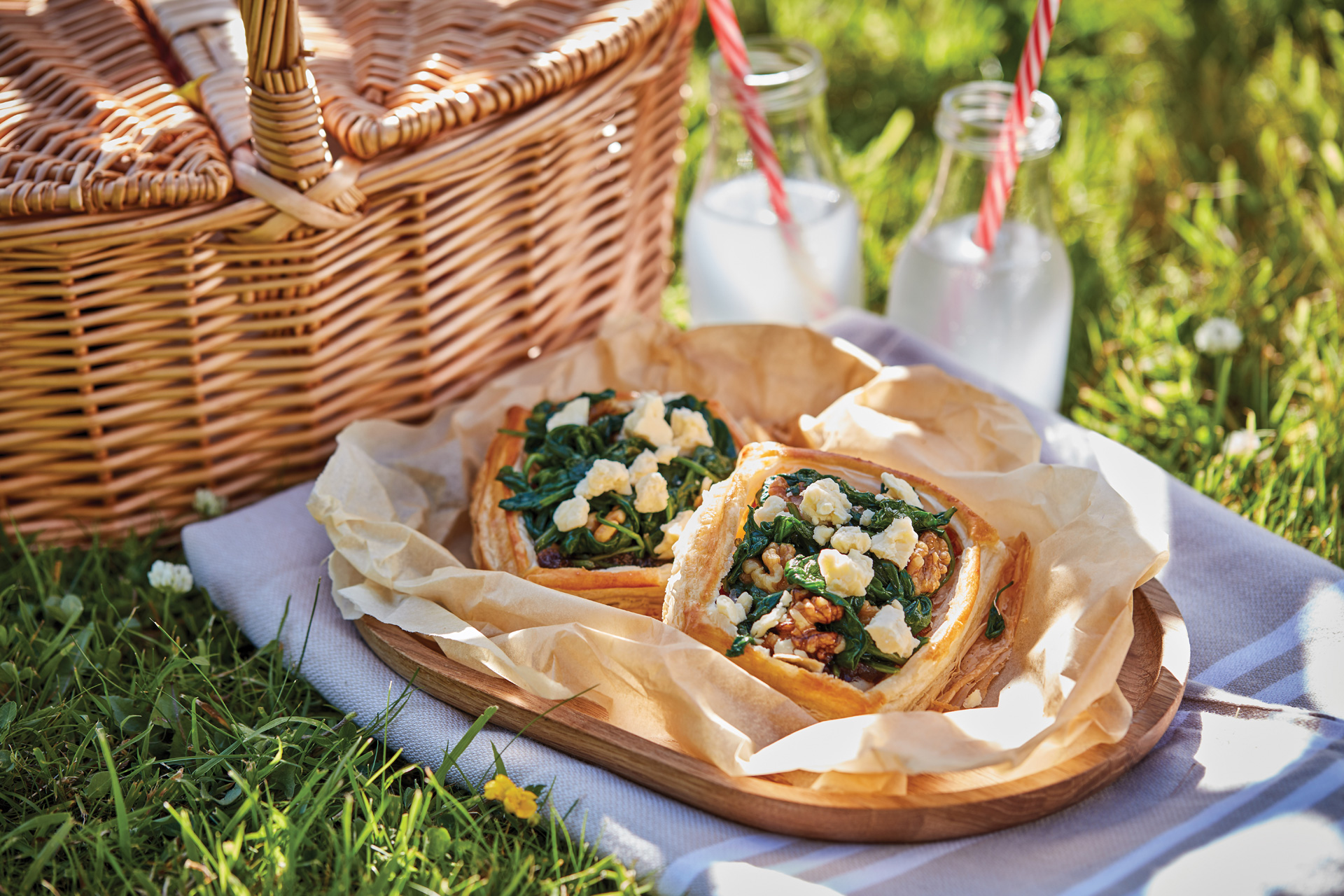 Ingredients:
200g of Yorkshire Wensleydale

1 packet of ready to roll puff pastry

1 jar of apple chutney

5 tablespoons of walnut pieces

Freshly grated nutmeg

1 bag of baby spinach

1 egg, beaten

1 tablespoon of olive oil
Method:
Place the ready to roll puff pastry onto a lightly oiled tray and prick with a fork, leaving a neat rim around the outside of the tart.

Gently go around the edge of the pastry with a knife to make a slight indentation, creating a frame for the tart. Then, prick the centre of the pastry with your fork.

Brush the rim of the puff pastry with the egg wash and bake at 180°C for 20 minutes until the pastry is golden and crispy.

Remove your pastry from the oven and spoon the whole jar of apple chutney into the docked area, pressing the pastry down slightly to create a neat base for the tart.

Place the spinach into a frying pan with a small spoonful of butter and let it wilt down for a few moments until the spinach is tender, then add the walnut pieces to the mixture.

Place the spinach and walnuts on the top of the red onion marmalade, taking care to leave the border of the pastry clean.

Then, place the whole tart into the oven for six minutes to heat the mixture.

Finally, crumble the Yorkshire Wensleydale cheese and freshly grated nutmeg over the top of the tartlet to your desired taste.
Recipe from Wensleydale Creamery
Cauliflower and Kefir Dip Recipe
Serves 4
Ingredients:
500g cauliflower, chopped into small florets

3 garlic cloves, peeled and halved

1 tsp cumin seeds

1 tsp coriander seeds

Generous pinch of sea salt

10 peppercorns

1 tbsp lemon juice

75ml organic milk kefir
Method:
Preheat the oven to 180°C. Place the cauliflower and garlic in a baking tray. Drizzle with olive oil and season with salt & pepper before tossing everything together. Roast in the oven for 15 minutes.

Put the cumin and coriander seeds into a dry pan and toast over a medium heat until the pan is just beginning to smoke. Put the spices into a pestle and mortar with a pinch of salt and the peppercorns and grind until you have a coarse powder.

Allow the cauliflower to cool slightly before transferring it, along with the garlic, into a blender. Add the lemon juice, half the spices and milk kefir and blitz until you have a thick, smooth dip.

Transfer into a bowl and scatter over the remaining spices and a drizzle of olive oil.
Recipe from Daylesford
Vegetarian Scotch Egg
The perfect switch up of a scotch egg with all of the crunchiness and just as much runny yolk. This is one to add to your vegetarian British picnic recipes binder.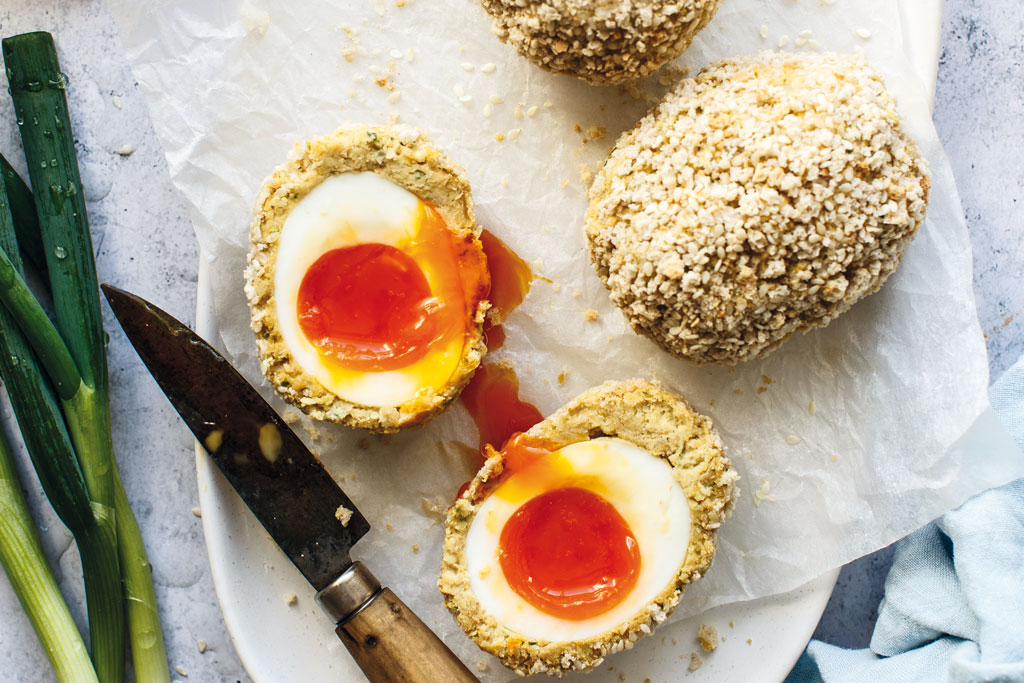 Serves 4
Ingredients:
5

Clarence Court

eggs

400g can of chickpeas, drained and rinsed

2 spring onions

2 tbsps tahini

½ tsp cumin

½ tsp salt

2 tbsp flour

50g breadcrumbs

2 tbsp sesame seeds

1 tbsp olive oil
Method:
Heat the oven to 180°C/350°F/Gas 5. Soft boil four eggs (five minutes should do it for a runny yolk) then plunge into ice cold water.

Once cool, peel the shells off. In a food processor blend the chickpeas, spring onion, tahini, cumin, and salt together.

Dust the egg with flour then wrap 1⁄4 of the chickpea mixture around the egg.

Dust again with flour, brush with egg white then roll in breadcrumbs and sesame seeds.

Repeat for the remaining three eggs. Brush with the olive oil, sprinkle with sea salt and bake for 10 minutes.
Recipe: Roasted Sweet Potato and Butter Bean Salad
A moveable feast that ticks all the boxes: protein, carbs, greens, flavour and comfort. It's a dish that's feel-good for both you and the planet.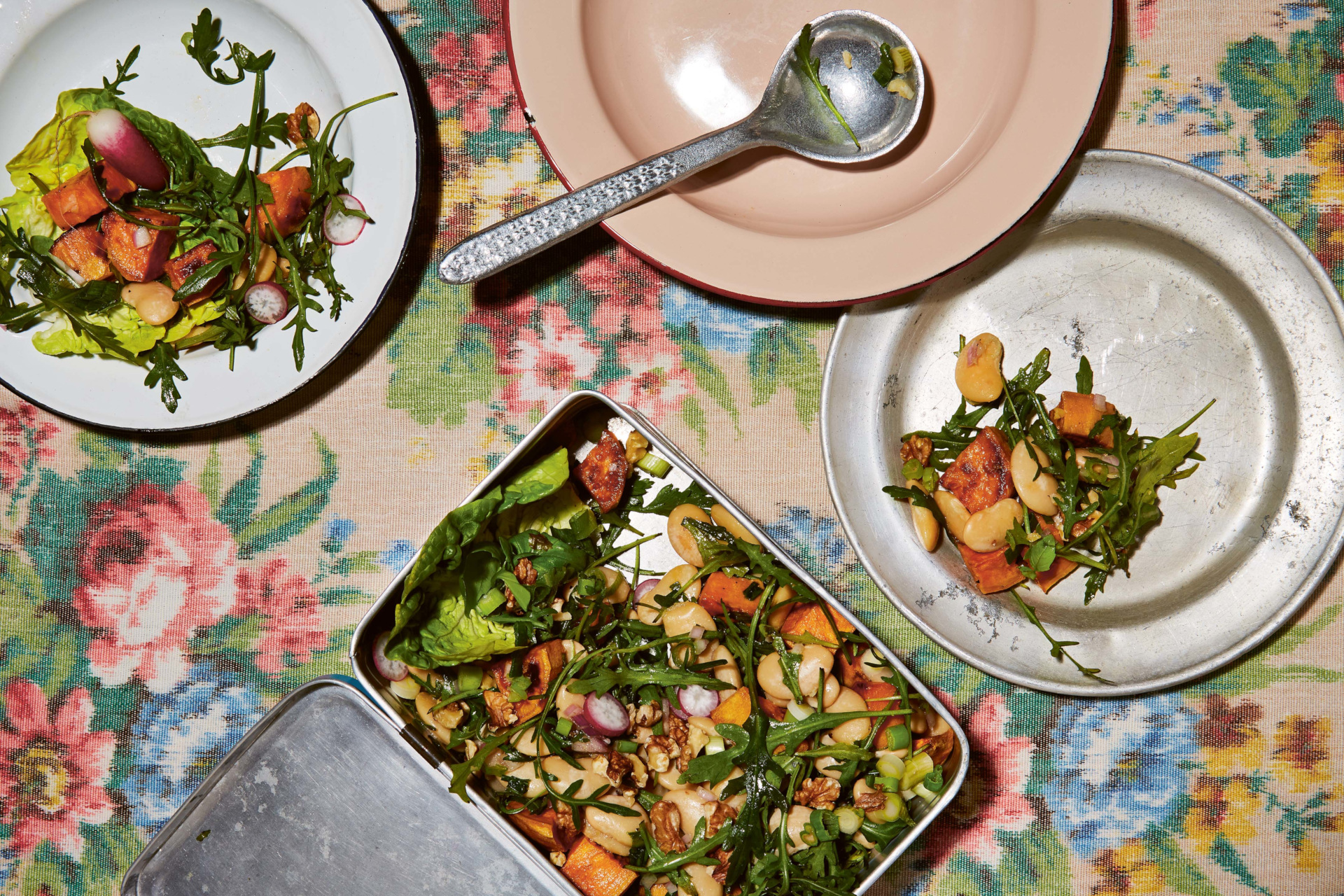 Serves 6
Ingredients:
For the base
2 medium sweet potatoes, peeled and cut into medium-size chunks

2 tablespoons olive oil

Pinch of salt

480g (1 lb 1 oz) tinned or jarred butter (lima) beans, drained and rinsed

1 shallot, sliced

2 handfuls of salad greens, such as rocket (arugula) and watercress 30 g (1 oz) parsley leaves, chopped 30 g (1 oz) basil leaves, chopped
For the dressing
2 tablespoons olive oil

2 tablespoons apple cider vinegar 1 tablespoon maple syrup or honey 1 teaspoon miso paste

1 teaspoon Dijon mustard

2–3 pinches of salt and pepper
To serve:
A handful of toasted walnuts
Method:
Preheat the oven to 200°C (400°F/gas 6). Line a medium baking tray (pan) with baking parchment.

Spread the chunks of sweet potato over the base of the baking tray, drizzle with the olive oil and season with salt. Roast in the oven for 30 minutes, then turn the potato over and return to the oven for a further 30 minutes, or until crisp and golden. Set aside to cool.

Mix all the ingredients for the dressing together in a large bowl, then add the butter beans, shallot and roasted sweet potatoes.

Chop the salad greens and add to the bowl along with the parsley and basil.

Just before serving, mix well and serve with toasted walnuts sprinkled over the top.
COOK'S TIP:
If you are making the salad in advance, don't mix the ingredients in the big bowl until the last minute. This way, the greens won't spoil and will be freshly dressed. If you are making the salad for a picnic, layer the ingredients in a large, lidded container instead of a bowl, and shake upside down before serving.
Recipe by Bettina Campolucci Bordi