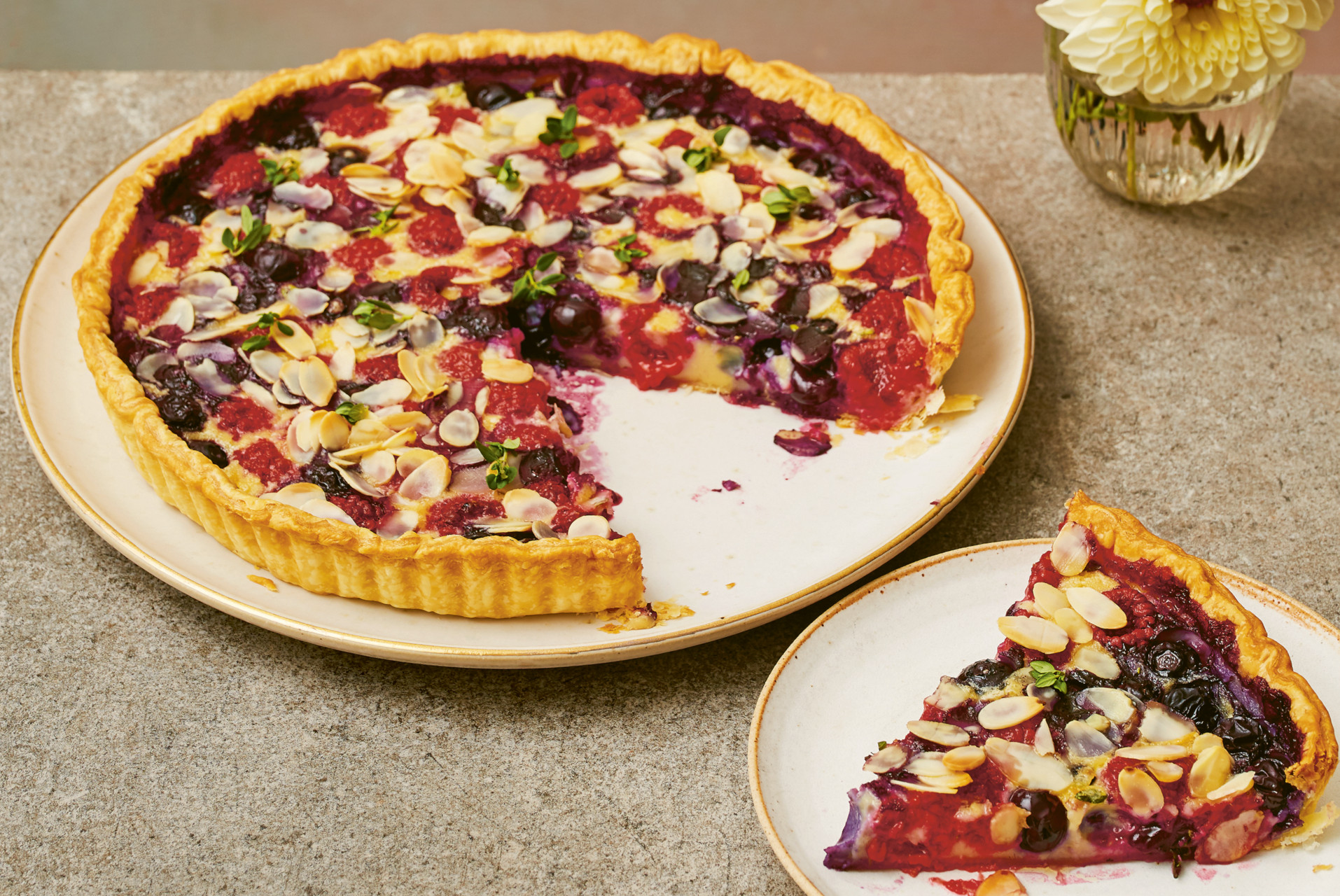 Candice Brown's Raspberry, Blueberry and Almond Clafoutart
---
Perfect for a summer supper
What could be better than sweet batter spiked with fresh raspberries and blueberries? Sweet batter given a little hug by flaky puff pastry! Not totally authentic, we know, but we couldn't resist. If you want to stick to the French way, skip the pastry and pop the batter straight in a buttered tin. It's the ultimate, stodgy, sweet Yorkshire pudding. Follow Candice Brown's clafoutart recipe below…
Candice Brown's Raspberry, Blueberry & Almond Clafoutart
Ingredients
Serves eight
300g sheet of puff pastry
two eggs
40g light soft brown sugar
25ml spiced rum
65ml whole milk
65ml double cream
Zest of one lemon
Sprig of fresh lemon thyme
25g unsalted butter, melted
30g plain flour
200g fresh blueberries
200g fresh raspberries
30g flaked almonds
Method
Preheat the oven to 160°C fan.
Tease the puff pastry into the flutes of a 23–25cm loose-bottomed flan tin. Leave the edges sticking up, then gently fold over. Scrunch and lay some greaseproof paper in the pastry case, weighed down with baking beans. Bake for 15 minutes, remove the paper and baking beans, and bake for a further five minutes.
Beat the eggs, sugar and rum together in a jug. Then add the milk, cream, lemon zest and lemon thyme leaves, if using, and beat well. Pour in the melted butter and whisk vigorously. Sift in the flour and whisk until all the lumps are gone.
Tip the blueberries and raspberries into the pastry case and then pour in the batter. Scatter over the almonds and bake for 25–30 minutes until the batter is just set and starting to turn golden around the edges.
Remove from the oven and leave to cool until warm. Serve with pouring cream.
Happy Cooking by Candice Brown is out now (Ebury Press, £22), waterstones.com
Featured image: © Ellis Parrinder
Fallow's Lemon Peel Pudding / Betty's Leek & Harrogate Blue Cheese Tart