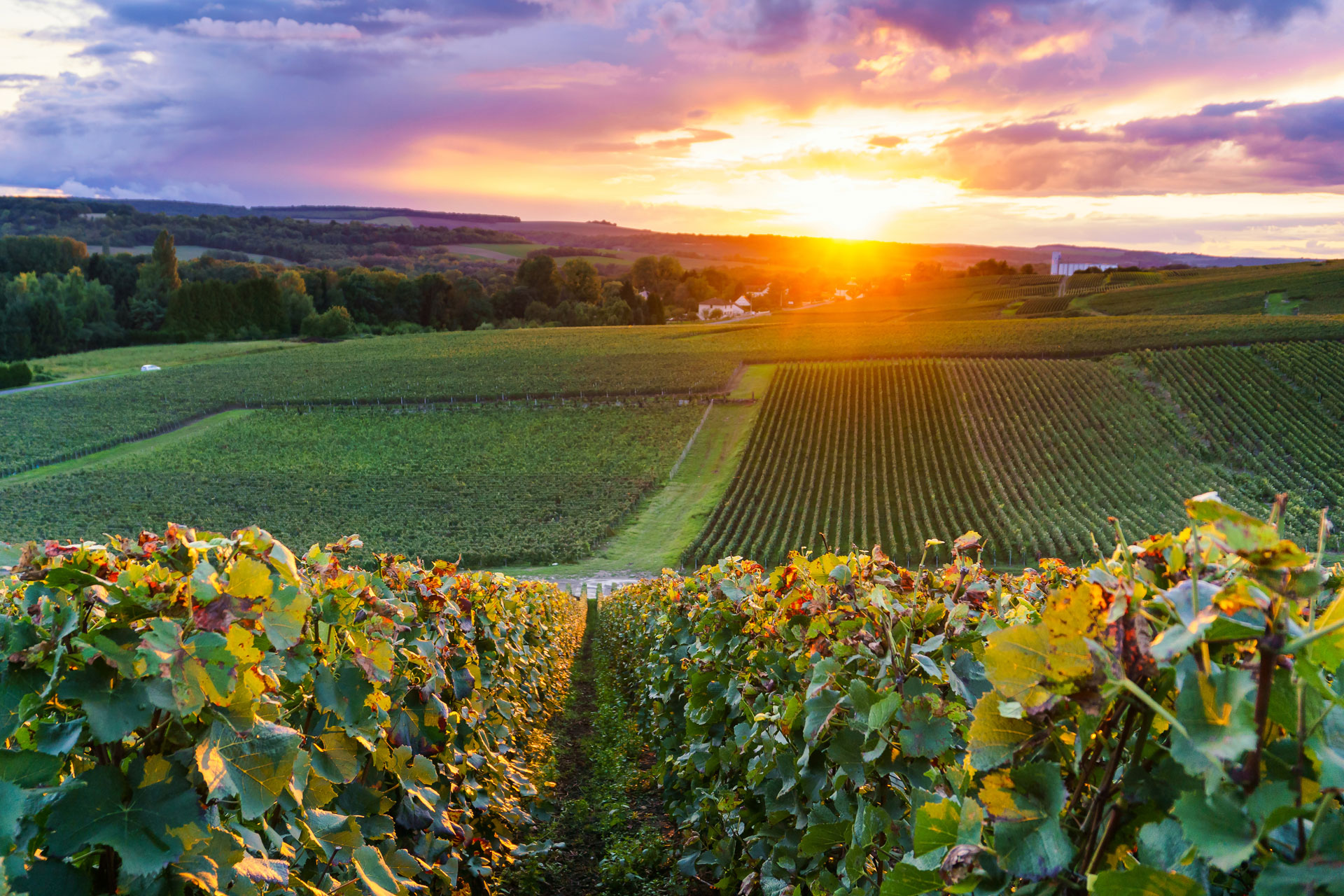 How Are Champagne Brands Addressing Sustainability?
---
The French region is going green
From recyclable casing to biodynamic farming, here's how the big champagne houses are addressing sustainability
Historically, champagne doesn't have the best relationship with the environment. Up until the early noughties its production wreaked havoc on the planet, with high pesticide use the norm and vast air miles clocked up from flying bottles round the world. But things are changing. In 2003, Champagne was the first wine producing region in France to undertake its own carbon footprint assessment. Since then, the region has made a conscious effort to improve its green practices, working towards the goal of reducing its carbon footprint by 75 per cent by 2050.
Somewhat ironically, global warming has been beneficial for champagne production. Over the past few years, harvests have benefitted from increased temperatures and yielded top quality grapes – yet this is temporary. The positives won't continue forever, and – like most industries – houses are aware of the importance of looking forwards.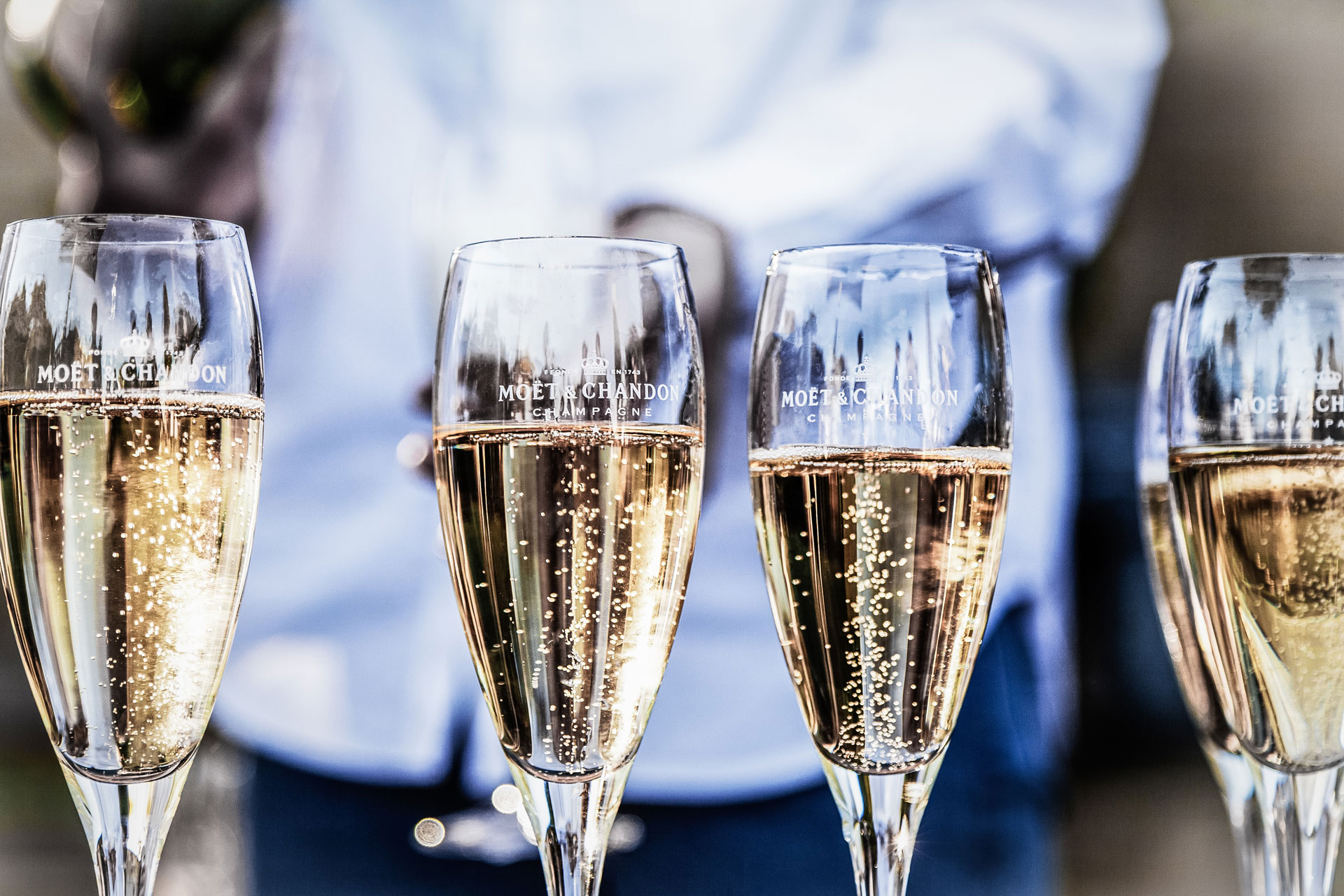 Notable improvements have already been made. Around 20 per cent of the Champagne region is now certified as eco-friendly – and the aim is to make this 100 per cent within the next decade. That means looking at factors like water waste, by-products and packaging, as well as focusing on good soil health.
Large-scale movements are happening across the region. Just last month, Champagne approved rewriting a century-old rule dictating the maximum distance between vines – a move which those who fought for it say is motivated by the need to address climate change. According to a study undertaken by the Syndicat General des Vignerons del la Champagne (SGV), larger spacing between vines could lead to a 20 per cent reduction in greenhouse gas emissions.
Moët Hennessy, meanwhile, is investing €20 million in a research centre devoted to environmentally friendly viticulture. A current area of interest is looking into hybrid grapes which can withstand changing temperatures in the region, reducing the need for pesticides.
Individually, champagne houses are taking steps in the right direction too.
How Are Champagne Brands Addressing Sustainability?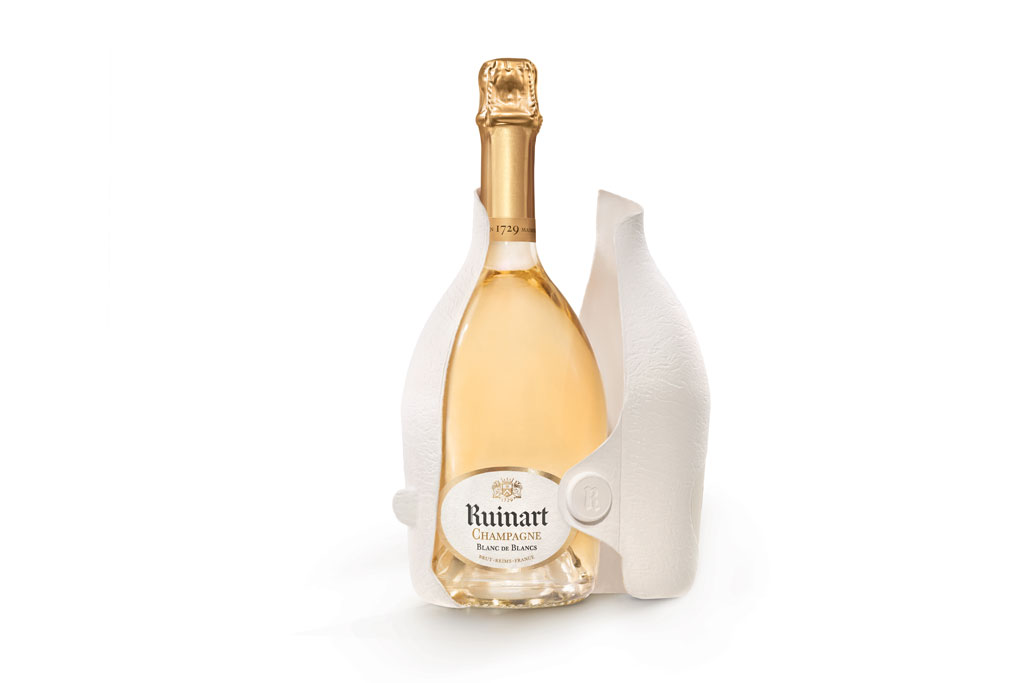 Ruinart
Ruinart is the oldest established champagne house, yet hopes to be the most forward-thinking too. The brand's mission is to become 'the most conscious Champagne house in the next 10 years', with measures so far including introducing both solar panels and a zero air-freight policy. Perhaps the brand's most pioneering move, though, was creating Second Skin: a new recyclable casing made from pulped paper, designed to replace its gift boxes.
Telmont
The Telmont Champagne House was founded in 1912 by Henri Lhôpital, on his land of Damery, near Epernay. It has stood as a family business across four generations, focusing on three core values: loyalty to winemaking, humility in the fact of nature and courage to commit to the future. In October 2020 Rémy Cointreau purchased a majority share of the company, with the aim of developing the Telmont brand – particularly outside of France – and supporting its environmental efforts. Sustainability is the key focus for Telmont, with its new project 'In Nomine Terrae' (In the Name of Mother Nature) dictating the House's actions for years to come. Its ultimate goal is to convert to 100 per cent organic agriculture, with five key objectives set out. One year on from the initiative being announced, Telmont has reported on the progress made so far, with achievements including 83 per cent of the estate being certified organic or in conversion, at least 1000 hornbeams planted, and biofuel replacing diesel in tractors for the vineyards. Next steps, meanwhile, include continuing to study the feasibility of installing solar panels at the site in Damery, and developing a carbon strategy with precise reduction objectives.
Louis Roederer
For the past 20 years, Louis Roederer has been steadily moving towards an eco-friendlier farming regime. Half of the estate's vineyards are now organically certified; compost is made from winery pomace and local sheep manure to ensure healthy soil; and the winery's wash waters are reused for irrigation. Biodynamic principles are also used in select vineyards.
Moët & Chandon
Minimising water waste is the number one priority for Moët & Chandon, with measures including shut-off nozzles on hoses, automated rinsing sequences and water conservation training courses for staff. The house also recently announced a partnership with sustainable corporate merchandise producer Reborn, which will recycle its plastic waste from 40 on-trade venues across London.
Krug
Since becoming President and CEO of the House of Krug over a decade ago, Maggie Henriquez has put the environment high on the agenda. Since 2014, the brand has been certified sustainable in vineyard management: 100 per cent of waste is recycled or recovered for energy, while corks are used to create objects, decorations and shoes. In the vineyards, meanwhile, herbicides are avoided and electric tractors are increasingly used to reduce CO2 emissions.
Laurent-Perrier
Sustainable grape-growing has long been a part of Laurent-Perrier's ethics. The estate's 150 hectares are all kept with eco-friendly methods – floral plants are sewn during the vines' fallow periods to enrich the microclimate, for instance – and the ultimate aim is to cut organic pollution by 99 per cent. This June, Laurent-Perrier stressed its commitment to protecting the planet by releasing a limited-edition Cuvée Rosé Butterfly Robe, adorned with rose gold butterflies – which it says are 'emblematic of a preserved and protected natural environment and testament to a vibrant and varied eco-system'.
READ MORE:
Best-Selling Champagne Brands in the World / Champagne Bars in London