Try this chocolate and hazelnut tart from the Clink Charity's new cookbook Quick & Easy.
Albert Roux OBE, one of the ambassadors of The Clink Charity, commented on the charity's latest cookbook:
The objective of this book is to raise awareness of the meaningful work of The Clink Charity in providing prisoners with the necessary skills, professional training and pastoral support required to turn their lives around for the better. All funds raised from the sale of the book will help to build more Clink Restaurants and expand the admirable work of the charity. I am honoured once again to represent The Clink in my role as an ambassador and have thoroughly enjoyed helping to put this cookbook together – I hope our recipes are put to good use.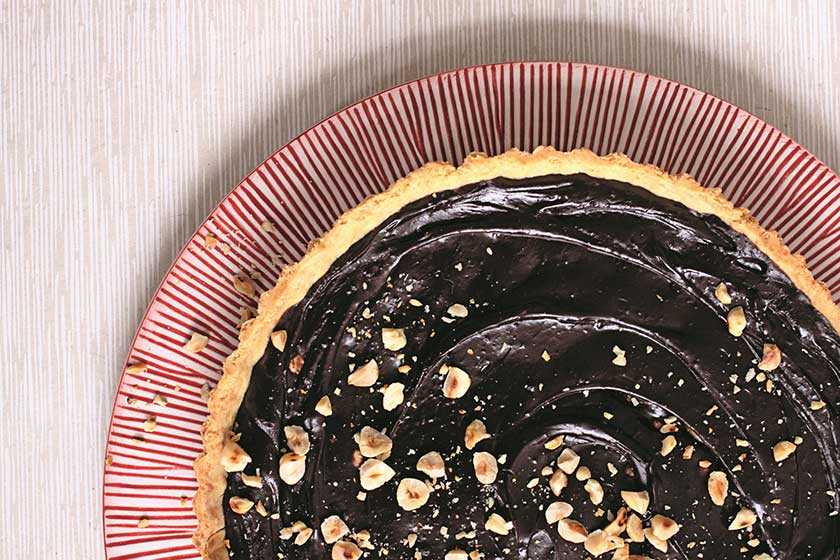 Serves 6–8
Prep 10 minutes
Cook 30 minutes
Ingredients
For the pastry
100g unsalted butter 225g plain flour, plus more to dust
1 egg, lightly beaten pinch of salt
100g blanched hazelnuts, ground
30g vanilla sugar, or 1 tbsp caster sugar with 1 tsp vanilla powder
For the filling
500ml double cream 75g vanilla sugar, or 70g caster sugar with 1 tsp vanilla powder dash of flavourless oil, or hazelnut oil
100g blanched hazelnuts, skinned, plus more, crushed, to serve
100g dark chocolate (70% cocoa solids) broken into small pieces
50g cocoa powder
25g cornflour
100–120ml milk
Method
Start with the pastry. Rub the butter into the flour with your fingertips, or in a food processor, until it represents crumbs. Add the egg, salt, hazelnuts and sugar (or sugar and vanilla powder) and bring the mix together into a pastry. Wrap in cling film and chill in the fridge for 30 minutes.
Preheat the oven to 180°C/fan 160°C/gas mark 4. Roll the pastry out on a lightly floured surface and use it to line a 23cm tart tin or flan ring. Cover with baking parchment and weigh down with baking beans, dried pulses or raw rice. Bake for 17 minutes, then remove the baking beans and paper and bake for a final three minutes. Allow to cool.
For the filling, take a heavy-based saucepan and heat the cream. Add the sugar (or sugar and vanilla powder), oil, nuts and dark chocolate and heat very gently, stirring often, until the ingredients melt. Mix the cocoa, cornflour and milk together to make a smooth paste and add it to the simmering chocolate mix. Stir until it thickens (about eight minutes), then pour it into a bowl and allow to cool for 15 minutes.
Pour the filling into the pastry case, cover and chill for at least four hours. Sprinkle with crushed hazelnuts and serve with cream.
The Clink Charity's second cookbook, Quick & Easy is availble now.
READ MORE: Try these Spiced Pumpkin Cupcakes from Peggy Porschen
READ MORE: 9 places to celebrate Thanksgiving in London
---