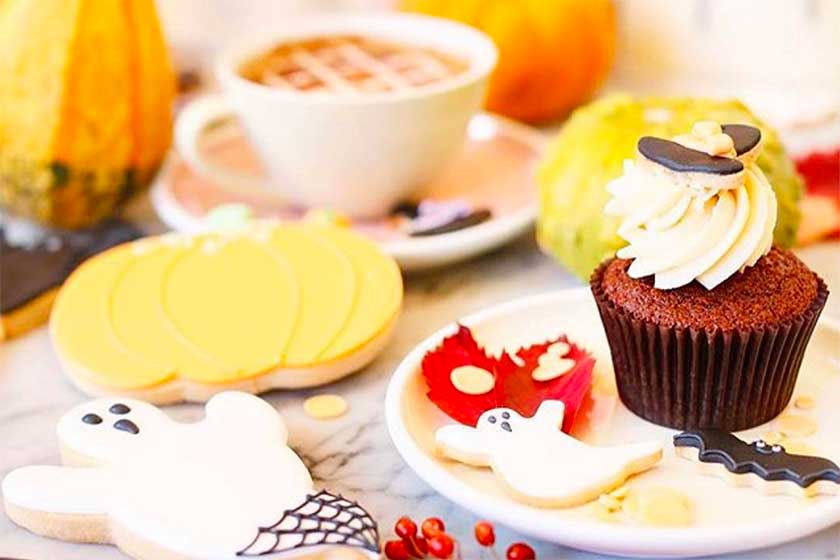 Recipe: Spiced Pumpkin Cupcakes from Peggy Porschen
---
Give this autumnal recipe from Peggy Porschen a try
This spiced pumpkin cupcake recipe by the award-winning cake designer Peggy Porschen tastes just like a traditional pumpkin pie – perfect for autumnal days, Halloween and Thanksgiving…
Spiced Pumpkin Cupcakes
Makes 24
Ingredients
100g unsalted butter, softened
280g pumpkin purée
½ tsp fine sea salt
115g buttermilk
325g light brown sugar
4 medium eggs
240g plain flour
2½ tsp baking powder
½ tsp bicarbonate of soda
¾ tsp ground ginger
1 tsp ground cinnamon
¾ tsp ground nutmeg
¼ tsp ground cloves
Method
Preheat the oven to 175°C/Gas mark 4 and line two 12-hole muffin trays with cases.
Melt the butter and leave to cool slightly. Place the pumpkin, salt, buttermilk and sugar in a large bowl and, by hand, use a balloon whisk to mix well. One at a time, add the eggs, whisking well between each addition.
Sift together the flour, baking powder, bicarbonate of soda and the spices. Lightly whisk the flour mix into the pumpkin mixture in two batches. Add the melted butter and gently incorporate until just mixed. Using a piping bag or tablespoon, fill the cases until two-thirds full.
Bake for 15–20 minutes, depending on your oven. The cupcakes are cooked when the tops are golden brown and spring back to the touch. If in doubt, insert a clean knife or skewer into each sponge; it should come out clean.
Let the cupcakes cool for a few minutes in their trays before placing on a wire rack to cool completely.
TO DECORATE
Use cinnamon cream cheese frosting and top with a sugarcraft pumpkin.
250g full-fat cream cheese, slightly softened
250g unsalted butter, softened
625g icing sugar, sifted
1 ½ tsp ground cinnamon
Place the cream cheese in a bowl and beat until smooth and creamy.
Place the butter and a third of the sugar into a separate bowl and cream until very pale and fluffy. Add another third of the sugar and repeat. Add the remaining sugar and beat again, scraping the sides of the bowl to ensure no lumps remain. Add the cream cheese, a little at a time, and mix at a low speed until combined. Add 1½ tsp ground cinnamon. Chill until firm enough to pipe.
Cupcakes by Peggy Porschen, Quadrille £6.99, waterstones.com
Photos © Georgia Glynn Smith
DISCOVER MORE: Recipe: Goats Cheese & Fennel Jam Galette / Recipe: Jamie Oliver's Avocado Pastry Quiche / The Prettiest Pumpkin Patches Near London