As Dominique Ansel opens his bakery in London this week, why not try this mini madeleine recipe from his book Dominique Ansel: Secret Recipes from the World Famous Bakery.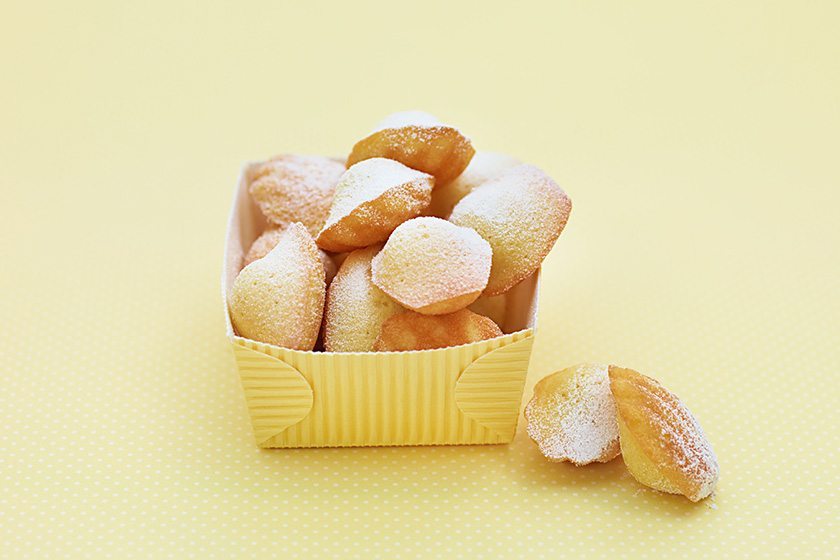 (makes about 100 mini madeleines)
Preparation and Cooking time: 10-15 minutes
Ingredients:
95g granulated sugar
15g raw sugar
10g honey
2g salt
120g all purpose flour
4g baking powder
140g whole eggs
100g butter
Zest of 1 whole lemon
Powdered sugar (for serving)
Method:
Melt the butter and add in the raw sugar and honey.
Mix together the salt, granulated sugar, flour, baking powder in a bowl. Add in the eggs at room temperature.
Add in the melted butter and raw sugar mixture and the lemon zest. Mix together everything until evenly incorporated.
Leave the batter to rest for a few hours prior to usage.
When ready for service, prepare the madeleine mould by spraying it liberally with a non-stick cooking oil. Pipe the madeleine batter into the mould and cook at 190 degrees centigrade until it is golden brown and puffed in the centre (approximately 4 minutes).
To unmold, simply knock the madeleine pan against a table top.
Sprinkle with sifted powdered sugar.
Recipe by Dominique Ansel (www.dominiqueansellondon.com)
Read more: Truffles, truffles, truffles: Three pudding recipes from Mark Sargeant
Read more: Get hygge with the Scandi Kitchen's fika cake
---