I have tried my best to find origins and meanings for the cakes in this book.
Sometimes it is not easy, as things get a little lost in history. This cake is known as Silvia cake in Sweden, presumably after the Queen. My friend Hannah got her Swedish grandmother on the case, who found out the base is an old version of sponge cake (sockerkaka ) with added water known as fattigmanskaka  – or poor man's cake. The topping was later added. Why water is added other than to thin the batter I'm not sure, but it doesn't work well without it. Be careful when you make this – it is quite easy to just have a nibble and then everything goes downhill from there and you won't have enough for your fredagshygge  (Friday cosy time).
Ingredients
Cake
-3 eggs plus one yolk
-160 g caster sugar
-80 g light brown soft sugar
-seeds from 1/2 vanilla pod
-200 g plain flour or cake flour
-2 teaspoons baking powder
-a pinch of salt
Icing/ frosting
-150 g butter
-150 g caster sugar
-seeds from the 1/2 of the vanilla pod
-2 egg yolks
-a few drops of lemon juice
-75 g desiccated coconut
A 20 x 20-cm/8 x 8-inch square baking pan, greased and lined with baking parchment
Serves 12–16
Method
Preheat the oven to 180°C (350°F) Gas 4. In a stand mixer with the whisk attachment (or using a hand-held electric whisk), beat the eggs with the caster/granulated sugar, light brown soft sugar and vanilla seeds until thick, light and fluffy.
Sift together the flour, baking powder and salt, then fold into the beaten sugar and egg mixture. Slowly add 100 ml/1/3 cup cold water and fold until incorporated.
Bake in the middle of the preheated oven for around 25–30 minutes or until well-risen, golden brown and springy to the touch. A skewer inserted into the centre should come out clean.
Make the icing/frosting as soon as the cake is out of the oven. Melt the butter gently in a saucepan, taking care not to brown it. Add the sugar and vanilla and allow to dissolve. Add the egg yolks and whisk until smooth over a low heat. Remove from the heat and add 50 g/1/4 cup of the desiccated/dried shredded coconut and stir to a thick icing/frosting.
Preheat the grill/broiler. Spread the icing/frosting over the cake, then place it under a hot grill/broiler for a minute or so until lightly caramelized. Remove from grill/broiler and sprinkle over enough coconut to cover the top. Allow to cool before cutting into squares to serve.
Note: Thank you to Therese for reminding me of this cake – we have since added it to our range at the café, as it is such a perfect fika cake!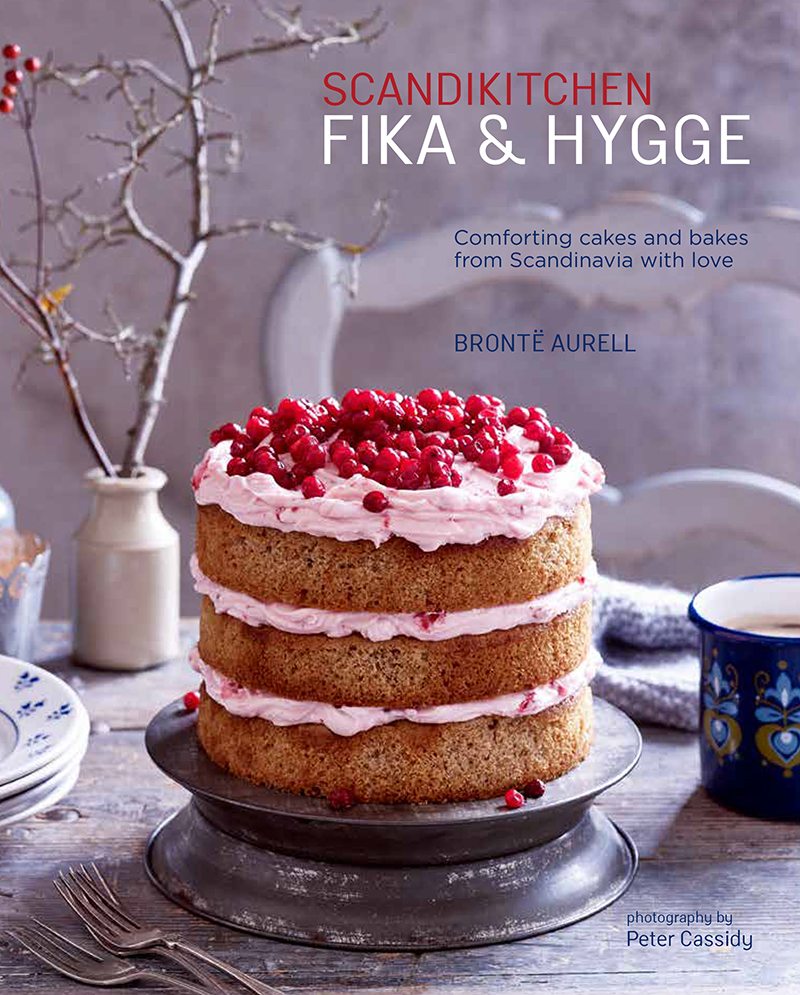 ScandiKitchen Fika & Hygge by Bronte Aurell (Ryland Peters & Small, £16.99) Photography by Peter Cassidy.
READ MORE: Get hygge this autumn
---