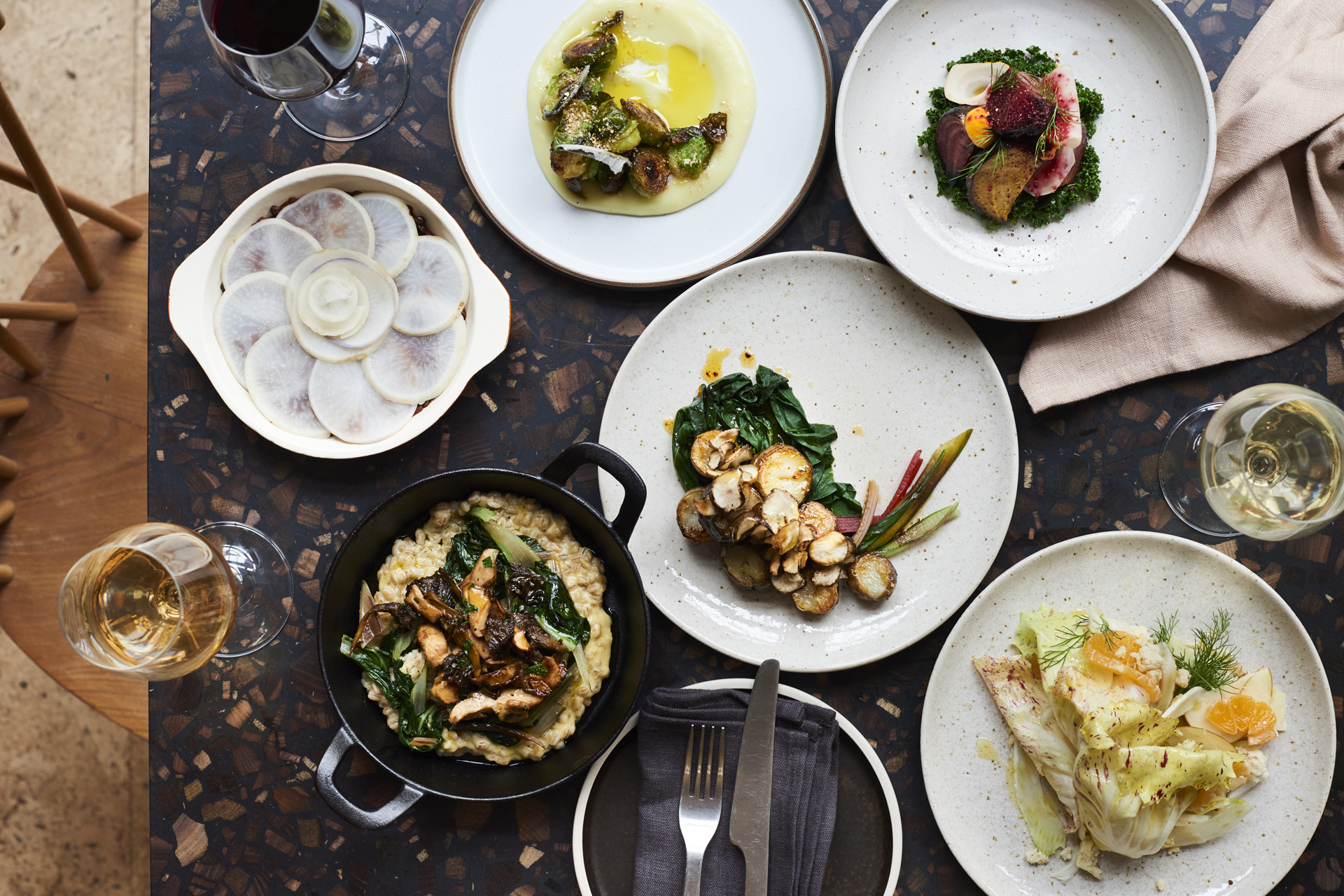 Restaurant Of The Week: EDIT, Hackney
---
Our restaurant of the week is EDIT, a new vegan low-waste restaurant in Hackney
Hyper-seasonal, hyper-local, hyper-delicious: new kid on the block EDIT has just opened in Hackney to tasty avail, says Olivia Emily.
Restaurant Review: EDIT, Hackney
Located on Hackney's Mare Street – under the same roof as an architect's office, and emulating that intangibly cool vibe Hackney is known for – EDIT is East London's latest restaurant, with a focus on local, sustainable veg.
Less is more here, reflected in the pared back interiors (think exposed brick, original cast iron columns, tomato red painted floor and reclaimed wooden furniture) as well as the succinct, daily changing menu. Circular and low-waste in philosophy – and incidentally vegan – EDIT takes its name from 'the creative craft of altering elements in order to improve the whole'.
Gone is intensive production and inorganic farming – here to stay is regeneration and innovation, showcased here across small plates and larger dishes. These carefully selected, high-quality ingredients – calcots, salsify, yellow carrots – rule the plates: it's all about produce, freshness, simplicity. But on that innovative side, almond feta and sunflower seed 'mozzarella' are created on site; try the former with pink radicchio and the latter with winter tomatoes. (And try more artisan vegan cheese by finishing with the plant-based cheese board, accompanied by homemade chutneys and breads).
Drawing on small-scale farms and independent producers, the kitchen is headed up by Fabrice Jaquet and Beth Olivier, who have worked with architect-turned-restaurateur Elly Ward to concoct the menu, which also features low-intervention wines, local beers and ciders alongside fresh juices and tasty cocktails (rhubarb mimosa? Yes, please).
Start (naturally) with the bread, oil, pickles and dip to see this simplicity at work. Share a few plates between you: earthy and warming salsify with aioli, or refreshing and moreish red, white and gold beetroot with carrot puree and kale. The wild mushroom, cauliflower leaf and emmer wheat risotto is wholesome and creamy – enough, even, to convert vegan naysayers, perhaps. And don't miss the desserts, which draw on seasonal fruit (rhubarb crumble) and traditional crowd pleasers (chocolate mousse with hazelnuts and quinoa). 
If you're struggling to choose (and/or want to try a little bit of everything – no judgement here), opt for the 'Daily Edit', a six-course tasting menu drawing on the a la carte menu and paired with natural wines and ciders. 
Whatever you choose, you'll be pleasantly surprised – the menu gives little away. Then, drift home, pleasantly satiated but without that familiar meaty heaviness lingering in your belly.
The Final Word
Pared back, simple and extremely local: EDIT's philosophy is testament to Hackney's burgeoning sustainability and low-waste scene, and the execution is delightfully delicious. 
BOOK IT: edit.london