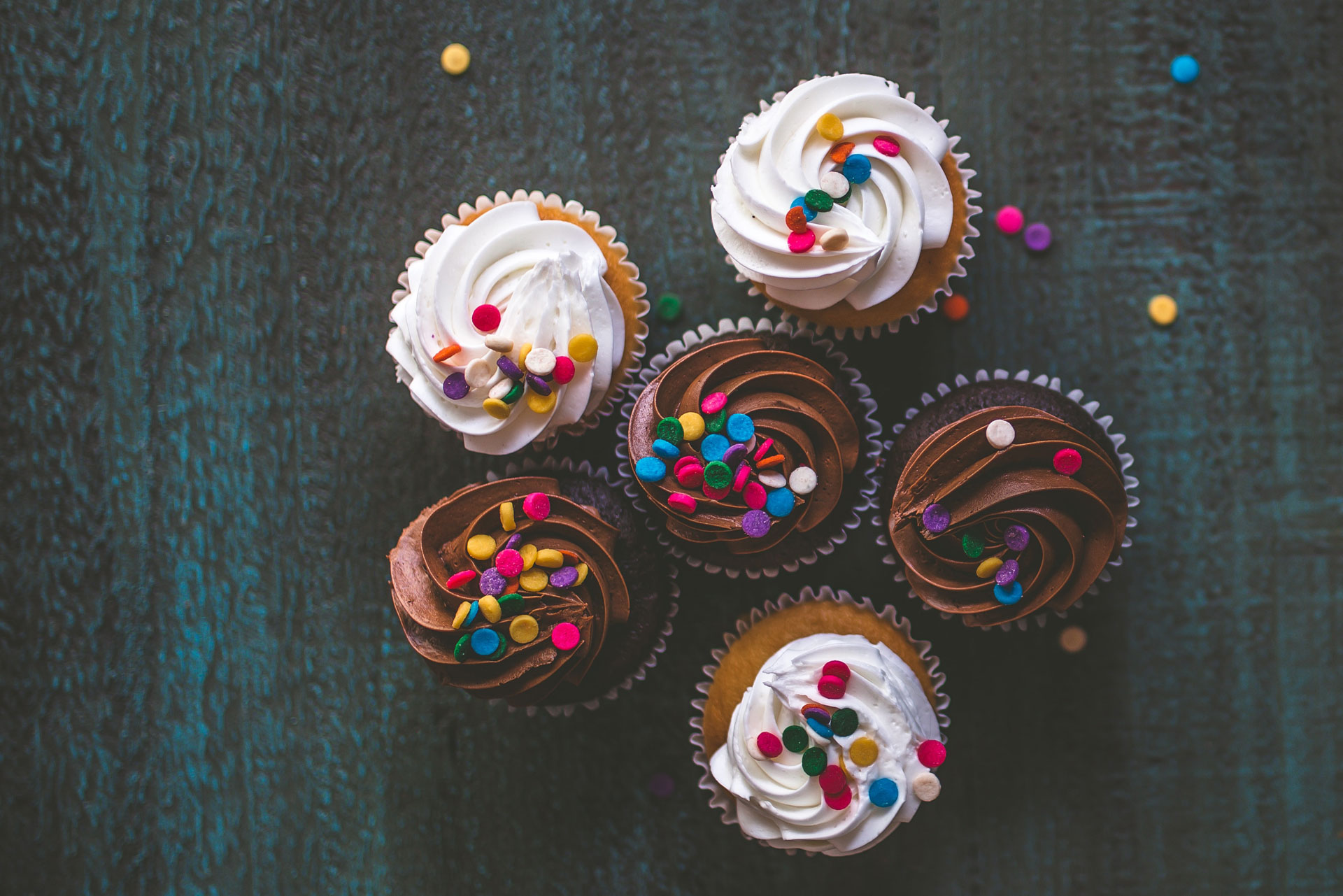 Egg-Free Cake Recipes
No eggs? No problem.
Dairy-free, vegan, or just can't get your hands on any eggs at the moment? Fear not: you can still get involved in the baking fun. Here's a selection of egg-free cake recipes to try this weekend.
Victoria Sponge Cake
From The muymuybuueno Cookbook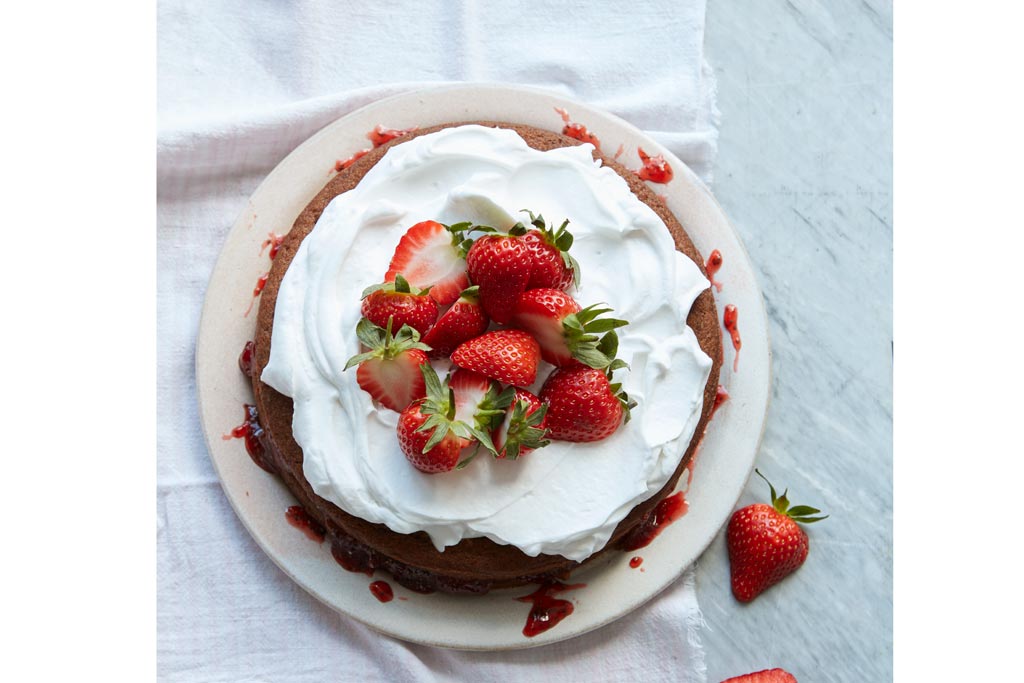 Ingredients:
For the flax egg
1 tbsp ground flaxseed
3 tbsp warm water
Dry Ingredients
300g self-raising flour, sifted
140g coconut sugar
1 tsp bicarbonate of soda, sifted
1 tsp baking powder, sifted
1 tsp arrowroot, sifted
¼ tsp vanilla powder
½ tsp Himalayan salt
Wet Ingredients
290ml almond milk
165ml sunflower oil
¼ tsp white rice vinegar
For the filling
For the vanilla whipped cream
400g good quality coconut yoghurt
2 tbsp maple syrup
½ tsp vanilla powder or paste
100g fresh strawberries, halved with the green tops left on
Method:
For the cake
Preheat the oven to 180°c and lightly grease two 20cm sandwich tins with sunflower oil. Line the bases with parchment paper.
Combine the flaxseed with the warm water to make your flax egg and set aside for 10 minutes to thicken.
Mix all the dry ingredients with a paddle attachment in an electric stand mixer until well combined.
In a separate bowl, combine all the wet ingredients including the flax egg.
Slowly add the wet ingredients to the dry while mixing them together, then continue to mix for 2 minutes until the mixture is smooth.
Pour the cake mixture into the prepared tins, dividing it equally. Place them onto a baking tray and then bake for 20 minutes or until the cakes have no wobble in the centre and a toothpick comes out clean.
Leave them to cool in the tin for 10 minutes, and then gently turn them out onto a wire rack to cool.
For the filling
Once cool, gently spread your strawberry conserve on the top of the first cake, and then place the second cake on top.
For the vanilla whipped cream
Scoop your coconut yoghurt into a bowl and use an electric whisk to whip it until thick and doubled in size. Add the maple syrup and vanilla at the very end. Keep the 'whipped cream' in the fridge until required, then pipe it on top of the cake and finish with the fresh strawberries.
Vegan, Dairy & Gluten-Free Carrot Cake
From Oddbox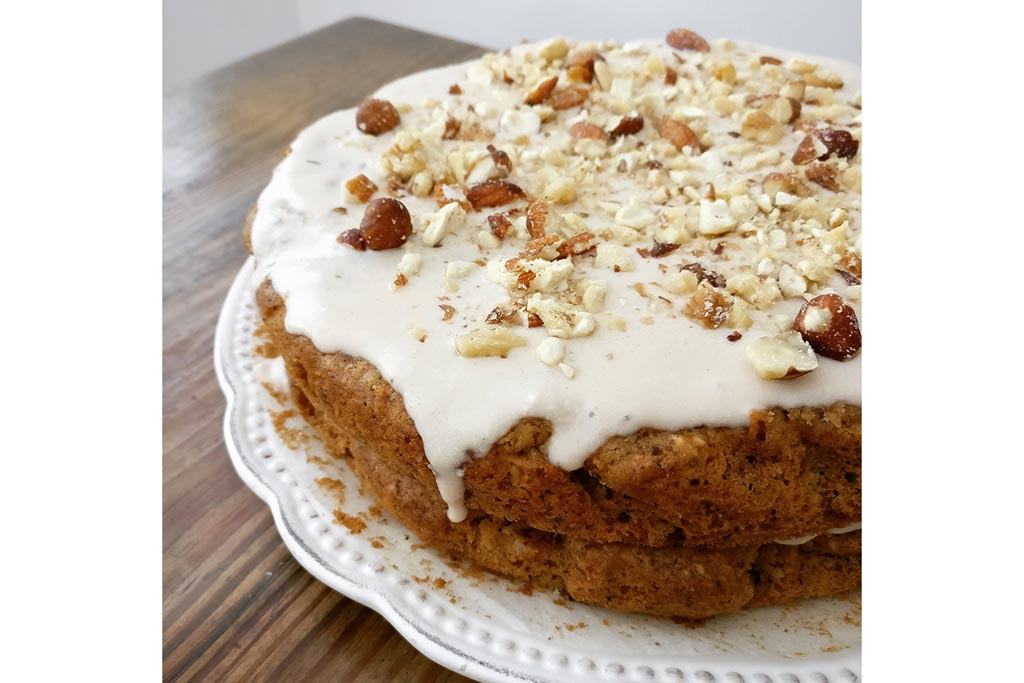 Ingredients:
250g gluten free flour
200g mixed dried nuts (walnut, almond, hazelnut, pecan…save some for topping)
300g grated carrots
100g white sugar
100g caster sugar
1 tbsp cinnamon
sea salt, ground cloves, ground ginger, nutmeg
1 tbsp baking powder
1 tbsp baking soda
100g cococonut oil
1 cup of alternative milk (almond/oat for best flavour)
4 flax eggs (To make 1 flax egg, mix one tablespoon ground flaxseed meal with three tablespoons of water. Mix together, and let sit in your fridge for 15 minutes to set up and thicken).
Icing:
60g raw macadamia nuts (soaked, drained and rinsed)*
60g raw cashew (soaked, drained and rinsed)*
¼ cup almond milk
¼ cup maple syrup
2 tbsp Coconut oil
2 tbsps Fresh lemon juice
Sea salt
* Soak for at least 3 to 4 hours
Method:
Preheat the oven to 180°C.
For the cake start by whisking all the dried ingredients together in a large bowl (flour, sugar, spices, baking powder, baking soda.
Blend the nuts and add them into the dried ingredients.
In a separate bowl, mix together the oil, the flax eggs, and the alternative milk.
Fold in the carrots and stir until just combined.
Bake for 30 to 40 mins
Whilst the cake is baking, throw all the icing ingredients in a blender. Start at low speed, gradually increasing speed until perfectly smooth.
Banana Bread with Cinnamon Sugar
By chef Valentina Concordia at allplants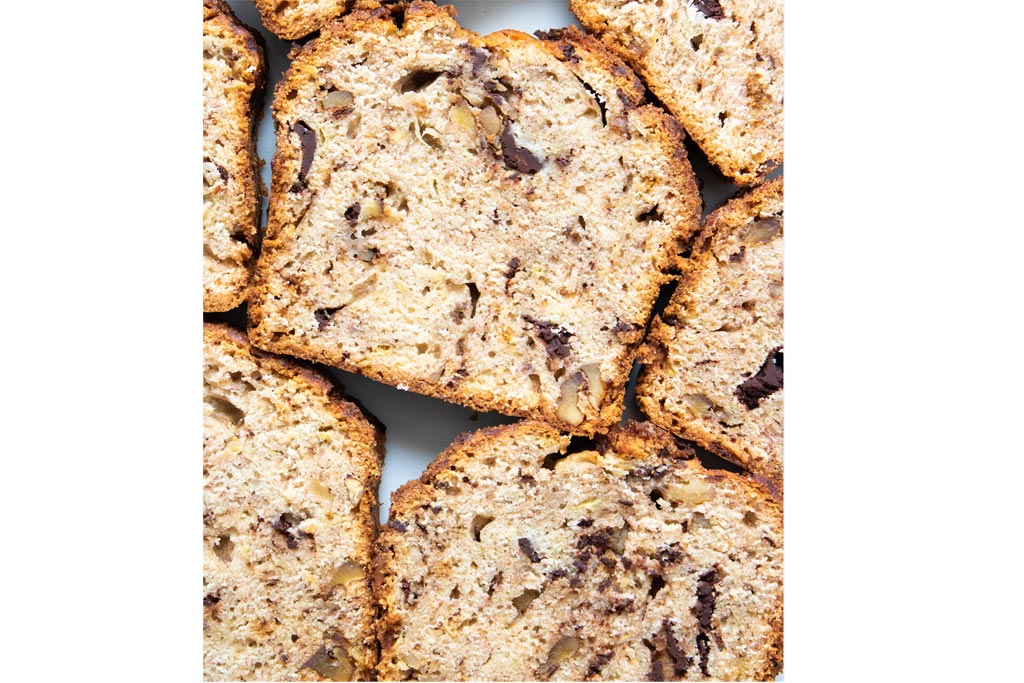 Prep time: 15 mins
Cook time: 70 mins
Makes: 1 loaf
Ingredients:
4 ripe bananas, peeled
1/4 cup + 2 Tbsp brown sugar
1/4 cup white sugar
1/3 cup rapeseed oil
1 tsp vanilla extract
1/2 tsp salt
2 cups spelt flour
1 tsp bicarbonate of soda
1/2 tsp baking powder
1 tsp cinnamon
1/2 tsp ground nutmeg
1/2 cup dark chocolate chunks, optional
1/2 cup walnuts, optional
Method:
Preheat your oven to 180°C. Place the bananas in a large bowl and mash with a fork until completely puréed. Add 1/2 cup of brown sugar, the white sugar, oil, vanilla extract, and 1/2 teaspoonful of salt and whisk until combined.
Gently stir in the flour, bicarbonate of soda, baking powder, 1/2 teaspoonful of cinnamon, and the nutmeg. Fold in the chocolate chunks and walnuts, if using.
Line a loaf tin with parchment paper and pour in the mixture.
In a small bowl, combine the remaining brown sugar and cinnamon. Sprinkle over the mixture. Bake for 65 to 70 minutes, until a skewer inserted in the middle comes out clean.
Let cool completely before slicing. Enjoy!
Warburtons' Crumpets / Healthy Breakfast Recipes