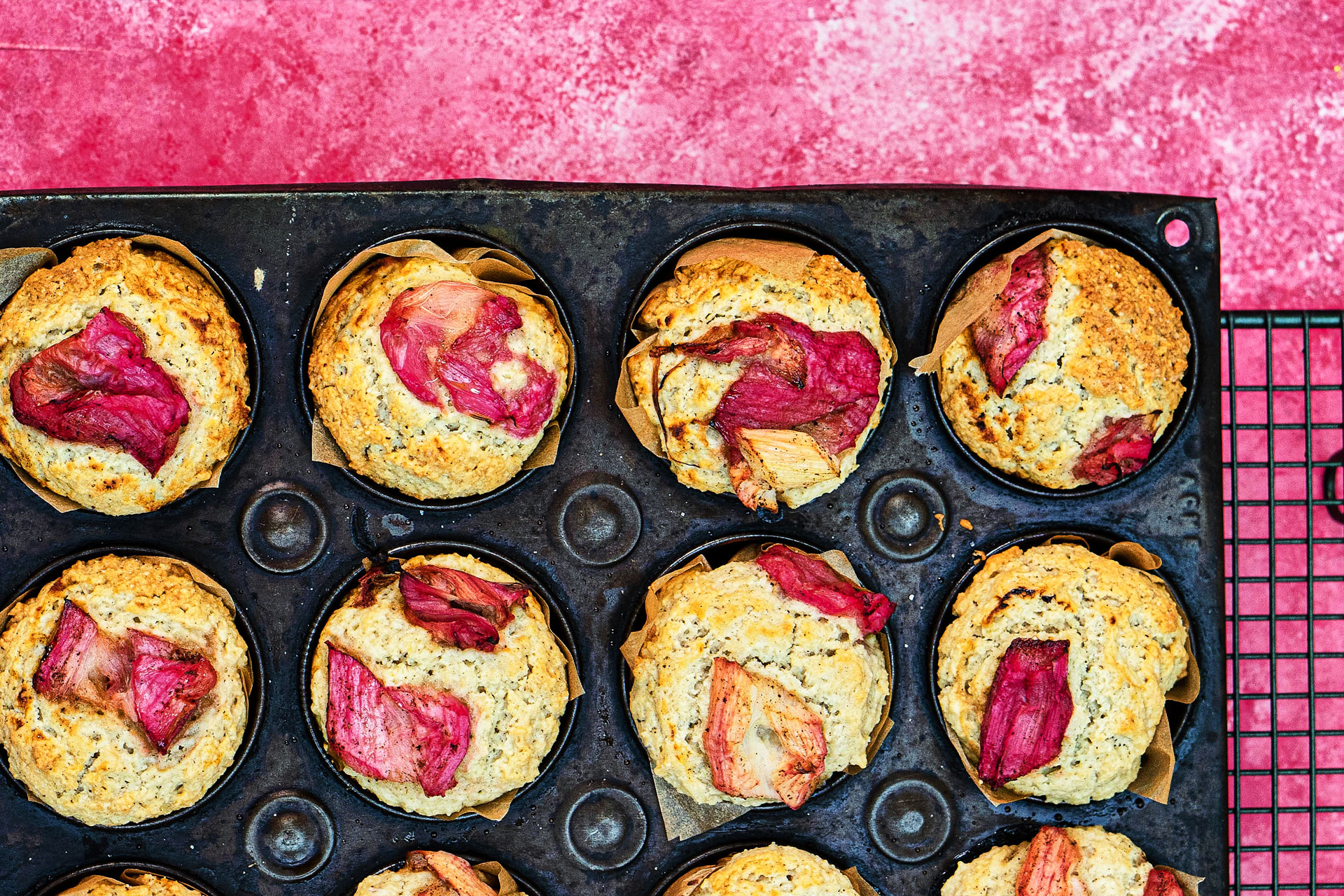 Fruit of the Week: Forced Rhubarb
---
The prettiest fruit around gets the spotlight
Each week plant-based cook Bettina Campolucci Bordi, founder of Bettina's Kitchen, gives us the lowdown on a particular seasonal vegetable or ingredient, offering cooking tips and a recipe. This week it's forced rhubarb.
Have you seen all the beautiful rhubarb creations recently? They're popping up everywhere at the moment in food magazines and on Instagram. So why do we all love them so much and when should we be eating them?
From late December until the end of March, forced rhubarb season lands on our doorstep. The bright pink colours and the pale green stalks are wonderful to look at and cook with. So why do they call it forced rhubarb? Well, the rhubarb is lured out of its natural winter hibernation early by forcing it with warmth and darkness, a little like the white chicory or asparagus so loved by myself and many others.
Long, pale pink, delicate stems sprout up quickly, desperately reaching for the light that never comes. The stalk remains pink and never gets the green tinge or big canopy of leaves that sunlight would normally allow, so it has a more delicate flavour and a less fibrous texture than the outdoor kind – and is absolutely delicious in baked goods, sliced and pickled, and even roasted.
Outdoor rhubarb tends to be thicker stemmed and a brighter red colour. Remember that rhubarb leaves are poisonous and should never be eaten and always thrown away. When choosing you want firm, snappable, stalks with no blemishes or signs of bruising. ​Rhubarb does not need to be peeled: all you need to do is be sure to use a sharp knife when chopping rhubarb stalks. Enjoy the season as it only comes around once a year.
Rhubarb originated in Asia over 2,000 years ago. It was initially cultivated for its medicinal qualities, and it wasn't until the 18th century that rhubarb was grown for culinary purposes in Britain and America. It is a very hardy, frost resistant plant and in fact it needs a period of frost in the winter to produce the best stalks. Whilst categorised as a fruit it is really a vegetable because the stems of rhubarb are eaten rather than the fruit.
My favourite way of eating rhubarb is incorporating it into baked goods. I love roasting it first and using it as a topping. I am big fan of the slightly acidic taste that is easily sweetened with a bit of sugar. Below is a great quick recipe of how to make best use of the beautiful stems.
Recipe: Rhubarb Almond Cakes
Makes 12 cupcakes
Ingredients:
2 rhubarb stems
1 orange
1⁄2 pod of vanilla, scraped, or 1⁄2 tsp vanilla paste / extract sprinkle of brown sugar
For the cupcakes:
280g self raising flour
50g almond flour
200ml plant milk
80g soft brown sugar 100ml melted vegan butter 1 tsp baking powder
Small pinch of salt
1 vanilla pod (bean), scraped, or 1 tsp vanilla paste / extract
Method:
Preheat the oven to 180 degrees.
Cut up the rhubarb and place into a baking tray lined with greaseproof paper. Squeeze the juice of the orange over the rhubarb, along with the vanilla and sugar sprinkled on top. Cook in the oven for 20 minutes.
Meanwhile, mix all cake ingredients together and pour evenly into a muffin tin to make 12 cakes.
Add the cooked rhubarb pieces on top of each one and cook in the oven for 12 minutes.
MORE RECIPES:
The Social Pantry's Rhubarb Tart / Vegetable of the Week: Potatoes