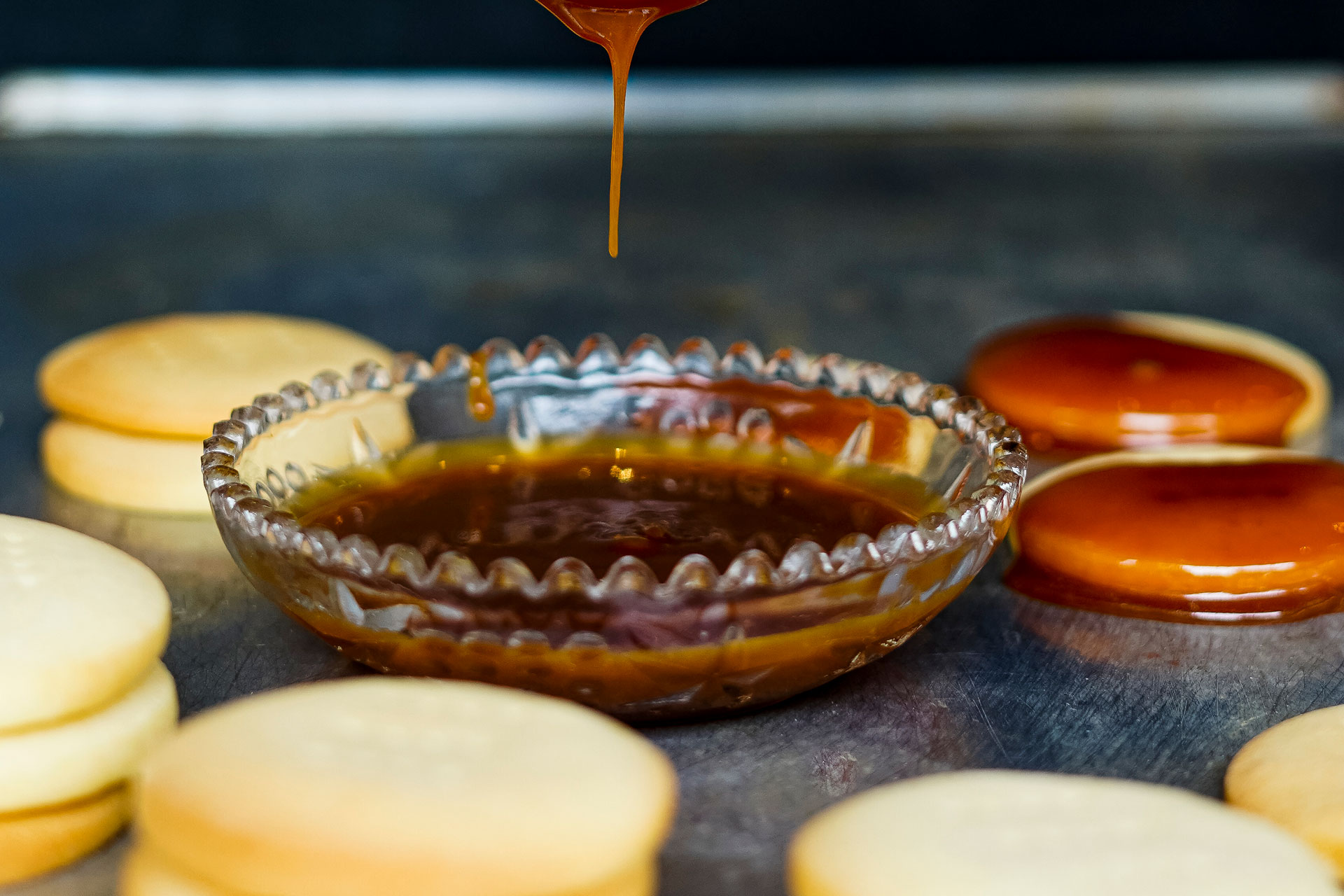 GBBO Biscuit Week Recipe: Spicy Ginger Caramel Shortbread
---
Feeling inspired by the new series of Great British Bake Off? Test your skills with our new weekly series, where we'll bring you a recipe to tie in with each week's baking theme. This week it's all about biscuits, so we share a spicy ginger caramel shortbread recipe, taken from Laurel Kratochvila's new cookbook New European Baking.
Recipe: Spicy Ginger Caramel Shortbread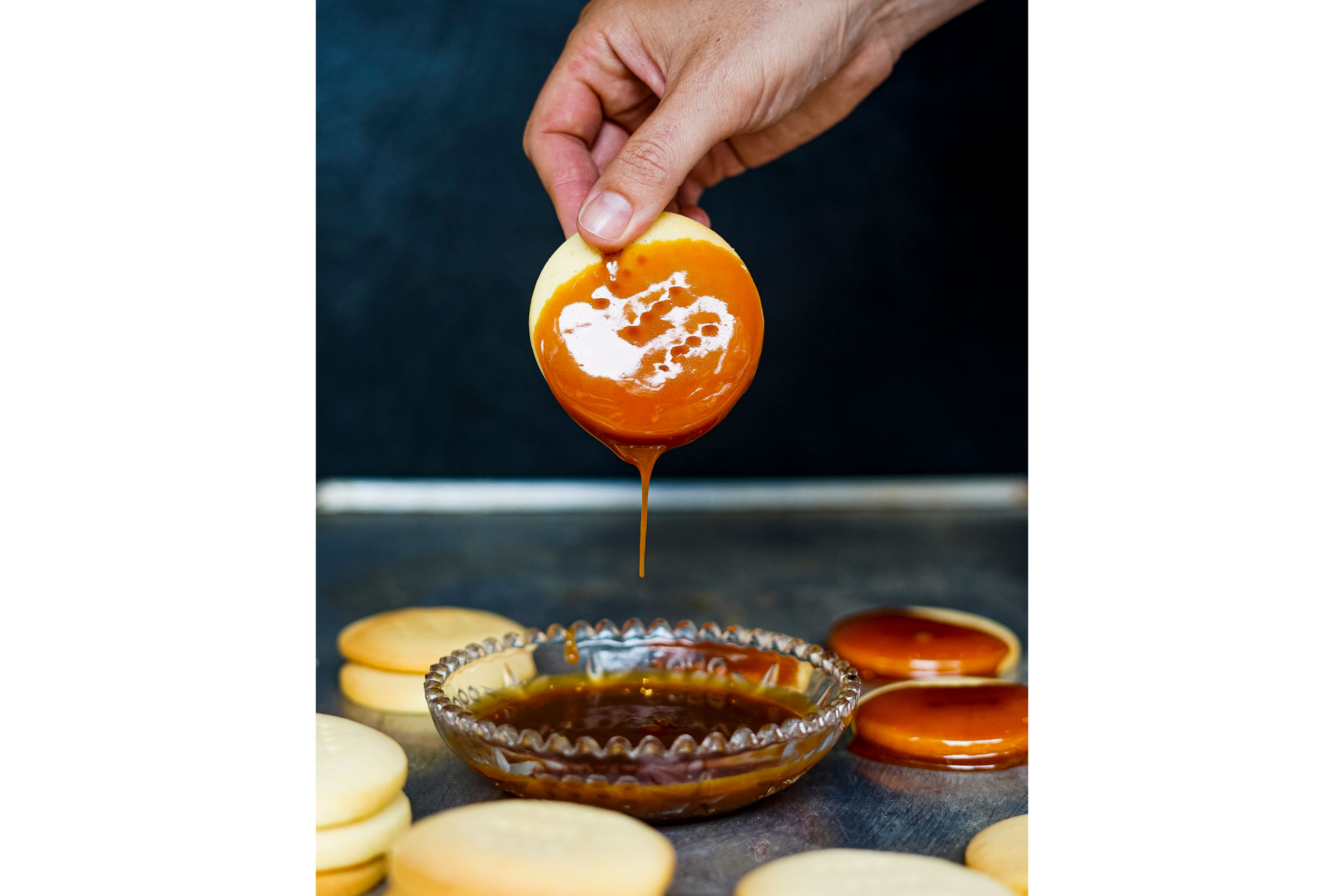 Once, in a Scottish bakery, I ordered millionaire's shortbread – caramel and chocolate layered onto the country's famously rich shortbread – and presumed I knew what I was in for. But what I didn't expect was a caramel layer buzzing with ginger. It was magnificent. Despite looking for caramel with that same zip ever since, I've never found its equal. Good thing there's no need to search for what you can make at home. This is the recipe I make when the craving strikes. There's enough ginger in this caramel to make your cheeks tingle. Which is the point.
Ingredients
Makes about 20 cookies
For the cookies:
314g (2 ½ cups plus 2 tbsp) all-purpose or pastryflour

 4g (1 tsp) baking powder

160g (⅔ cup plus 1 tbsp) unsalted butter, cubed andcold

130g (1 cup plus 2 tbsp) confectioners' sugar

4g (1 tsp) fleur de sel, or 5g (¾ tsp) table salt

1 large egg, plus 1 large egg yolk, beaten
For the ginger caramel:
200g (1 cup) granulated sugar

120g (½ cup) water

50g (3 ½ tbsp) unsalted butter, room temperature

2 tsp ground ginger (for extra zip, do a full tablespoon!)

120g (½ cup plus 1 tbsp) heavy whipping cream

2 tsp pure vanilla extract

½ tsp fleur de sel
Method
In the bowl of a stand mixer fitted with the paddle attachment, combine the all-purpose or pastry

flour, baking powder, and butter and beat until sandy. Add the confectioners' sugar and salt and

beat on low until uniform. Add the egg and egg yolk and beat on low for 2–3 minutes, or until the

dough comes together and is smooth, not crumbly. Form the dough into a disk, wrap airtight, and

chill in the fridge for at least 2 hours (or for up to 3 days).

Preheat the oven to 170°C (340°F) (preferably convection setting).

Once the dough is chilled, on a lightly floured surface, use a rolling pin to break the dough by

pounding it, or folding it over itself and rolling it. Repeat until the dough is supple enough to roll

out without cracking, then roll it out to about a 5mm (1/5 inch) thickness. Use a 5cm (2 inch)

round cookie cutter to cut about 20 cookies. Arrange the cookies on a parchment paper-lined

baking tray and prick each one 3 times with a fork. Bake for 8 minutes, or until just golden. If you

like a crispier cookie, bake them as long as 12 minutes. Set aside to cool.

While the cookies are cooling, make your ginger caramel: In a heavy-bottomed medium

saucepan, melt the granulated sugar and water over low heat, without stirring, until no more

sugar granules are visible. Let come to a gentle boil, then continue gently boiling for 3 minutes.

Add the butter and let melt, stirring to incorporate, then stop stirring and let come to a boil.

Continue boiling, without stirring, for a few minutes, or until the light yellow syrup darkens to a

medium honey color. Add the ginger and give the mixture a quick whisk. Remove from the heat

and immediately add the heavy whipping cream, vanilla, and salt. It will splutter and bubble, but

just keep stirring until smooth, then set aside to cool and thicken for about 20 minutes.

Once the caramel is a bit cooler, give it a stir to get rid of any skin that might have formed. Dip

half of each cookie in the caramel, place on a wire rack set over parchment paper to catch the

drips, and let cool completely. Enjoy!
Notes:
While this method calls for a stand mixer, it's also possible to do mix the dough by hand or in a food processor.

Dip your shortbreads straight into the caramel for gloss, or spread and fill two cookies to

make a sandwich.

For a millionaire's shortbread effect, dip caramel cookies in melted or tempered dark
New European Baking by Laurel Kratochvila, Prestel, out now in the UK and 4 October in the US, available to buy here