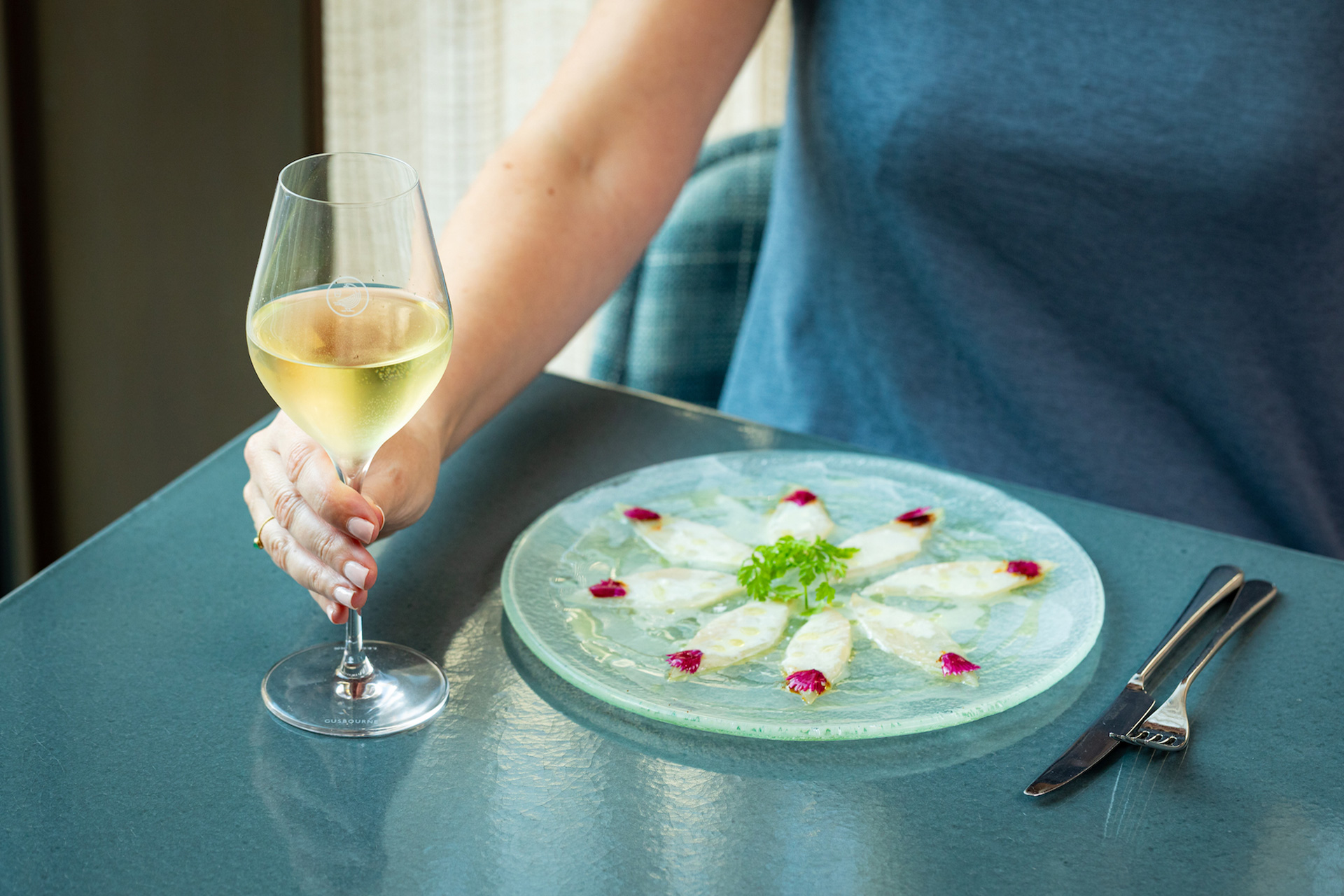 A Guide To Blanc De Noirs Champagne With Gusbourne's Master Sommelier, Laura Rhys
Just in time for seasonal festivities
It's coming up to Champagne season, and Blanc de Noirs should be on your radar for sipping. Its translation, 'white wine from red grapes', means it is blended solely from red grapes – but don't let it fool you, they're almost always clear to white in shade. Want to learn more? Who better to ask than Gusbourne's Master Sommelier and Brand Ambassador, Laura Rhys, who's previously been awarded UK Sommelier of the Year, and achieved Master Sommelier status from the Court of Master Sommeliers in 2010 (an honour achieved by only 273 individuals worldwide since its founding in 1969). 
If you really want to dive in, you can join Laura on 7 November at Whitcomb's at The Londoner to celebrate the restaurant's launch of a new series of supplier wine dinners (and, you guessed it, first up is this English sustainable wine maker). Expect an evening of fine food that has been specially paired with vintage Gusbourne wine, all hosted by Laura, who can offer up her intel on all things wine.
A Guide To Blanc De Noirs Champagne With Gusbourne's Master Somelier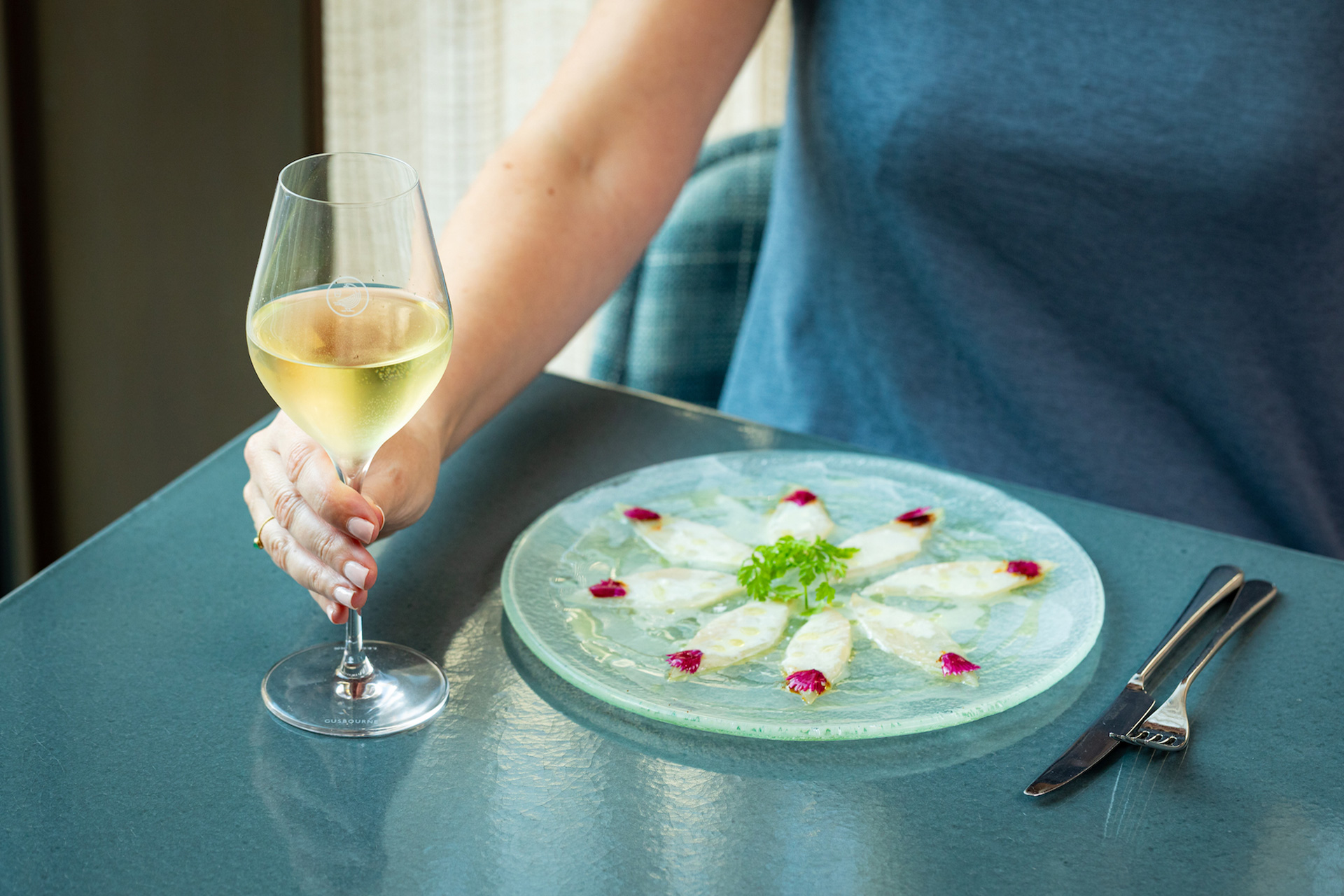 What is Blanc de Noirs?
Blanc de Noirs is a white sparkling wine made from red grapes. Gusbourne's Blanc de Noirs displays great finesse in the glass and is expressive on the nose with fine-tuned notes of dried candied fruits and violet flower. It is characteristically deep and complex, rich and powerful. It is a wine that holds your attention with serious appeal. There is a real intensity and weight on the palate, but the balance is such that it remains delicate and neat on the refreshing and long, persistent finish.
What makes a good Blanc de Noirs, from growing conditions to terroir?
It's all about the quality of fruit and the skill and technique of the winemaking team in the winery. Focusing on just the classic grape varieties of Chardonnay, Pinot Noir and Pinot Meunier, we believe that the only way to ensure the quality of our grapes is to grow them ourselves. That's why the grapes used in our winemaking are sourced solely from Gusbourne vineyards.
Our vineyards are blessed with a very special terroir: our Wealden clay-loam soils combined with an exceptionally warm and dry maritime climate enables us to be the first to harvest in England, whilst our proximity to the sea provides a distinctive salty tang to the wines. 
These privileged growing conditions allow us to make wines that are exclusively vintage, which is very unusual in England. Each vintage is a unique expression of each growing season, and presents an authentic reflection of a time and place. Our vines are tended with great care and attention to the environment, using only organic fertilisers, and over half of the vines planted are Burgundian (rather than Champagne) clones. This means that we produce lower yields (brought lower still by green harvests every year), but the resultant fruit is riper and has significantly more flavour, making our grapes ideal to produce fine wines. Our Traditional Method Sparkling winemaking is a slow and measured process. We have an uncompromising quest for quality and a fastidious approach to detail. We follow strict, self-imposed parameters (for example at pressing the free run and tail are separated and only the first pressing used) to maintain our exacting standards and keep intervention to an absolute minimum to ensure the best expression of our wines each year.
Can you tell us about the winemaking process?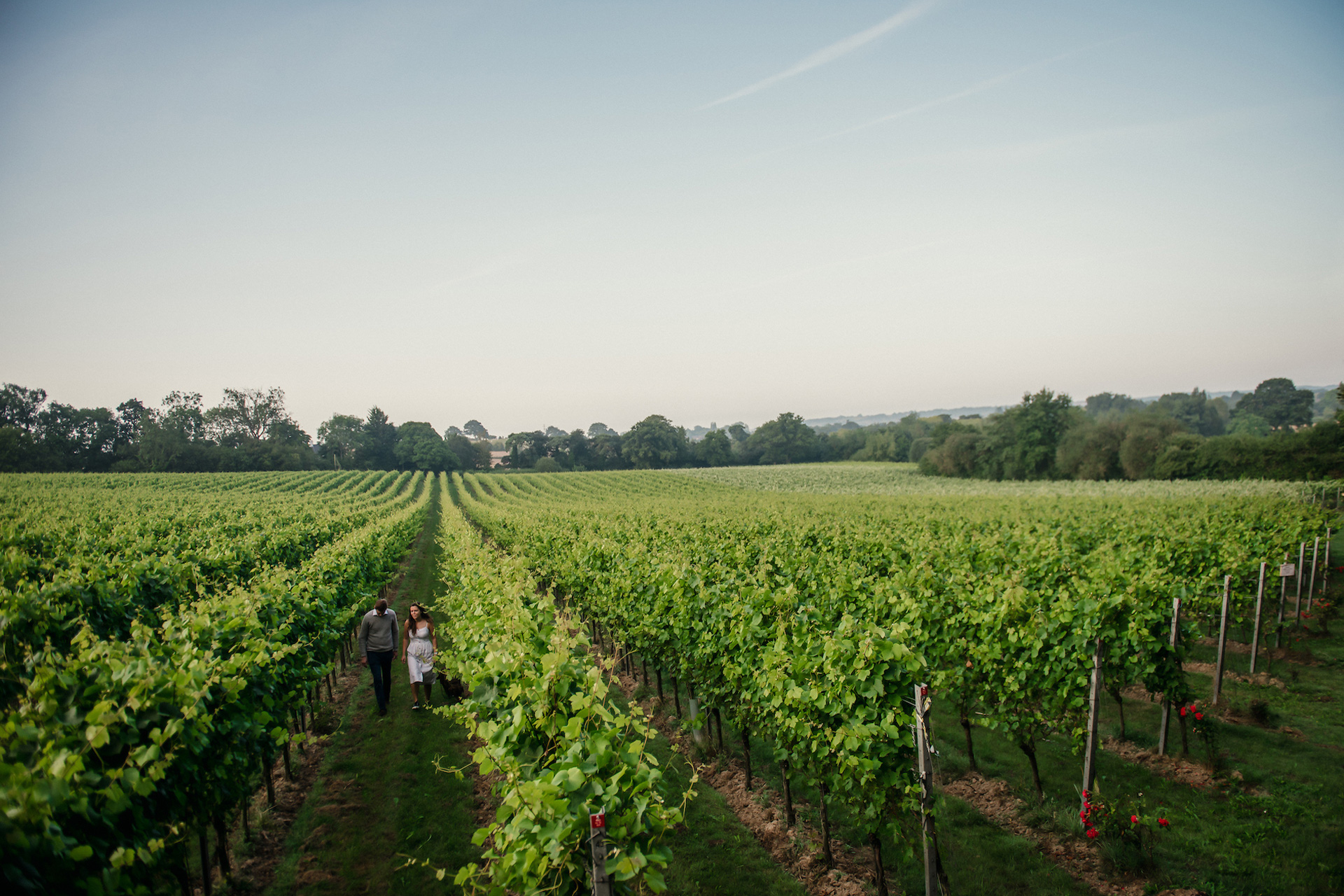 The grapes are whole bunch pressed and naturally settled for 24-36 hours. The wine then spends 10 days at 18-20C using specialist sparkling wine yeast, fermented in temperature controlled stainless steel tanks with a small percentage fermented in old oak barrels for added complexity. The wine is then aged a minimum of 31 months before release.
When producing Blanc de Noirs, our aim was to create a classic alternative to Blanc de Blancs, a true reflection of a contemporary sparkling Pinot Noir. We specifically chose only our prime lots of Pinot Noir to create this wine, ensuring that it demonstrates the fullness and richness, finesse and structure expected of this style.
Should we invest in Blanc de Noirs?
If you enjoy a fuller, richer style of sparkling wine, you most should definitely try it!
If you enjoy a fuller, richer style of sparkling wine, then Blanc de Noirs is worth adding to your wine collection. It pairs very well with a wide variety of foods and will age well depending on the vintage. The best wine collections are filled with the wines you want to drink!
When you're looking to invest in wine, you should follow your love for a region or producer and try as many styles as possible to find out what you enjoy. Investing in English wine now is a smart decision as people are beginning to see the immense quality of what this country can produce. Gusbourne wines have a great capacity for ageing. Our first vintage, 2006, is still drinking beautifully now, which shows the incredible ageability of our wines. When investing in wine, you should choose wines that will improve with age. 
What should we pair it with?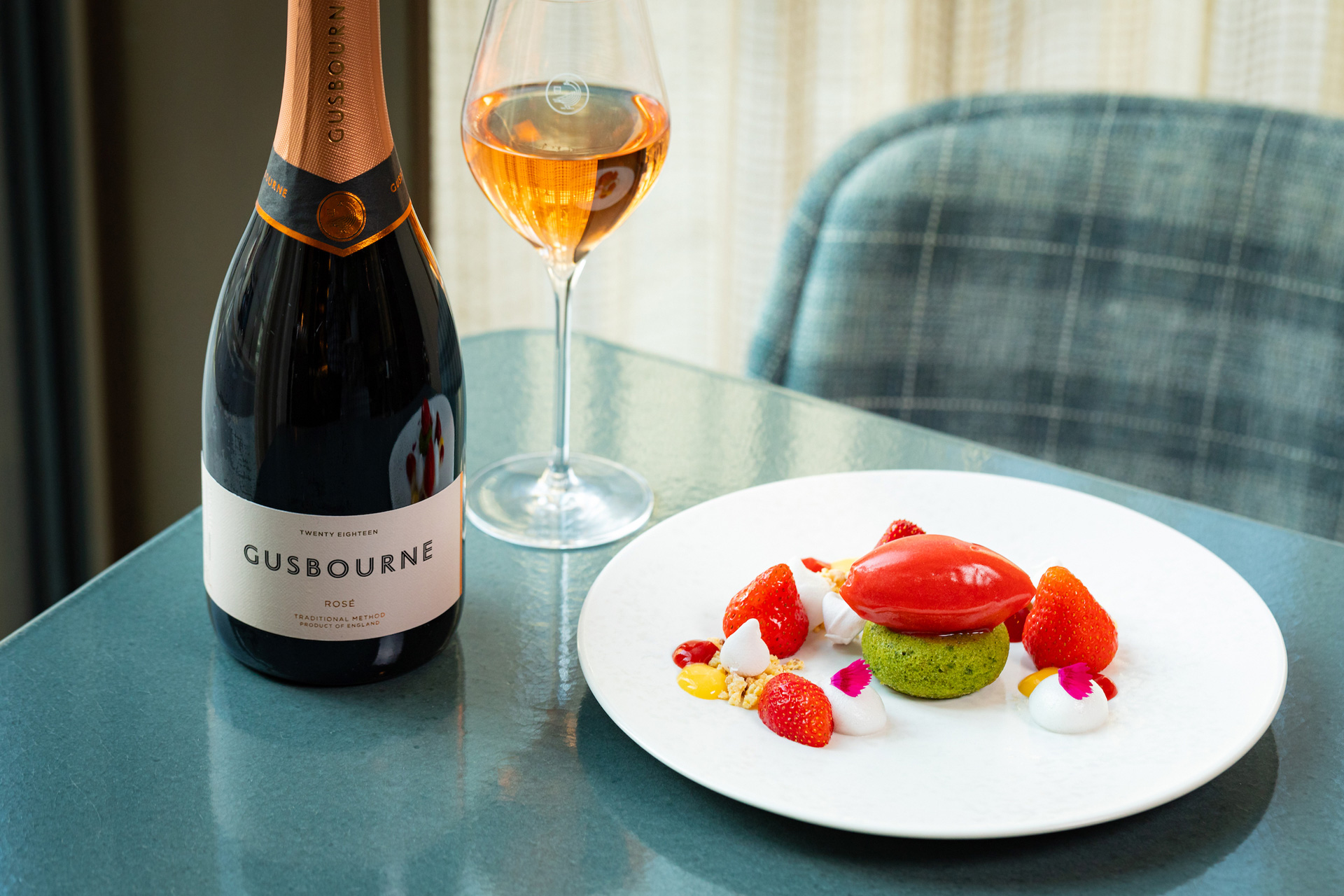 Richer fish dishes, cured meats and cheese. Try with roasted cod with mussels and chorizo, soft, creamy cheeses, or a mushroom and chestnut tart.
For our upcoming wine dinner, in signature Whitcomb's style, the menu for the evening draws inspiration from the Mediterranean and has been thoughtfully designed to complement Gusbourne's vintages. Dishes include Yellowtail carpaccio with citrus and miso salt paired with Gusbourne's Blanc de Blancs 2018, Pan-fried sea bass with white wine, shallots and lemon crème, served with layered potato chips with rosemary and a mix leaf salad in citrus dressing with Gusbourne Chardonnay Guinevere 2021 and Marinated strawberries with basil sponge and citrus curd to be enjoyed with Gusbourne Rosé 2019. 
BOOK IT
The Gusbourne Wine Dinner will take place on Tuesday 7 November at Whitcomb's at The Londoner, 38 Leicester Square, London, WC2H 7DX. Tickets at priced at £99 per person. thelondoner.com