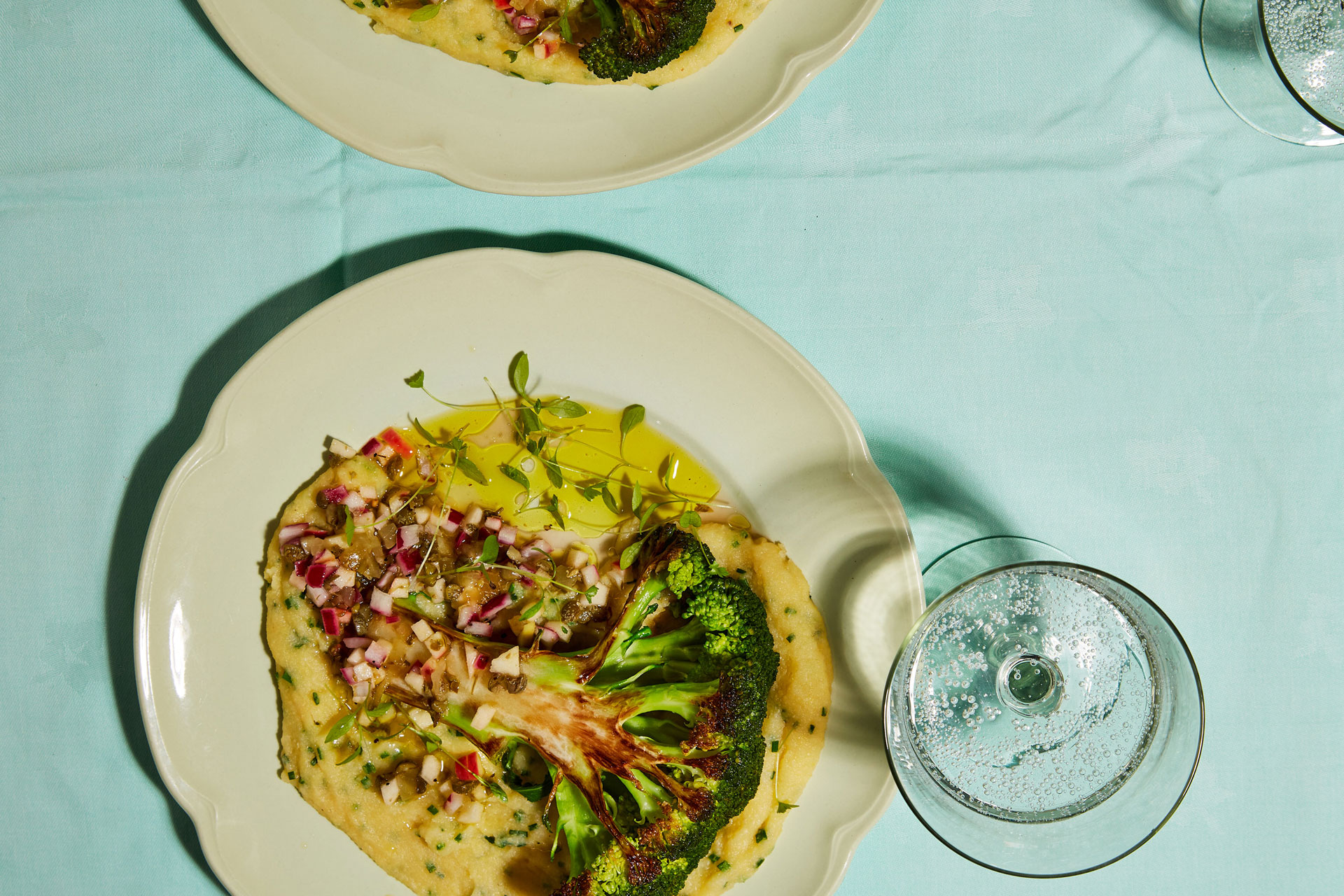 Ingredient of the Week: Polenta
Bettina shares her favourite way to cook with polenta
By Bettina Campolucci Bordi | 1 year ago
Each week plant-based cook Bettina Campolucci Bordi, founder of Bettina's Kitchen, gives us the lowdown on a particular seasonal fruit, vegetable or ingredient, offering cooking tips and a recipe. This week it's polenta.
Ingredient of the Week: Polenta
This week's ingredient is going to be polenta. Naturally gluten-free and incredibly delicious when cooked and paired right, polenta originated in Northern Italy where it was a staple food – and still is to this day.
Polenta is made by grinding corn into flour. It has a rich yellow, yolk-like colour, and has a slightly sweet flavour. Polenta can be cooked to be creamy and thick, or allowed to set and then sliced. Serve it instead of pasta, rice or potatoes. I actually also cook it as a sweet porridge laced with vanilla and topped with warm berries which works incredibly well. A form of cornmeal exists worldwide. We have grits in America, and in Bulgaria where I am partially from we have it with lots of butter paprika powder and feta cheese. Corn has such a history as staple and comes in many delicious forms all over the world.
My favourite way of eating it, though, is whipped and creamy with chives, a glug of cream and a pinch of nutritional yeast for extra cheesy flavour.
Recipe: Roasted Broccoli with Cheesey Polenta & Chives
Cauliflower has had its moment in the limelight in my book, so now I think it's broccoli's turn to shine. Poached whole with a zingy dressing over creamy polenta, this dish will impress both your eyes and your taste buds. This recipe is from my latest book Celebrate, from the Spring/Summer chapter.
Ingredients
2 broccoli heads (about 800g/1lb 12oz)
1 litre (34fl oz/4 cups) water
4 tablespoons tamari or soy sauce
2cm (3⁄4 in) piece of ginger root, grated
2 tablespoons olive oil
2 tablespoons sesame seeds
For the dressing:
1⁄2 small red onion, chopped
1 tablespoon capers, chopped
1 tablespoon gherkins, chopped
1⁄2 apple, chopped
60ml (2 floz/1⁄4 cup) olive oil
1 1⁄2 tablespoons apple cider vinegar
Salt and pepper
For the polenta:
160g (51⁄2 oz/1 cup) polenta
960ml (32fl oz/33⁄4 cups) water
60ml (2fl oz/1⁄4 cup) plant cream
30g (1oz) chives, finely snipped
1 tablespoon nutritional yeast
Salt and pepper, to taste
Method
Preheat the oven to 180°C (350°F/gas 4). Line a large baking tray (pan) with baking parchment.
Prepare the broccoli by chopping 1 cm (1⁄2 in) from the base of the stem and peeling the rest of the stem. Keep the stem and broccoli head intact. Cut each broccoli head in half through the top and down the stem.
Bring a large saucepan of water to the boil and add the tamari/soy sauce and ginger.
Once boiled, add the four broccoli halves to the pan, blanch for 5 minutes (be careful not to overcook) and then drain.
Lay each broccoli half, flat side down, in the baking tray.
Baste with the olive oil and sprinkle with the sesame seeds.
Cook in the oven for 10–15 minutes, or until golden brown.
While the broccoli is cooking, mix all the dressing ingredients together in a bowl until well combined.
Set aside.
For the polenta, bring a saucepan of water (960 ml/ 32 fl oz/33⁄4 cups) to the boil and add the polenta. Keep stirring until the mixture starts to thicken. Once thickened, remove from the heat, add the cream, chives, nutritional yeast, and salt and pepper, and mix well.
Serve immediately by adding a big dollop of creamy polenta to each plate and placing half a broccoli head on top.
Drizzle generously with the dressing.
MORE INGREDIENT OF THE WEEK: