Culinary wizard Heston Blumenthal OBE on the past, present and future of food
In 1995, a young Heston Blumenthal bought a run-down pub called The Ringers in Bray and re-opened it as The Fat Duck. He worked from a tiny kitchen alongside a tiny team, yet it wasn't long before his wacky dishes – which included snail porridge, parsnip cereal, and egg and bacon ice cream – garnered the attention of critics. It was the beginning of a new era, one which merged the worlds of science and food: Heston the world's first Willy Wonka-style chef, a pioneer in multi-sensory cooking. Fast forward 24 years, and The Fat Duck stands as one of the most famous and unique restaurants in Britain, with three Michelin stars to its name.
The history of this iconic eatery is explored in a new BBC documentary titled Heston's Marvellous Menu: Back to the Noughties, which sees food critic Giles Coren challenging Heston, now 53, to re-create one of his famous tasting menus from 2001. Packed with nostalgia, the programme charts Heston's rise to British food superstar, exploring how his multi-sensory style of cooking shaped culinary history. Here Heston – ever the chatterbox – reflects on the experience with C&TH's Ellie Smith…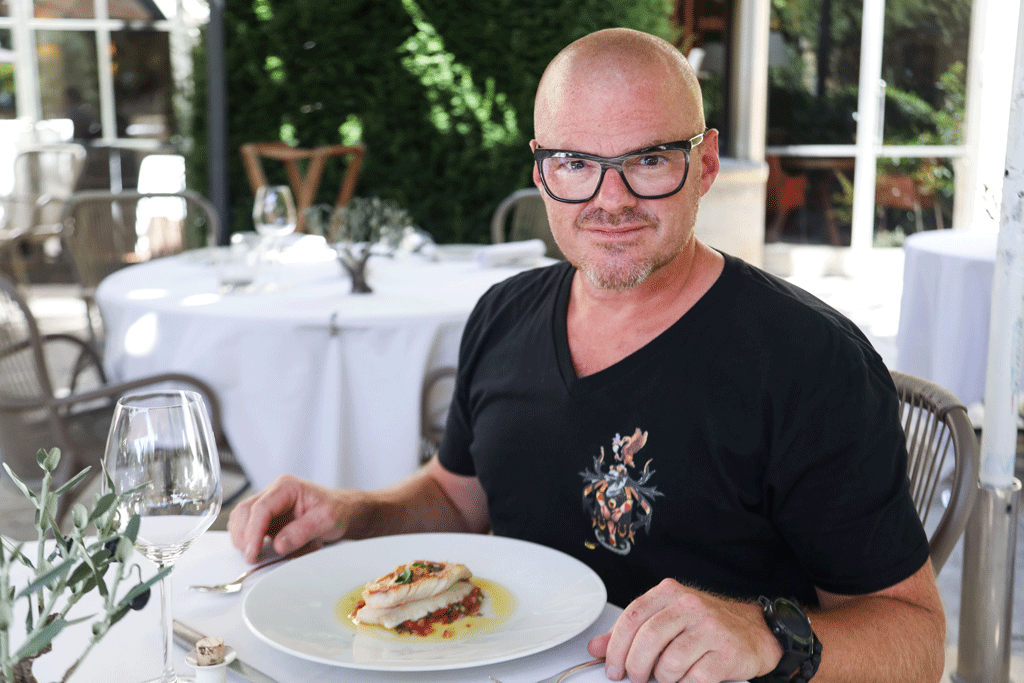 What are the main changes you've seen in our approach to food since 2001?
In the '60s and '70s, post-war Britain exploded in culture, photography, painting, music, TV and broadcasting, but it didn't in food. But between 2001 and now, food has exploded in Britain – the quality of ingredients, the amount of cheesemakers, the food programmes on TV. People are more adventurous with food. Mention crab ice cream now and most people don't really bat an eyelid, but when I did it for the first time in 1970 the response was: what are you trying to do? Are you trying to poison people? We've become so much more open to trying new things.
How did you find filming Heston's Marvellous Menu: Back to the Noughties?
It was wonderful. It made me realise a lot about myself as a human being. It's all very well going back and getting the recipes and the team from 2001, but what I didn't realise beforehand is I'm not the same person I was in 2001. The best surprise was having the old guys back. We had no trial run, but it worked because we all connected so well – we had spent so many thousands of hours together in the past. This shows the wonderful nature of human connectivity, which is something we're losing as a species. You can have 10,000 friends on social media but many of these will be superficial friendships. If you're with a group of people that you trust, you know someone will have a go at catching you if you fall.
How has The Fat Duck changed since 2001?
Back then I was working in a concrete box with a small band of merry men and we were just pushing on what we believed. The kitchen was so small, the gas was so weak – I was almost driven to find bits of kit to make our lives easier. The Fat Duck is a Rolls Royce now compared to what it was then, but back then it was more radical. The food world hadn't been explored in the way it has been now.
How can nostalgia can affect the way we perceive a dish?
Massively: food transports you back to a memory, partly because smell is the biggest trigger of memory in all the senses. It transcends whether you think something is good for you or not – a food that gives you happiness brings much more than health.
Can the appearance of food affect how we feel about it?
Totally. Not only the colour of the plate but the size of the plate, the weight of the plate, the lighting in the room, how the person you're with speaks –eating is a multi-sensory experience.
What do you predict in the future of technology over the next decade?
I believe in the beauty of human beings, and that's the beauty of being able to imagine things that don't exist. If you look at our relationship with mobile phones, some of us might be in danger of losing that. It's really early days yet but I want to do either a pop-up, show or restaurant which involves a robot doing things human beings can do so you can free up human beings to be human beings.
Where do you get your inspiration from?
Life. It could be going for a run, seeing a film, being with friends, waking up, going to a market, that's the beauty: it comes from everywhere. But ultimately it comes from me and my senses.
Weirdest dish dish you've ever made?
My dishes make sense to me so I wouldn't say they're weird, but I've eaten some weird stuff for TV. I cooked leeches in Transylvania for a Dracula show, and I once ate fermented shark – I thought I was having anaphylactic shock! I put it in my mouth to taste it and it was like my throat decided to have a life of its own and it flung out.
Favourite regular dish?
I love prawn cocktail with shredded lettuce, I love a good pork pie, I love bacon and eggs, I love a Sunday roast. That's the beauty of food: what you want to eat on a Sunday in winter is not the same as you might want to eat on a Sunday in summer holiday in Ibiza. Eating fish and chips out of newspaper sitting by the port hearing the seagulls tastes different to how it would elsewhere.
Most memorable cooking disaster?
I've had quite a few. The oven blew up on me once, picked me up off the floor and knocked me onto the bench. And one time I dropped a cake I'd spend five weeks making for someone's 40th birthday – half an hour before they arrived.
Heston's Marvellous Menu: Back to the Noughties is on BBC Two at 9pm on 19 December.
Special Occasion Restaurants in London / Interview with Prue Leith
---