C&TH caught up with zero-waste superstar Melissa Hemsley about her new book, Eat Green, to talk all things planet-friendly eating and reducing food waste. Find out her tips for what to use from the freezer, and her favourite secret spot in Cornwall.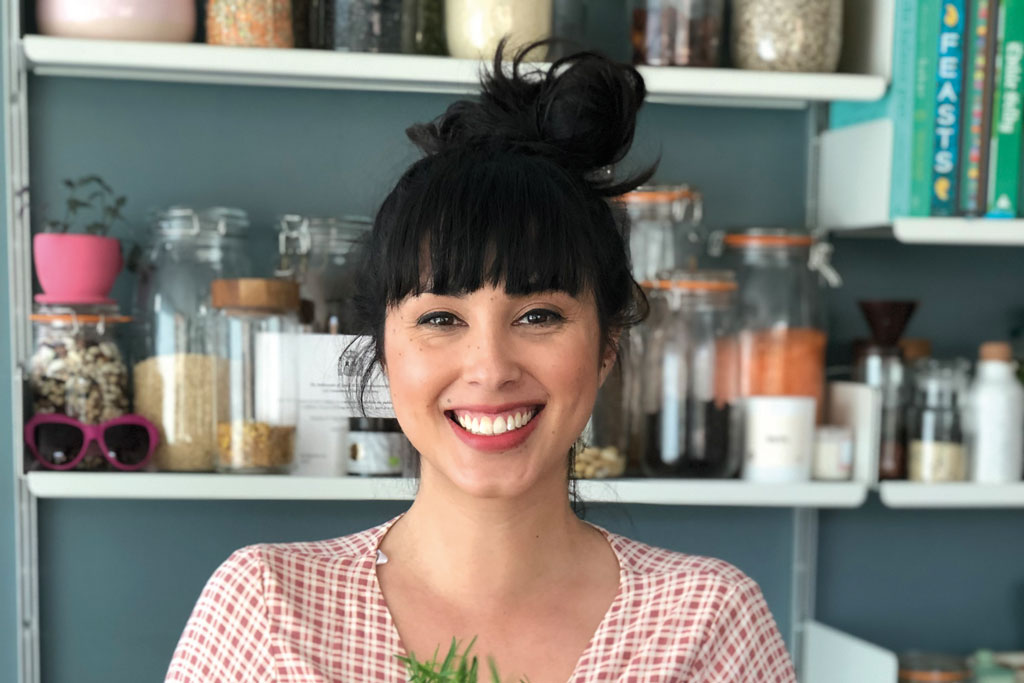 Food philosophy?
Delicious, healthy food that never needs to be wasted. For me food isn't just looking forward to a meal, it's the pleasure of eating it and feeling good after. On top of that, the rate at which we're throwing away food is getting higher and higher. We need to get back in the kitchen, and stop and think 'what do we really need?' That ties fashion, food and everything else.
First dish you learnt to cook?
Scrambled eggs, properly slow cooked with butter might have been the first thing – they're a great ingredient to demonstrate the difference of organic and free range.
What's in your fridge right now?
I've got carrots, feta cheese, butter, leftover boiled eggs. I'll probably chop them up samosa-style with broccoli and some lemon juice, yoghurt and herbs. I also have leftover minestrone style soup, I'll probably grate some cheese over the top. There's more in the freezer than anything else: I've got spinach, peas, broad beans, cauliflower, Brussels sprouts. If you remember one thing, it's put things in the freezer – it's a time machine. And often frozen veg is much more affordable – banana and blueberries too. Then you never have to feel guilty about throwing things away, there's always something to eat.
Most vivid childhood food memory?
I must have been about three or four. I remember my mum boiling some prawns, peeling them, dipping them in vinegar and putting it in my mouth with some white rice – she's from the Philippines. I've loved sweet and sour flavours ever since.
Favourite ingredient that is in season right now?
I recently had the best wild garlic I've ever had – it was so incredibly fresh and pungent. I was in Yorkshire and an amazing chef from Lancashire who was doing a demo before me picked up an enormous bucket of it on his drive up. I cooked it in a herby bean dip with fried chermoula cauliflower. Beyond that I'm looking forward to asparagus season, I have a recipe in Eat Green for simmering (usually leftover) asparagus bottoms with fresh peas for a beautiful, green creamy soup.
Biggest mistake you've made in the kitchen?
Probably in the kitchen and life generally it would be trying too hard. You don't have to follow a recipe rigidly, if you're missing one ingredient you can always find something else. And if you've burned something there's no not saving it ­– you can always slice off or if it's a stew pour it from one pan into another and the burnt stuff stays at the bottom.
When you're not in the kitchen, where are you?
Hopefully outdoors! Ideally with my dog, walking towards the next meal. Killing time between meals, basically.
Most memorable meal out?
I'm going to opt for The Hidden Hut in Portscatho, Cornwall. The chef Simon Stallard is originally a private chef from London, who moved his family down to Cornwall. They host a meal every six weeks on the beach where you bring your own booze and he serves whatever the fishermen have brought in three hours earlier on long tables. When I went, we made paella on the beach with saffron from across the road, muffins and English wine. It was beautiful.
Do you have any unusual rules in your kitchen?
Not wasting anything would be one. And then anything I can do to get out of washing up! We also try to keep a shelf at eye level with things that need eating up first. Every three days or so I re-arrange it, it really helps reduce waste – especially if you have kids as it's at their eye level.
Least favourite ingredient?
I don't think I've got any! Every now and then when I have a really muddy beetroot, I go off beetroot a bit. But that's a bit unfair on all beetroots.
Who would you most like to take out for dinner and where would you take them?
I'd take David Attenborough and Jane Goodall for a walk along the river to Somerset House and we'd eat Skye Gyngell's Scratch Menu at Spring, which is delicious, and all made from leftover ingredients.
Follow Melissa's Cook Along videos @melissa.hemsley for ideas to make the most of cupboards in the next weeks.
Eat Green (Ebury, £22); melissahemsley.com
The Zero-Waste Food Movement / Melissa Hemsley's Sustainable Dining Guide
---