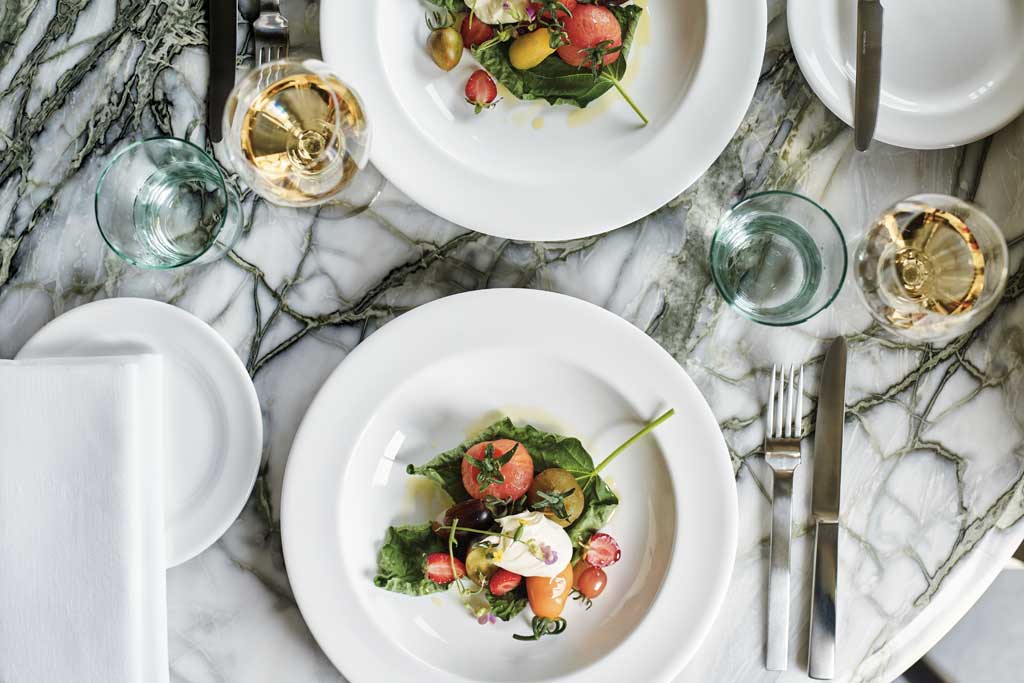 Sustainable Restaurant Guide: Best Eco-Friendly Fine Dining in the UK
Melissa Hemsley curates a guide to sustainable dining in the UK
Fine dining shouldn't cost the earth: neither figuratively nor literally. And with the waste-free food movement continually gaining traction, and chefs increasingly turning to local suppliers and sustainable sources to enable their restaurants to go green, there are more options than ever for eco-conscious foodies. If you're looking for the best sustainable and eco-friendly restaurants in the UK, Melissa Hemsley has teamed up with BMW i to provide you with an ultimate guide. 
'The world is changing, and changing fast. In just 20 years, the simple concept of going out for a meal or booking a weekend away will look very different. But already the world is full of innovators making important changes to help us live more sustainable lives – and this is very much the case in the kitchen. From the UK's first zero-waste restaurant in Brighton to new sustainable food festivals launching in Scotland, we are already surrounded by people inspiring us and teaching us something new – something that will help us all adjust our daily habits to work towards a better future.' – Melissa Hemsley
Chef, author and one half of Hemsley + Hemsley, Melissa Hemsley, teamed up with BMW i in their capacity as a sustainable mobility specialist to produce a guide to the best sustainable dining options in the UK. And to fact-check her findings in 2018, we took the BMW i8 Roadster for a little fine-dining-drive-through…
The Best Sustainable Restaurants in the UK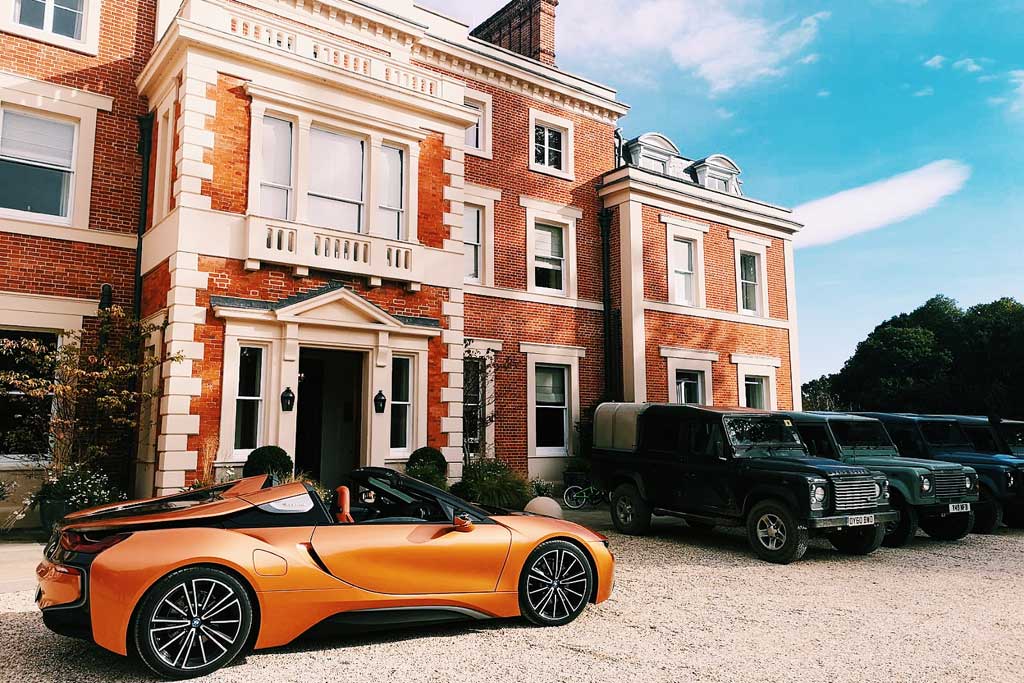 Heckfield Place, Hampshire
One of the UK's most hotly-anticipated openings of 2018, Heckfield Place in Hampshire is something rather special. Take a stroll round (as much as you can manage of) the 400 acres of countryside on the estate and you'll catch glimpses of the hotel's biodynamic principles in action. The name to know is culinary director Skye Gyngell, who you'll be familiar with from her work at Spring, Somerset House. Her seed-to-plate philosophy goes further than any other, with almost nothing going to waste, and menus carefully planned around seasonal, estate-grown ingredients. Oh, and you can go wild swimming in the lake, relax in the spa, or even take in a film in the hotel's screening room. There's almost no reason to ever leave. (Check-out time aside.)
EAT: The menu changes with the seasons and the biodynamic farm's output, but choose from the likes of carpaccio of River Test trout, grilled lamb with green tomatoes and swiss chard or roasted wild sea bass with borlotti beans and slow-cooked courgettes (delectable). Vegetarians will delight in the unmatched quality of the seasonal leaves and buttered greens, they really are good enough to eat on their own, and in large quantities. But it's the breakfast we'll be returning for, where the bread basket contains banana and rye bread, date and buttermilk scones and lemon and apple muffins (all irresistible), before you've even perused the menu, which features the likes of house made quince yoghurt or tea smoked trout.
BOOK: Rooms start at £350 per night for a double. Heckfield Place has two restaurants, Marle, which is open to all, and Hearth, exclusively for the use of hotel guests. heckfieldplace.com
You can download Melissa Helmsley and BMW i's full Guide to Sustainable Dining here, but here are a few more of her choices…
Lussmanns, St Albans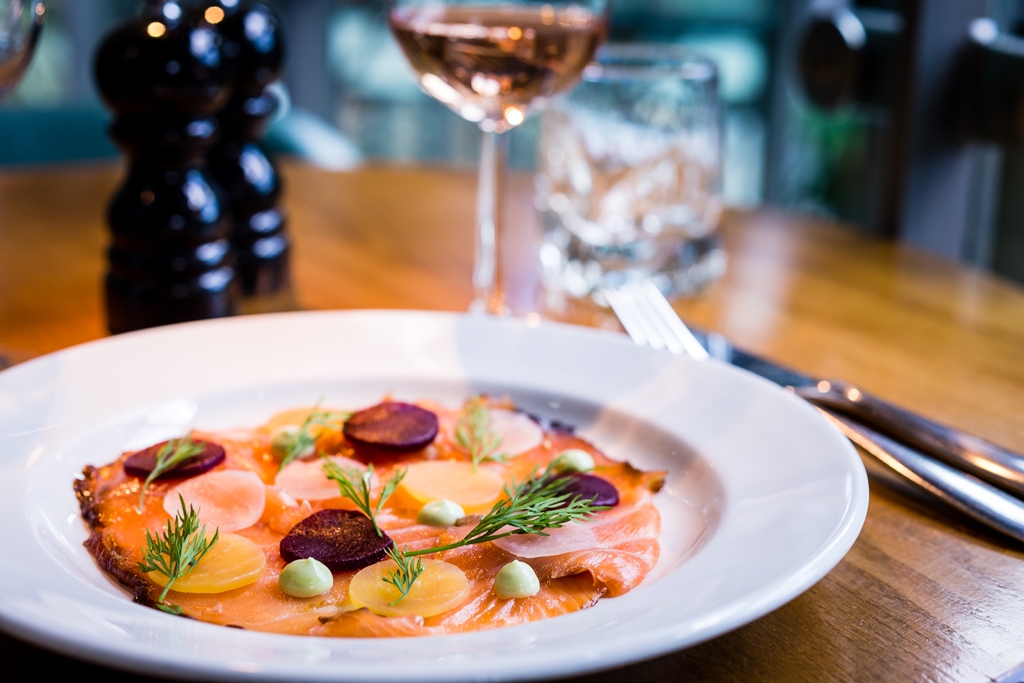 'From ladies who lunch to attractive young families and men with outlandish beards, the crowd at Lussmanns St Albans is a mixed bunch who unite together for two of life's simple pleasures: a good meal and service with a smile. But there's nothing simple about Lussmanns. Pioneers of sustainable seafood and passionate about being open and friendly, each of their five restaurants offers a unique dining experience where the atmosphere is just that, open and friendly. It's not even particularly that their general audience are hugely in tune with or impassioned about sustainability; but the company does, and that's their prerogative. Order the kipper pâté and wild mushroom and sheep's curd bruschetta to start, and either the schnitzel with linguine for meat eaters or the plaice with a side of minted new potatoes (one of this month's specials) for the main course, for fish-lovers. Each month their specials change and do trust your host with their recommendations. Drinks wise, their Bloody Mary (with an extra squeeze of lemon) is fresh and uplifting, and their gin offering comes from their in-house botanist – their gardener who makes his own gin with unique pairing potential. They're the first restaurant in the UK to stock this gin. The marmalade flavour is particularly tart and leaves you with a light buzz for which to explore the rest of the charming St Albans village.' lussmanns.com
London
Soane's Kitchen, Ealing
'Dishes include burrata cheese with zero-waste chimichurri and many of the vegetables on your plate having been grown in the restaurant's garden. At the core of Head's work is a commitment to making a meaningful impact through food: the chef offers mentoring and employment opportunities to young offenders, equipping them with the skills to thrive in the kitchen and beyond.' soaneskitchen.co.uk
Portland, Marylebone
'Merlin Labron-Johnson, the executive chef of Michelin-starred Portland, is a huge source of inspiration: he turns food waste into pickles, ferments or vinegars, sends non-edible waste to farmers for compost, and only buys meat and fish directly from farmers and fishermen.' portlandrestaurant.co.uk
The Best Sustainable Fashion Brands
South West
Shell Bay, Bournemouth
'Owner Jamie Farrar works to ensure that all the fish, shellfish and vegetables are sourced sustainably, leaving you to sit back and enjoy the sunset views, sipping on locally distilled drinks, including Black Cow vodka from nearby Bridport.' shellbay.net
The Pig Near Bath
'The kitchen is overseen by chef James Golding and head chef Jack Stallard, who are committed to fresh, clean flavours. If an ingredient can't be grown in the kitchen garden or in the extensive vegetable and fruit beds, then it is sourced locally, from within a 25-mile radius.' thepighotel.com
Find more Great British & Irish Hotels in our Hotel Guide
Melissa Hemsley
Scotland
Forage & Chatter, Edinburgh
'Tucked away in Edinburgh's West End is Forage & Chatter, a relaxed, cosy and colourful restaurant with a seasonal menu that utilises produce sourced within a 25-mile radius of the restaurant's doors.' forageandchatter.com
Get the full guide here.
READ MORE:
Sustainable Cafes in London / Interview with Melissa Hemsley