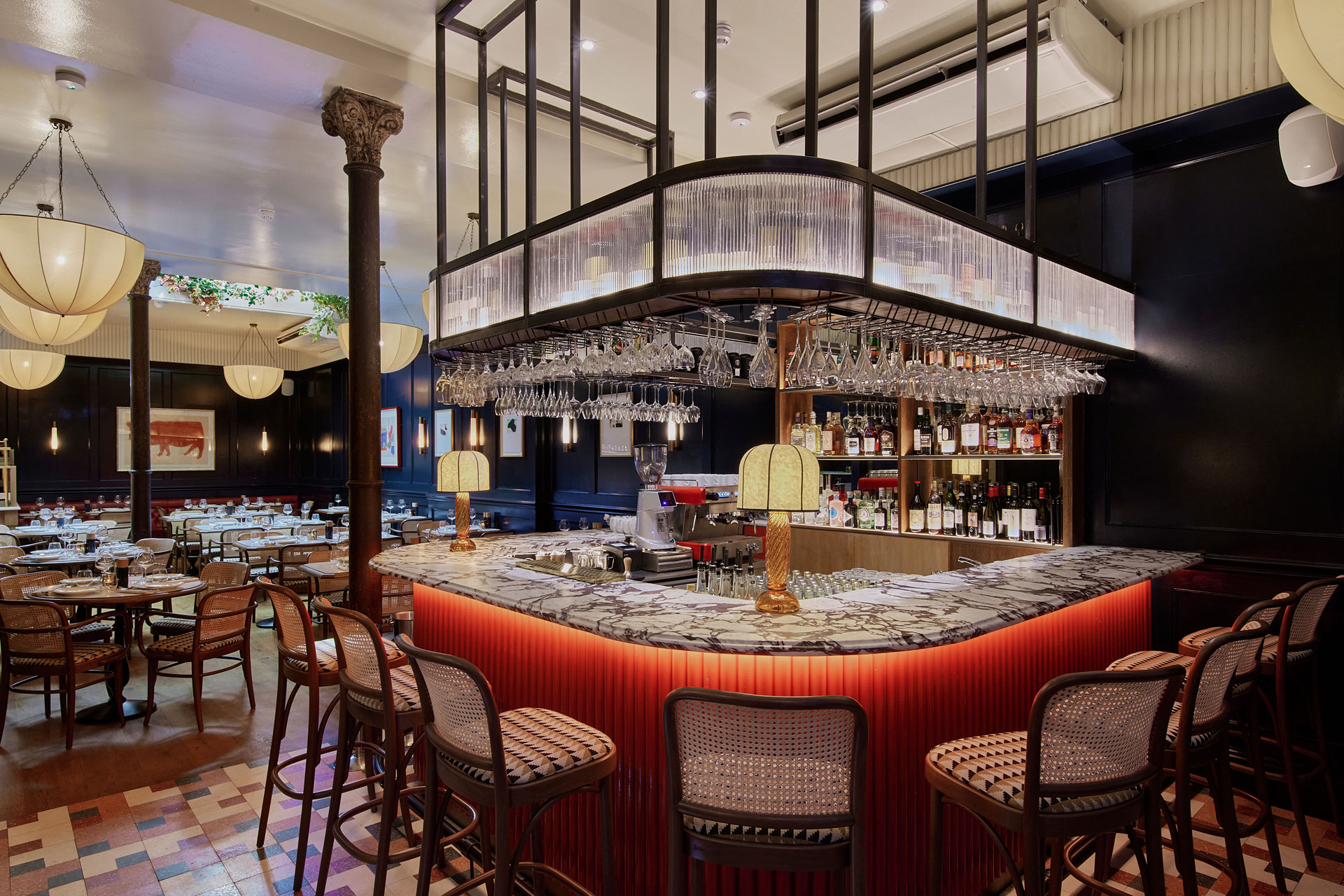 Restaurant of the Week: Le Petit Beefbar
---
The classic steakhouse gets a stylish twist at Riccardo Giraudi's new London branch
Our restaurant of the week is the first UK outpost of Le Petit Beefbar, recently opened on Chelsea's Cale Street
In the wake of the Salt Bae fiasco, it's natural to be wary of glitzy steakhouses. The celebrity chef – real name Nusret Gökçe – came under fire recently for the extreme prices he was charging for steaks at his Knightsbridge eatery, with a particular cut going for a whopping £1,450. Yet other beef restaurants are doing things more tastefully, without scrimping on quality. One of these is Le Petit Beefbar. The concept dates back many years, with Riccardo Giraudi launching the flagship restaurant in Monte Carlo back in 2005. Branches followed in glitzy destinations all over the world, from Mykonos to Saint-Tropez – and, most recently, London's Chelsea, which opened at the end of 2021.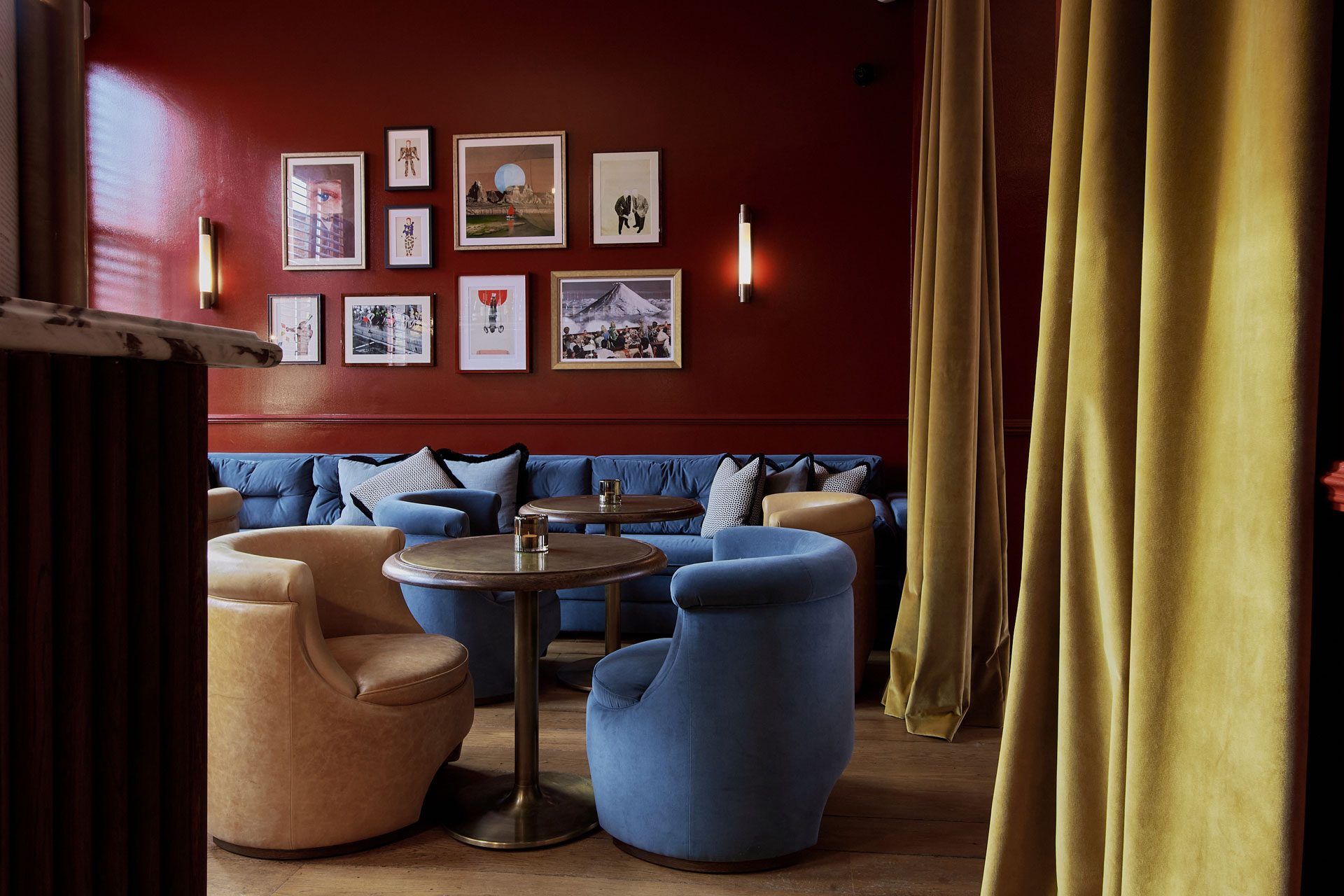 Tucked away on a little street near the King's Road, the restaurant has a hole-in-the-wall, speakeasy vibe – it feels almost like stepping into a Parisian brasserie. Diners enter through a mustard yellow velvet curtain, which opens onto a horseshoe bar and dimly-lit, wood-panelled dining room, filled with red banquettes and intimate tables for two. Yellow umbrella-style lampshades hang from the ceiling, and walls are peppered with David Shrigley artworks and antique mirrors. Giraudi's aim was to break the mould of pretentious steakhouses and create something that felt like modern luxury, which comes across in the ambience here. It feels classy without being stuffy; 'in the know' without being overly exclusive.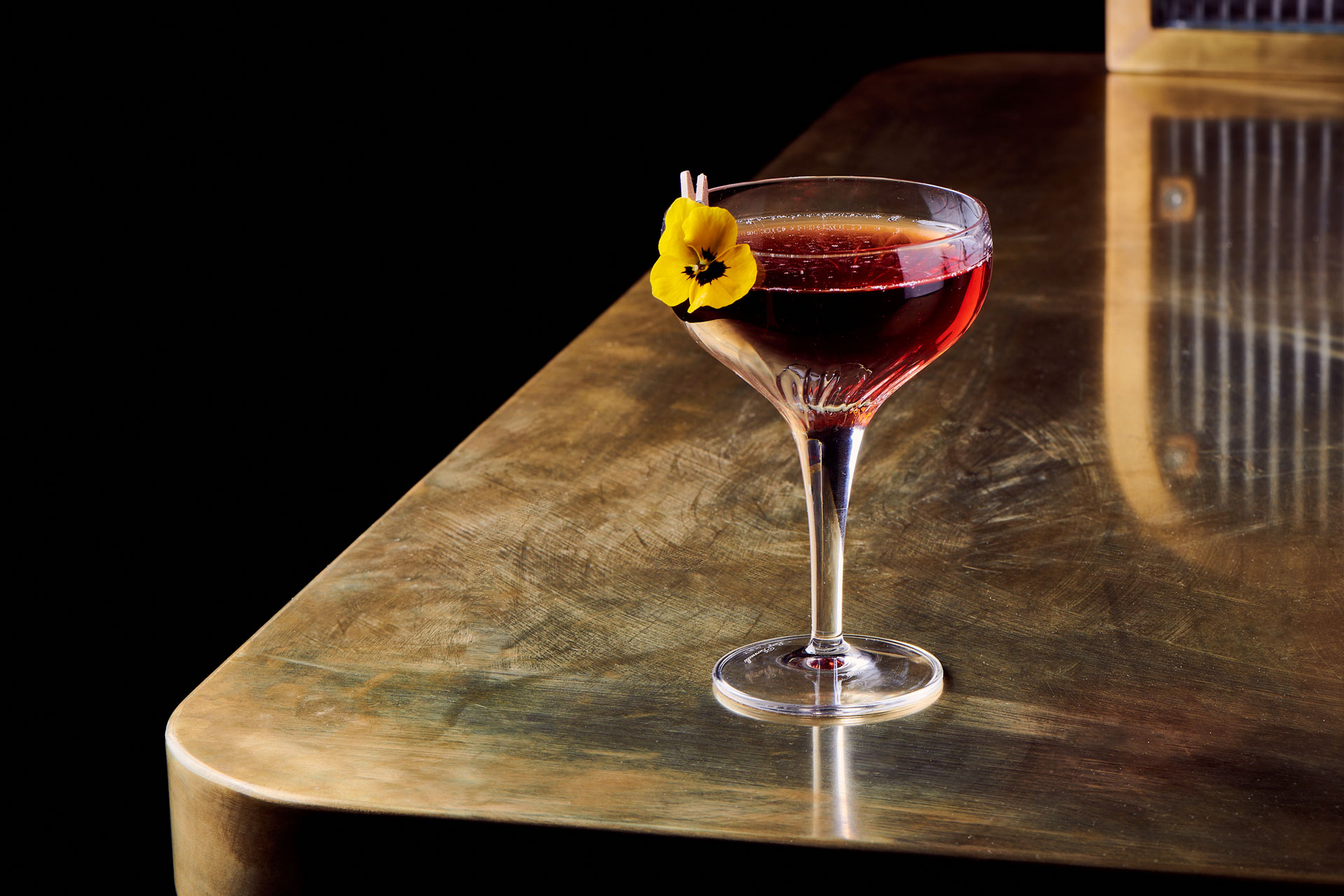 Kick things off with one of the signature tea-infused cocktails. The Drunken Fairy sees jasmine pearl tea-infused vodka mixed with ginger cordial, grapefruit bitter, Cointreau and cranberry juice; the Skinny Angel is a zingy mezcal, black tea and kaffir concoction made with honey cordial and ginger beer.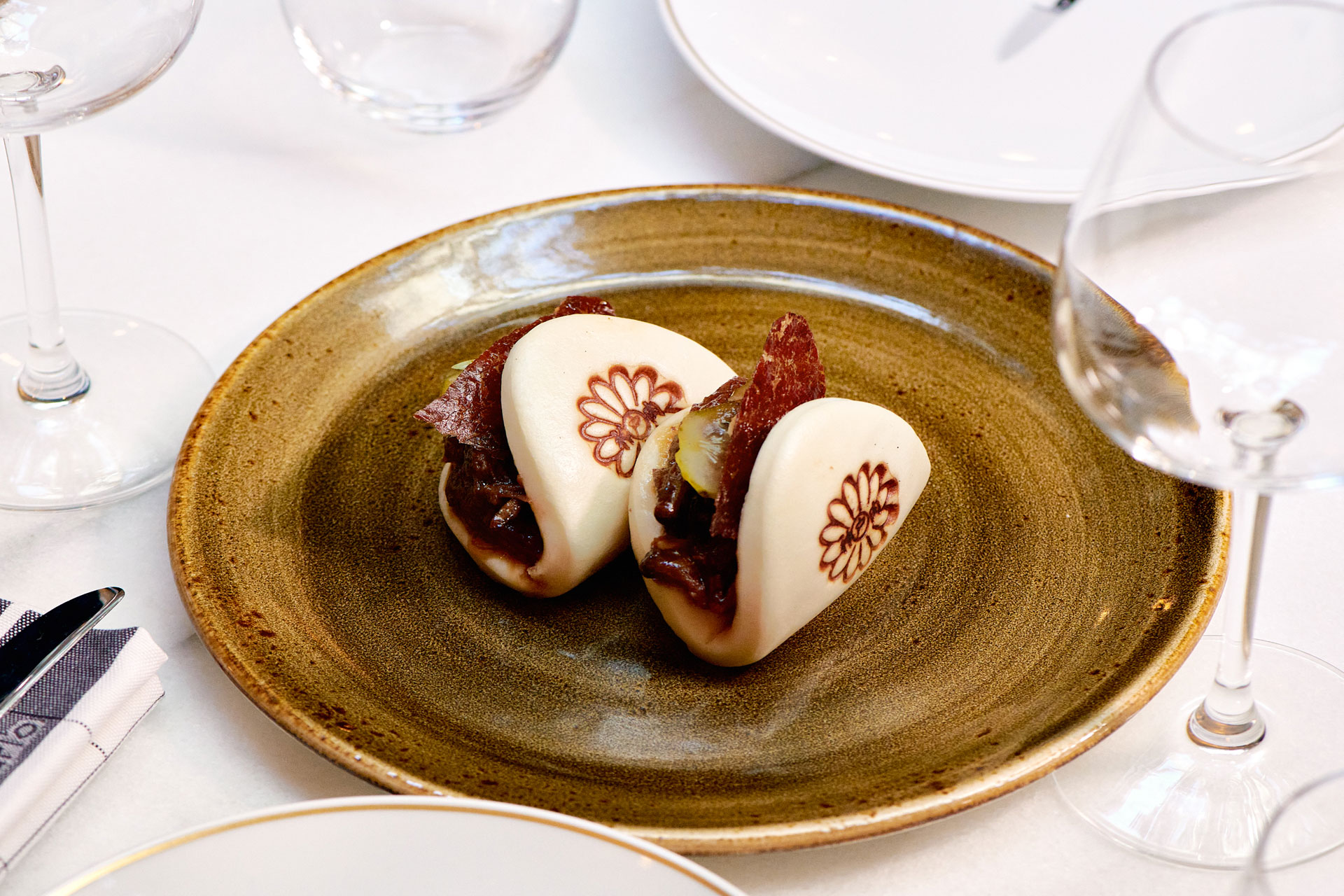 Next up: the food. Naturally, beef is the star of the show here – and not just in the classic steak form, though that of course plays a key role. The menu takes you on a whirlwind of different cuisines – from Chinese to Italian to Mexican. For starters, the wagyu bao buns are a must. These arrive theatrically on plate covered with a cloche, which the waiter lifts to a cloud of billowing smoke, clearing to reveal two tea-smoked, cloud-like brisket buns, flavoured in BBQ sauce. There's also a croque sando with dry-aged beef prosciutto and mozzarella, a fried chicken-style kobe beef tallow, and braised wagyu quesadillas. The vegetarian dishes shouldn't be ignored though: the avocado hummus is flecked with chickpeas and caramelised pistachios, and comes with salty crackers for dipping.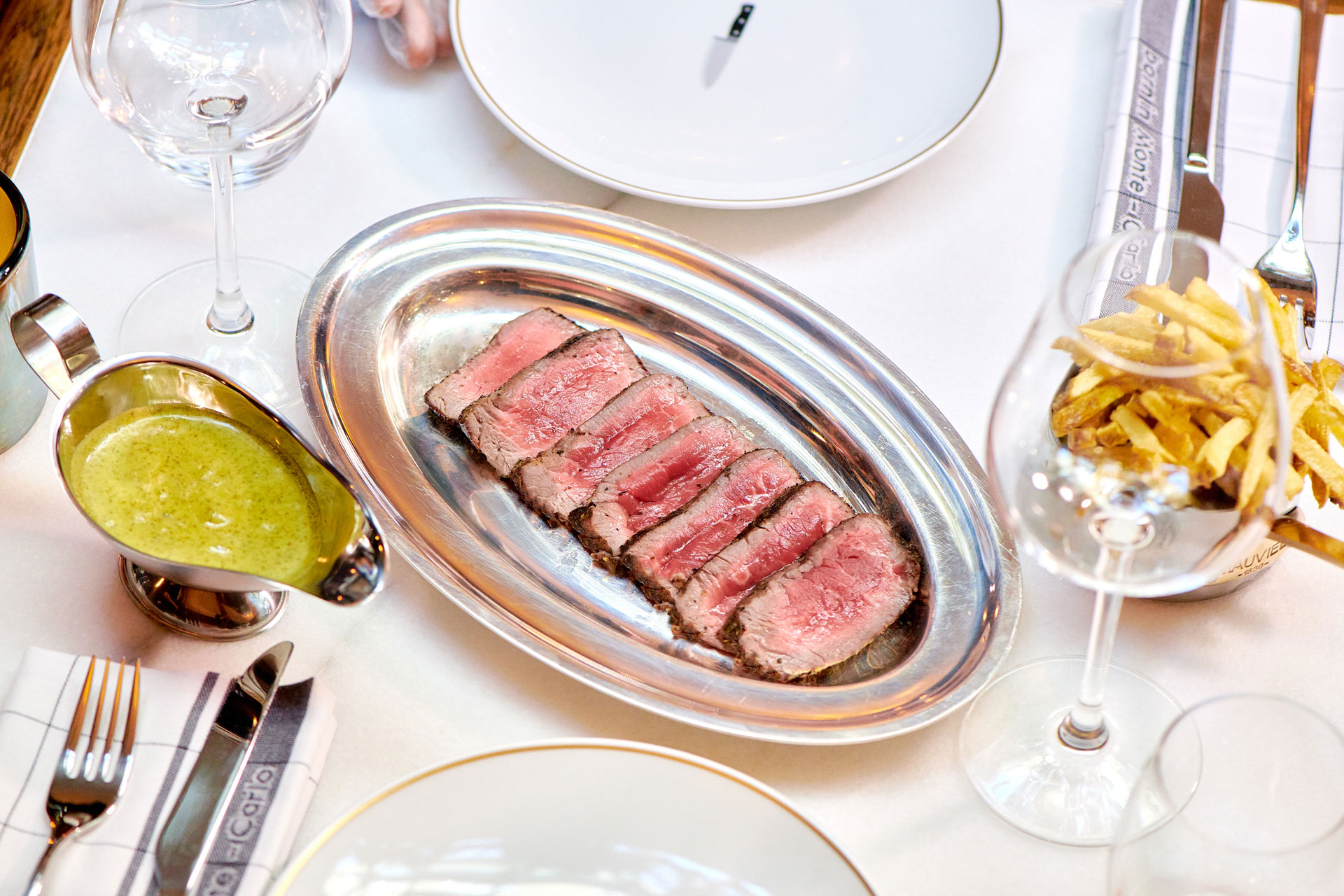 For the main event, choose between a range of premium beef steaks. Whether you go for filet mignon, prime New York strip or splash out on the Kobe (which is £230 – pricey, but not a patch on Salt Bae), it will be cooked to perfection, sliced up and served with a pot of some of the smoothest, creamiest mashed potato we've ever tried. Be sure to add some of the house sauce – a buttery, herby number infused with truffle which perfectly complements the meat. Other mains include a veal and wagyu Bolognese, a double chimichurri cheeseburger, and a miso black beef dish. There's also a cauliflower steak, but, generally, this isn't the place for vegetarians.
If you have any space left, there are just two desserts to choose from: a fior de latte gelato surrounded with pots of toppings, and a decadent caramelised French toast dish drizzled in salted caramel sauce and topped with buttermilk ice cream. Afterwards, head to the chic upstairs bar for a nightcap. The extensive drinks menu includes a range of different gin, rum, whisky and vodka varieties alongside plenty of white, red and sparkling wines.
THE FINAL WORD:
The Beefbar concept is a tried-and-tested winner – and it was about time UK diners got a slice of the action, with Chelsea being the natural home. Understated yet glamorous interiors, an excellent menu and a buzzy atmosphere makes this the perfect spot for dates (romantic or platonic) – just make sure your dining partner isn't vegan first.
BOOK:
MORE RESTAURANT REVIEWS: