Matcha green tea for those of you who haven't tried it yet is concentrated 100% green tea powder. According to the Teapigs 'Book of Matcha' (£18.99), it 'has been drunk in Japan since the 12th century and before that in China.' Myoan Eisai, the founder of the Rinzai sect of Zen Buddhism, wrote a book in 1211 about drinking tea for health, in which he said, 'tea is the ultimate mental and medical remedy and has the ability to make one's life more full and complete.' Eisai also said 'matcha is the elixir of the immortals.' 
If that hasn't persuaded you to try matcha, here are some of the health benefits too from Louise Cheadle and Nick Kilby of Teapigs. Matcha green tea has the ability to help 'heal sun-induced skin disorders, increase calorie burning as well as increasing energy, focus and concentration.' Well, in that case, we'd better pop the kettle on…
The Recipes

How to Make The Perfect Matcha Tea or Latte:
Traditionally, the classic way to make matcha tea is to whisk half a teaspoon of matcha green tea powder into hot water (never boiling) using a bamboo whisk, then serve in a bowl.
If you prefer something a little creamier, try a matcha latte. This modern interpretation involves the same key processes as above, but after adding a little hot water, you whisk the matcha and water to create a paste. Then add in some warm milk (semi-skimmed or dairy-free, we like almond milk) to the paste and continue to whisk up to create a bit of froth. Drink and enjoy. If you wish, add a little liquid sweetener too for a sweeter latte.
Serves two
Ingredients:
2 teaspoons T2 matcha
200 ml/7 fl oz 80°C/176°F water
Honey, to taste
500 ml/17 fl oz cold milk of choice
Method:
Add T2 matcha and water to your matcha bowl and whisk in an M shape, gently breaking up any lumps, until the mixture starts to froth. Add honey to taste and stir until dissolved.
Fill two glasses with ice, divide the matcha mixture between the glasses, and top with cold milk. Stir well and serve.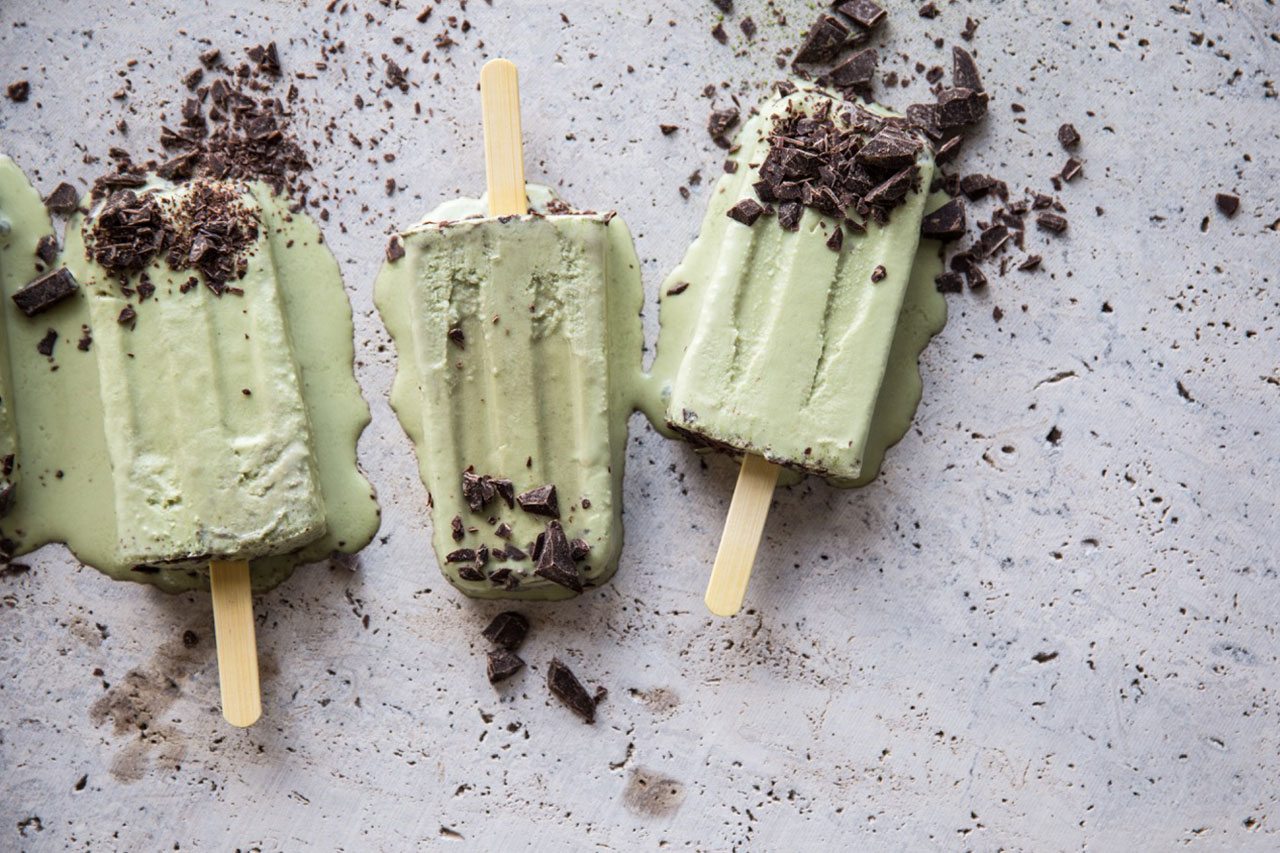 Makes six
Ingredients:
1 tablespoon T2 matcha
250 ml/8.4 fl oz coconut milk
150 ml/5 fl oz water
125 ml/4 fl oz rice malt syrup
50 g/1.7 oz good quality dark chocolate
Method:
Add T2 matcha, coconut milk, water and rice malt syrup to a blender and blend until well combined.
Finely chop dark chocolate then stir into the matcha mixture.
Divide the matcha mixture between the ice pop moulds.
Transfer to a freezer. Stir every hour for 3 hours to prevent the chocolate from sitting on the bottom then allow to freeze completely into tea ice pops.
Note: If using a conventional ice pop mould, place the lid on securely and freeze. If using unconventional moulds, allow the mixture to freeze until they begin to set (roughly 1 hour, depending on size), then insert ice pop sticks and return to freezer to set completely.
Recipes from T2 tea – for more click here.
If that wasn't enough, the Fifth Floor Terrace of Harvey Nichols has been transformed into a teapigs matcha tea terrace, with all things matcha, from an all-day menu to a host of events and masterclasses. Open for the month of May. Book here now.
MORE FOOD: What's the Difference Between Loose Leaf Tea and Tea Bags? / 12 Health Benefits of Coconut Oil / Matcha Smoothie Recipe
---