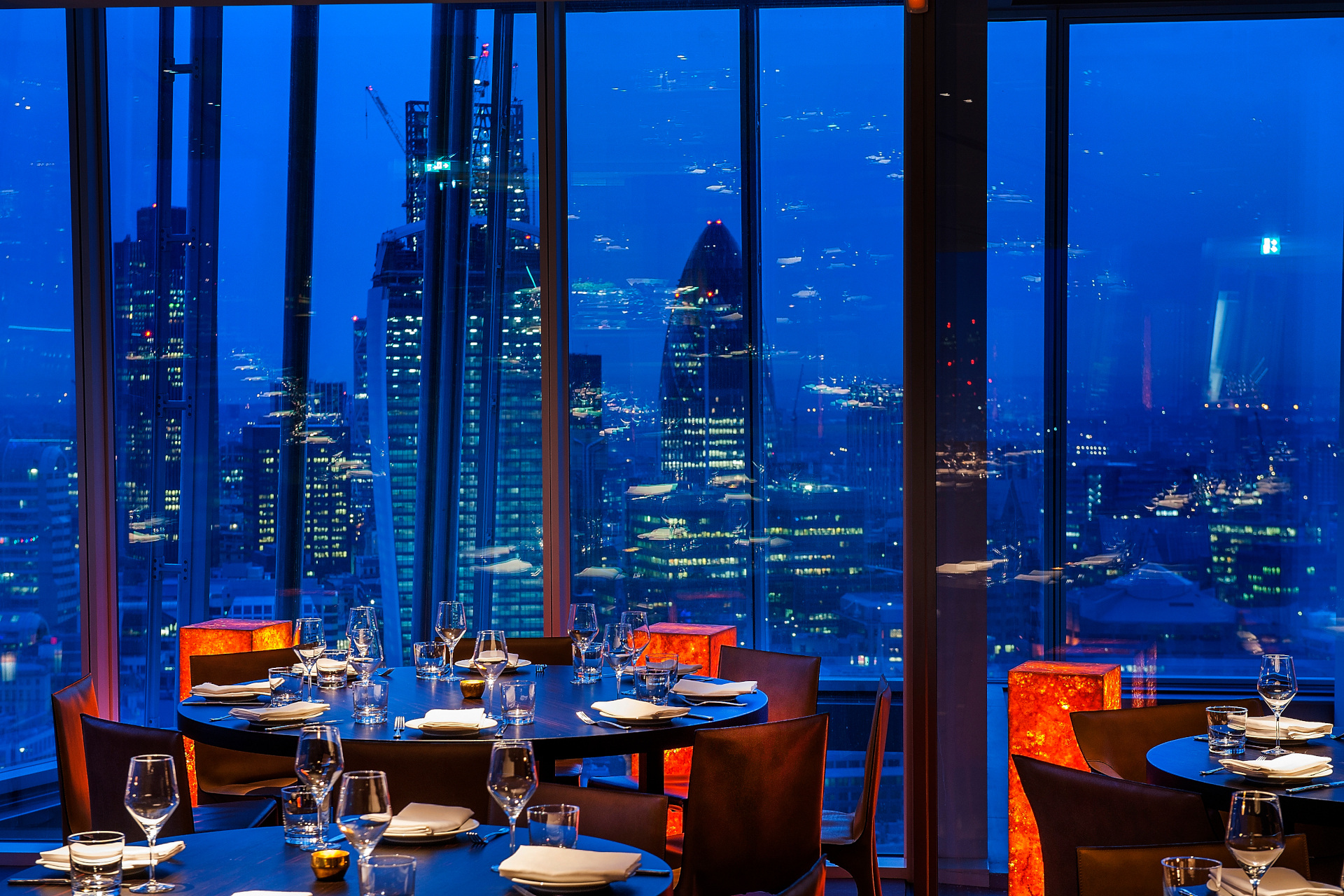 Restaurant of the Week: Oblix at The Shard
---
Dinner set amongst the stars
Sitting high above the streets of London, Oblix at The Shard promises a menu just as delicious as the view.
Review: Oblix at The Shard
Perhaps one of the most well-recognised buildings in London, known for its opulent array of hotel suites, spa experiences and dining facilities, The Shard is synonymous with urban luxury – and as we looked up at the building's 72 storeys from our firm position on the ground, we could see why. It's been 10 years since the completion of London's tallest building, but it continues to take your breath away whether your looking in from the outside or watching the city from a seat tucked safely away on one of its many floors.
The Shard is home to six restaurants and bars in total, but we swung by for a chance to try out Oblix. Taking up residence on the 32nd floor, Oblix is spread across two wings: Oblix West, a contemporary fine dining restaurant serving up seasonal dishes cooked via charcoal grill and overseen by executive chef Marcus Eaves, and Oblix East, a bar and lounge styled up as a cosmopolitan haven in the clouds (with plenty zingy drinks and tasty bar snacks).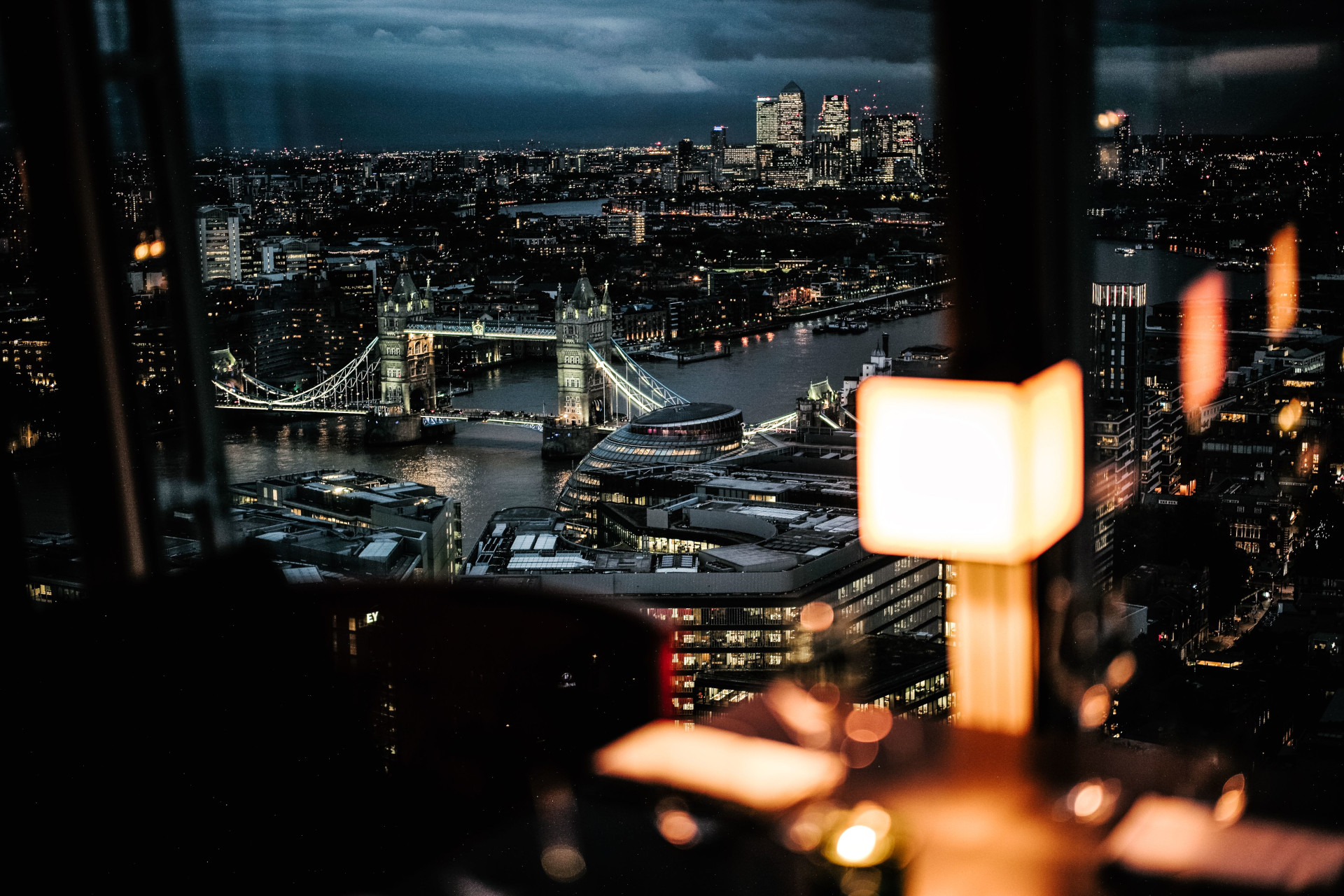 The views are nothing to scoff at either. Both sides of Oblix offer sweeping panoramic views of London, stretching from St. Pauls to the West End. The most sought-after tables line the floor-to-ceiling windows for a front row seat to the city, much to the envy of those sat further inside (but nonetheless the skyline can be seen wherever you are on the floor, so you won't truly be missing out). We managed to time it just as the sun was setting, the sky washed with streaks red, pink and orange before settling into deep blue.
And with such a glamorous view laid out before us, it was only right we kicked things off with some of Oblix's glitzy cocktails. Fans of a show and dance will love with Born a Star, a blend of Ciroc vodka, passion fruit, vanilla and champagne that comes in a smoking miniature replica of The Shard – making it the perfect video op situation. Those less inclined to sit in the spotlight (and have the rest of Oblix's patrons gawk at your cocktail tower) can tuck into one of the 'normal', but no less delicious, drinks on the menu. Our pick of the litter was the Ocean Leaf, a surprisingly salty blend gin, sea fennel and pine essence, and Supersonic Collins, which came out in a large glass filled to the brim with Aperol, cherries and lager.
Starters come on sharing plates, meaning you can tuck into a few dishes without any lingering FOMO for what you didn't get round to. The truffle flatbread, topped with crispy pancetta and creamy ricotta, is a must. As is the chilli and lime-laden crispy squid, which comes in a heaping portion for groups to nibble on.
For the main event, go big or go home. Oblix has an extensive grill menu, stocked by the large meat fridges lining the entrance, and servers can advise on the best cuts of meat to go for based on how you like steak cooked – there's also no judgement if you prefer things on the well done side (guilty). And because this is The Shard we're talking about, expect your meat grilled to melt-in-the-mouth perfection. Steaks are served on their own, with diners encouraged to pick out a few sides to share with the table. Opt for a salad or some greens, or head straight for the 'potato' section of the menu for some carbolicious fun (although you will likely fight over the truffle and parmesan fries, just a warning).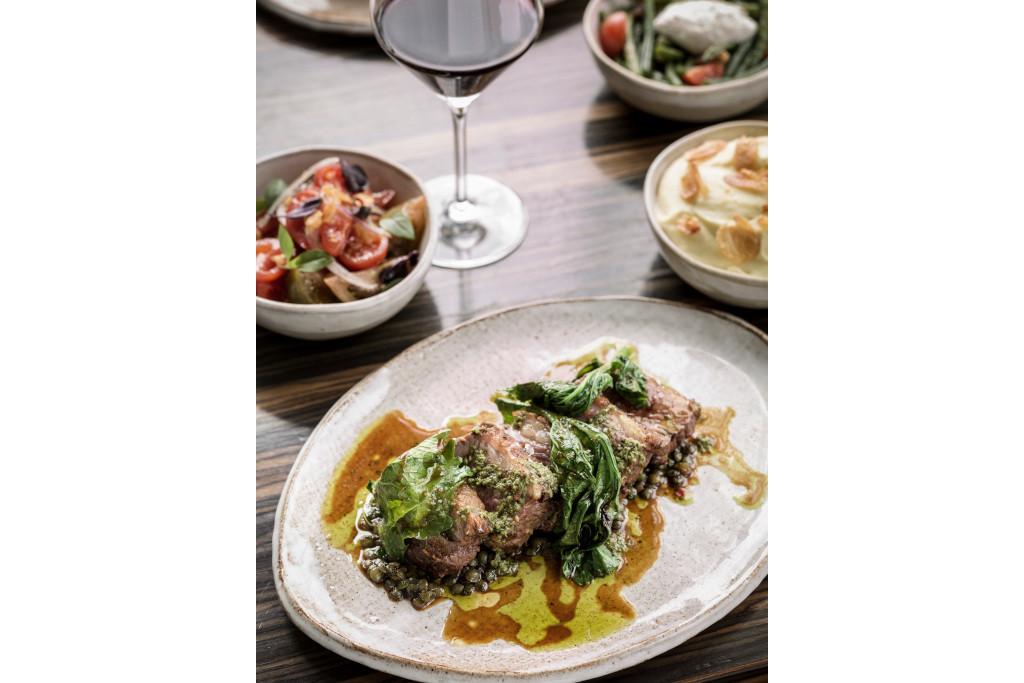 We know it's tough, but make sure to save room for dessert; it's worth it. End things on a rich note with the Oblix chocolate fondant, which creates a delightfully gooey, oozy mess as soon as you dig your spoon in, and comes with your own little pot of salted caramel ice cream. Sound too heavy? Go for something a little lighter and try the New York cheesecake, a classic vanilla with notes of lemon and served drizzles of raspberry and lychee couli. This one in particular will cut through the richness of your meal and leave your palate feeling refreshed.
And if you don't fancy leaving just yet, make your way over to Oblix East for a few post-dinner drinks overlooking London's iconic skyline.
FINAL WORD
Expect nothing short of luxury when you visit Oblix at The Shard. This is a dining experience that is deservedly coveted, and should be at the top of your list if you're looking to celebrate a special occasion, book a urban escape in the city or simply try out the finer things in life. Arrive with an empty stomach, and leave the most satisfied you've felt in ages.
BOOK
Featured image: Richard Southall / Ilona Zielinska