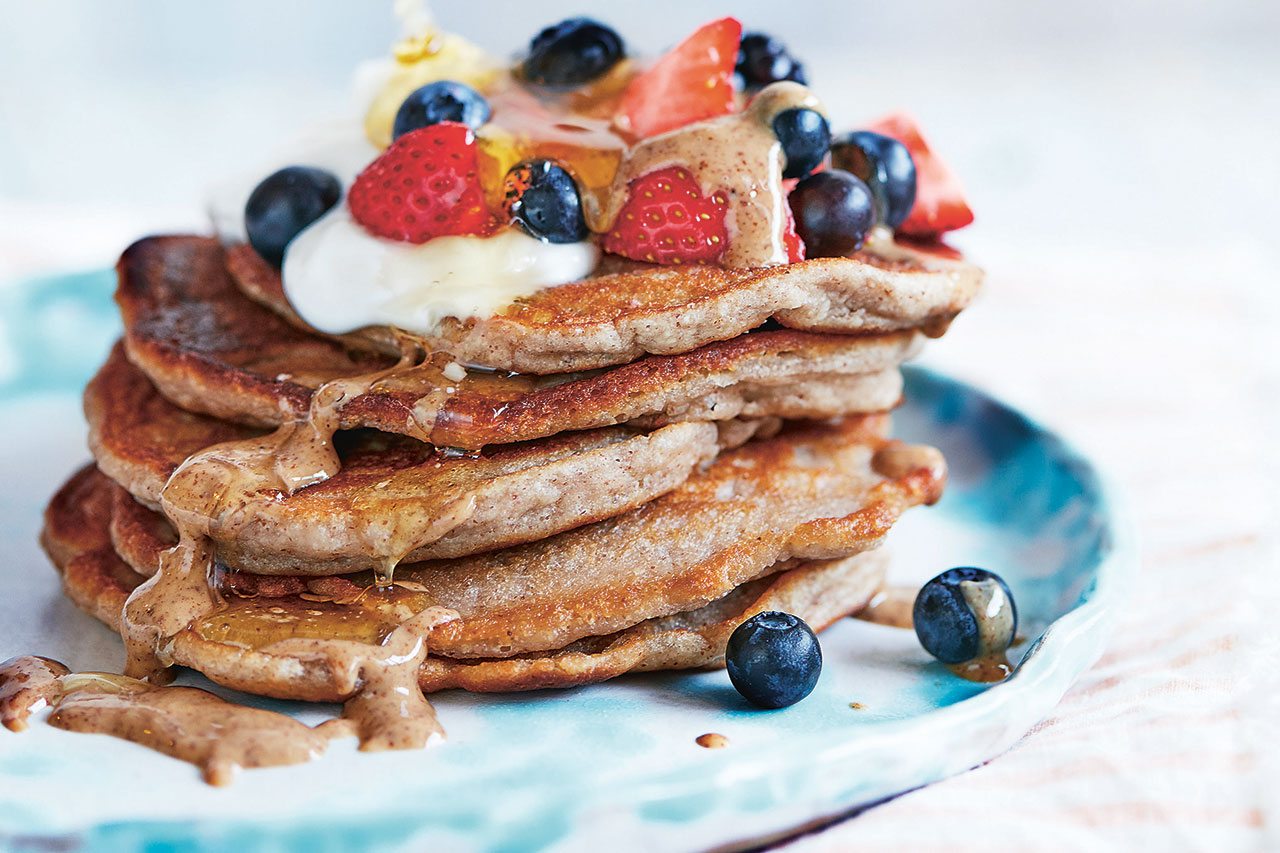 Pancake Day: 5 Essential Sweet Pancake Recipes
---
Satisfy your sweet tooth this Shrove Tuesday
On the hunt for the best sweet pancake recipes for Shrove Tuesday on 1 March? Whether it's healthy vegan pancakes or decadent maple syrup and bacon, here are five easy sweet recipes that are sure to make your Pancake Day delicious.
Best Pancake Delivery Options For Shrove Tuesday
5 Sweet Pancake Recipes
Beetroot pancakes with eggs, smoked bacon & maple syrup
Serves four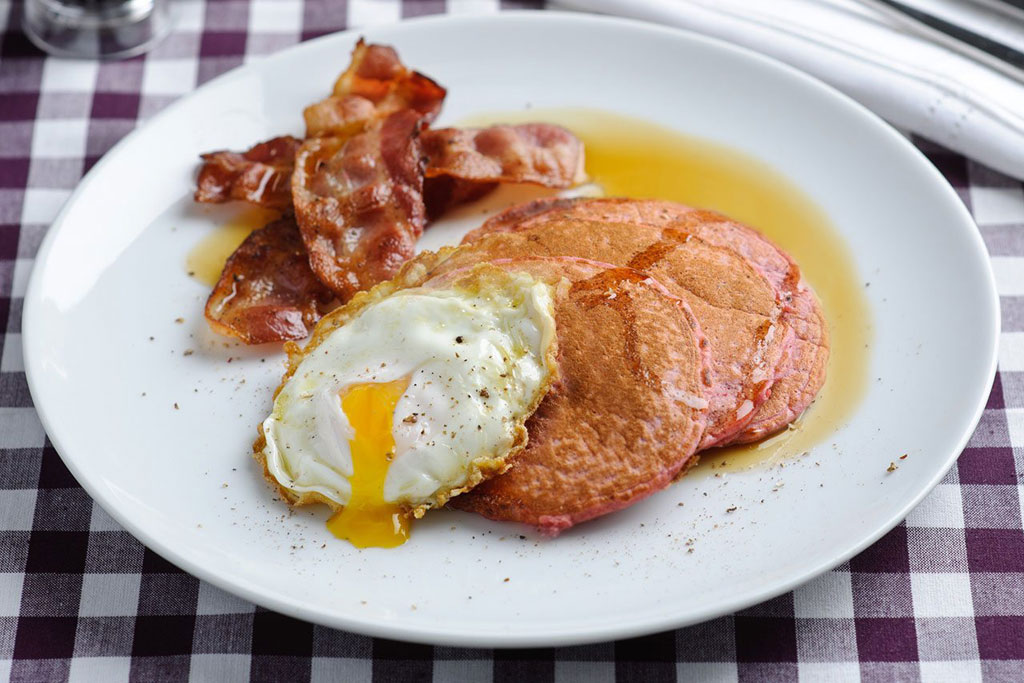 Ingredients
For the pancakes
250g plain cooked (vacuum packed) beetroot, drained

225g plain flour

2 large eggs, lightly beaten

30g butter, melted & cooled

1tbsp baking powder

Pinch of salt

1 tsp sugar

300ml milk

Sunflower oil for shallow frying
To serve
12 rashers smoked streaky bacon, cooked crisply

Maple syrup, to taste

4 eggs, fried
Method
Place all the ingredients for the pancakes in a food processor and blitz until smooth.

Heat a little oil in a large frying pan. Pour ladles of the batter into the pan and cook until you start to see little bubbles on the surface – this will take a minute or two.

Using a fish slice flip over the pancakes and cook for a further minute or so. Transfer to a warm plate and cover tightly with foil. Continue until you have used all the batter.

Serve hot with the eggs, bacon and plenty of maple syrup.
Coco-nutty banana pancake recipe
Serves eight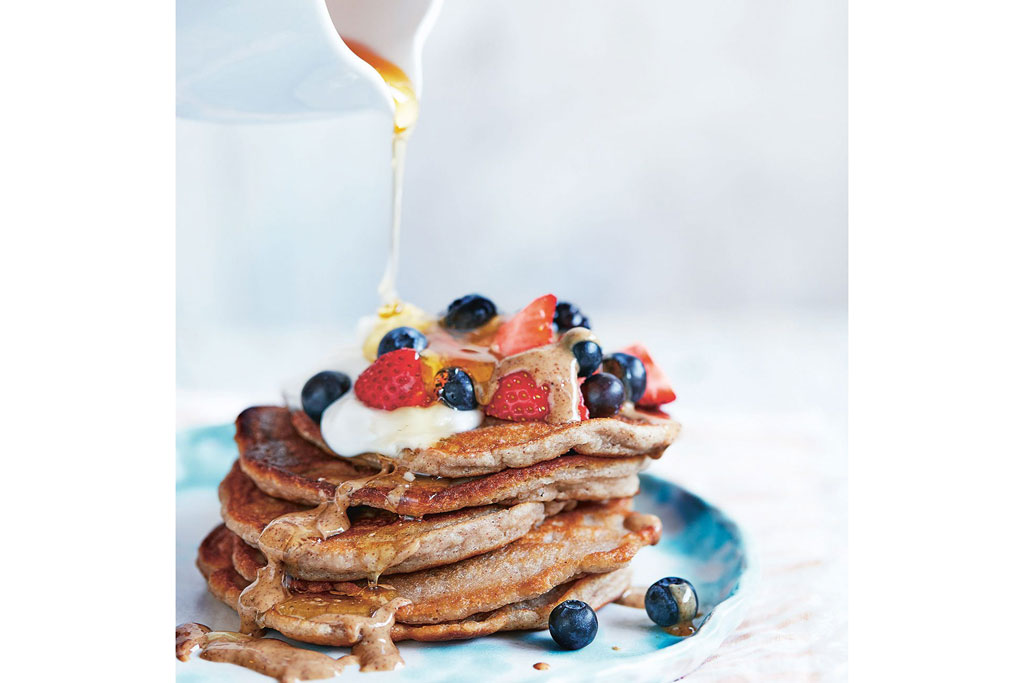 Ingredients
2 ripe bananas, cut into chunks
1 egg
100ml/scant ½ cup almond milk
2 Tbsp almond butter
1 Tbsp coconut nectar
1 tsp vanilla extract
110g/¾ cup plus 1½ Tbsp plain (all-purpose) flour
50g/6 Tbsp coconut flour
Pinch of ground cinnamon
1 tsp baking powder
Pinch of bicarbonate of soda (baking soda)
Pinch of salt
Coconut oil, for frying
For the topping
Almond butter
Fresh berries, such as strawberries, blueberries, blackberries
Coconut yoghurt
Honey
Method
In a food processor, blend the bananas with the egg, almond milk, almond butter, coconut nectar and vanilla, until smooth and well-combined.
Sift together the dry ingredients in a large bowl then slowly add the wet ingredients to the dry ingredients, whisking together until you have a thick, smooth batter.
Working in batches, add 1 tablespoon coconut oil to a large, non-stick frying pan and heat until melting. Once the pan is nice and hot, drop large tbsps of the batter into the pan and cook for 2 minutes on each side until lightly browned and the pancakes are fluffy. If you're making a big batch to serve all at once, then keep the cooked pancakes on a heatproof dish, separated with baking parchment, in a low oven, while you cook the rest.
To serve, top the pancakes with almond butter, berries, yoghurt and honey
Extracted from Pip & Nut: The Nut Butter Cookbook by Pippa Murray (Quadrille, £15) Photography © Adrian Lawrence
Ricotta pancakes with sticky maple apples recipe
Serves 8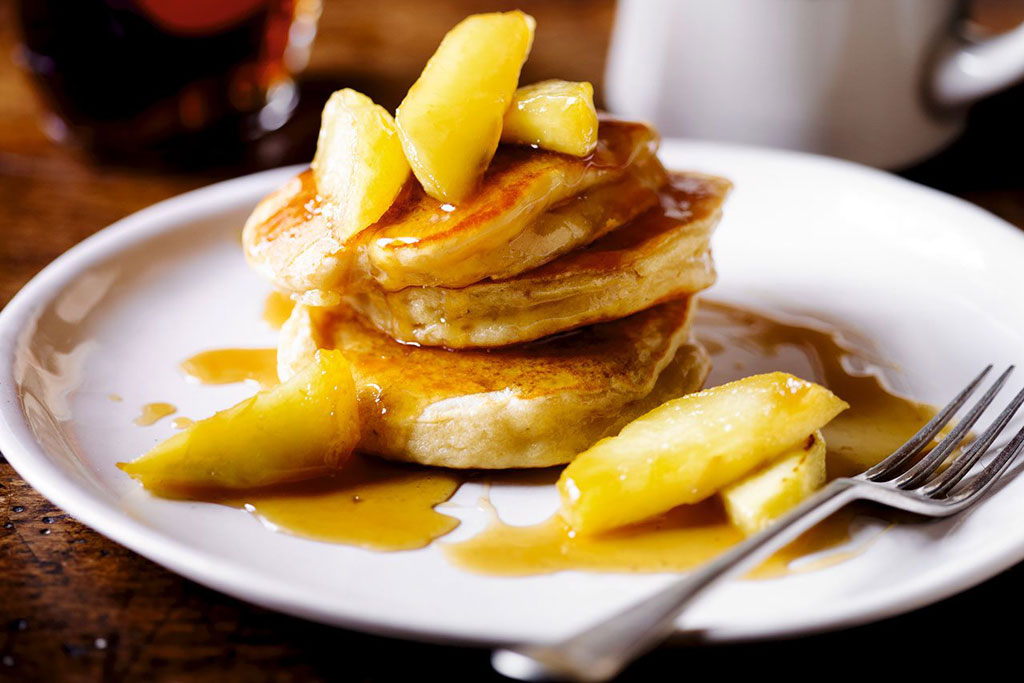 Ingredients
150g self-raising flour
1 tsp bicarbonate of soda
75g soft brown sugar
1 lemon, zest and juice
250g ricotta
200ml milk
1 medium Waitrose British Blacktail Free Range Egg
75g butter
3 crisp best of British eating apples, peeled, cored and each cut into 8 wedges
200ml maple syrup
Method
To make the pancakes place the flour, bicarbonate of soda, sugar and lemon zest into a large mixing bowl and stir to combine.
Whisk the ricotta, milk and egg until smooth. Melt 25g of the butter and add that to the ricotta mixture and whisk again. Pour into the flour and whisk well to form a smooth, thick batter.
Heat a large frying pan, non-stick if you have one, over a medium heat. Add a little of the remaining butter, and once it has melted and is sizzling start to cook the pancakes. Spoon in 1 to 2 tbsps of the batter and cook for 3-4 minutes until the surface starts to pock with burst bubbles. Turn the pancakes over carefully and cook for another 2-3 minutes.
Place the cooked pancakes on to a plate, cover and keep warm while you cook the rest.
Once the pancakes are cooked, heat any leftover butter in the same pan, using a little more if required and add the apple wedges. Sauté for 4-5 minutes until golden. Squeeze in the lemon juice and pour in the maple syrup. Bubble for 2-3 minutes.
Serve 2 or 3 pancakes with a large spoonful of apples and drizzle with plenty of the warm maple syrup.
Red velvet pancake recipe
Makes 20 pancakes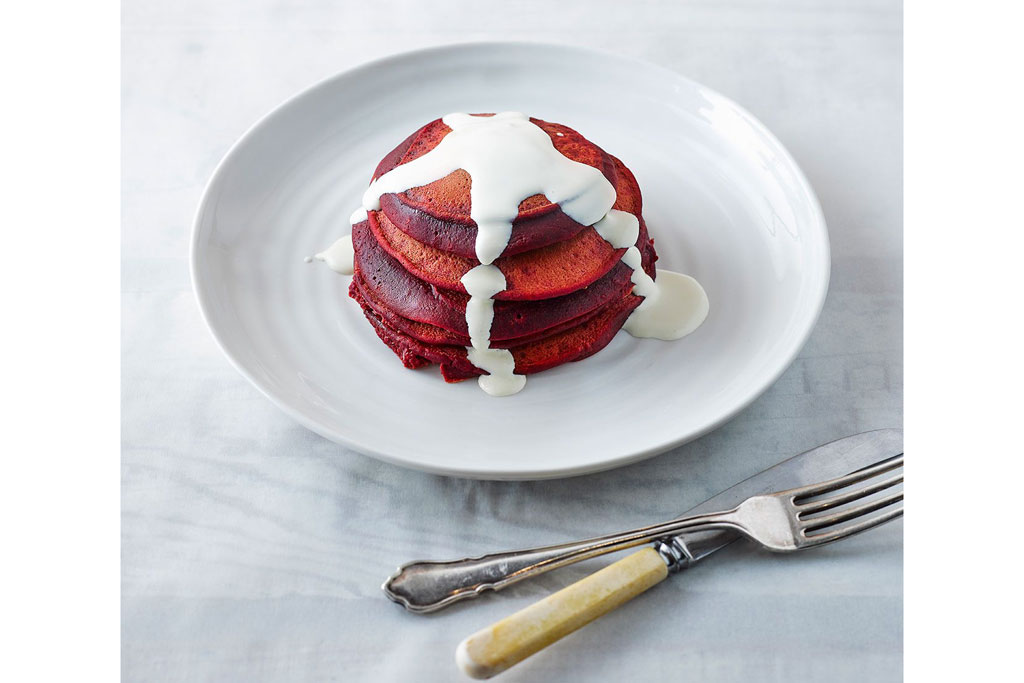 Ingredients:
300ml buttermilk
100g cream cheese at room temperature
125g granulated or caster sugar
70ml cup sour cream
120g unsalted butter
250g plain flour
2 tbsp unsweetened cocoa powder
2 large eggs
3 tbsp milk
2 tbsp icing sugar
2 tsp red food colouring
1 tsp vanilla extract
1 tsp apple cider vinegar
1/2 tsp baking soda
1/2 tsp baking powder
1/2 tsp salt
Maple syrup, for serving
Method:
Melt your butter in a pan over a low heat and leave to cool
Whisk together the cream cheese, sour cream and icing sugar until smooth, then drizzle in milk as needed until you have a liquid consistency for drizzling – this is your sauce
Whisk together the flour, cocoa powder, baking soda, baking powder and salt in another mixing bowl
Beat the eggs and granulated sugar in another mixing bowl until pale yellow, then beat in the buttermilk, melted butter, food colouring, vanilla and vinegar
Add the egg mixture to the flour mixture and gently fold until just mixed. Tip: avoid over-mixing which would lead to a less fluffy texture in your finished pancakes!
Heat a large, non-stick skillet over medium-low heat and pour on ladels of batter, spaced evenly apart
Cook for 3 min or until bubbles on the surface pop slowly and edges begin to firm
Flip and cook for another 1 to 2 min or until the bottoms are set and the pancakes are cooked through
Repeat with the remaining batter
Drizzle with sauce and syrup and enjoy!
Recipe from gousto.co.uk
Nutella pancake stack recipe
Makes 18 pancakes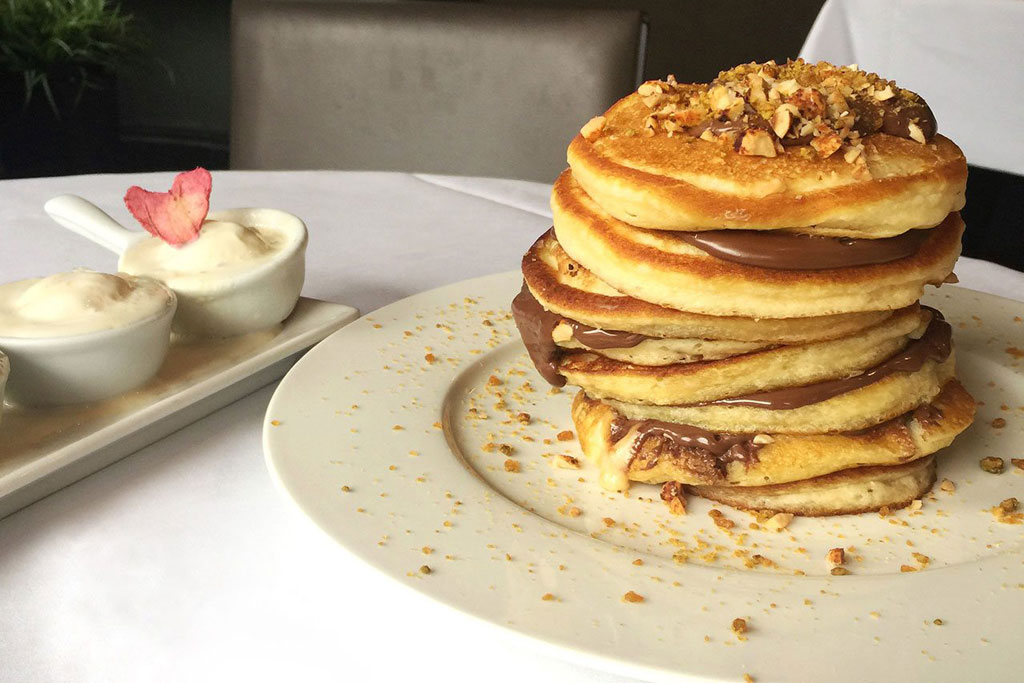 Ingredients
450 ml of milk
6 tbps of melted butter
Six eggs
420 g of flour
4 tablespoons of baking powder
Then add 6 tbsp of melted butter
Tablespoons of sugar pinch of salt is optional
To serve
3 jars Nutella for sandwiching together
4 tablespoon icing sugar
2 tablespoons praline
180 ml chocolate sauce
Method
Beat the milk, butter and eggs together until combined, then add the flour, baking powder, more butter and salt until you get a smooth batter.
Lightly grease a griddle or non-stick pan with clarified butter and heat until droplets of water dance on the surface.
Pour the batter onto a griddle in uniform amounts, and cook until the surface of pancakes is covered with bubbles. Flip over with a wide spatula and cook until golden brown on the second side.
Remove to a serving plate and keep warm. Repeat with remaining batter, regreasing the griddle as necessary – will make 16 to 18 pancakes. You only need 8 for the stack.
Place 1 tablespoon of Nutella onto 30 cm plate the place a pancake on top. Spread another tablespoon or two of Nutella then place another pancake on top.
Continue this process until you have used up 8 to 10 pancakes, the last pancake can be spread with Nutella then sprinkled with praline and dusted with icing sugar. Serve with red fruit compote and warm chocolate sauce.
Recipe from Christopher's Covent Garden
MORE RECIPES:
 Recipe: Acai Girls' Peanut Butter, Caramelised Banana and Cacao Pancakes / Savoury Pancakes: Tom Kitchin's Smoked Salmon Pancake