Good news for Tom Kerridge fans… The chef has unveiled plans to open his first London restaurant in 2017.
Tom Kerridge, the chef behind the country's first gastropub to be awarded two Michelin stars, is yet to announce the name of his first venture in London, but has revealed that it will be located in the five-star Jumeirah Carlton Tower hotel.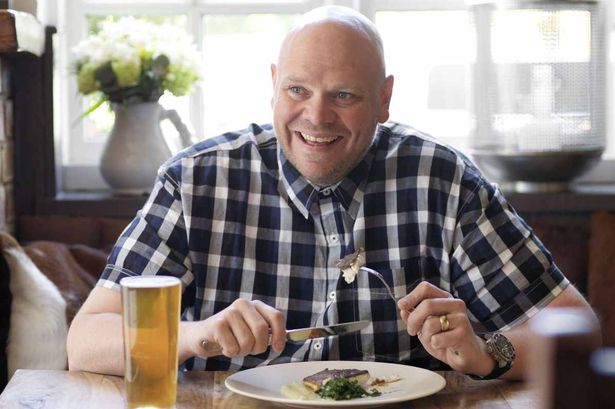 The chef, who television fans will know from his presenting roles on Food and Drink and Bake Off: Crème de la Crème, already runs the much lauded Hand & Flowers in Marlow and nearby pub The Coach.
"We are thrilled and honoured to be opening in London at this landmark location in Knightsbridge and we will be revealing more details on our plans early next year."
Jumeirah's Regional Vice President for Europe, Katie Benson said: "Tom is one of the country's top culinary talents and we are delighted to be working with him and his team to create London's most exciting new restaurant next year."
Kerridge's restaurant will replace The Rib Room, which has been in the hotel since 1961.
Read our interview with Tom Kerridge from his book launch in 2013…
Why buy your book?
It is an easy-to-read but, hopefully, inspirational guide to simple, modern British cooking.
Favourite pub?
The Sportsman in Kent. Stephen Harris' food is simple but executed with precision. His menu is a lesson in uncomplicated ingredients treated with love and respect to get the most out of them.
Top tips for cooking up a storm in the kitchen?
Buy the best ingredients you possibly can. Treat them with love. But most of all enjoy cooking them.
What's in your store cupboard?
Two types of salt, table and flaky sea salt, British rapeseed oil and English mustard.
What's hot in the foodie world?
I think the process of marinating and brining meats will become more and more widely used, both in the pub and restaurant world, and by the home cook.
We're bored of Christmas pudding. What shall we cook?
My spiced orange cake. It still has all the flavours of Christmas, with plenty of orange zest and spices, served with a plum sauce. It has that decadent finish to make you feel like it is a special dessert.
READ MORE: Who's who in the Michelin food guide 2017
---