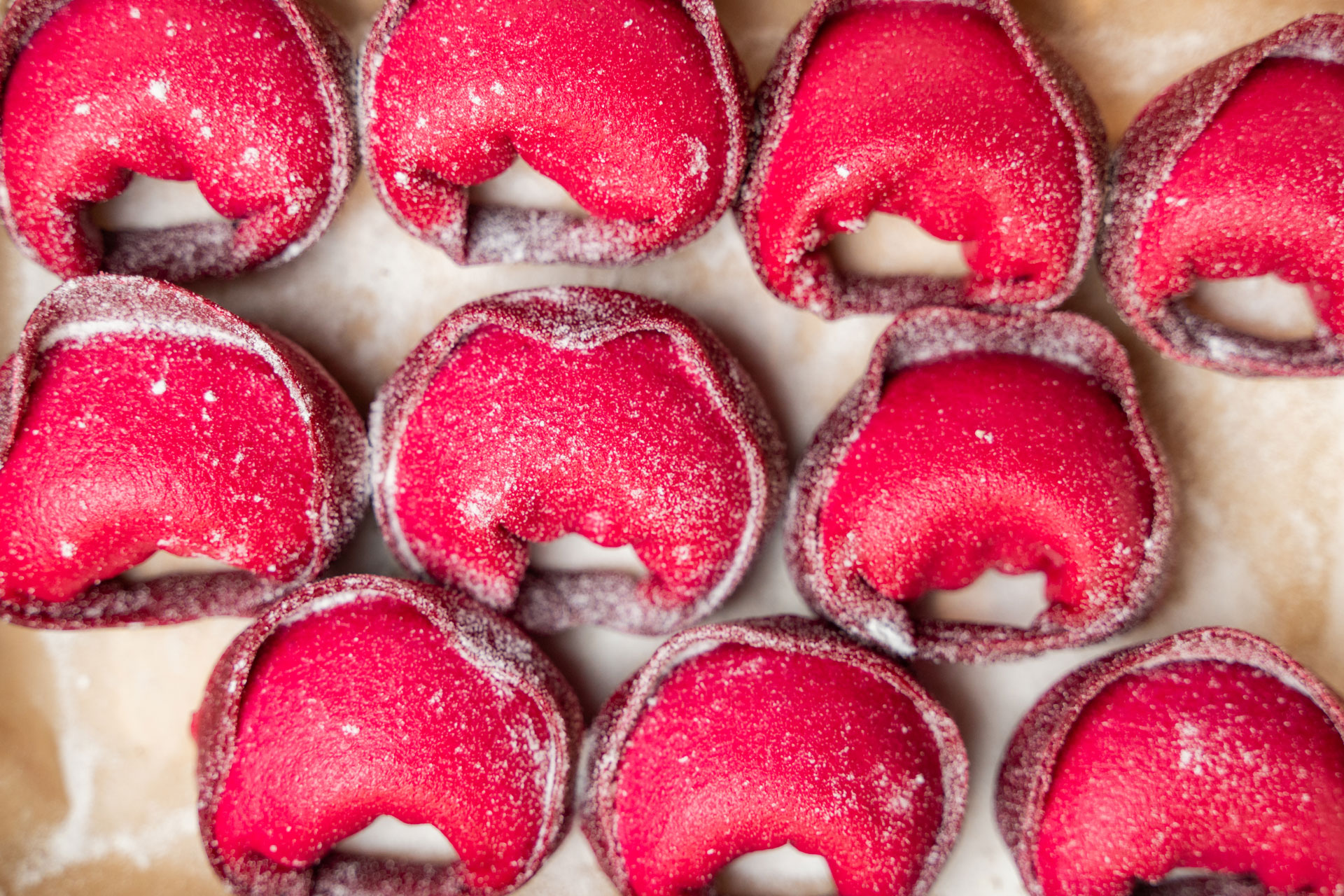 Valentine's Day Recipe: Beetroot Tortelli with Smoked Burrata & Ricotta
---
The perfect romantic recipe
Looking for an impressive recipe to cook for your other half this Valentine's Day? This pretty beetroot tortelli recipe from Head Chef Antonio "Lello" Favuzzi at Mortimer House Kitchen is sure to impress. It's a little lengthy – but well worth the effort. 
Recipe: Beetroot Tortelli with Smoked Burrata, Ricotta and Aged Balsamic Vinegar
Ingredients
Beetroot puree
28g golden baby beetroot
40g beetroot leaves
24g Grana Padano
Red beetroot pasta dough
300g 00 flour
300g semolina flour (wheat durum)
150g red beetroot puree (drained)
50g red beetroot powder (not essential but gives the pasta it's incredible pin colour)
160g pasteurised eggs
Pickled golden baby beetroot
250g golden baby beetroot
600g water
400 white sugar
200g white wine vinegar
Pasta filling
500g Burrata
50g Grana Padano (grated)
Chives (a pinch)
0.5g nutmeg
30g smoked ricotta
500g fresh ricotta seirass
Salt and black pepper
Other
Brown sage butter
40g butter per portion
5 pistachios skinless
Method
Beetroot puree
Wash the beetroot thoroughly and cut off any leaves.
With the skin on, place in a large pot with cold water and salt and bring to the boil. Cook for 40-50 minutes and let them cool down.
Remove the skin and put into a blender.
Pour the mixture into chinois lined with a muslin cloth and drain overnight.
Red beetroot pasta dough
Mix the above ingredients together in a mixer for 20-30 minutes until the dough is smooth.
Using a pasta machine, stretch out the dough into 0.5mm thick sheets. Then cut with a stainless-steel ring into circular shape.
Divide the pasta dough into quarters. Work with one piece at a time and keep the other pieces covered.
Run the dough through the pasta roller on progressively thinner settings until you have a sheet of 0.5mm thickness.
Cut the sheet into rounds using a 3″ round cutter, spacing the rounds as close together as possible.
Gather the scraps into a ball and put them with the remaining pieces of dough to re-roll later.
Pickled golden baby beetroot
Wash the beetroot thoroughly and cut off any leaves.
Mix the remaining ingredients together in a large pot and bring to the boil.
Add the beetroot and cook for 30 minutes.
Once they are cooled down, remove the skin.
Pasta filling (15 mins)
Mix the above ingredients together in a bowl. Pour into a piping bag and place in the fridge for service.
Putting it all together
Heat a thick-bottomed skillet on medium heat. Add the butter whisking frequently. Continue to cook the butter.
Once it has melted add the sage leaves and pistachios. As soon as slightly browned specks begin to form at the bottom of the pan, remove from heat.
Cooking
For each portion, take 5 rounds of pasta. Remove the piping bag from the fridge and pour approximately 25-30g of filling in the middle of each round of pasta.
Dip your finger in the bowl of lukewarm water and run it along the edge of the round to moisten. Fold the dough over to form a half moon, then draw the two corners together to form a rounded bonnet- shape. Press tightly to seal.
Toss with flour, set aside on well-floured baking sheet, and cover. Repeat with remaining pieces of dough, re-rolling the scraps.
Lower the tortelli into pasta boiler and cook approximately for 3 minutes with 5 cleaned beetroot leaves.
Plating
Cut each baby beetroot into 6 wedges.
To serve, grate some Grana Padano at the bottom of the plate and place the tortelli on top.
Grate some Grana Padano over it and place the beetroot wedges and leaves around. Pour brown butter on top and decorate with pistachios.
Sprinkle with an optional balsamic vinegar at the table.
READ MORE:
Vegetable of the Week: Beetroot / Purple Risotto with Goat's Cheese Recipe