Impress your dinner party guests with this snazzy autumnal recipe from Alexandre Nicolas at Rivea London.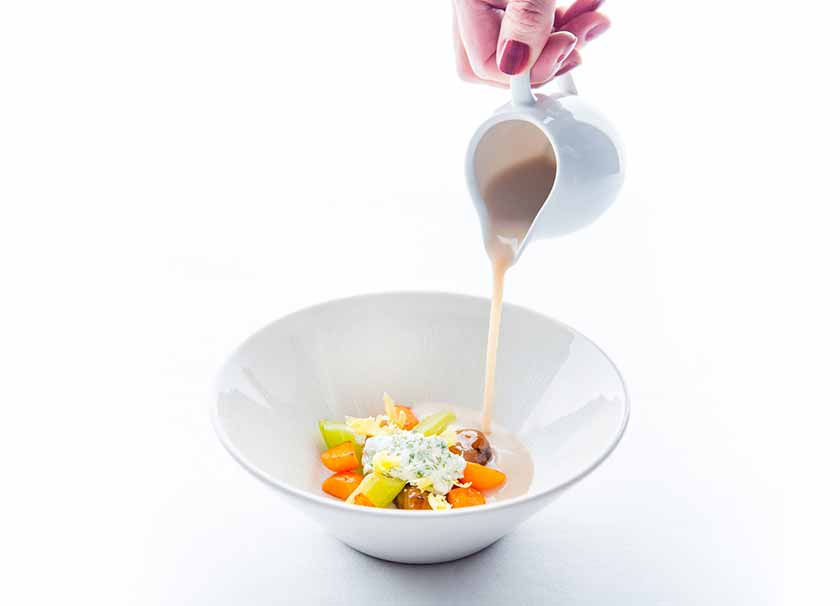 If you like to whole heartedly embrace autumn, you'll love the chestnut menu at Rivea London. From chestnut blinis and salmon gravlax to chestnut broth with sea scallops, you'll be surprised how versatile and delicious this ingredient can be in so many different guises.
Ingredients
Chestnut bouillon
300g of peeled chestnuts (vacuum-packed)
2 shallots
1/4 celery stalk
1 clove of garlic
1 bay leaf
1/2 tsp of black pepper
1 l. vegetable stock
2 tbsp. olive oil
50 g. butter
Chervil cream
6 sprigs of chervil
1.5 dl. whipping cream
Garnish
4 slices of sourdough bread
Olive oil
Garlic
Leaves of a celery branch
Salt
Pepper
Method
Chestnut bouillon
Peel and cut the shallots and celery in large bevels. Peel the garlic cloves. In an oven-proof pan, pour the olive oil and sear the chestnuts.
When they are browned, add the butter, the bevels, the whole garlic clove and the bay leaf and black pepper. Cover with the vegetable stock and put the pan in the oven at 120°C for 45 minutes. Take the pan out of the oven and remove the bay leaf. Blend and sieve the bouillon. Keep aside warm.
Chervil cream
Wash and chop the chervil. Whip the cream and mix with the chopped chervil. Set aside in the fridge.
Croutons
Preheat oven grill at 190°C. Cut the garlic in half and rub the slices of bread, then cut the bread in small cubes. Pour a little olive oil on the bread and bake for a couple of minutes until the bread is golden in color.
Finishing
Add a knob of butter in the soup. Make a quenelle with the chervil cream and add it on top. Serve the crouton on the side.
Rivea London's Executive Chef and protege of Alain Ducasse, Alexandre Nicolas, has developed the seasonal four-course menu – that also signals the start of the French, Italian and British chestnut seasons. Available from 1 Oct – 13 Nov.
RECIPE: Peas and Ticklemore from Lyle's 
---