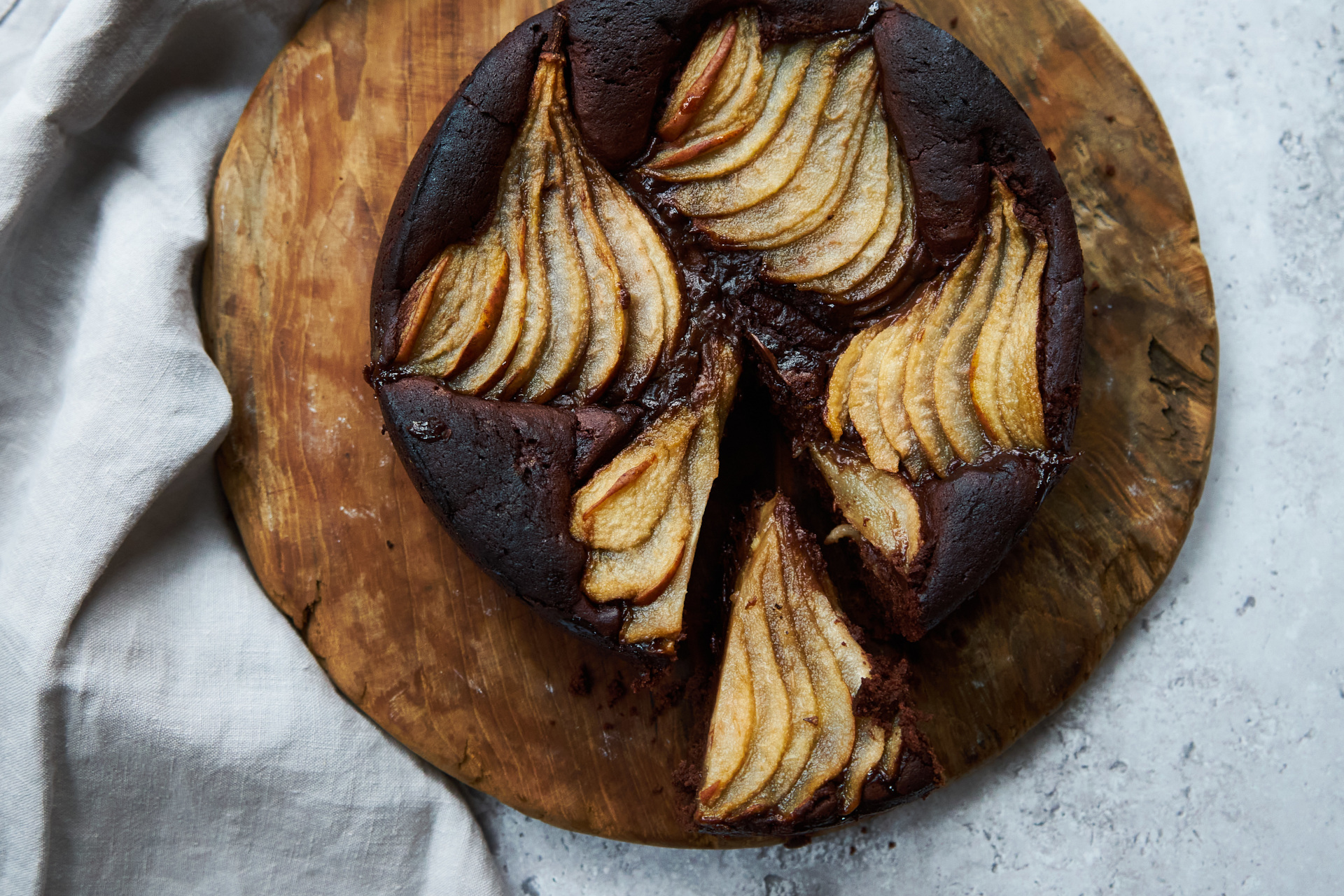 Dessert of the Week: Chocolate & Pear Cake
---
Fancy something sweet? Our plant-based columnist, Bettina Campolucci Bordi, shares her recipe for a rich chocolate and pear cake.
Hello beautiful winter. I think it is safe to say that we are well and truly entering winter weather. With that comes cosy jumpers, log fires, hot drinks and sweet things. I am so excited to transition the Veg Column that I have been writing for the past year into a seasonal desert column. Each week I shall be sharing a dessert recipe with you that includes a seasonal hero ingredient. As the weather is now colder I will be focusing on warming flavours, comfort and decadent deliciousness.
I will also be talking you through the main ingredients of this week's dessert, a match made in heaven. I am going to put my seasonal pears to good use. One of autumn's many bounties, pears are endless in their uses. Juicy, soft, and sweet, pears are a fabulously versatile fruit. It can be overwhelming, though, once you dip into the variety of pears available at grocery stores and farmers markets. Which should you choose? Different pears are best for different types of dishes since there are times when you want pears to keep their shape and other times when you want them to fall apart. I am going to keep things simple.
We are going to start things off with a very rich chocolate and pear cake. This cake is dense and gorgeous. The trick here is to let it fully cool down. As it is removed from the oven it will seem slightly uncooked in the middle. Don't worry that will be the fudgy bit in the middle once you have the patience to wait long enough and cut into the cake to have your first of many pieces of cake.
Recipe: Chocolate & Pear Cake
Makes 6-8 servings
Ingredients
170g dairy free chocolate
120ml chickpea water (aquafaba)
1 tsp lemon juice
280g caster sugar
120g vegan butter
50g cacao powder
180g gluten free self raising flour
250ml plant milk (I like to use oat milk)
2 small pears, peeled (I used comice)
1 tbsp brown sugar
Method
Preheat the oven to 180ºC and grease a 20cm cake tin with vegan butter.
Melt the chocolate over a bain marie.
Meanwhile, add the aquafaba and lemon juice to a bowl and whisk for approx 10 minutes until stiff white peaks form (this is much easier to do with an electric whisk!).  Set aside.
Add the sugar and butter to another bowl and whisk until smooth.  Then add in the melted chocolate and whisk to combine.  Now whisk in the flour and cacao powder and plant milk.
Once combined, gently fold in the aquafaba and then pour into the cake tin.
Cut the pears in half lengthwise and then thinly slice them, leaving the top intact, so that you can splay the pears out into a fan.  Place each pear in a fan shape on top of the cake mix and sprinkle some brown sugar on top.
Bake in the oven for 50 minutes then remove from the oven to cool.
Note the cake may be slightly wobbly, this is ok as the centre is supposed to be gooey.  Make sure you leave to cool at room temperature for at least 2-3 hours before serving.
A Note on Pears
When using pears, either give them a quick nibble first to see if they need peeling. If the skin easily gives between your teeth – leave it on – it adds an extra layer of texture and flavour – as well as adding a powerhouse concoction of fibre, vitamins and beneficial nutrients such as B3, K and C. Or apply gentle pressure to the neck – if it gives way it's ready to eat. Pop in the fridge to slow the ripening process down to allow you extra time to enjoy them at their juiciest or slice them up and enjoy them in my delicious sheet cake.
A Note on Cacao
Cacao is actually very nutrient dense. It is a delicious ingredient and one of my favourites because of its deep flavour. Just in case you didn't know cacao has a vast majority of tasting notes – a little bit like wine. The taste of cacao varies depending on where it's grown, the conditions and different varieties available. If I deep dive into this world I would be sitting here writing an essay but instead I will give you a few good tips on how to choose a good quality cacao as an ingredient:
It is best to choose dark chocolate made with as few ingredients as possible.
Choose fair trade chocolate as 70% of the world's cocoa is grown by indigenous people.
Choose well as it matters.
MORE RECIPES