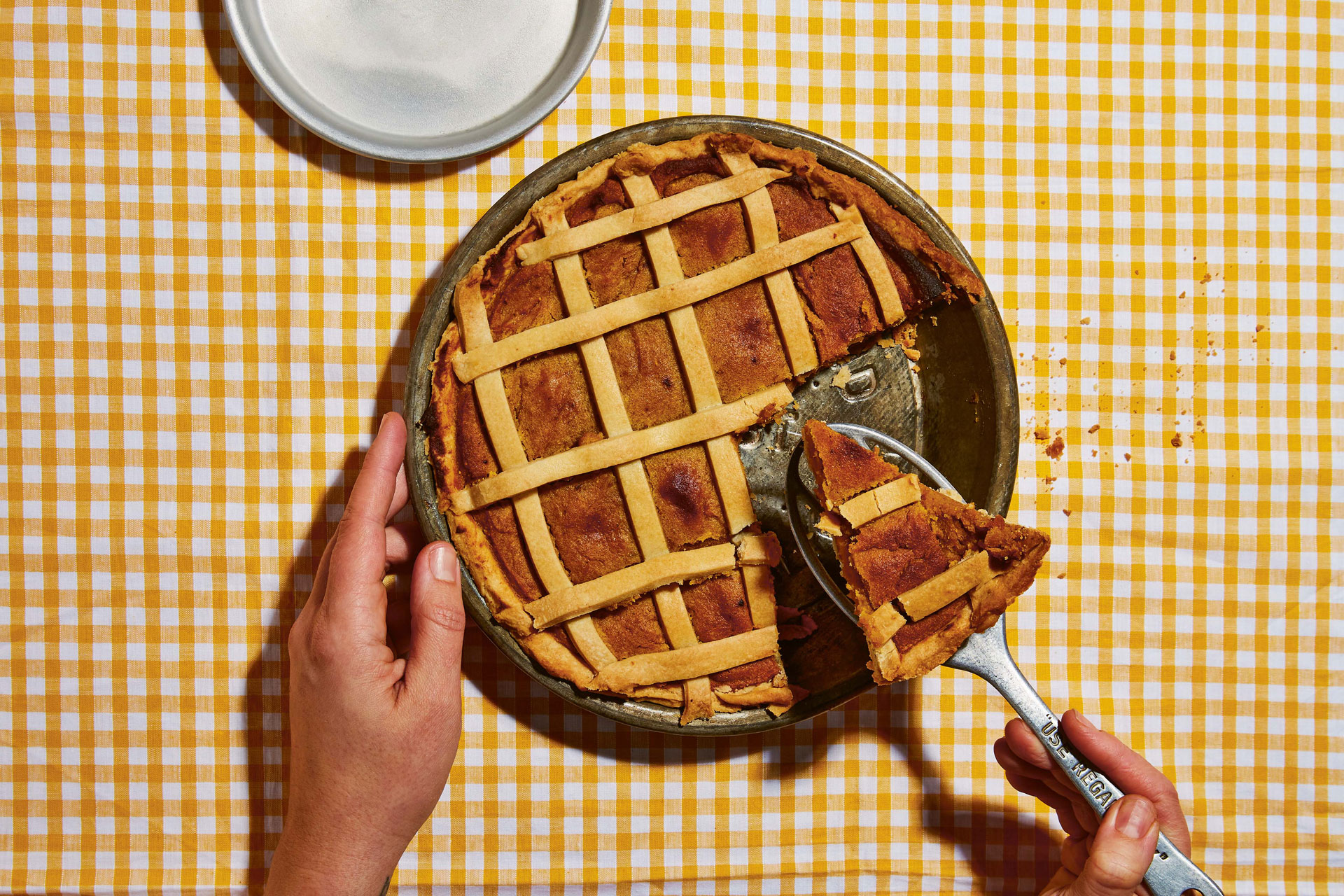 Thanksgiving Recipe: Spiced Pumpkin Pie
'Tis the season
Looking for seasonal autumn recipes? Try this spiced pumpkin pie from our plant-based columnist Bettina Campolucci Bordi.
When the warmth of summer recedes and gives way to the subtle chill of autumn, there's a particular magic that fills the air. It's the season of soups, curries, one pot wonders and slow cooking – from hearty stews to freshly baked bread, every dish becomes a testament to the season's generosity. Autumn brings forth an array of produce: there's a gentle urge to turn to root vegetables, and pumpkins beckon from the market stands. Wander through a local farmer's market, and the array of produce is still very colourful and abundant. The joy of hand picking produce, knowing its journey from earth to plate, adds a depth to every dish prepared and is one of my favourite things to do on Saturday morning. It easily takes me two hours to wander around my farmer's market because I take time to chat, share recipes of the past week and enthuse over the week's ingredients. It's a time when nature's bounty is at its peak, allowing home cooks to experiment, innovate, and pay homage to the season's best.
This month, I'm sharing with you a recipe for the perfect pumpkin pie – perfect for Halloween or Thanksgiving celebrations. This lovely pie includes a pinch of spice and has lots of creamy texture. It goes well with ice cream or some whipped cream, and is a must in my humble opinion.
Halloween's Roots
The tale of Halloween is as much about quiet reflections as it is about festivities. This tradition, which finds its roots in the ancient Celtic festival of Samhain, marks a time when it was believed the veil between our world and the spiritual realm was at its thinnest. Bonfires were set ablaze in the night and costumes were donned, not for revelry as much as for protection from wandering spirits. Pumpkins, with their soft glow, became symbols of protection and light against the encroaching darkness. Through the decades Halloween has beautifully evolved, with each generation adding its touch to the traditions.
Recipe: Spiced Pumpkin Pie
This lovely pie includes a pinch of spice and has lots of creamy texture. It goes well with ice cream or some whipped cream. It's a must in my humble opinion.
Serves 6-8
Ingredients
For the pastry:
250g (9 oz/2 cups) plain (all-purpose) flour
Pinch of salt
Pinch of sugar
115g (4 oz) vegan butter, chopped into small pieces, plus extra for greasing
60ml (2 fl oz/1⁄4 cup) plant milk (I like oat milk)
For the filling:
480g (1lb 1oz) pumpkin purée
120g (4 oz/11⁄4 cups) ground almonds (almond meal)
100g (31⁄2 oz/1⁄2 cup) brown or coconut sugar
100ml (31⁄2 fl oz/scant 1⁄2 cup) plant milk
60g (2 oz) vegan butter
60g (2 oz/1⁄2 cup) plain (all-purpose) flour
2cm (3⁄4 in) piece of ginger root, peeled and grated
1 teaspoon ground cinnamon
1 teaspoon ground cardamom
1⁄2 teaspoon ground cloves
1⁄2 teaspoon baking powder
To serve:
280 ml (10 fl oz/11⁄4 cups) whippable plant cream
1 tablespoon maple syrup
1 vanilla pod (bean), split and the seeds scraped out, or 1 teaspoon vanilla paste or extract
Method
Preheat the oven to 180°C (350°F/gas 4). Grease a cake or pie pan (with a removable base so the pie will come out easily) with some butter.
Make the pastry by adding all the dry ingredients to a bowl. Use your hands to rub the chopped butter into the flour mix. Then add the milk little by little and mix well to form a dough. You can either use the pastry straightaway or, if you have time, rest it somewhere warm for 15–20 minutes. Alternatively, keep in the fridge overnight.
Roll the pastry dough into a disc that's larger than the base of the cake/pie pan, with enough to go up the sides. Put the pastry in the pan and use your index fingers and thumbs to press into the base and sides so it lines the whole pan. Trim off any excess dough that comes over the edges with a knife. You can use the excess dough to create a criss cross pattern on top of the pie if you like.
Prick the base of the pastry with a fork and pre-cook in the oven for 10 minutes.
Meanwhile, add all the ingredients for the filling to a food processor or blender and blitz until well combined.
When the pie case is ready, remove from the oven and add the pumpkin filling. Smooth the filling flat with a palette knife, then bake in the oven for 45 minutes.
While the pie is baking, whip the cream with the maple syrup and vanilla. Chill in the fridge until you are ready to serve.
Once the pie is ready, remove from the oven and allow to cool completely before serving with the whipped cream.
COOK'S TIP:
An easy way to cook a whole pumpkin, skin and all, is to roast it in the oven at 180°C (350°F/gas 4) for 1 hour. Once cooked, simply cut off the top, remove the seeds and use the cooked pumpkin for this and other recipes, such as risottos and salads. The pumpkin will last a week in the fridge and you can dip into it whenever you need it.