Get the most from your joint with a lamb shoulder recipe from Shaun Hill's book 'Salt is Essential'. 
Meat from the lamb shoulder is way better than that of the leg. Maybe the awkward carving and occasional lumps of fat have put people off this as a roasting joint. With shanks this is no problem. A shoulder shank is the same as a leg shank, only slightly smaller, cheaper and nicer.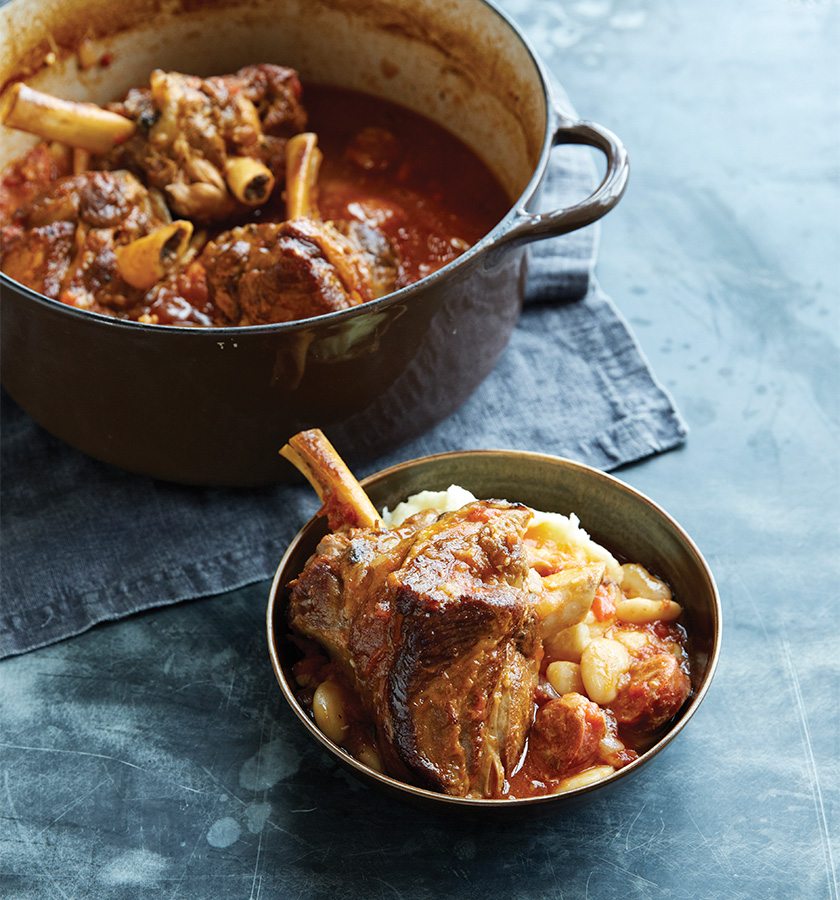 Let the meat cook slow and long, for a couple of hours, so that the meat falls off the bone and all the flavours mix together to make a satisfying dish. This meal is simple to make but does demand the patience or foresight to begin cooking a couple of hours before you want to eat. No other fancy footwork required!
Serves Four
Ingredients
2 tablespoons olive oil
4 shoulder shanks
1 onion, chopped
2 large garlic cloves, chopped
400g tin chopped tomatoes
400g tin butter beans, drained
50g cooking chorizo, cubed or sliced
Glass of white wine
Flat-leaf parsley, finely chopped
Salt and freshly ground black pepper
Method
1. Warm the oil in a heavy-based pan or ovenproof casserole, then brown the shanks on all sides and season with salt and black pepper.
2. Add the onion and garlic, then the tomatoes, butter beans and chorizo. Let this bubble for five minutes, then add the wine and the same amount of cold water.
3. Place a lid on the pot, then turn down the heat to a slow simmer, or transfer to a moderate to low oven (fan 130°C), for two hours. Check every 30 minutes and add a little more liquid if needed. Serve.
Salt is Essential by Shaun Hill, Kyle Books, £25
READ MORE: 9 places to celebrate Thanksgiving in London
READ MORE: Try Fortnum & Mason's traditional Scotch egg recipe
---