A mini breakfast in a muffin tin – what's not to love? Northumbrian-born Linda Tubby shares her favourite fuss-free recipe…
Egg & Bacon Breakfast Bites Recipe
There is nothing quite like a scrumptious breakfast, especially when it involves eggs, bacon and toast all-in-one. Fresh off the pages from Linda Tubby's cook book Cracked, this is a perfectly simple breakfast recipe for those on the go. Especially as it can be prepared the night before. All you have to do come morning is to add the eggs, scatter over the chives and bake. Easy peasy. And if you're feeling extra posh, use pancetta instead of bacon.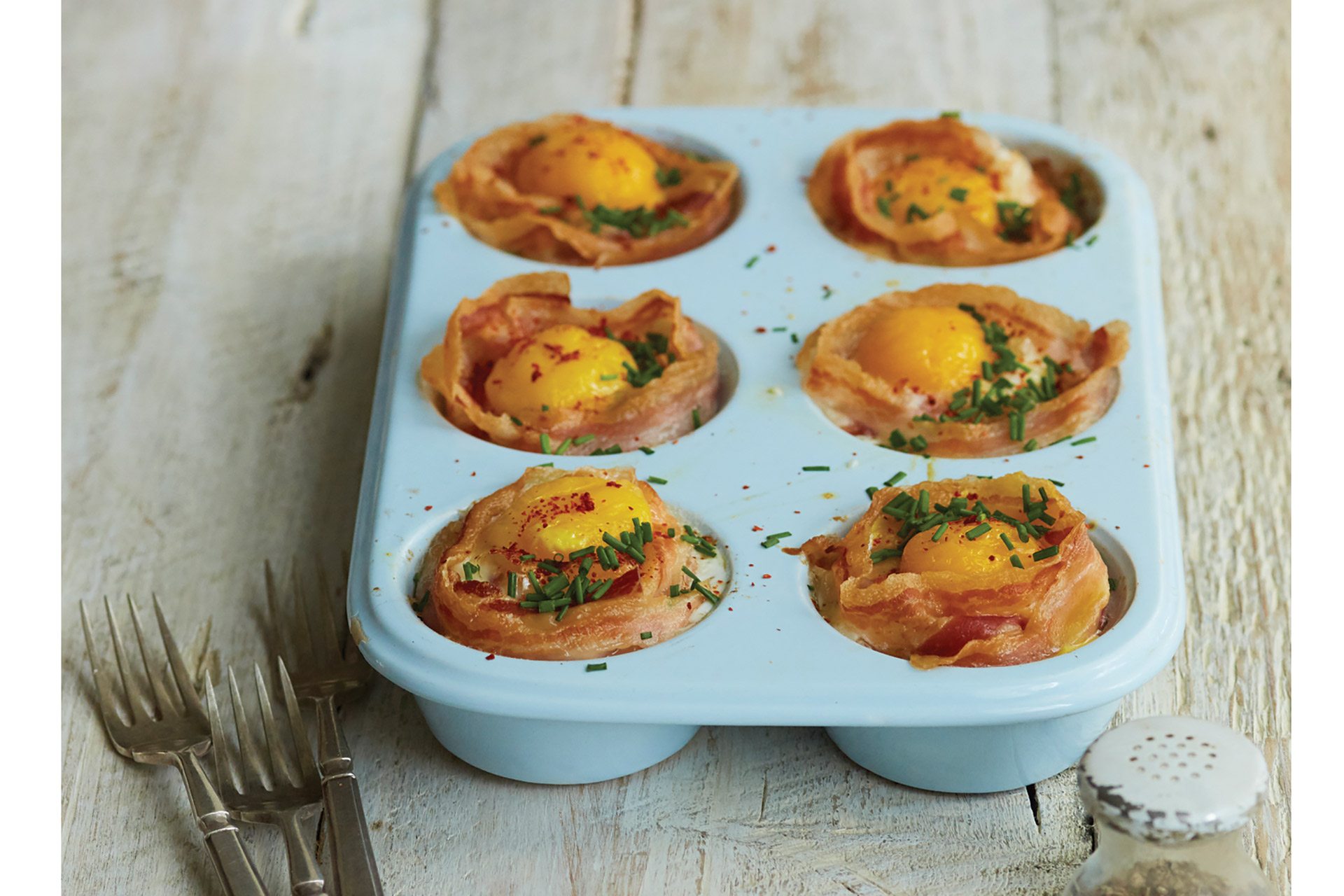 Ingredients
Serves Six
3 large slices of good bread
1/2 teaspoon olive oil
12 thin smoked streaky bacon rashers or pancetta
45g vintage Cheddar cheese, finely grated, or a hard goat's cheese
6 medium eggs
8 chives, finely snipped
Pul biber red pepper flakes or freshly ground black pepper
Sea salt crystals
Method
Preheat the oven to 200°C.
Toast the bread on both sides and cut out two rounds from each slice to fit the bases of a six-hole muffin tin.
Use the oil to brush around the tin, pop in the toast rounds and season with salt and a few pepper flakes or ground pepper.
Grill the bacon for about a minute on each side so it's not quite cooked but still pliable. Arrange two of the bacon rashers around the edges of each hole of the muffin tin to make cosy nests for the eggs.
Divide the cheese between them, press down and crack an egg into each.
Add the chives and pepper flakes and bake in the oven for around ten minutes until the eggs are set to your liking.
Scatter with salt as you eat.
MORE FOOD & DRINK: 7 of the Best Healthy Breakfasts / Recipe: Homemade Melton Mowbray Pork Pie / Six Delicious Ways to Pimp Your Rice Dishes
---