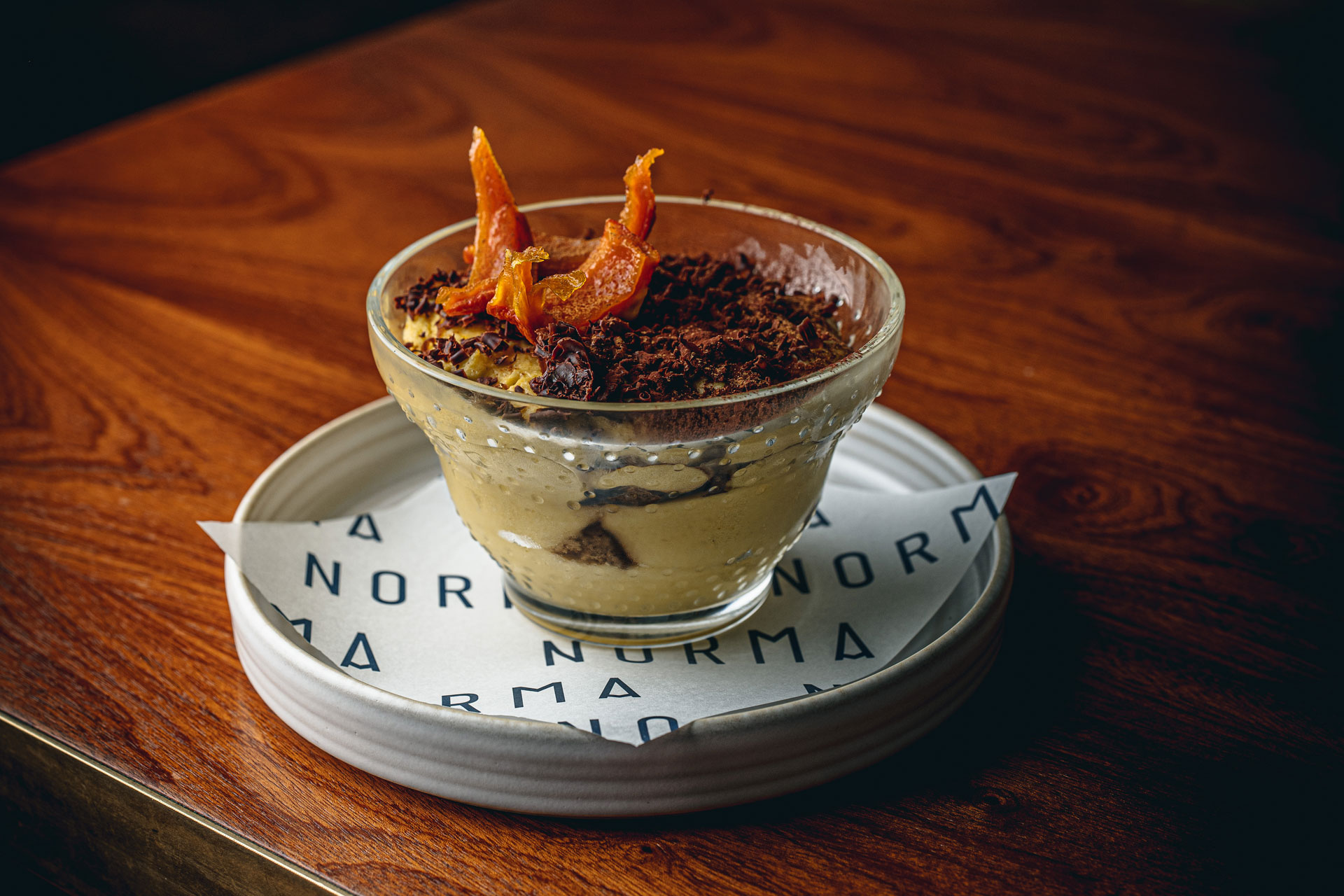 Recipe: Norma's Pumpkin Spiced Tiramisu
---
A seasonal dessert from Sicilian-inspired London restaurant Norma
Hosting a Halloween dinner party and looking for a show-stopping dessert? Try this pumpkin-spiced tiramisu recipe from Giovann Attard, executive head chef at Italian restaurant Norma.
Recipe: Norma's Pumpkin Spiced Tiramisu
Ingredients:
Serves 6 to 8  
20 pieces savoiardi biscuits  

3 large eggs  

4 tablespoons caster sugar  

500g mascarpone (around 2 tubs) 

2 glasses of strong black coffee, cold 

Cocoa powder for dusting  
For the pumpkin puree  
450g Delica pumpkin, peeled, deseeded and diced  

600ml double cream  

¼ tsp cinnamon powder 

50g dark brown sugar  
Method  
Start with the pumpkin puree. Place the pumpkin in a medium sized pan, cover with the double cream and add the sugar and cinnamon. Cook over a medium heat until the pumpkin is soft. Once the pumpkin is cooked, strain, reserving the spiced double cream – chill the cream and save for later. Blend the spiced pumpkin in a blender until you have a very smooth puree. This should give you around 400g of puree. Chill.  

Separate the egg yolks from the egg whites. Using a stand mixer, whisk the egg yolks and caster sugar until thick and fluffy. Set to one side. In a separate bowl, whisk the egg whites until soft peaks.  

Beat the mascarpone with a spatula until smooth. Fold in the egg yolk mix, followed by the cold spiced pumpkin puree.  

In a separate bowl, take 200ml of the cold spiced double cream, whip to a soft peaks, then fold this into the mascarpone mix. 

Lastly, gently fold the egg whites into the mascarpone mix until the egg whites are well incorporated.  

Now it's time to start layering. Use a ceramic dish around 29cm x 20cm x 4cm.  

The first layer should be the coffee soaked savoiardi. Lightly soak the biscuits in the cold black coffee (do not over soak) and place them next to each other on the bottom of the dish.  

Next is a layer of spiced pumpkin cream. You need to use half of the cream for this layer, spread it evenly on top of the savoiardi.  

Repeat these steps again, so you have 2 layers of biscuits and 2 layers of cream.  

Leave to set in the fridge for at least 2 hours.  

Before serving, dust with cocoa powder.