Looking for a tasty treat to whip up this weekend? These Portuguese custard tarts by Chiltern Firehouse chef Nuno Mendes make the perfect summer dessert.
Recipe: Nuno Mendes' Portuguese Custard Tarts
Our glorious custard tarts became popular in the mid-19th century when monks at the Mosteiro dos Jerónimos in Belém began selling them to help make a living. My grandmother used to take me to Pastéis de Belém, where the original versions are still sold.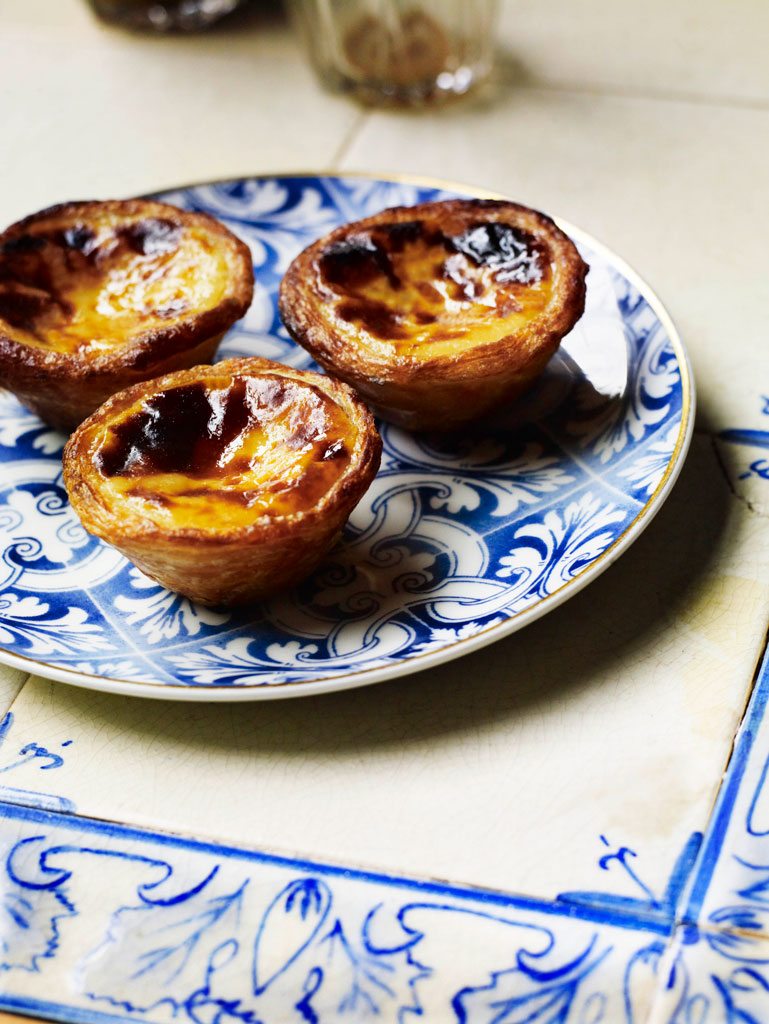 Makes six 
Ingredients
1 x 320g sheet all-butter puff pastry

Melted butter, for greasing

Sugar and ground cinnamon, for dusting
For the custard
250ml whole milk

1 x cinnamon stick

A few strips of lemon zest

20g butter

2 x tablespoons plain
white flour

1 x teaspoon cornflour

2 x egg yolks
For the sugar syrup
225g caster sugar

1 x cinnamon stick

A few strips of lemon zest
Method
Brush six individual muffin tins or a 12-hole tin with butter. Chill in the fridge. Roll the pastry into a 2–3mm-thick rectangle and roll lengthways into a tight sausage, about 5cm in diameter. Slice into six discs, 1–2cm thick. Press discs into the tins, and chill them while you make the custard.

Heat 150ml of the milk in a pan with the cinnamon, lemon zest and half the butter, heat to just below boiling point and leave to infuse for ten minutes. Remove the cinnamon and lemon zest. In a bowl, mix the flour and cornflour to a thin paste, gradually adding the remaining milk. Pour the warm milk over the paste, stirring well, then pour it back into the pan. Cook, stirring gently, over a low heat for a few minutes until it thickens to a double cream consistency. Whisk in the remaining butter and remove from the heat.

To make the sugar syrup, put the ingredients in a pan with 75ml water and cook over a medium heat for five minutes, until the sugar dissolves. Cook over a low heat, swirling the pan occasionally, until you have a light brown caramel. Add 75ml water and return the pan to a gentle heat to dissolve any solid caramel. Strain it into a heatproof bowl. Pour half the syrup into the custard and whisk well.

Preheat the oven to its highest setting and put a baking sheet on the top shelf. Just before cooking the tarts, pour the custard into a measuring jug and stir in the egg yolks. Add a splash of milk to bring the quantity up to 300ml. Pour the custard into the pastry-lined muffin tins and bake on the hot baking sheet for 9–13 minutes, until the tops are dark.

Brush the tarts with the remaining sugar syrup, leave to cool on a wire rack. Sprinkle with sugar and cinnamon to serve.
DISCOVER MORE:
Homemade Pork Pie Recipe / Bread Ahead's Famous Doughnut Recipe
---