Tom Kitchin has re-invented the English classic sausage rolls with a gamey twist. Try your hand at this delicious recipe, guaranteed to excite your tastebuds… 
Tom Kitchin's Grouse Sausage Rolls
This is really a great and easy way to make sausage rolls even better by adding grouse to the filling. It's important you buy good-quality sausage meat, though, and they're great with a red cabbage salad. Read Tom Kitchin's full recipe below: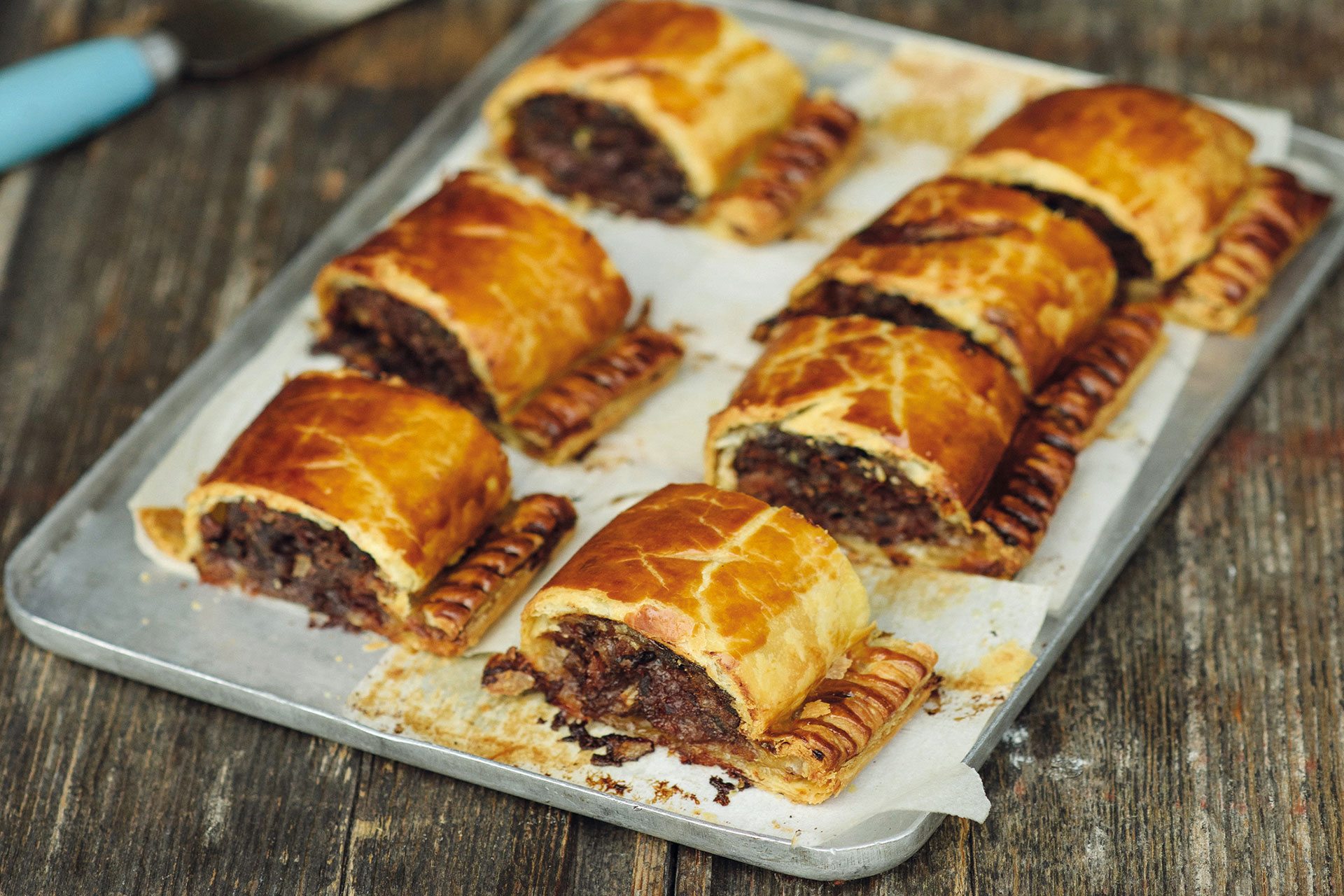 Serves eight
Ingredients
200g young grouse breasts, skinned and finely chopped
200g sausage meat
Vegetable oil
30g wild mushrooms, such girolles, ceps or oysters, trimmed and wiped
50g Parma ham, finely chopped
2 tbsp finely chopped shallots
2 tbsp finely chopped cooked chestnuts
1 tbsp peeled and finely diced quince
1 tsp thyme leaves
400g puff pastry, thawed if frozen
Plain flour for dusting and rolling
1 free-range egg yolk, beaten
Watercress sprigs, to serve (optional)
1 green apple, to serve (optional)
Sea salt and freshly cracked black pepper
Method
The rolls can be assembled up to one day before baking, but if you do that don't brush the surface with the egg wash until just before they go in the oven.
Mix the grouse meat and sausage meat together in a bowl, then set aside.
 Heat a well-seasoned sauté or frying pan over a medium-high heat, then add a splash of oil. When it is hot, add the mushrooms with a pinch of salt and sauté until they are tender and have absorbed the liquid they give off. Tip them out of the pan and finely chop. When they are cool, add to the bowl with the grouse meat.
 Heat a little more oil in the same pan over a high heat. Add the Parma ham and sauté for one minute. Add the shallots, chestnuts, quince and thyme, and season with salt and pepper. Sauté everything together, then set aside to cool.
Once the ingredients have cooled, add them to the meats and mix well by hand. Fry a small amount in a well-seasoned pan to taste and adjust the salt and pepper, if necessary.
 Roll out the puff pastry on a lightly floured work surface with a lightly floured rolling pin into a 40 x 30cm rectangle, then transfer it to a floured baking sheet that will fit in your fridge. Lightly flour your hands and shape the sausage meat mixture into a long, even roll, then place along one long side of the pastry, about 1cm from the edge. Brush the edges with egg, then gently lift the remaining pastry over the sausage roll and press the edges together, using the floured tines of a fork to seal. Transfer to the fridge for at least 20 minutes before baking.
 Meanwhile, preheat the oven to 200˚C Fan and line a baking sheet with greaseproof paper.
 Brush the long roll with the egg wash, then cut into 8 equal portions and place them on the baking sheet. Bake for 30 minutes, or until the pastry is golden brown. Serve hot or at room temperature.
Q&A with Tom Kitchin

What is your food philosophy?
I'm fanatical about seasonal produce and using the best that you can get your hands on. To do that, you really need to get to know your suppliers to try and understand their world as much as they understand yours.
What ingredient are you cooking this month?
Wild duck – either mallard or teal, which is a really small wild duck. The meat is fantastic and really tender. I like to use it for a modern twist on duck a l'orange. Roast it whole on the bone ­– delicious!
Last meal you ate out?
Roast beef and Yorkshire pudding at the gastropub Scran & Scrallie.
For those who have never cooked with game, where should they start?
Many people cook with poultry and chicken, so I would advise that you start off by using pheasant and partridge instead. Game gets a raw deal – it's not just for the high and mighty of the country – anyone can cook it. It's also really good for you. Venison, for instance, is so tender and has minimal fat.
What are they rules in your kitchen at home?
Always eat well. For me that means that I always make a home-cooked meal when I'm off work and get the kids involved. It's important to me that they know when ingredients are in season.
Who would you most like to invite round for dinner?
I would invite my wife as precious dinners don't happen so often. I also love my football – so I would invite some of the great Scottish players. I would make proper home-cooked food for them like steak and kidney pie; 'boys' food', in the hope that they would trade it for a few stories.
Where do you like to eat in Edinburgh?
Roy Brett's restaurant Ondine for the seafood platters.
The best places to eat in Edinburgh
What should we do in Edinburgh?
I would recommend climbing Arthur's Seat right to the top to take in the views over the city. As you will probably overindulge while Edinburgh, the walk is good for building up an appetite for lunch or dinner. You should also make time to sample a nice local ale.
What is your guilty food pleasure?
My wife is Swedish and she has a secret stash of salty liquorish sweets, which she guards from the children. I sometimes steal them.
What would you cook for a quick weeknight supper?
A quick stir fry. Or a nice omelette with wild mushrooms.
Most memorable meal you've ever had?
At Alain Ducasse à l'Hôtel de Paris. It was like being in a fairytale. It just didn't feel real. What I remember most vividly were the vegetables, black truffle and lamb.
Tom Kitchin's 'Meat and Game' is out soon, £26 from Absolute Press. Available to pre-order here
---