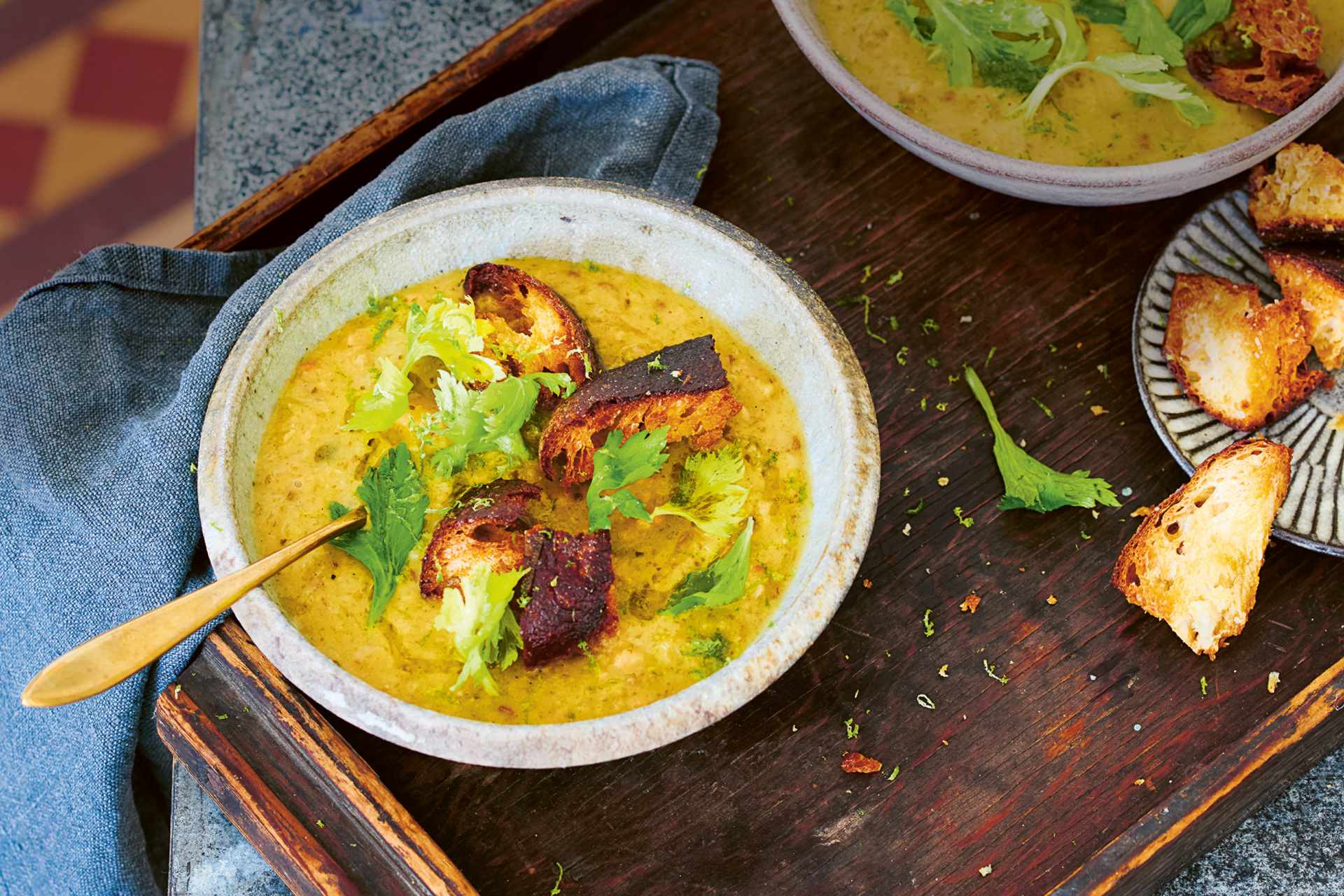 Recipe: Coconut, White Bean & Celery Soup
A guide to in-season soup
By Sophie Gordon | 1 year ago
Chef Sophie Gordon shares her recipe for coconut, white bean and celery soup – a seasonal dish that will get you ready for spring in no time. 
Recipe: Coconut, White Bean & Celery Soup
Ingredients
Serves 4–6
1 tsp oil of choice
2 tsp coriander seeds
2 tsp cumin seeds
1 large onion
1 bunch of celery, sliced
5 cloves of garlic
1 apple, chopped
2 tbsp grated ginger
2 x 400g tins white beans
1–1.5 litres vegetable stock
Salt and pepper
Dried chilli flakes
1 x 400ml tin of full-fat coconut milk
Handful of fresh greens (kale, spinach, chard)
1 lime, juiced and zested
3–4 slices of stale bread, torn into small chunks
2 tsp olive oil
Sesame seeds/lime zest
Method
Preheat your oven to 180°C fan, ready for making the croutons. Put the oil into a large pot over a medium heat, add the coriander and cumin seeds, and fry until fragrant. I like to bash the seeds slightly with the top of a wooden spoon to allow the flavours to deepen once you add the rest of your ingredients. Add the chopped onion and cook until soft and slightly translucent. Add the sliced celery, celery leaves, garlic, apple and ginger, and continue to sauté until the vegetables become soft and fragrant. Add your beans and stock and bring to the boil, then lower to a simmer, stirring occasionally. Season with salt and pepper to taste, adding a pinch of chilli flakes if you want a slight kick. Once your soup starts to thicken, add the coconut milk and half your greens. Keep the heat low while the greens cook, adding the lime juice and zest as you go. Season with salt and pepper again to taste, and continue to simmer the soup to allow it to thicken even more.
While the soup is simmering, make your croutons. Simply toss the torn bread with the olive oil, garlic and some salt and pepper. If you are using any optional additions (lime zest or sesame seeds), add these now. Spread the bread on a baking tray and pop it into the oven for about 8–10 minutes, allowing it to crisp nicely. You can give the tray a shake about halfway through, to prevent burning.
Once cooked, remove from the oven and place to one side to cool and crisp up further. Once your soup is nice and thick, turn off the heat and use a ladle to remove half the contents of the pot to a bowl. You can either use a hand blender or, if you have a high-speed blender that can take heat, go ahead and use that here. Blend until smooth. I like to keep my soup with some additional texture, but feel free to blend all or less of the mix. Add the purée back to the pot along with the rest of your greens and bring back to the boil, stirring to combine.
To serve, ladle into bowls, and top with a squeeze of lime juice, any extra seasoning and the crispy garlic croutons.
MORE RECIPES
Three Gut Loving Recipes From The Gut Stuff's Cookbook