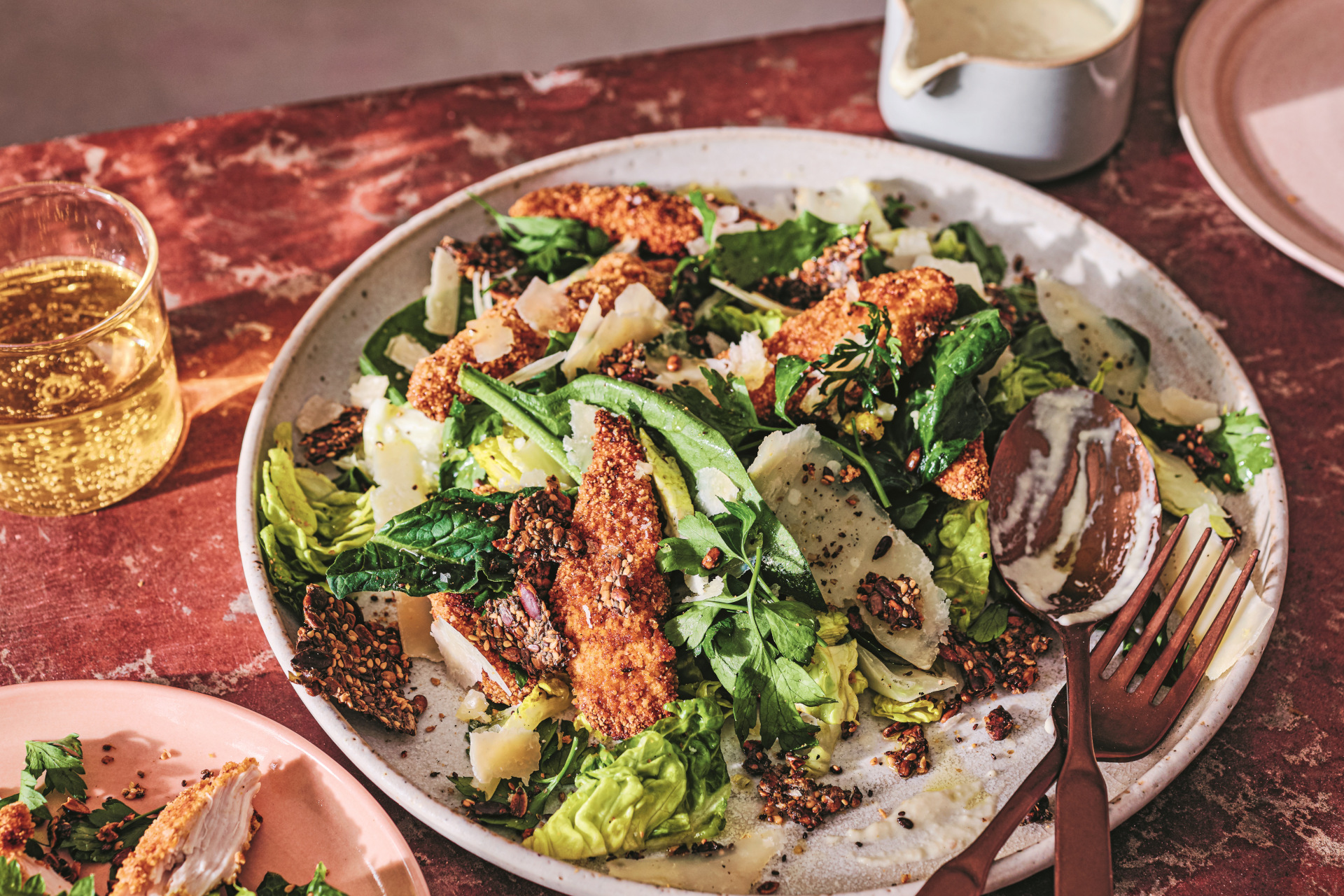 Three Gut Loving Recipes From The Gut Stuff's Cookbook
---
The Gut Stuff was founded by Lisa & Alana McFarlane, who left their jobs as DJ's to focus on educating and inspiring the nation on the importance of gut health. In celebration of their new easy-to-follow cookbook The Gut Stuff, filled with mouth-watering, fibre-filled and gut-loving recipes, they've shared three of their favourite for you to try out yourself… 
An Expert's Guide To Good Gut Health
Three Gut Loving Recipes From The Gut Stuff's Cookbook
Breakfast: Spiced green pancakes
Who said pancakes gotta be sweet? I love these for a weekend brunch or a lazy late lunch. Excellent with a spicy Bloody Mary. 
Ingredients
Pancakes
1 garlic clove, peeled
handful of fresh coriander
handful of spinach
½ tsp ground cumin
½ tsp ground cardamom
100ml (3½ fl oz) milk or oat milk, plus extra if needed
125g (4½ oz) spelt flour
2 large eggs
1-2 tbsp butter
salt and pepper
Topping
1 avocado, cut into chunks
2 spring onions, finely sliced
2 handfuls of spinach
2 tbsp milk kefir (home-made or shop-bought)
1 x 200g (7 oz) can of sweetcorn, drained
½ tbsp chilli flakes
squeeze of lemon juice
Method
1. Put the garlic, coriander, spinach, cumin and cardamom in a blender and blitz to a smooth green paste. Add a splash of the milk or oat milk to loosen if needed.
2. Add the flour to a large mixing bowl and create a well, then add the eggs, slowly whisking them into the flour. Add a pinch of salt and stir, then gradually add the milk, followed by the green paste and whisk to combine. Leave to rest for 20 minutes at room temperature.
3. Put all the topping ingredients in a mixing bowl, season with salt and pepper and stir to combine.
4. Melt the butter in a 20cm (8 in) non-stick frying pan over a medium heat. Once hot, whisk the butter, then ladle 60ml (4 tbsp) into the pan. Cook for 2 minutes, then flip and cook for a further minute. Transfer to a plate and repeat, serve with the mixed topping.
Store any leftover pancakes in an airtight container in the fridge for 3–4 days. The topping is best prepared and served immediately.
Lunch: Chicken goujon caesar salad with fibre cracker croutons
Love this if I've got pals round and want to make a wee alfresco dining effort without just shoving packets of goujons in the oven… My cheeky twist is to use almonds to make a crunchy coating. I usually make a full batch of fibre crackers to keep, but they're usually all munched as I'm cooking ha! Lisa x
1 hour 10 minutes | Serves 2
(including fibre crackers)
Ingredients
½ fibre crackers mixture
2 skinless chicken breasts
30g (1¾ oz) ground almonds
1 tsp paprika
1 egg
2 romaine lettuces
2 handfuls of mixed leaves
salt and pepper
Dressing
20g (1¾ oz) Parmesan cheese
1 small garlic clove, grated
2 canned anchovy fillets, finely chopped
squeeze of lemon juice
4 tbsp milk kefir yogurt (homemade, or shop-bought)
1 tbsp extra virgin olive oil
allergens: nuts (almonds), egg, fish, cow's milk
Method
1. Preheat the oven to 180°C fan/ 200°C/400°F/gas mark 6 and line two baking trays with baking paper.
2. Begin by mixing all the ingredients for the fibre crackers together.
3. While the fibre cracker mixture is soaking, prepare the chicken goujons. Using a sharp knife, cut the chicken into strips. Mix the ground almonds and paprika in a shallow bowl and season well. In another shallow bowl, whisk the egg. Coat the chicken goujons one by one in the beaten egg and then the almond-paprika mixture. Arrange on one of the lined baking trays.
4. Once the fibre cracker mixture has thickened, spread it thinly over the second lined baking tray until it's around 5mm (¼-in) thick. Bake for 25 minutes, then add the tray of chicken to the oven too and bake both for a further 25 minutes, turning the chicken halfway through cooking.
5. To make the dressing, finely grate half the Parmesan and add to the milk kefir yogurt in a jug with anchovies, garlic, lemon juice and olive oil. Stir well to combine and season to taste.
6. Shred the lettuce and add to a large mixing bowl with the mixed leaves and coat in the dressing.
7. Crumble the fibre cracker and use a peeler to cut the remaining Parmesan into shavings.
8. To serve, top the leaves with the chicken goujons, sprinkle over the crumbled fibre cracker and Parmesan shavings.
Do you want more?
Fibre – top with 100g (3½ oz) jarred artichoke, roughly chopped
Variety – a handful of sliced cherry tomatoes
Ferments – top with a handful of olives
Fibre crackers
I buy huge bags of nuts and seeds and prep loads on a Sunday to make crackers for dipping and crumbling onto soups 'n' salads…moreish beyond belief… Lisa x 
20 mins prep + 50 minutes cooking
Makes 10 crackers
allergens: sesame
Ingredients
65g (2¼ oz) sunflower seeds
50g (1¾ oz) pumpkin seeds
35g (1¼ oz) chia seeds
35g (1¼ oz) sesame seeds
20g (¾ oz) whole flaxseeds
½ tsp salt
180ml (6 fl oz) water
Method
1. Preheat the oven to 180°C fan/ 200°C/400°F/gas mark 6 and line a medium baking tray with baking paper.
2. Mix all the ingredients together and leave for 15 minutes for the chia seeds to soak up the water. Once the mixture has thickened, spread thinly over the lined baking tray until around 5mm (¼-in) thick. Bake for 50 minutes. If the cracker doesn't feel crisp after 50 minutes, return to the oven for a further 5–10 minutes.
3. Remove from the oven and leave to cool before breaking into crackers.
Store in an airtight container for up to a week.
MORE RECIPES: Recipe: Madeline Shaw's Sticky Cauliflower Wings / Recipe: Melissa Hemsley's Fried Chermoula Cauliflower / Revisit Hygge: Trine Hahnemann on Hygge, Fika & Favourite Recipes