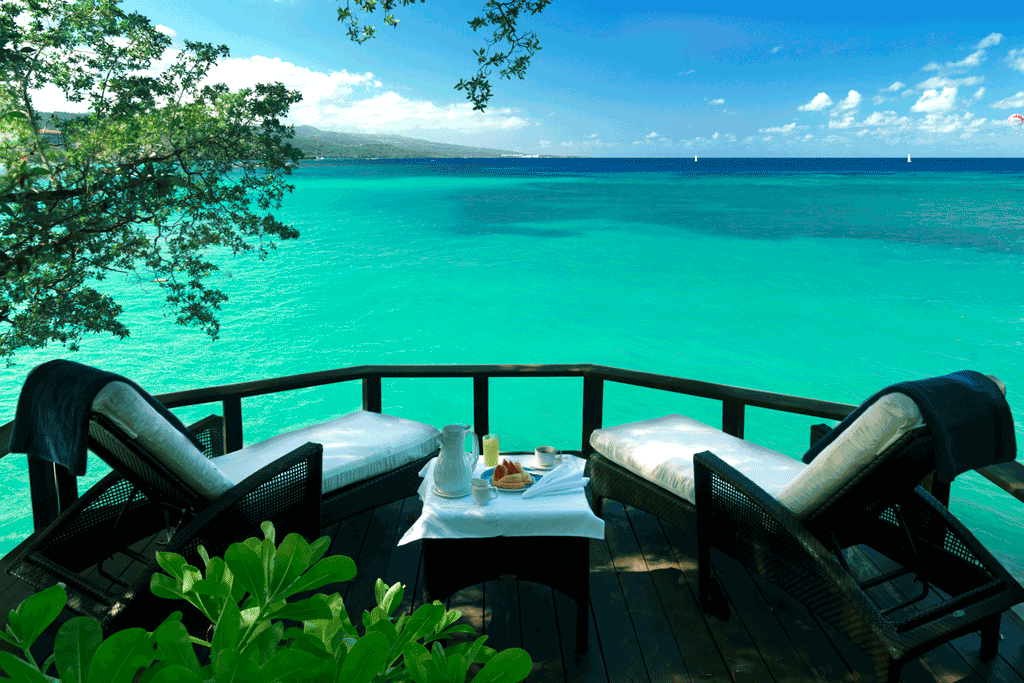 Jerk Chicken Recipe: Jamaica Inn Sublime
---
Can't get to the Caribbean right now? Bring it to your kitchen
As international travel is on pause for the time being, we're helping you bring some of our favourite world flavours home by asking hotels across the world to share the recipes for their signature dishes. Here, Chef Maurice from the Jamaica Inn in Ocho Rios shares his recipe for Jamaica Inn Sublime, a delicious Caribbean spice jerk chicken and jerk pork dish served with ripe plantain and bammy. 
Jerk Chicken Recipe
Ingredients:
1 medium onion, coarsely chopped
3 medium scallions, chopped
2 Scotch bonnet peppers, chopped
2 garlic cloves, chopped
1 tablespoon five-spice powder
1 tablespoon allspice or pimento berries, coarsely ground
1 tablespoon coarsely ground pepper
1 teaspoon dried thyme, crumbled
1 teaspoon freshly grated nutmeg
1 teaspoon salt
1/2 cup soy sauce
1 tablespoon vegetable oil
(1)  4 pound chicken, quartered
Directions:
In a food processor, combine the onion, scallions, peppers, garlic, five-spice powder, allspice, thyme, nutmeg and salt; process to a coarse paste. With the machine on, add the the soy sauce and oil in a steady stream. Pour the marinade into a large, shallow dish, add the chicken and turn to coat. Cover and refrigerate overnight. Bring the chicken to room temperature before proceeding.
Light a grill. Grill the chicken over a medium-hot fire, turning occasionally, until well browned and cooked through, 35 to 40 minutes. (Cover the grill for a smokier flavor.) Transfer the chicken to a platter and serve. Your oven can be used as a substitute for grills in the preparation of chicken.
Jerk Sauce Recipe
Ingredients:
2 tablespoon Pimento (allspice berries)
1/2 cup packed brown sugar
1 cup onion (chopped)
6-8 garlic cloves
4-6 Scotch bonnet peppers
1 tablespoon ground thyme or 2 tablespoons thyme leaves
1-2 bunches scallions (green onions)
1 teaspoon cinnamon
1/2 teaspoon nutmeg
salt and pepper to taste
2 tablespoon soy sauce to moisten
1 tablespoon chopped ginger
Directions:
Put content in a food processor or blender and liquefy
Pour sauce in a Jar and keep refrigerated.
The sauce will keep forever if kept refrigerated
To increase spiciness blend pepper and pimento and add to sauce the hot peppers at any time
Jerk Pork Recipe
Ingredients:
2-3 lb. pork loin boneless center cut roast
1/4 cup orange juice
3 tablespoons brown sugar
1 tablespoon full flavor molasses
1 tablespoon worcestershire
1 teaspoon dijon mustard
1 teaspoon salt
Directions:
Preheat oven to 425 degrees Fahrenheit
In a small bowl, combine orange juice, brown sugar, mustard, worcestershire and salt. Whisk.
Reserve 1/3 liquid for halfway through the cooking so you can re-glaze.
Place in oven, on top shelf, for 15 minutes.
Lower oven temperature to 375 degrees Fahrenheit and continue cooking until internal temperature is 145 degrees.
Bake for about 15 minutes per pound. To note, this pork took 50 minutes total to cook and it was 2.4 pounds.
Remove from oven.
Loosely tent it with foil and let it rest for 10 minutes
Slice and enjoy. Serve with pan juices.
Fried Plantains Recipe
Ingredients:
1 large ripe plantain
1 cup corn oil for frying (you can use oil of your choice)
Directions:
Cut plantain in ½" thick circular slices
Pre heat oil in medium sauce pan for shallow frying
Add sliced plantain to oil fry on each side until golden brown, remove and drain.
Bammy Recipe
Ingredients:
2 large bammy cut in ¼
2 cups coconut milk
¼ tsp cinnamon
¼ tsp nutmeg
½ vanilla
1 Tablespoon sugar
Pinch of salt
Corn oil for frying
Directions:
Mix all above ingredients in a bowl, add cut bammy to the mixture allow bammy to soak for about 15 mins.
Pre head oil in sauce pan to temp.of 325 F
Add the pieces of bammy and fry until golden brown on either side
Read our Ocho Rios Travel Guide | Best Hotels in the Caribbean