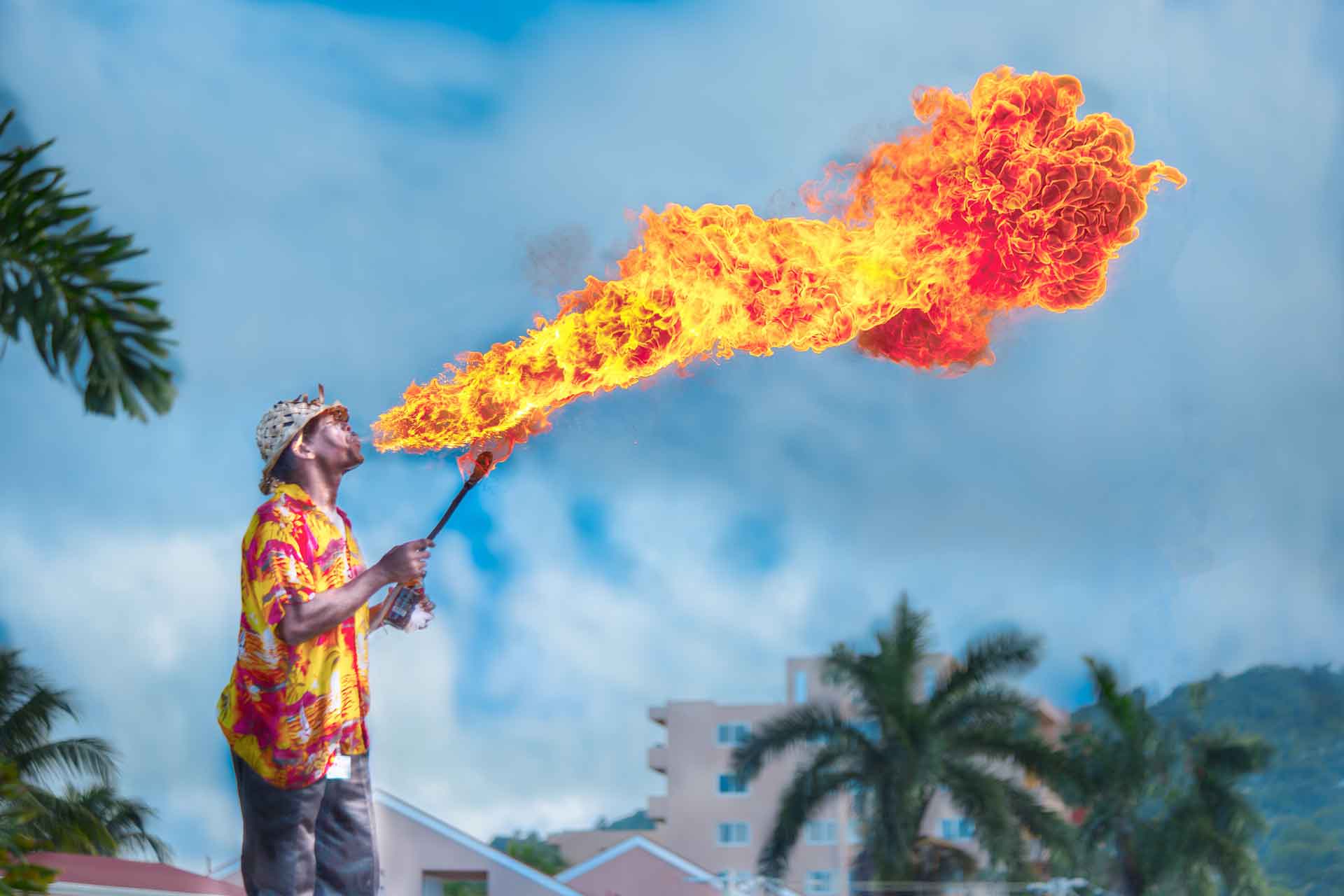 Jamaican Escape: Where to Stay & What to Do in Ocho Rios
---
Come ready to explore, leave feeling alright…
If it's a fly and flop, paradise beach break you're looking for, you're wasting your time with Jamaica. Because palm-lined white sandy beaches and turquoise waters aside, this is an island that demands exploration. One of the most lively, colourful and cultured islands in the Caribbean, look beyond the five-star all-inclusive offerings and immerse yourself in all this fierce and friendly nation has to offer, starting in Ocho Rios.
Jamaica Travel Guide: Ocho Rios
Where to Stay in Ocho Rios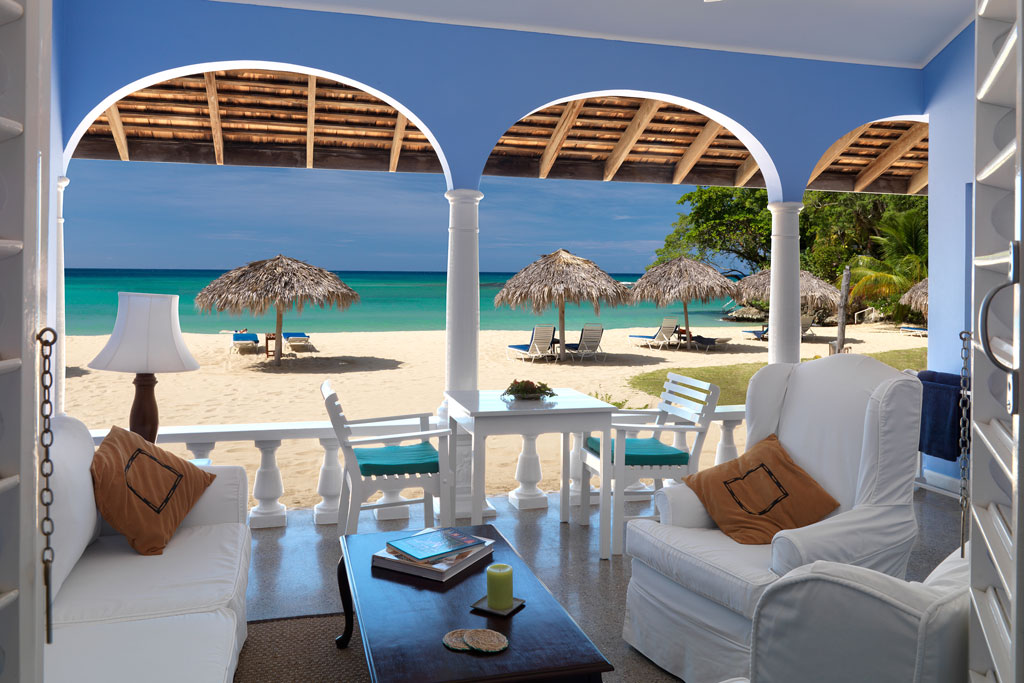 Jamaica Inn
Having recently celebrated its diamond jubilee, the old-world elegance and Caribbean charm that Jamaica Inn encompasses is the perfect antidote to the sometimes-soulless merriment offered at the plethora of swanky modern all-inclusive resorts on this bustling island. Walk on the same beautifully patterned monochrome floor tiles that led Sir Winston Churchill to his chosen ocean-view suite and enjoy the views from the terrace frequented by the likes of Errol Flynn, Marilyn Monroe, Arthur Miller, Vivian Leigh, Noel Coward and Ian Fleming across the years. Rooms vary from entry-level balcony suites with pleasing views of the hotel's impressive private beach, to Premier Veranda suites on the west wing with truly delightful terrace lounges right on the ocean. The sunset views from these are genuinely breathtaking. There are also three bungalows and seven new cottage properties suitable for larger groups or a more intimate holiday experience, with private plunge pools and direct ocean access.
The casual grace and elegance of the hotel runs throughout, with friendly, long-serving staff, a shirts-after-seven dress code and moonlight dancing at dinner time; some may find it all a little formal, but embrace the charm and allow yourself to be swept away by the romance of the place. The iconic Jamaica Inn blue paint is produced on the property and it comes as no surprise that several guests have commissioned holiday properties in the exact shade in an effort to take a slice of this Caribbean haven home with them. jamaicainn.com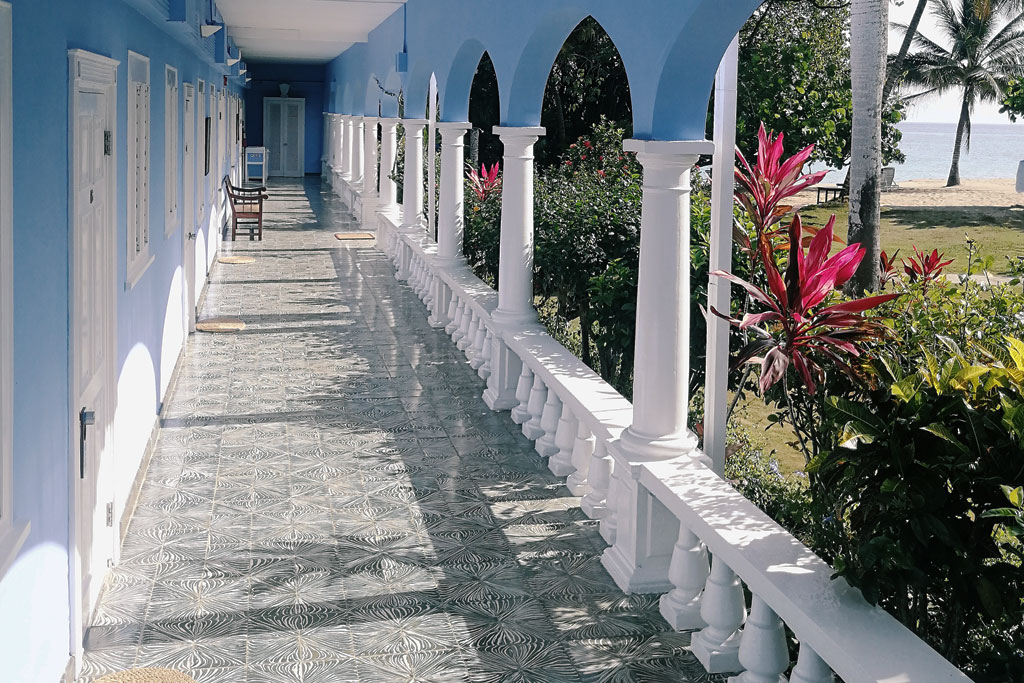 Where to Eat in Ocho Rios
Miss T's Kitchen
For a taste of rustic Jamaican cuisine, head to Miss T's after exploring Ocho Rios, where you'll find local classics like Stamp and Go fritters (a popular Jamaican breakfast) and fresh fish cooked in rich and sticky jerk sauce served with rice and peas. The cocktail list and relaxed vibe make this an excellent spot for a drink (or three) as well, so grab a colourful booth and settle in. misstskitchen.com
Jamaica Inn
For a formal dining experience under the stars, book in for a six-course meal beautifully created by chef Maurice Henry. Both the service and the food are outstanding, mixing local Jamaican flavours, seasonal produce and international flair. A live band plays Jamaican hits and covers old classics while couples waltz between tables. (Bring your dancing shoes.) The breakfast offering is also worth splashing out on – with ocean views and plenty of Blue Mountain coffee, the daily Jamaican breakfast option is a must-try if you want to get a true taste of Jamaica, including the national dish of ackee and salt fish. jamaicainn.com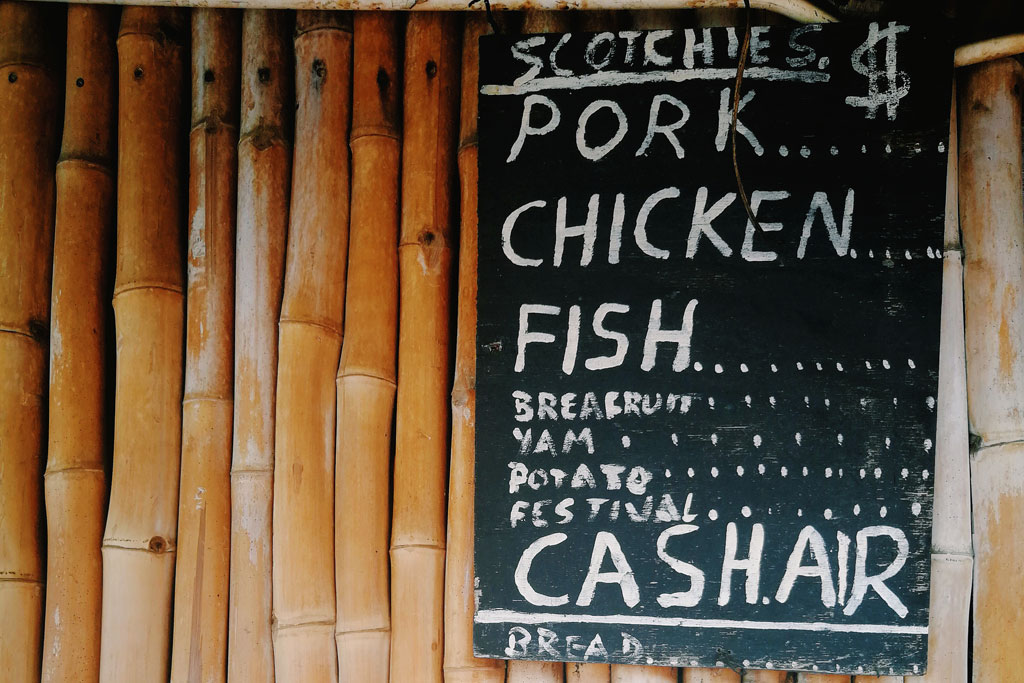 Scotchies
If it's scorching hot jerk that you've come to Jamaica for, Scotchies roadside grills (you'll find one in Ocho Rios, Montego Bay and Kingston) are the best of the best. With a largely local clientele, grab a seat, wonder at the work rate of the sweat-soaked chefs at the grill, listen to the lilting patois of your fellow diners and take a (tentative) taste of the fiery scotch bonnet sauce. (Pictured above.)
What to Do in Ocho Rios
Sun Valley Plantation
Speaking of the food scene, don't make the mistake of thinking Jamaica is all about the jerk. Jerk and spice and rice and peas make up a small part of the island's culinary appeal, but the island is a sun-drenched haven of exotic fruits and plants, healing herbs and miracle teas. Discover them all with a day drip to a working plantation. A short drive from Ocho Rios you'll find Sun Valley Plantation, which offers a 90-minute tour focusing on either the history of the property from its slave era roots to the present day or the botanical wonders hidden across the property. The wonderfully warm and welcoming Lorna has been living and working on the plantation with her husband since 1976 and offering tours for more than a quarter of a decade – her knowledge of the island's flora and fauna is second to none. You'll meet the many resident humming birds and taste the delicious array of fruits and vegetables grown on site – be sure to check out the annatto plant and be inspired to grow your own lipstick. Admission price is $12 per person (approx. £9). visitjamaica.com
Dunn's River Falls
A true Jamaican icon, Dunn's River Falls is a must-visit in Ocho Rios, attracting visitors staying in all corners of the island. Described as a 'living, growing phenomenon', it regenerates itself from deposits of travertine rock, creating a giant natural staircase spanning 180m in length and standing at 55m high. Start at sea level and (carefully) climb the falls for the perfect combination of nature hike and thrill factor. Play it safe and utilise one of the park guides who will tell you exactly where to step to avoid slips. Adults $23 (approx. £18) children 4 – 12: $15 (approx. £12).  Price includes licensed falls Guide and use of the park for the day. dunnsriverfalls.net
Further afield consider a day trip to Kingston to explore the bustling capital and check out the iconic Bob Marley museum and then take in the live music and poetry scenes, or head along the coast to Montego Bay for some shopping at the pretty local craft market or an evening lagoon boat trip. And don't let negative press surrounding tourism in Jamaica put you off asking locals for advice. Jamaicans are amongst the friendliest people in the Caribbean and will not only point you in the direction of local hot spots and hidden gems, but share the history of their home towns and much more, if you'll only take the time to ask.
Book It
Jamaica is a direct 10-hour direct flight away from London, it's worth booking early to avoid a lengthy transfer process via the American immigration system.
Room rates at Jamaica Inn start at $349 (Approx. £269) for a Superior Balcony Suite, based on double occupancy, excluding breakfast, tax and service. jamaicainn.com
For more travel advise check out visitjamaica.com.
For current travel advisories from the British government visit gov.uk.
Main photo: Ocho Rios, Jamaica, by Michael Godwin on Unsplash