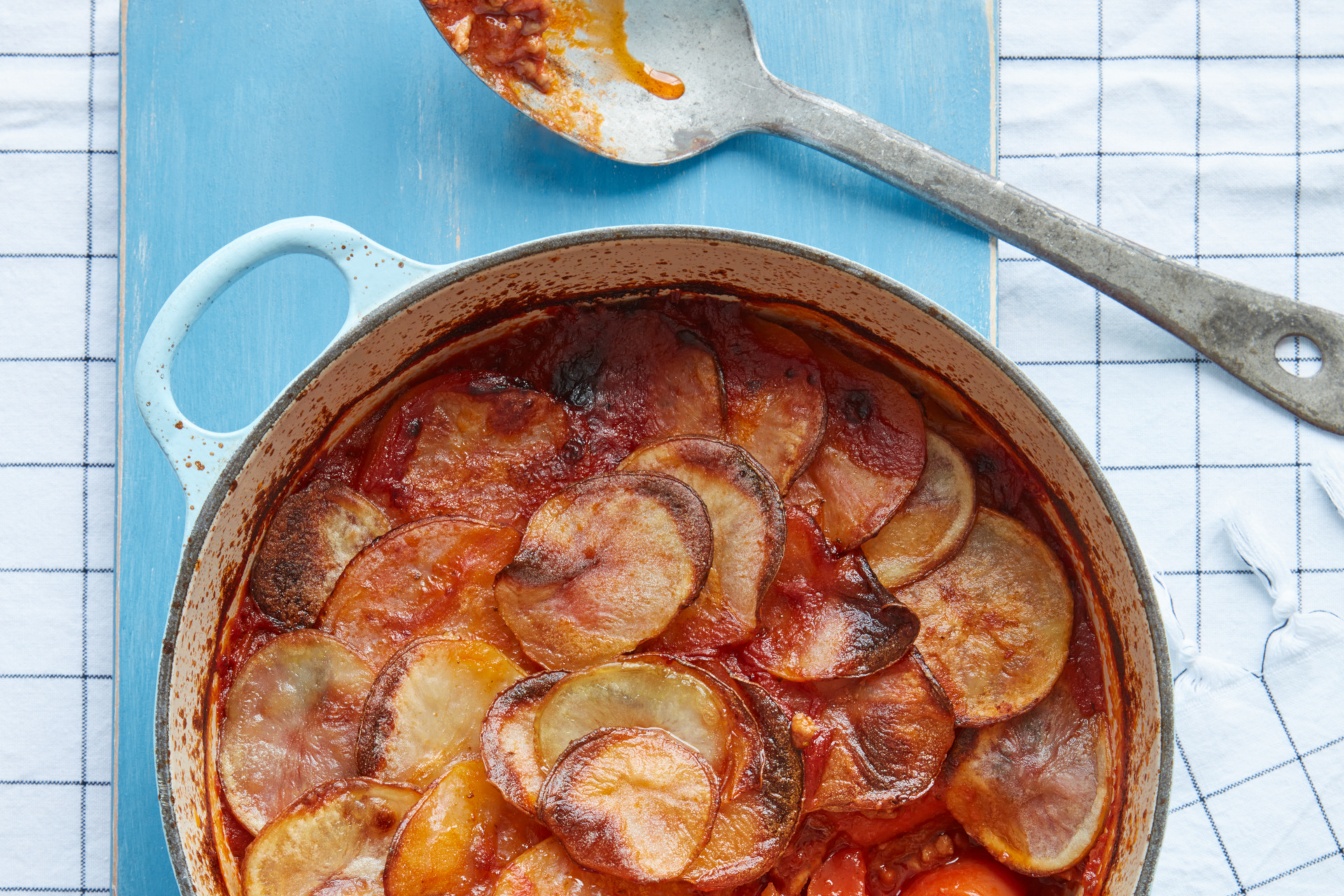 Recipe: Rebecca Wilson's Lamb & Tomato Hotpot
---
British chef and Sunday Times bestseller Rebecca Wilson is back with a new cookbook full of family-friendly recipes: Fast Family Food. To coincide with its release, she's shared her hearty recipe for lamb and tomato hotpot.
Recipe: Lamb & Tomato Hotpot
With succulent lamb and tender veg in a rich tomato sauce topped with crispy scalloped potatoes, this is a real one-pot wonder! The minimal washing up is such a bonus.
Serves two adults and three kids
Prep: 10 minutes / Bake: 1 hour
Freezable
Ingredients
500g (1lb 2oz) lean minced (ground) lamb
1 brown onion
3 large carrots
2 low-salt beef or chicken stock cubes*
1 tbsp Worcestershire sauce*
2 tbsp tomato purée (paste)
2 tsp garlic paste
2 tbsp cornflour (cornstarch)
500g (1lb 2oz) passata (strained tomatoes)
2 tsp dried mixed herbs
3–4 large all-rounder potatoes, washed
2 tsp garlic-infused oil, plus extra if needed
Method
Preheat the oven to 180°C fan (200°C/400°F/Gas 6) and put the kettle on to boil.
Place a large casserole pot on the hob over a high heat to heat up. Add the lamb mince and let it cook for 1 minute without touching while you dice the onion. Now, break up the mince using a wooden spoon and add the onion, stirring it in. If your mince is very lean and looks like it is sticking, then add a drizzle of garlic oil.
Let the meat cook while you peel the carrots and cut them into chunks. Turn your attention back to the pot and crumble in the stock cubes, add the Worcestershire sauce, tomato purée, garlic paste and cornflour. Cook, stirring, for 1 minute, then add the chopped carrots, passata and mixed herbs. Stir well, then top the pot up with boiling water out of the kettle to reach about 1–2cm (1 ⁄2–3 ⁄4in) over everything. The amount of water you need really depends on the size of your pot, so play it by ear. Try not to add too much water, though, as the potatoes on top will sink down below the sauce once baked, which is not a bad thing taste-wise, but it won't look as pretty.
Stir well and allow it to bubble while you slice the potatoes into 0.5cm (1 ⁄4in) thick rounds – don't worry about peeling them to save time. Scrape the bottom of the pot with your wooden spoon to loosen any stuck-on bits, then take the pot off the heat to add the potatoes. Layer the sliced potatoes over the top of the pot carefully, as the sauce will be hot. Try to overlap them a little to give a pretty design, then drizzle over a little garlic oil to help the potatoes crisp up. If you're using a narrow, deep pot, your potatoes may sink into the sauce, so in this case just add an extra layer or two of sliced potatoes on top.
Pop the dish in the preheated oven, uncovered, for 1 hour to bake. Allow to stand for 5 minutes before serving, and take care as it will be really hot! If there's a little bit of lamb fat sitting on the top of the potatoes or around the edge of the pot, use a spoon to gently skim this away before serving.
Serve as is, with a little veg on the side – Savoy cabbage works perfectly.
Love your leftovers
Leftovers will keep for up to 2 days in the fridge. Reheat in a hot oven for approx. 15–20 minutes or in a microwave on HIGH for a few minutes or until piping hot. You can also freeze cooled leftovers in an airtight container, defrosting them thoroughly before reheating as above.
READ
Fast Family Food by Rebecca Wilson comes out on 15 September 2022. dk.com
DISCOVER MORE
Gordon Ramsay's Borlotti Bean Minestrone / Green Chickpea Dippers with Chipotle Mayo