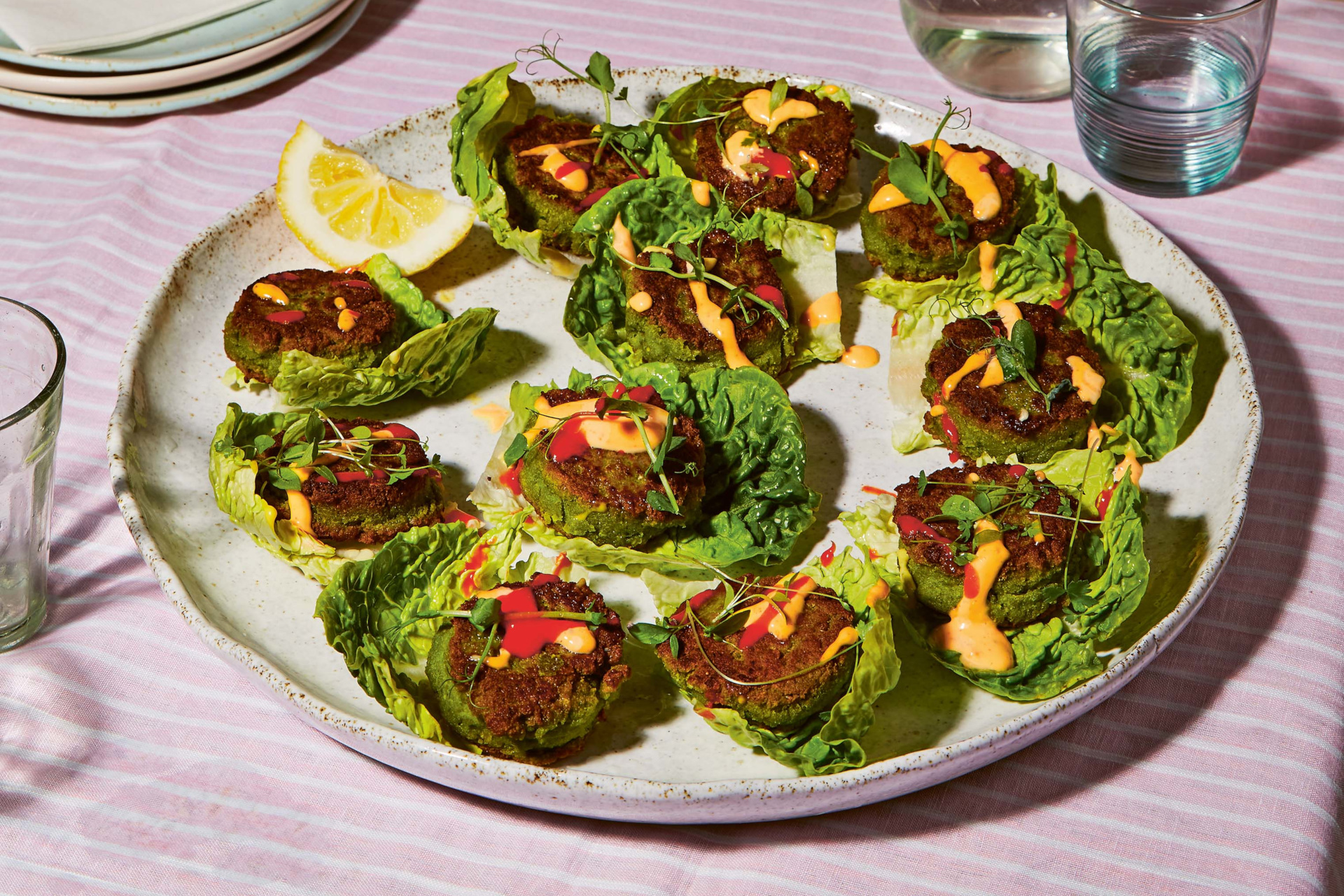 Recipe: Green Chickpea Dippers with Chipotle Mayo
---
Plant-based chef Bettina Campolucci Bordi shares her recipe for green chickpea dippers with chipotle mayo.
Recipe: Green Chickpea Dippers with Chipotle Mayo
These make a great little starter and are the ultimate finger food – a mouthful that is oh-so satisfactory and a taster for things to come. I like wrapping these in baby gem lettuces with a dollop of creamy chipotle for good measure.
Note: The dried chickpeas will need soaking overnight, so bear this in mind when planning this dish.
Makes 18 dippers
Ingredients
 For the dippers:
250 g (9 oz/ 1 cup) dried chickpeas, soaked overnight in a large bowl of water
1⁄2 shallot, diced
A handful of spinach leaves
1 tablespoon tahini
Juice of 1⁄2 lemon
2 garlic cloves
A pinch of salt
Olive oil, for shallow-frying
For the chipotle mayo:
200 g (7 oz/3⁄4 cup) plant mayonnaise
1 teaspoon chipotle oil or a pinch of chipotle powder
To serve:
1–2 baby gem lettuce heads
Sriracha sauce
Method
Drain and rinse the chickpeas that you soaked overnight.
Blitz all the ingredients for the dippers (except the olive oil) in a food processor or blender until smooth.
Using two large spoons, take 1 tablespoon of the dipper mixture and form into quenelles. Shallow-fry in olive oil in a frying pan (skillet) for a few minutes, turning to brown all sides. Repeat until you have used up all the mixture (about 18 dippers).
To make the chipotle mayo, mix both ingredients in a bowl and set aside.
To serve, separate individual baby gem lettuce leaves and arrange in a single layer on a platter. Place a chickpea dipper on each lettuce leaf and drizzle with the chipotle mayo and Sriracha sauce.