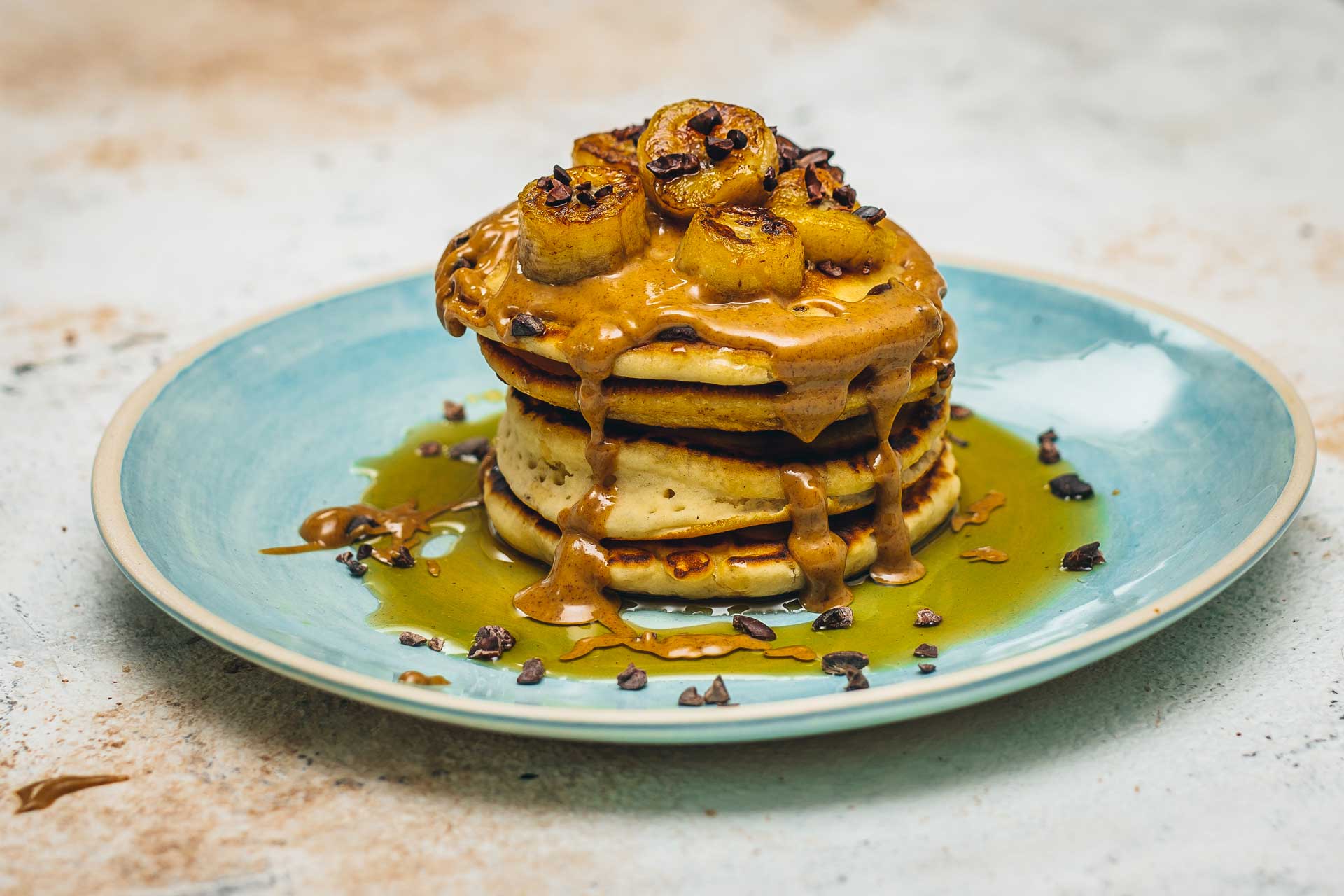 Recipe: Acai Girls' Peanut Butter, Caramelised Banana and Cacao Pancakes
---
Looking for a dairy-free recipe to cook up this Pancake Day? Check out this peanut butter, caramelised banana and cacao number from healthy food delivery service Acai Girls.
Recipe: Acai Girls' Peanut Butter, Caramelised Banana and Cacao Pancakes
These pancakes were inspired by our trips to New York, where hangovers were soaked up by dreamy American-style pancakes. When it comes to toppings, we think there is no better flavour combo than banana, chocolate and peanut butter.
These pancakes also have mood-boosting qualities – not only by tasting dreamy but because of the micro-nutrients in the toppings. Cacao nibs are a superfood containing a variety of unique phytonutrients, including high amounts of flavonoids, sulfur, magnesium and phenylethylamine. These characteristics provide many benefits such as reduced inflammation and improved focus, alertness and mood.
Serves 4 
Ingredients
405g plain flour
90g sugar
40g melted butter
25g baking powder
3 eggs
390ml almond milk
Toppings 
Manilife Deep Roasted Peanut Butter
2 bananas
50g butter
50g golden caster sugar
80g cacao nibs (added to taste)
Maple syrup and coconut yogurt to taste
Method
Sieve the flour and baking powder into a bowl – very important to sieve both to avoid lumps.  Add the sugar to the flour.
In a separate bowl, mix the eggs, melted butter and milk.  Pour into the flour and whisk until smooth.  The batter will be very thick, and may be a little lump to start with but will become smooth after a few mins if whisking.
Pour the batter into a large jug.
Heat a non-stick frying pan over a medium heat and add a little oil to lightly coat the base of the pan.
Pour the batter into the centre off the pan so it evenly spreads to the size of your desired pancake, the mixture should begin to bubble and slightly rise.
Flip the pancake after a couple of minutes, and cook until both sides are golden brown and the pancake has risen to about 1 or 2cm in thickness.
Toppings: 
Slice the two bananas into 2cm thick pieces.
Put a frying pan onto a medium heat and melt 50g of butter and 50g of sugar. Once this has melted and started to slightly bubble,  place the banana slices in the pan to caramelise.
Don't move your bananas for around 30 seconds as this will allow your bananas to gain some colour.
The bananas should be turned once the underneath is golden brown, the second side will caramelise faster than the first.
Once you have caramelised your bananas, layer them on top of your pancakes with the peanut butter and sprinkle with cacao nibs for that added texture and slight bitterness to offset the sweetness of the bananas.
Serve with the maple syrup and coconut yogurt on the side to personal taste.