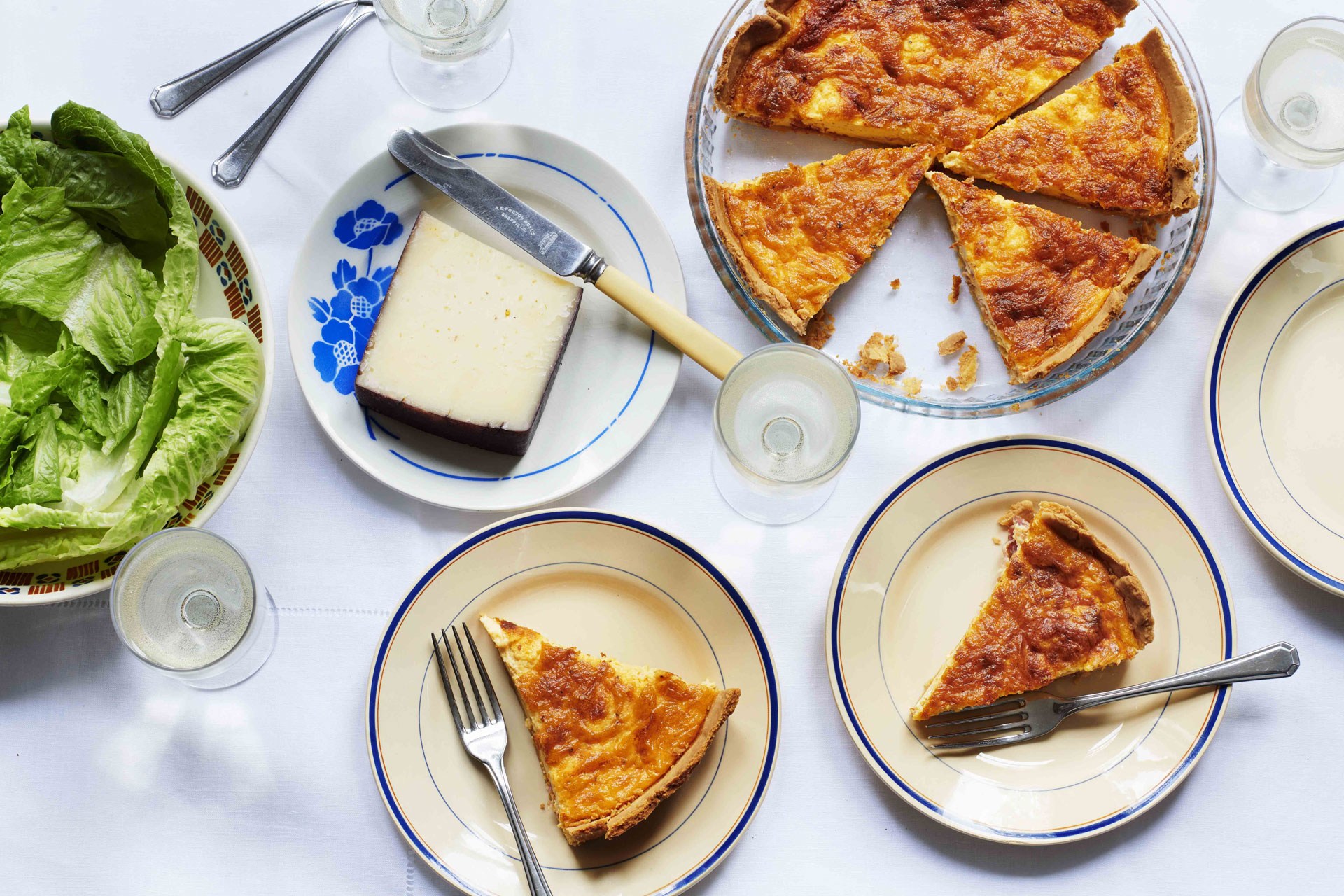 Recipe: Angela Clutton's Quiche Lorraine
---
A 50's-inspired quiche for summer
Who doesn't love a good quiche? Perfect for picnics and summer brunches, it's relatively simple to make and can be jazzed up in all sorts of ways. Here, we share a quiche recipe from food writer Angela Cutton, who released seven new recipes on behalf of Borough Market to mark the Queen's Platinum Jubilee – all celebrating the defining foods of each decade. First up was a quiche Lorraine inspired by the 1950s and food writer Patience Gray.
Recipe: Angela Clutton's Quiche Lorraine
Try to imagine – although it's pretty much impossible – what it might have felt like to make it through World War II, with all its deprivations, get to the hope a new decade brings, and then find that Britain's food – much of it still rationed – was worse on the whole than it had been during the war years. That was the reality at the start of the 1950s for a nation struggling to get back on its feet.
What came next was a series of seismic changes to the way we feed ourselves. Kitchens slowly became more streamlined and electric – hello, fridges and electric cookers. Small local stores gave way to larger retailers, and the old routines of chatting with the shopkeeper were replaced with more impersonal transactions. Food production was increasingly industrialised, with a focus on standardisation and storability, causing the loss of many glorious varieties of apple, pig and so much more.
If you read that and sigh, it's only because hindsight lets us see the negative impacts of all that change. The upside for those who lived through it was that food became cheaper and more accessible. Post-war austerity gave way to late-50s prosperity.
Food writer Patience Gray latched onto that hope of better times. In her bestselling 1957 book Plats du Jour (written with Primrose Boyd), she encouraged a store cupboard filled not with canned foods but with spices, herbs and oils. Her ideal meal was a main (the plat du jour) served with 'green salad, respectable cheese, fruit in season and, where possible, a bottle of wine'.
Take heed of that for serving this quiche Lorraine – a dish that would become almost laughable, but in the 1950s could be enjoyed for its rustic, delicious simplicity. As Cary Grant says in the 1955 film To Catch a Thief: 'It's quiche Lorraine – I think you'll like it.'
Recipe: Quiche Lorraine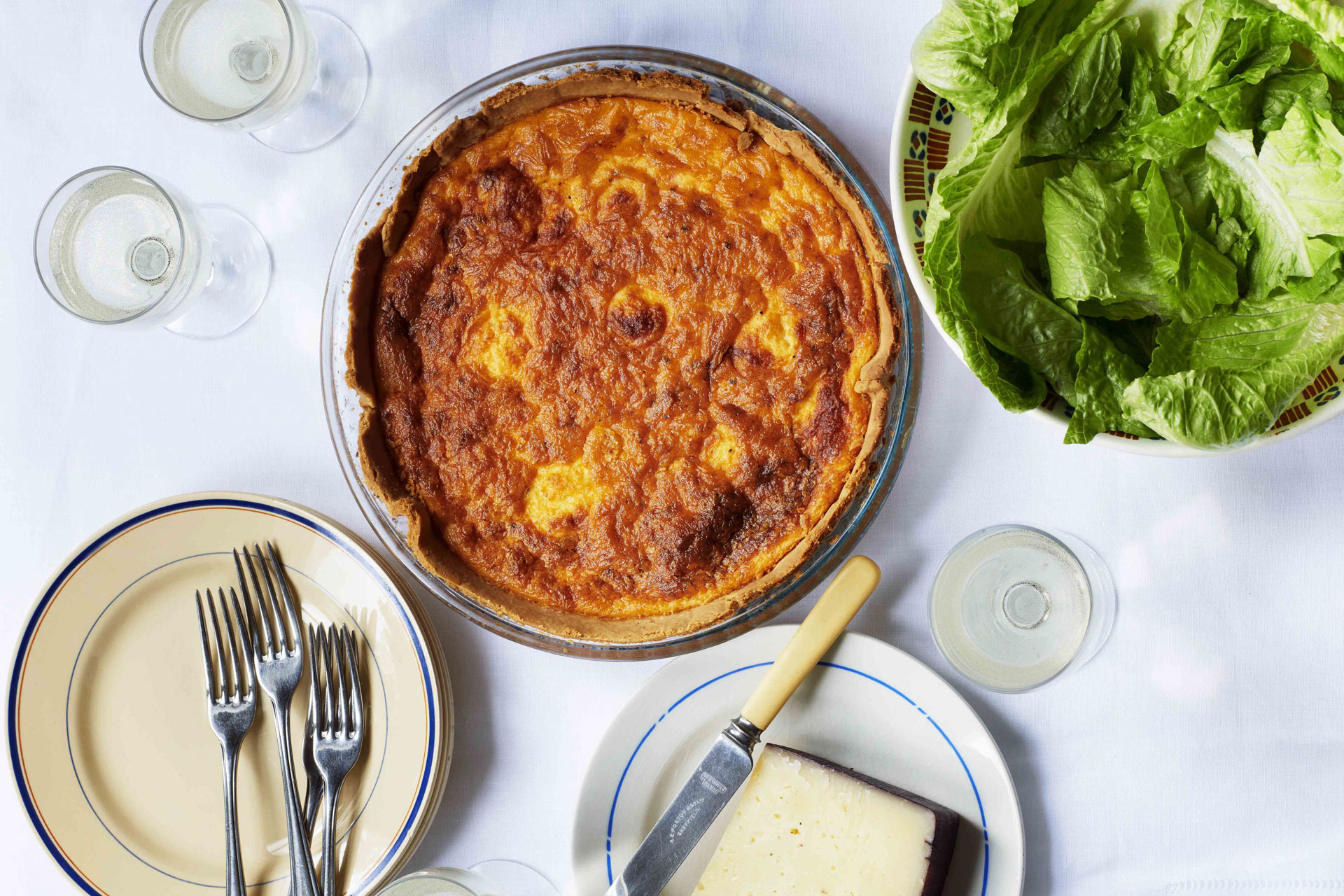 A take on a 1950s recipe, inspired by Patience Gray
Serves 6-8
Prep 2 hours for pastry base + 10 mins for filling
Cook 30 mins
Ingredients:
300g plain flour, sifted
150g cold unsalted butter, cut into cubes
1 large egg yolk, beaten
250g smoked bacon rashers
500ml double cream
4 large eggs
Nutmeg
A large knob of butter
Method:
Start by making the quiche's pastry base. Put the flour into a mixing bowl, then use your fingers to rub in the butter until it feels like breadcrumbs. Add the beaten egg yolk and a pinch of salt and bring together into a smooth dough. (You might need to add some cold water, but use as little as you can get away with.) Shape into a disc, wrap and chill for 30 mins.
Grease a 24cm-diameter tin with a little extra butter. Roll out the pastry between two pieces of greaseproof paper until the thickness of a pound coin and large enough for lining your tin. Carefully lift one edge of the pastry over the rolling pin and use that to lift it onto the tin. Treat the pastry gently as you smooth it inside the case. Let the pastry overhang, as it will shrink as it cooks. Chill for 30 mins.
Heat the oven to 180C. Prick the chilled pastry base with a fork in several places. Line with baking paper, fill with baking beans (or rice) and bake for 15 mins. Remove the paper and the beans or rice, then return the tin to the oven for a further 5 mins. Sit the tin on a wire rack to cool but don't yet trim the pastry edges. This stage can be done a day ahead of time.
To make the filling, heat the oven to 180C. Lightly whisk together the cream and eggs in a jug or mixing bowl. Season and add a few good gratings of nutmeg.
Heat a medium frying pan over a medium heat. Cut the bacon into 2.5cm lengths and lay the slices into the pan to crisp up and render their fat. Use a slotted spoon to lift the bacon out of the fat, then arrange in a layer on the pastry base. Pour over the egg and cream mix, dot with small pieces of butter, then bake for around 30 mins – it's done when the filling is gloriously golden and bouncy and just about set. Let the quiche cool for 10 mins before serving, leaving time to dress a salad and open the wine.
Images: Joe Woodhouse
MORE RECIPES: