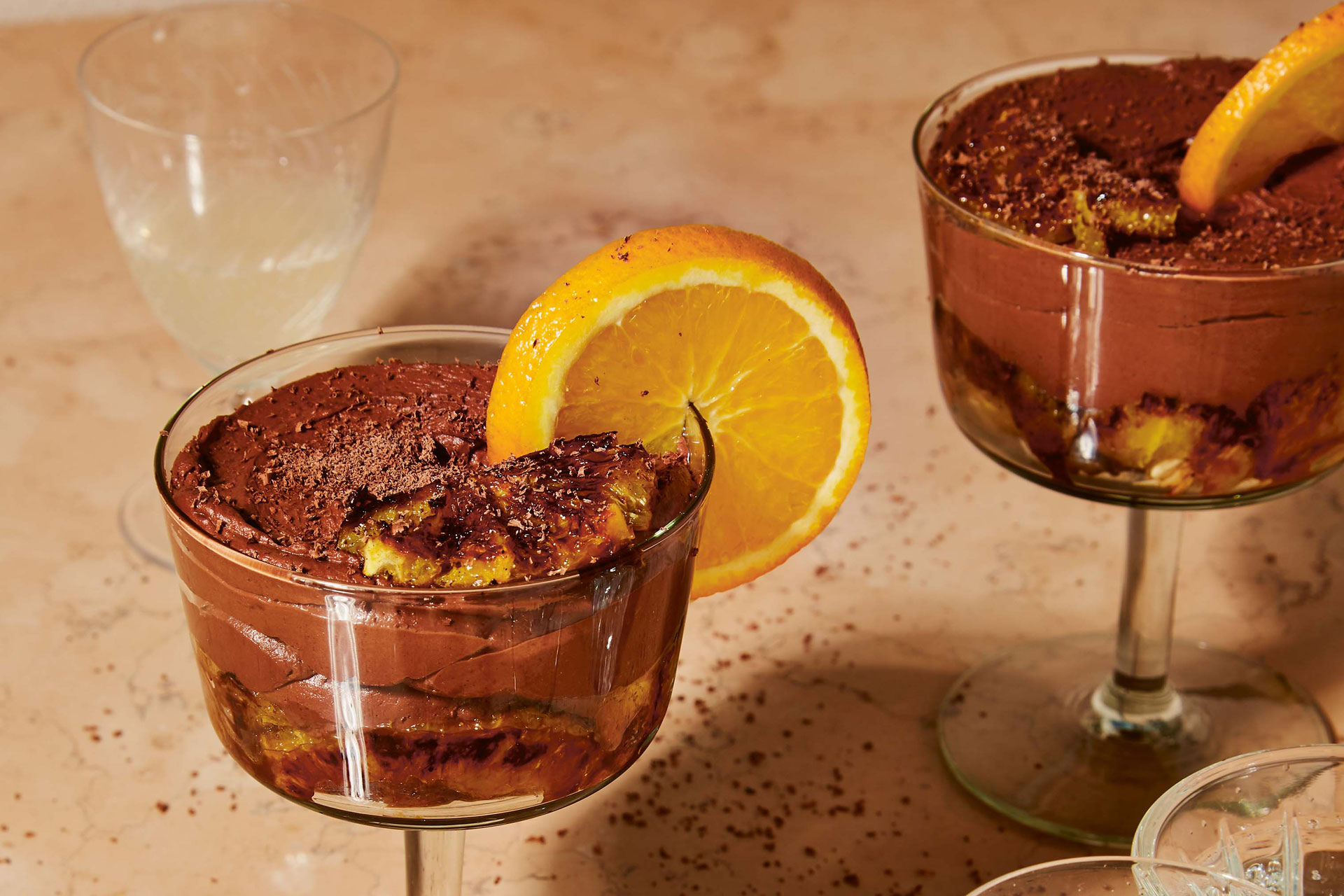 Dessert of the Week: Chocolate, Orange and Amaretto Mousse
A twist on the classic chocolate orange
By Bettina Campolucci Bordi | 1 year ago
Our dessert of the week is Bettina Campolucci Bordi's chocolate, orange and amaretto mousse
This combination oozes holiday season. Winter is a time for citrus fruits and what better way to celebrate them than with a chocolate, orange and amaretto mousse? It is one of my favourite recipes from my latest cookbook Celebrate. It is easy to make, you can prepare it in advance and it hits all the spots when it comes to decadence, taste and comfort. You do not need to go to great lengths to make this look incredible.
Before we dive into the recipe let's chat about citrus fruits – namely oranges, and why they pair so well with chocolate. Oranges are popular due to their natural sweetness, the many different types available, and the diversity of uses. For example, a person can consume them in juices and marmalades, eat them whole, or use zested peel to add a tangy flavour to cakes and desserts. I use them in salad dressings, sometimes in tomato sauces for sweetness and tartness but my favourite way is in deserts and mainly chocolate as it cuts through the richness and ads a bit of zing.
Recipe: Chocolate Orange and Amaretto Mousse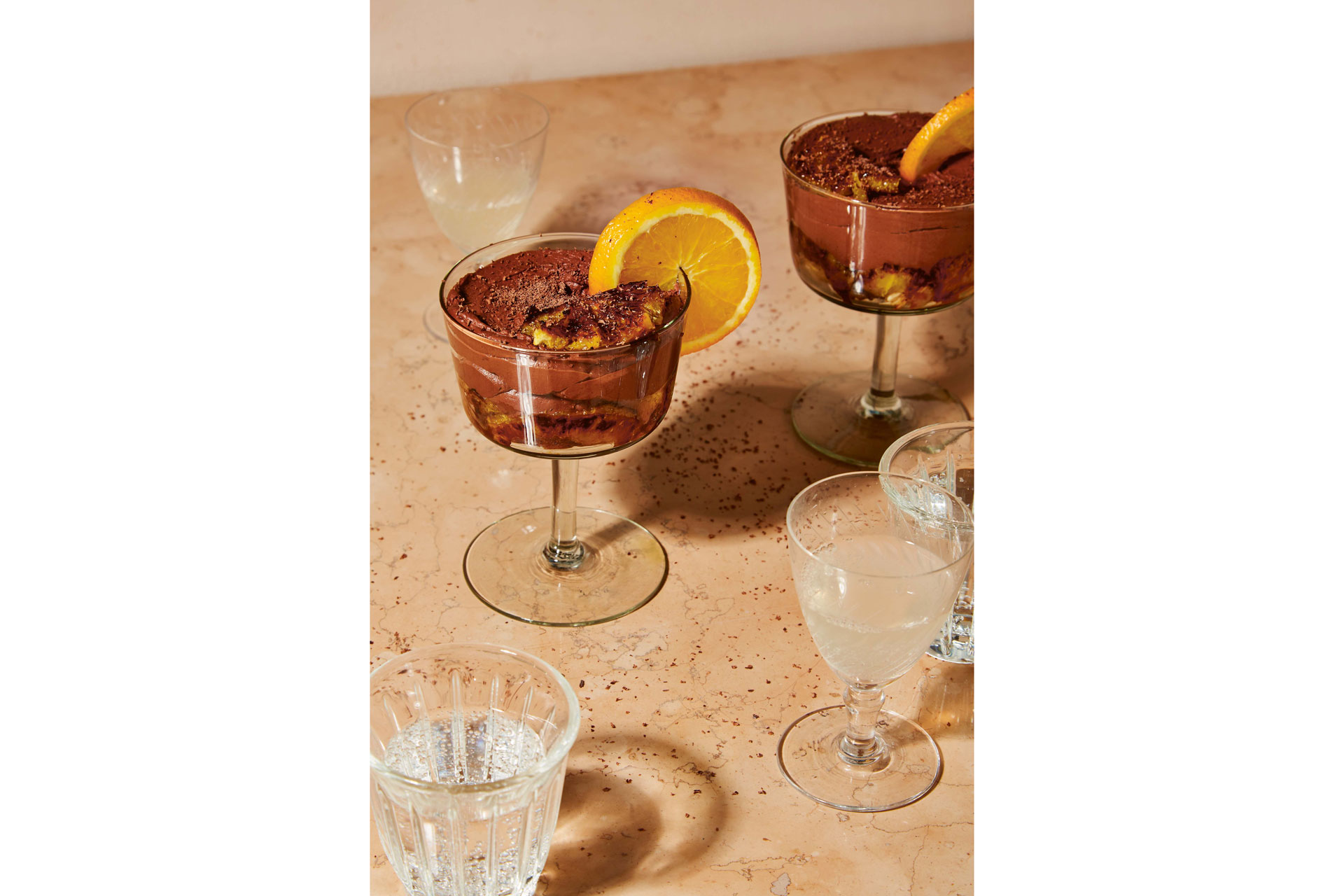 Very few ingredients are needed to make this incredibly light and satisfying mousse. It has an added grown-up twist of Amaretto, which can easily be skipped for little ones.
Serves 4
Ingredients
320 ml (11 fl oz/11⁄3 cups) good-quality coconut cream or refrigerated full-fat tinned coconut milk
3 tablespoons runny peanut or almond butter
3 tablespoons cacao powder
2–3 tablespoons maple syrup
2 tablespoons Amaretto
Zest of 1 orange
For the caramelised oranges:
1 teaspoon of coconut oil
3 oranges, peeled and cut into slices 1⁄2 vanilla pod (bean), split and the seeds scraped out, or 1⁄2 teaspoon vanilla extract or paste
To serve:
Grated dark chocolate, with at least 70% cocoa solids 4 slices of orange (optional)
Method
Add the coconut cream and all the other ingredients to a bowl. Use an electric hand-held whisk to mix everything together until fluffy (be careful not to overblend).
To make the caramelised oranges, heat the coconut oil in a small to medium saucepan and fry the orange slices before finishing off with the vanilla.
To serve, add a couple of caramelised orange slices to
the bottom of each serving glass and spoon in the mousse. Top with grated chocolate and an orange slice (if using).
Refrigerate before serving or eat immediately.
This recipe is taken from Celebrate. Celebrate is the perfect cookbook for every occasion – no matter if you're vegan, vegetarian, flexitarian or will eat anything. From Christmas, Easter, Halloween and Thanksgiving, to birthdays, picnics, summer BBQs and formal dinner parties, every celebration is covered.
MORE RECIPES FROM BETTINA:
Sweet Potato & Leek Traybake / Almond and Fig Muffins