Here is Gizzi Erskine's take on a classic, with an old-school clementine jelly and a classic ginger cake, made boozy with ginger liqueur and thick custard, cream, glacé cherries and chocolate. This clementine and ginger trifle is a crowd pleaser and perfect for the festive season.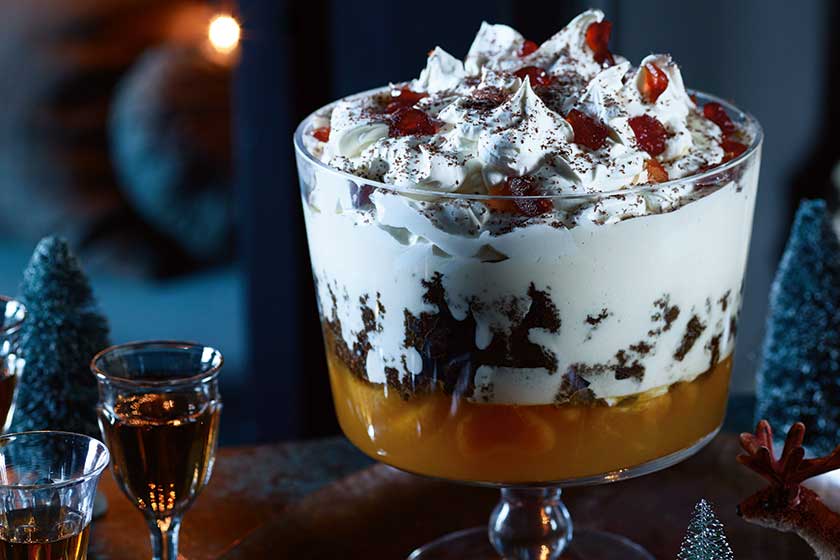 Ingredients
600ml fresh custard
300ml double cream
1 teaspoon icing sugar
50g good quality dark chocolate
A few glacé cherries, chopped
For the ginger cake
225g unsalted butter, plus extra for buttering the tin
225g dark brown sugar
225g black treacle
2 free-range eggs, beaten
290ml milk
340g plain flour
1 tablespoon ground ginger
1 tablespoon ground cinnamon
A small, fresh grating of nutmeg
2 teaspoons bicarbonate of soda
For the clementine jelly
150ml water
50g caster sugar
300ml clementine juice
4 gelatine leaves
3 clementines, segmented
Method
Preheat oven to 180C˚/160˚C fan. Butter and line a 30x20cm roasting tin. Melt the butter, sugar and treacle in a pan, leave to cool for ten minutes, then stir in the eggs and milk. Sift the flour, ginger, cinnamon, nutmeg and bicarbonate of soda together in a large bowl, then fold in the butter mixture to form a batter. Pour into the prepared tin and bake for 45 minutes, or until the cake is risen and firm. Leave to cool and store in an airtight container until needed. You will have made too much cake, but this is no disaster – it freezes brilliantly.
To make the jelly, put the water, sugar and clementine juice into a small saucepan. Soak the gelatine leaves in cold water for ten minutes, then squeeze out any water and add to the clementine juice to dissolve. Arrange the clementine segments in the bottom of your trifle bowl, pour over the liquid and refrigerate for at least four hours, to set.
Now you're ready to construct the trifle. Chop up 150g of the cake and place on top of the jelly. Pour over the ginger liqueur. Pour over the custard and level out the top. Whisk the cream with the icing sugar until it's gently holding its shape, then spoon over the custard. Grate over the chocolate and finish with glacé cherries if you like. Pop the trifle into the fridge to chill for one hour before eating.
Gizzi's Season's Eatings by Gizzi Erskine is published by Mitchell Beazley, £25
READ MORE: Gizzi Erskine shares her festive favourites
READ MORE: Christmas present ideas for foodies
---