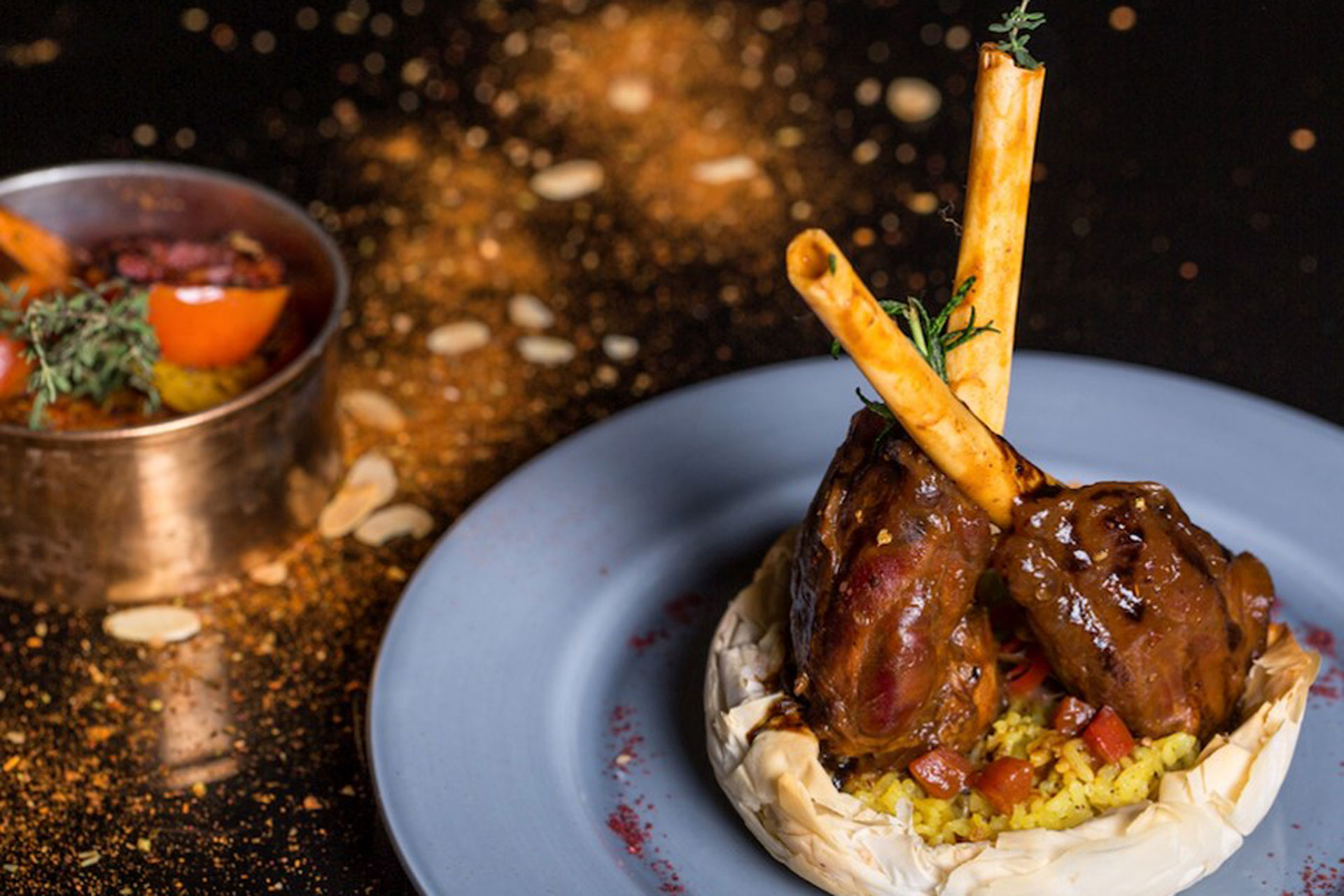 Recipe: Lamb Shank and Couscous on Filo Pastry, served with Vegetable Tagine
---
Can't travel? Bring the world to your kitchen with this recipe from The Ritz-Carlton Bahrain.
We don't know about you, but one of the things we're missing about travel this year is the food. In an effort to help, we're bringing you a host of world recipes to help you eat out while eating in. This Lamb Shank and Couscous on Filo Pastry recipe comes from The Ritz-Carlton Bahrain.
Lamb Shank and Couscous on Filo Pastry, served with Vegetable Tagine Recipe
Ingredients:
1 kg lamb shank
1 kg tomato
500 g onion, finely chopped
200 ml olive oil
15 g garlic, finely chopped
1 tsp ground cumin
1 g saffron
20 g fresh rosemary
200 g butter
50 g pine seeds
20 g fresh parsley & coriander
500 g couscous
20 g salt
5 g black pepper
5 g cloves
5 g cinnamon
Filo pastry
Baby potatoes
Baby carrots
Baby marrow
Baby eggplant
Method
Lamb shank preparation
In a hot pan, sauté onion and garlic in olive oil
Add the tomatoes, coriander, and parsley. Mix for about 2 minutes
Add the cumin and rosemary then sauté for another minute
Put in the lamb and add a generous amount of water, bring to a boil and simmer for 5 minutes.
Reduce the heat and cook for about 2 hours or until the lamb is tender
Couscous
Boil 2 cups of water and add saffron, onion, cloves, salt, and cinnamon.
Let it cook for 15 minutes
Remove the spices from the stock and add butter
Add couscous, cover and wait for 15 minutes to cook
Filo pastry
Cut in round shape and bake in the oven at 160°c for about 6 minutes
Vegetable Tagine
Sautè onion and garlic in olive oil then add tomatoes and spices
Add the baby potatoes, carrots, marrow, and eggplant. Toss to combine.
Cover and simmer for about 20 minutes or until the veggies are tender.
Transfer to serving bowl and drizzle with olive oil.
To serve, put the couscous on top of the filo pastry then add the lamb shank. Serve with the vegetable tagine.
Enjoy! Thank you to The Ritz-Carlton Bahrain. 
More world recipes: Acadia Burger Recipe By Chef Ryan McCaske | Jamaica Inn Sublime Jerk Chicken