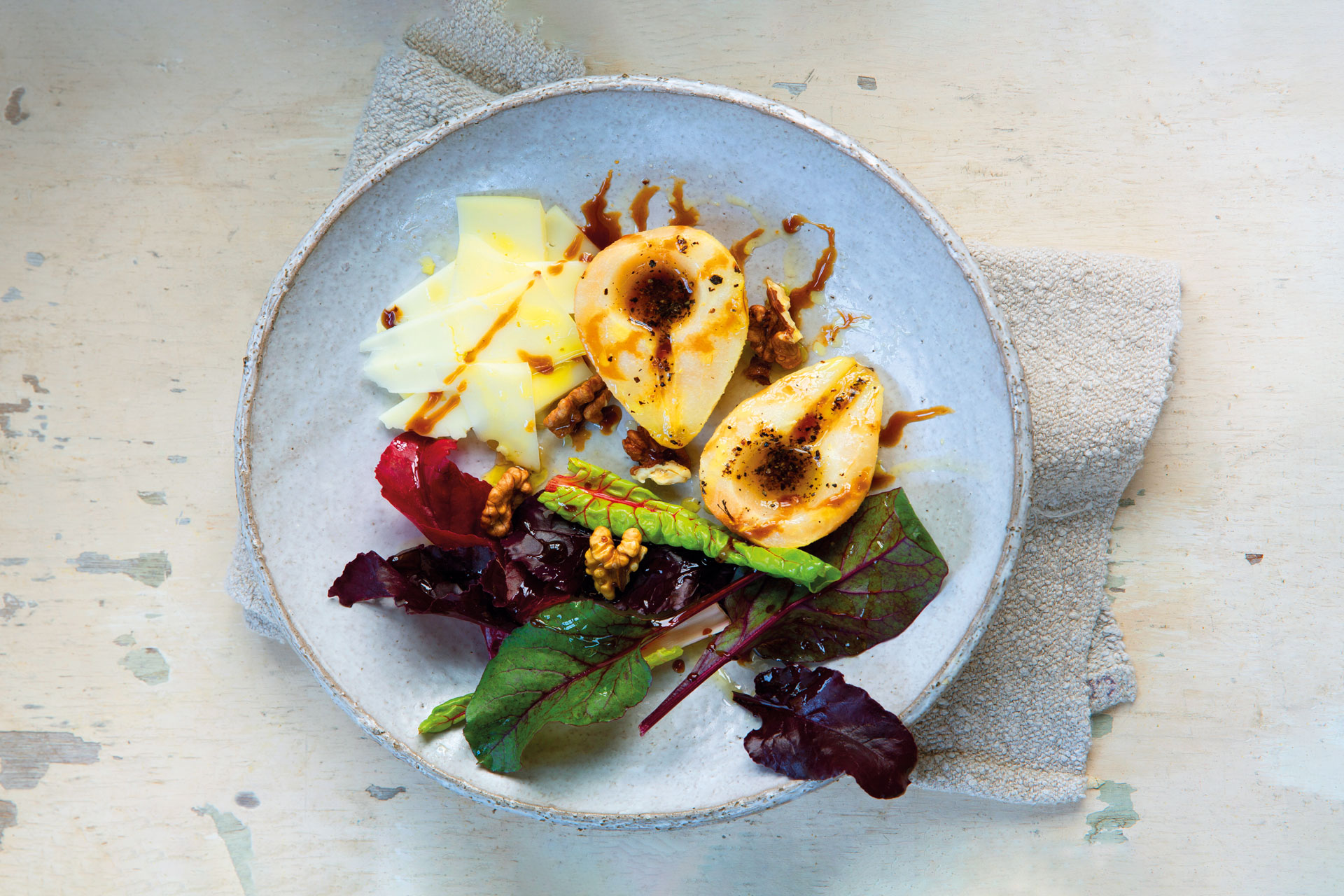 Recipe: Roasted Peppered Pear Salad with Sheep's Cheese, Honey and Walnuts
---
Combat the hot weather with this fresh salad recipe
This summer, take inspiration from Kew Gardens' new anthology of vegetarian recipes, The Kew Gardens Cookbook – A Celebration of Plants In The Kitchen. The book celebrate fruits, nuts, vegetables, funghi and grains, and their potential to broaden our palates and regenerate biodiversity. Here we share one of the recipes, created by Kew's Kitchen Gardener, Helena Dove.
Recipe: Roasted Peppered Pear Salad with Sheep's Cheese, Honey and Walnuts
This is a simple but impressive starter that relies on top-quality ingredients. Peppercorns are particularly important – Wynad or Tellicherry from Kerala, southwest India, are the Rolls Royce varieties. Both have complex rich fl avours and warm but not biting heat.
Serves 4
Ingredients:
2 large pears, Conference or Fiorelle

1⁄2 level tsp sea salt flakes, plus extra for sprinkling

1⁄2 level tsp good quality black peppercorns

2 tsp mild clear honey, plus extra for sprinkling

1 tsp extra virgin olive oil, plus extra for sprinkling

Juice of 1⁄4 lemon

6 tbsp water

4 small handfuls baby chard leaves or beet leaves

100g hard sheep cheese such as Lord of the Hundreds, Herriot Farmhouse or Swaledale, thinly sliced

8 shelled walnuts, halved

Aged balsamic vinegar or pomegranate molasses
Method:
Preheat the oven to 180°C. 

Slice the pears in half length ways and remove the cores, interior stem and peel.

Place cut side up in a small roasting tin. 

Combine the sea salt flakes and peppercorns, and lightly crush using a pestle and mortar. Sprinkle the mixture into the cavities of the pears, then spoon the honey over the top. 

Sprinkle with the olive oil and lemon juice.

Pour the water into the base of the roasting tin. Roast for 20–30 minutes, turning the tin halfway, until the pears are beginning to brown at the edges. 

Move them to a plate, pour over the juices from the tin and leave to cool.

Divide the chard or beet leaves between four plates. Place a warm pear half on top with a few slices of sheep's cheese. Scatter the walnut halves, then sprinkle with more honey, a few drops of extra virgin olive oil, some crumbled sea salt flakes and a dribble of sticky aged balsamic vinegar.
Recipe from The Kew Gardens Cookbook – A Celebration of Plants In The Kitchen
MORE RECIPES: