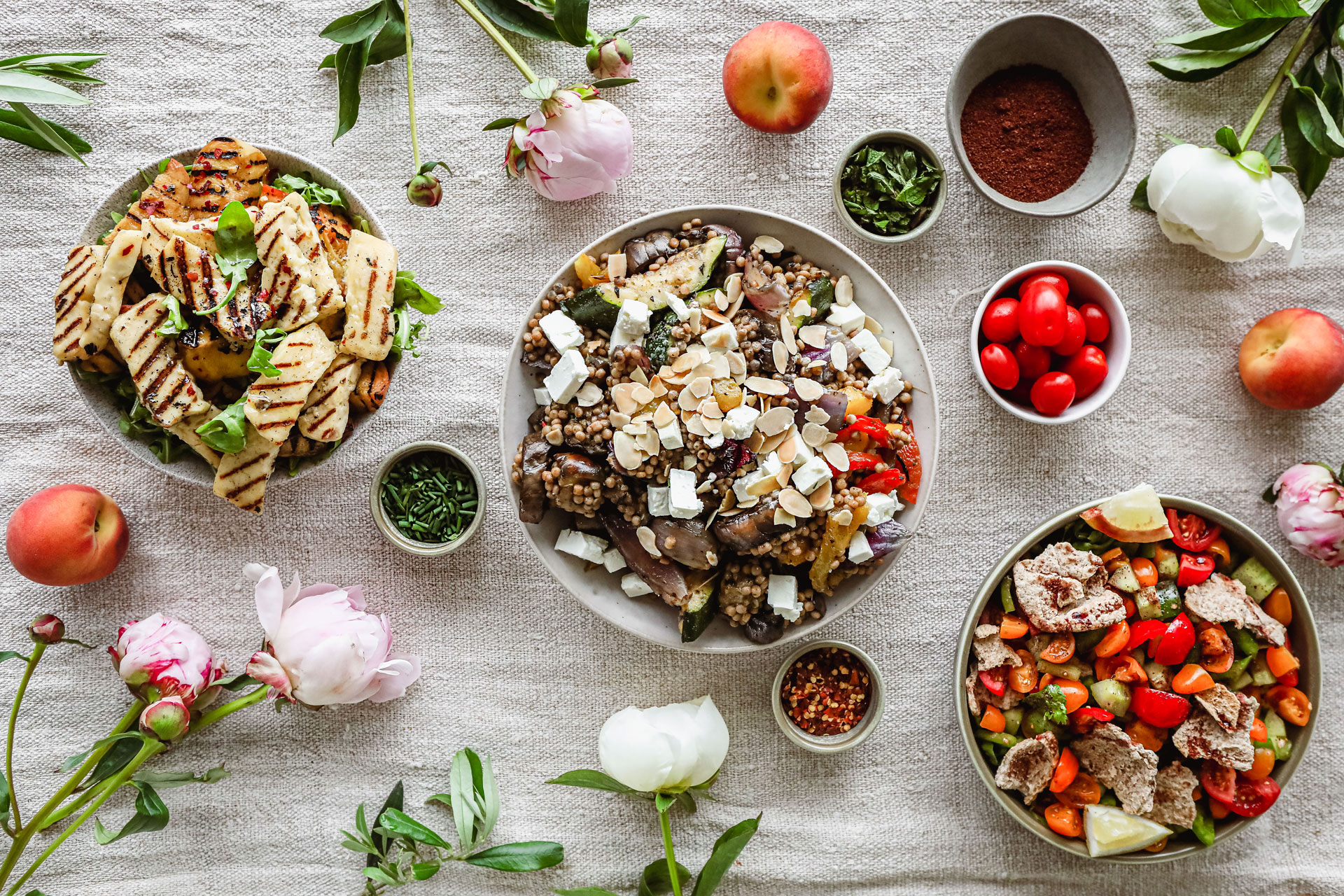 3 Mediterranean-inspired Salads For Summer
---
Teleport to sunnier climes through your plate
Looking for lunch inspiration? Healthy chef, model and advocate for holistic living Karen Koramshai shares three Mediterranean-inspired salad recipes for summer to brighten up your week. Now all we need is the weather…
3 Mediterranean-inspired Salads For Summer
Grilled vegetable, giant couscous and feta salad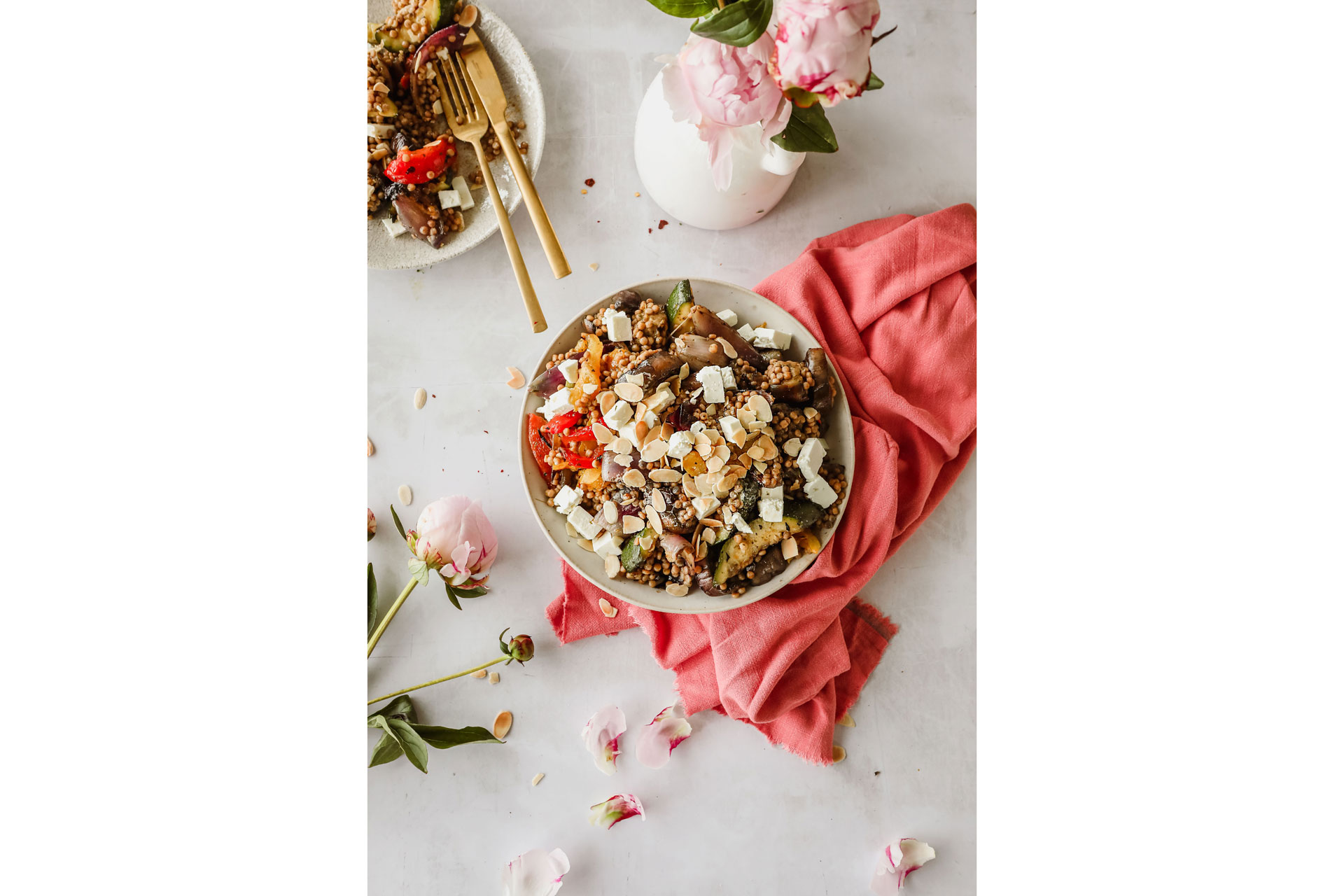 Serves 4 as a main course
This makes a great summer main course salad as the whole-wheat couscous makes it very satisfying without being heavy. If you can, try barbecuing the vegetables as it adds a lovely smoky flavour to the salad.
Ingredients:
200g whole wheat giant couscous
1 large courgette
1 large aubergine
1 red pepper
1 yellow pepper
1 large red onion
100 grams organic feta
1 tablespoon toasted flaked almonds
A little olive oil for grilling the vegetables
For the dressing:
Small bunch mint
Small bunch coriander
Small bunch flatleaf parsley
½ teaspoon each of cumin and smoked paprika
250 ml extra virgin oil
Juice of ½ lemon
Salt and pepper
Method:
Preheat a barbecue or ridged grill pan. Cook the couscous according to the instructions on the packet. Rinse in cold water and tip into a large serving bowl.
Cut the vegetables into medium sized chunks, brush with olive oil and grill until well charred and cooked through. Add to the serving bowl.
To make the dressing put all the ingredients into a blender and blend until smooth.
Pour half of the dressing onto the salad and toss well. The rest of the dressing will keep for a week in a sealed container in the fridge (Its delicious served on fish or steamed vegetables)
Crumble over the feta and scatter over the toasted almonds. Tear over a few more herbs and serve.
Grilled peach and halloumi salad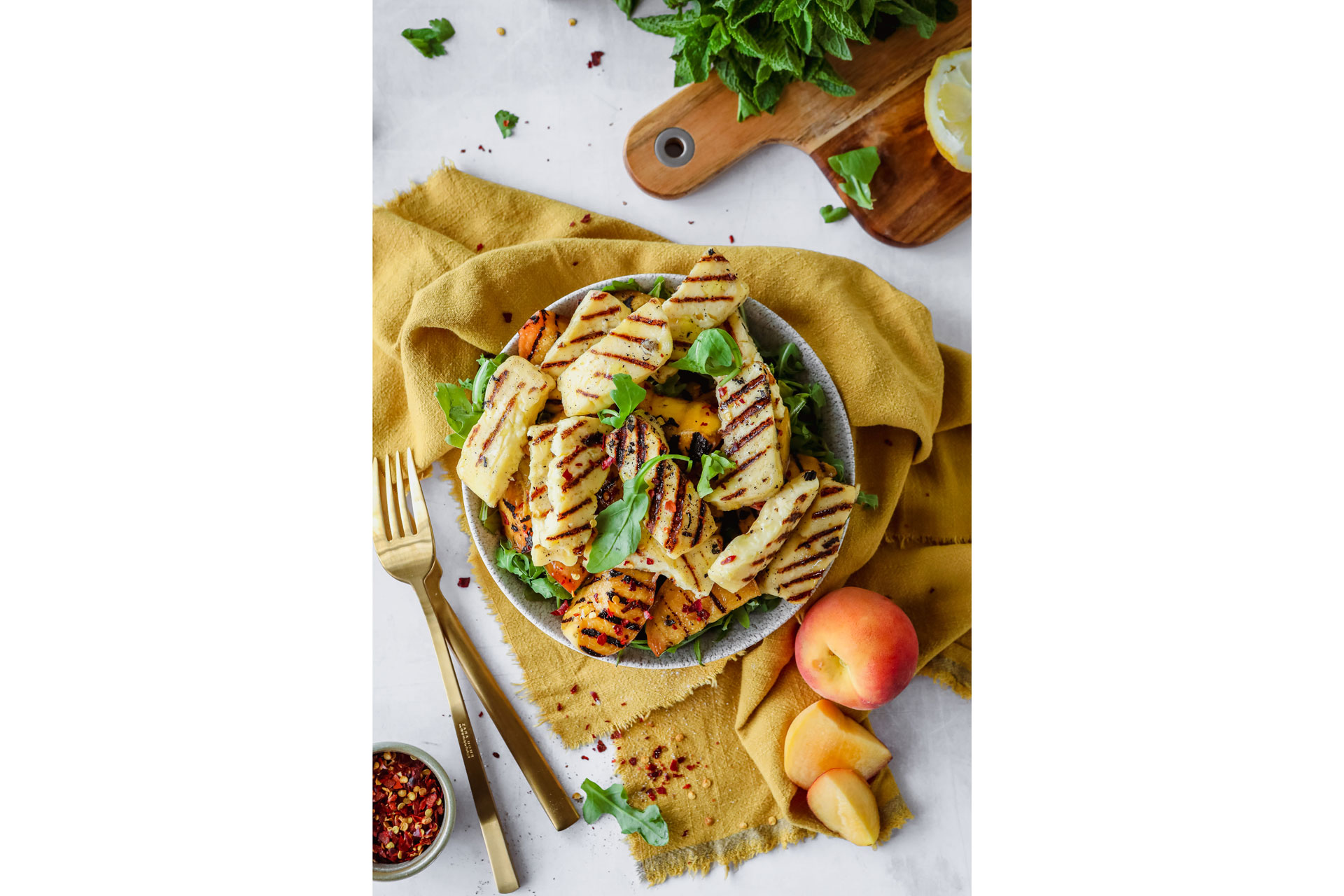 Serves 4 – 6 as a side dish
This is a real summer favourite of mine. When the peaches are ripe and in season there is just nothing better to pair them with than some tangy halloumi cooked on a hot grill! Eat this salad as soon as you have cooked the halloumi and peaches as it tastes best slightly warm.
Ingredients:
250gm block halloumi cut into thick slices
3 ripe but firm peaches
A small bag of wild rocket
A small handful of torn mint leaves
Olive oil
Juice of ½ lemon
A pinch of chilli flakes
Method:
Pre-heat a ridged grill pan.
Cut the peaches in half and remove the stone. Then cut in half again to give you 12 pieces.
When the grill pan is very hot (if it isn't really hot everything will stick to it) Grill the peach quarters first and then the halloumi. Arrange the rocket on the base of a serving platter and top with the peaches and halloumi. Squeeze over the lime, drizzle with olive oil and scatter over the mint leaves and chilli flakes.
Fattouche Salad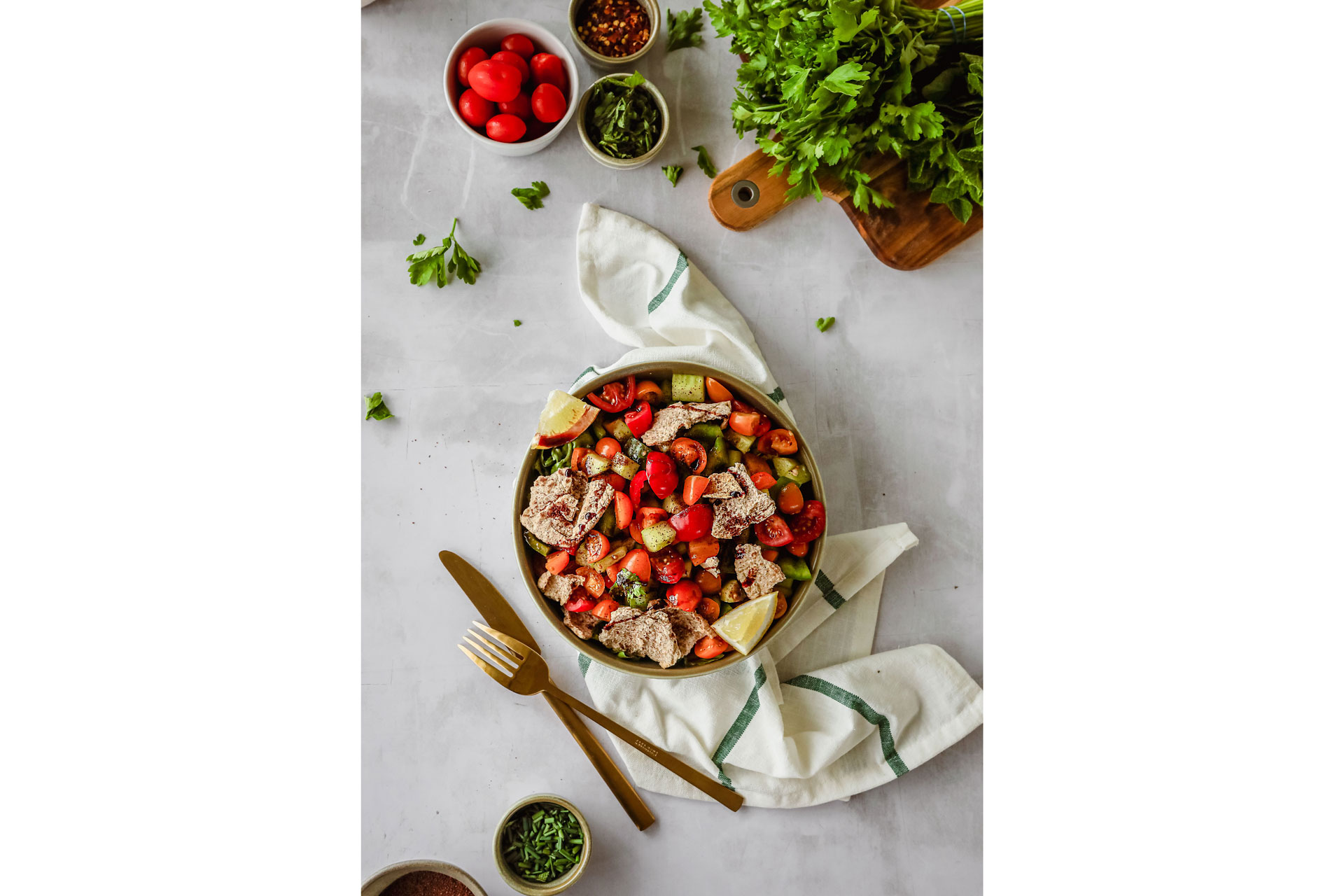 Serves 4 – 6
Fattouche is a traditional Middle Eastern chopped salad. I serve it throughout the summer when the tomatoes are ripe and full of flavour. Be warned though, the combination of crunchy pita, sweet and sour pomegranate molasses and lemony sumac is highly addictive!
Ingredients:
250g mixed cherry tomatoes cut into quarters
1 large cucumber, peeled, deseeded and cut into small cubes
1 red onion finely sliced
1 bunch radish thinly sliced – optional
2 wholewheat pitta breads toasted and crumbled*
1 teaspoon sumac
Juice of 1 lemon
2 little gem lettuce roughly chopped
1 tablespoon pomegranate molasses
Small bunch each of mint, coriander and flat leaf parsley, roughly chopped
Salt and pepper
Method:
In a large serving dish toss the tomatoes, cucumber, red onion and radish (if using) with the herbs and little gem. Scatter over the pitta bread, toss lightly. Squeeze over the lemon, scatter over the sumac and drizzle with the pomegranate molasses.
*The best way to get the pitta breads really crisp is to place them in a hot oven for 5 minutes. Remove from the oven and split them in half before returning to the oven until very crisp.
MORE RECIPES:
Cauliflower and Kefir Dip / Wild by Tart's Strawberry Sorbet