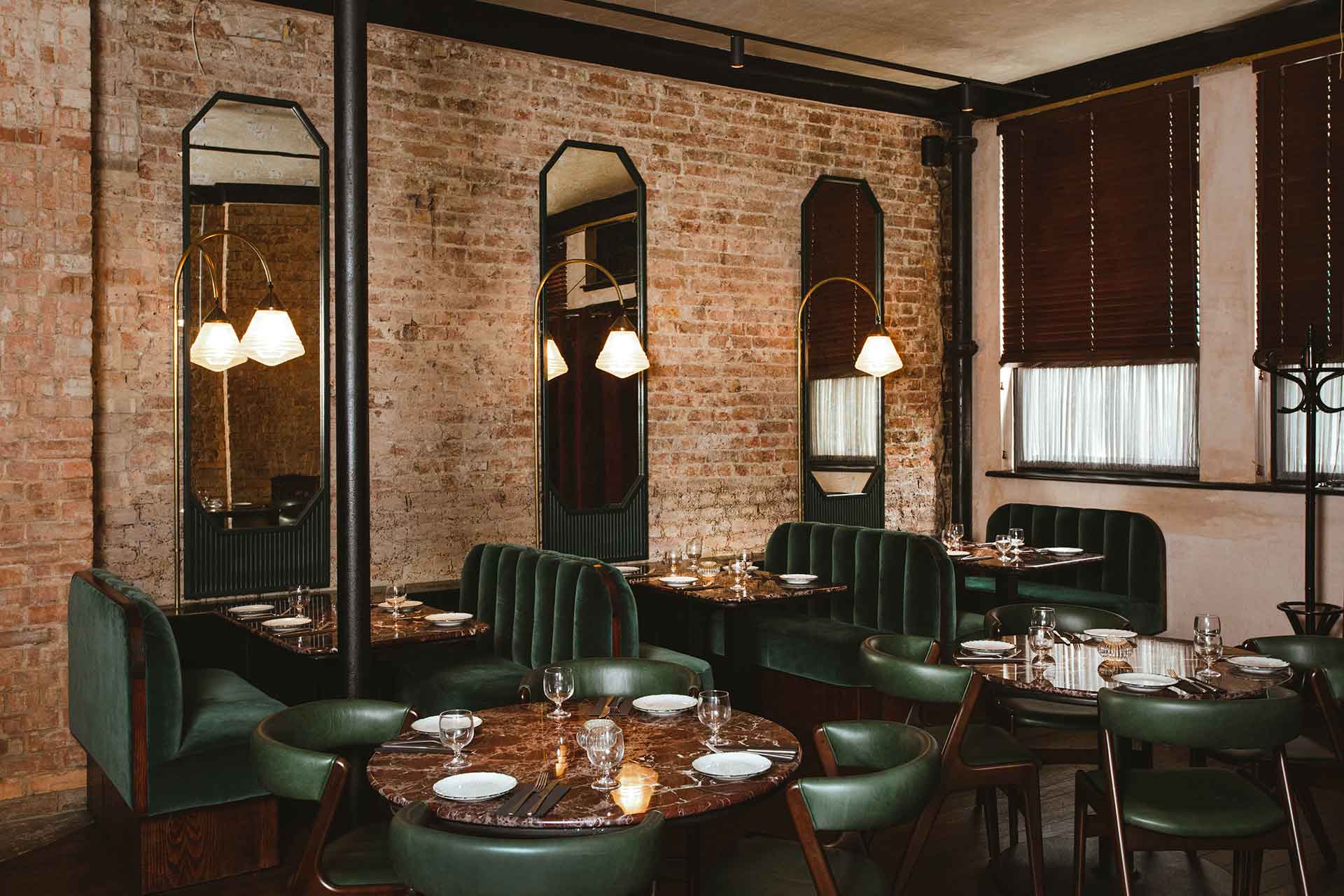 Restaurant Of The Week: Kudu Grill Peckham
Sizzling and smoky South African supper in the heart of Peckham
If you still think of Peckham as the backdrop to Only Fools and Horses – think again. With rooftop cocktail bars and open-air cinemas, this South London postcode is fast becoming one of the trendiest places in town. Two people putting it on the map are Amy Corbin and Patrick Williams, who's family of Peckham-based South African eateries Kudu Collective have been pulling in diners since 2018. The latest addition to the gang Kudu Grill is a love letter to the art of braai (or open coal South African barbeque) – and what a tribute it is.
Restaurant of the Week: Kudu Grill
Discretely housed in an old pub, Kudu Grill has a secret, underground feel about it. Stepping through the heavy black drapes is like stepping into a speakeasy bar. Candlelit marble tables, emerald velvet benches, exposed brick walls and burnished mirrors only add to the effect. If this wasn't all sexy enough then the sizzle of the red-hot braii and the flare of flames behind the bar is sure to get you fired up.
Still not feeling the heat? Settle into your booth and order a red hot Saffa-Rita (a margarita dusted with chilli powder) or a smoky Braai Negroni. For something a bit more local, they also serve Peckham IPA's.
Once drinks are up its time for snacks and starters, of which there are a sizzling selection. Get an early taste of the infamous braai with grilled padron peppers and peri peri prawns, or go full South African with some Farmer's spiced biltong. Beef tartar comes piled high with crispy shallots and the fresh Irish oysters are dressed with tomato dashi and trout roe. But the star of the show are the fried pigs tails: bite-sized balls of crackling which arrive at your table piping hot and dripping in honey mustard glaze. Now that's finger licking good.
Then it's on to the main event. There's an assortment of veggie, fish, meat and sides, all cooked over the braai flames (even the gem lettuce comes blackened and charred). The cauliflower is melt in the mouth and acacia honey poussin is a sticky, succulent delight. But this is a laid back, cool-as-they-come restaurant, and the hottest mains are the ones made for sharing. You won't find better date food than the beautifully butterflied black bream, or the T-bone steeped in beer pickled onions and sweet treacle bordelaise. Saw off the bone and soak up the juice with beef fat crispy fingerlings or a smoked pomme puree. Beef lovers – eat your heart out.
If you've still got space, it's time to cool off with desert. The MelkTert choux bun comes perched on fragrant jasmine ice cream, and the peppermint crisp chocolate tart is surprisingly refreshing. These are light, palate cleansing deserts – but after all that sticky sauce and grilled meat, you wouldn't want anything else. Even if you are feeling a little overindulged when you emerge, blinking, from the dimly lit dining room, don't worry – it's nothing the fifteen minute walk to Peckham Rye station can't sort out.
Like it's older sibling restaurants, Kudu Grill has been roundly praised – and for good reason. The staff are chatty; the setting is sultry; the food is mouth-wateringly good. If you've been looking for a reason to get down to Peckham – this is it. Only fools would miss out.
BOOK:
More ROTW:
Plants by De / No. Fifty Cheyne