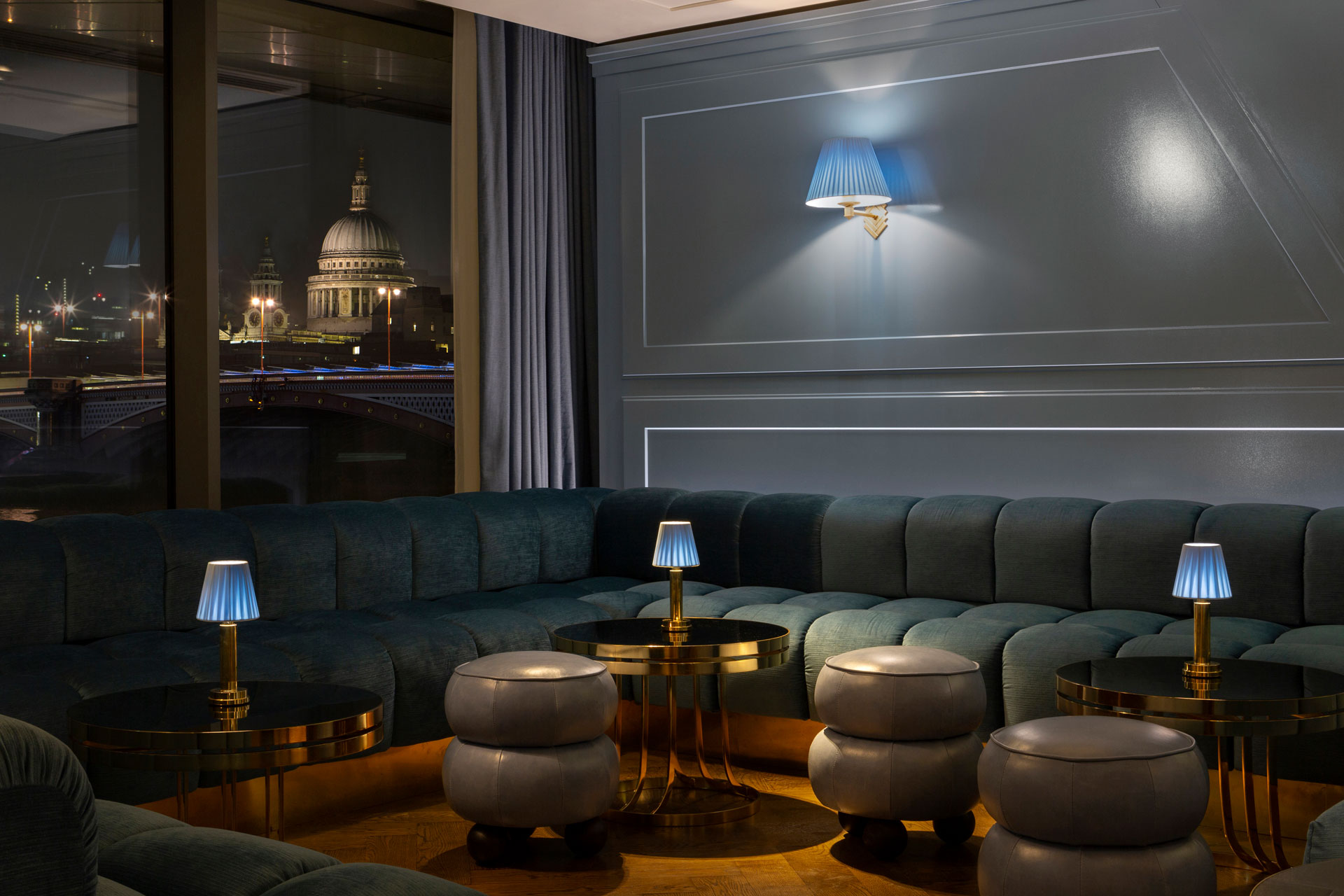 Review: Lyaness Bar, Waterloo
Located in the iconic Sea Containers hotel
Lyaness was recognised as one of the world's best bars in 2019, and it's still serving up a brilliant cocktail. Tessa Dunthorne takes a peek behind its (well-stocked) bar. 
Bar Review: Lyaness Bar – Is It Worth It?
Slink into Lyaness bar, which sits plum on the ground floor of the iconic Sea Containers hotel, and you'll feel immediately transported into a luxury yacht. Or a retro-futurist port of a ship. Or simply a very chic bar straight off the set of Mad Men. There's a sense of something quite magical in this space, and the electric blue walls promise to hold stories. And any good bar should be telling stories, shouldn't it?
We come in on a Thursday night, already armed with some knowledge that this should be good – Lyaness comes in at a smooth no.39 in the World's 50 Best rankings of bars in 2019, so the drinks have a reputation to live up to. Guided to plush armchairs, though, we weren't quite prepared to see our expectations so completely blown out of the water. 
Indeed, Lyaness is absolutely the kind of bar you go to for a story. From the get-go, you'll be spun tales – as we sit down, we're presented a menu that is almost storybook. Ryan Chetiyawardana, the bartender behind Lyanesses international rep, has curated the 'Ancestral Cookbook', which aims to explore the foods and flavours that have shaped humanity's cultural outlook across time. In practice, this celebrates five main ingredients which form the base of each drink. The bar team guides you gently through this by bringing you an Alice in Wonderland array of vinegars, ferments and flavours to dab, sniff and lick. 
In all, there are 15 drinks on the menu, and they cater across a spectrum – sweet for the sugar-obsessed among us, and bitter for the grown-up drinkers who love a strong flavour. And each cocktail is accompanied by a tale. The 'Rapoport', a rich gin based drink flavoured with tree caramel and plum, is inspired by the forest in Chernobyl – the idea being emerging life in an area so otherwise destroyed. The new life? The drink contains a three-times fermented champagne yeast, summed up in the menu as 'a tonne of micro-organisms'. It is brilliant. 
The unexpected is charming in Lyaness. Every cocktail changes almost sip by sip, demonstrating the real skill from the bar team in creating layered flavours. And the drinks all break the classic cocktails formula, often quite hard to pin down exactly what you're drinking which is fun and challenging. The 'Third Space Shandy', for example, has all the flavours of an IPA and a glass of bubbly, and yet somehow contains neither of those ingredients. 
A special mention also needs to go to its bar snacks – in particular the jalapeno topped crab on toast keeps with a wider underwater vibe and will also anchor your stomach (lest these cocktails go straight to your head). 
Of course, the drinks are definitely still the main attraction, with the food menu the support act for the craftship going on behind the bar. Ryan Chetiyawardana has created an inventive cocktail offering that provides mystery and intrigue and purpose to all of its recipes – without compromising on taste. And the interiors are just so damn cool. 
FINAL WORD
A slinky, sexy bar from which you can spy St Paul's Cathedral – and try some of the world's best cocktails. This bar is absolutely worth a visit for a creative, tasty tipple that comes with a tale.
BOOK