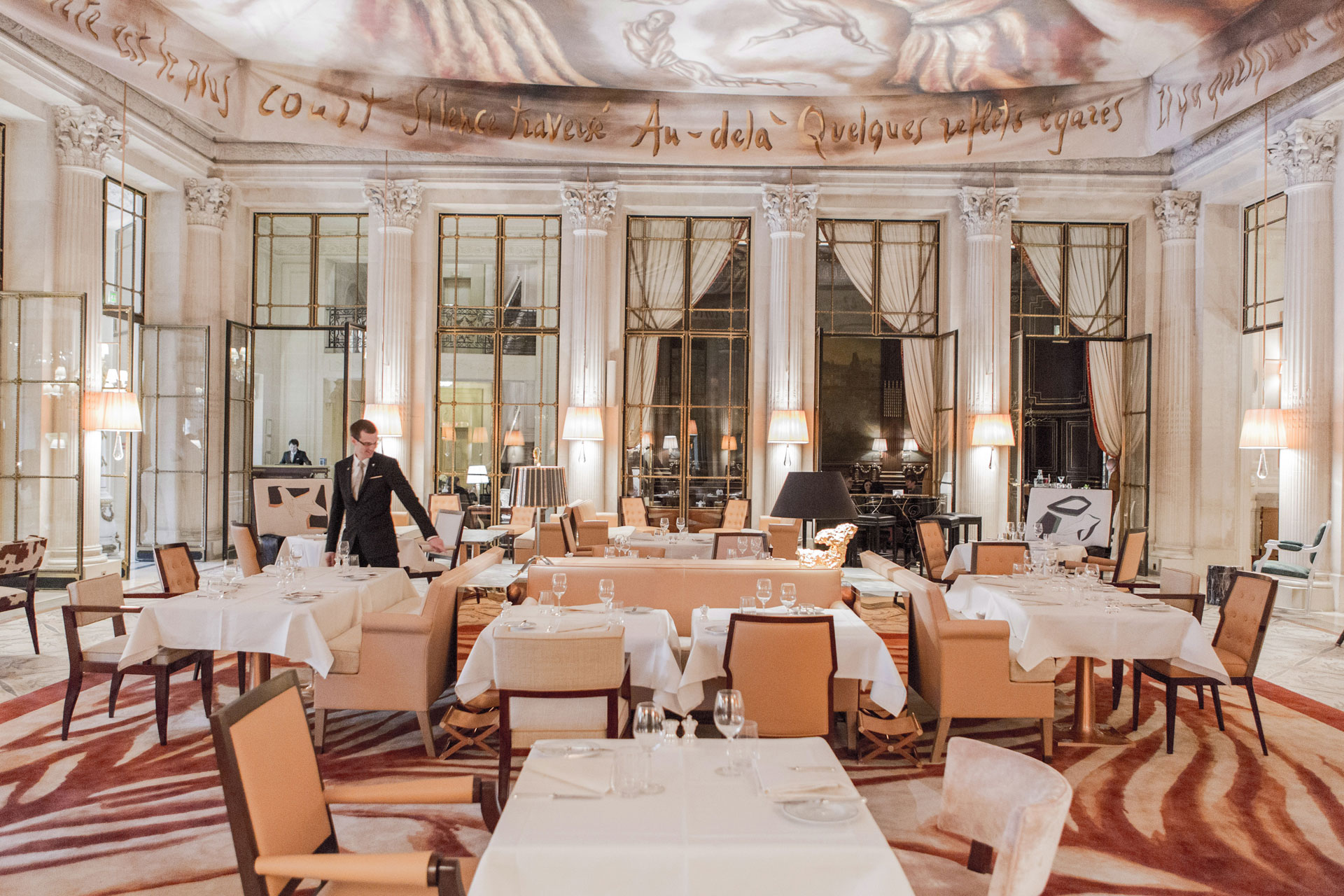 Review: Restaurant Le Dalí, Paris
---
Old-school Parisian opulence with a quirky edge
Headed to Paris for a winter getaway? A trip to Restaurant Le Dalí should be part of the itinerary
From Queen Victoria to Jay-Z, Parisian hotel Le Meurice has hosted an endless stream of famous faces in its 200-year history. But perhaps the guest with the most enduring influence is Salvador Dalí. For over three decades, the surrealist artist would stay there for at least one month per year, keeping the hotel team busy with suitably eccentric requests. As legend goes, he once ordered staff to bring a flock of sheep to his room. Upon arrival, he took out his pistol and shot at them – but, thankfully, the gun was filled with blank bullets.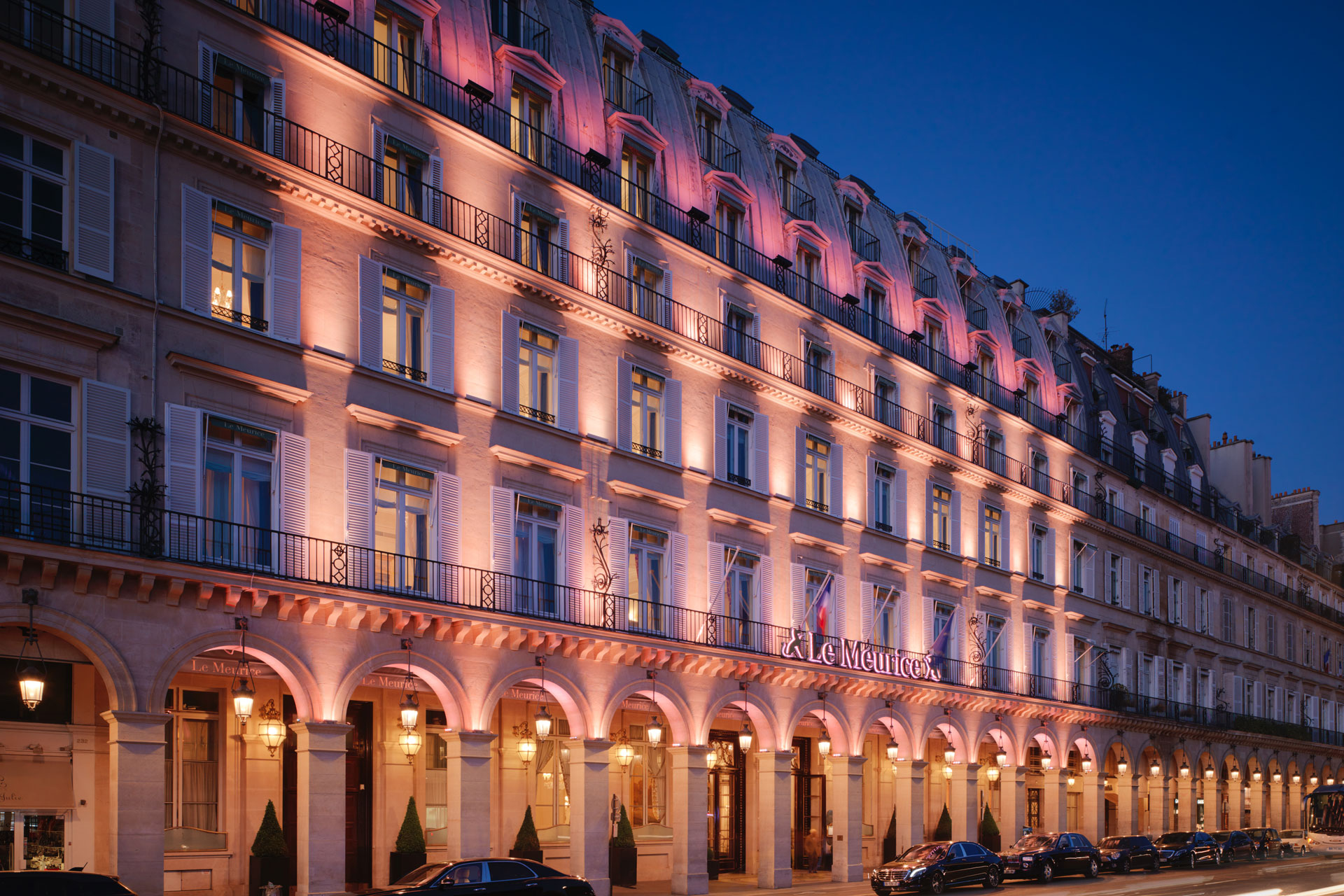 Nods to Dalí are seen throughout the hotel, but particularly so in the restaurant that's named after him. Restaurant Le Dalí is one of two dining rooms at Le Meurice, one of the most famous, historic and beautifully designed hotels in Paris, set just off the Tuileries Garden.
It's the (slightly) more casual sister of the rococo-style, Michelin-starred Restaurant Le Meurice – yet its own grandeur cannot be underplayed. Le Dalí is a grand, gilded space designed predominantly by Philippe Starck. With gold and ochre hues, high ceilings and mosaic floors, the interiors here ooze Parisian glamour, with whimsical touches paying homage to its namesake. The ceiling, for instance, features a hand-painted canvas by Starck's daughter, Ara, showcasing a series of dancers with four intricately stitched triangular panels. Elsewhere you'll find mismatched chairs, pops of colour, hanging lamps and a slanted mirror.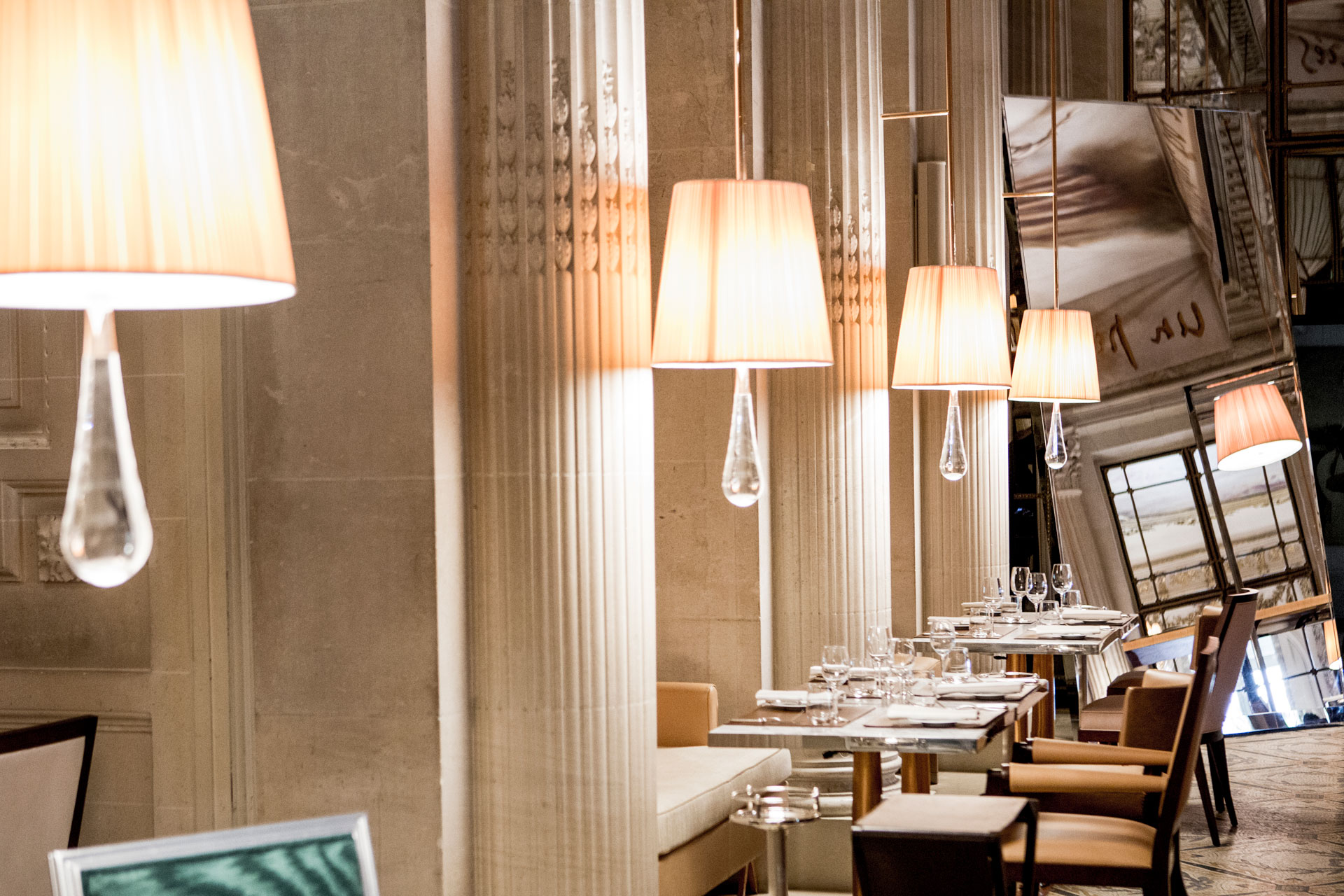 The kitchen is overseen by Amaury Bouhours, executive chef of Le Meurice, with a menu focused on French classics and Mediterranean dishes. A farm-to-fork philosophy runs throughout, with hyper-seasonal ingredients dictating the ever-changing menu, and 95 per cent of produce sourced from local suppliers. 'My greatest inspiration is the seasons,' Amaury tells us. 'I adapt my menus according to the products. Sometimes I don't have any inspiration, but when a grower comes to the hotel to present me his latest harvest, it gives me an idea for the next menu.'
This winter, that involves lots of root vegetables, paired with seasonal meat and fish such as scallops from Normandy and pigeon from Mont-Royale. Top-quality ingredients are given a unique twist, jazzed up with interesting flavours and presented with artistic flair. A selection of root vegetables, for instance, are paired with a quince-tonka bean condiment and toasted buckwheat; while cod is served confit-style with kumquat and sesame. In-keeping with the restaurant's splendour, luxurious ingredients pop up throughout the menu too – particularly in the special festive dishes: there's a cookpot of truffled blue lobster, plus oyster served with caviar.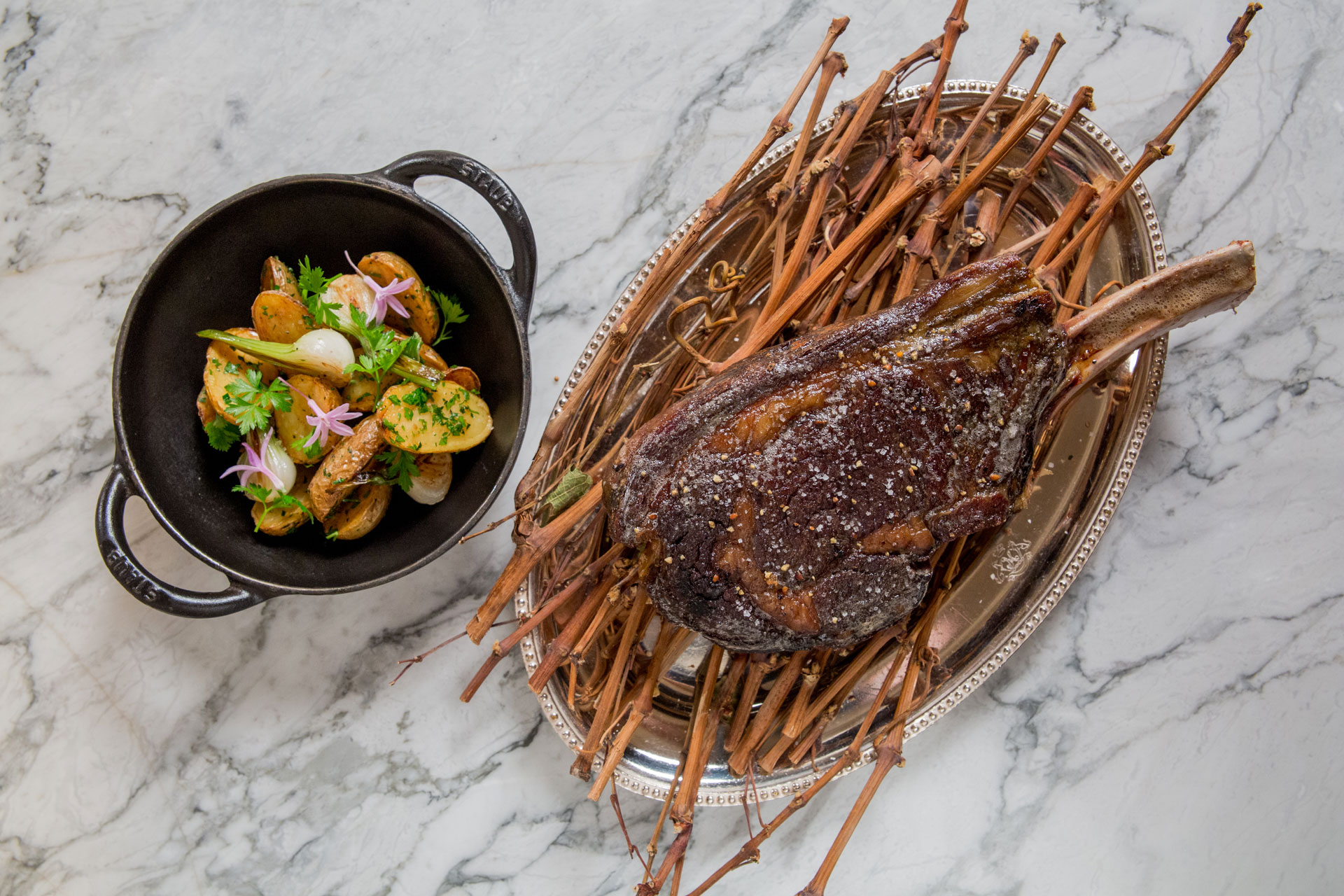 More traditional French dishes, meanwhile, include veal shank – Amaury's recommended dish – as well as gourd ravioli with a blue cheese sauce, and a cookpot of shellfish rice from Camargue. There's also a showstopping beef rib tenderloin, designed to be shared between two.
For the final course, you can't go wrong with the cheese – but the sweet treats are pretty special too, created by esteemed pastry chef Cédric Grolet. He's also the name behind the restaurant's stellar afternoon tea offering, which features an impressive medley of pastries made with interesting flavours like cashew nut, chestnut, mandarin and yuzu, alongside teas from connoisseur Lydia Gautier.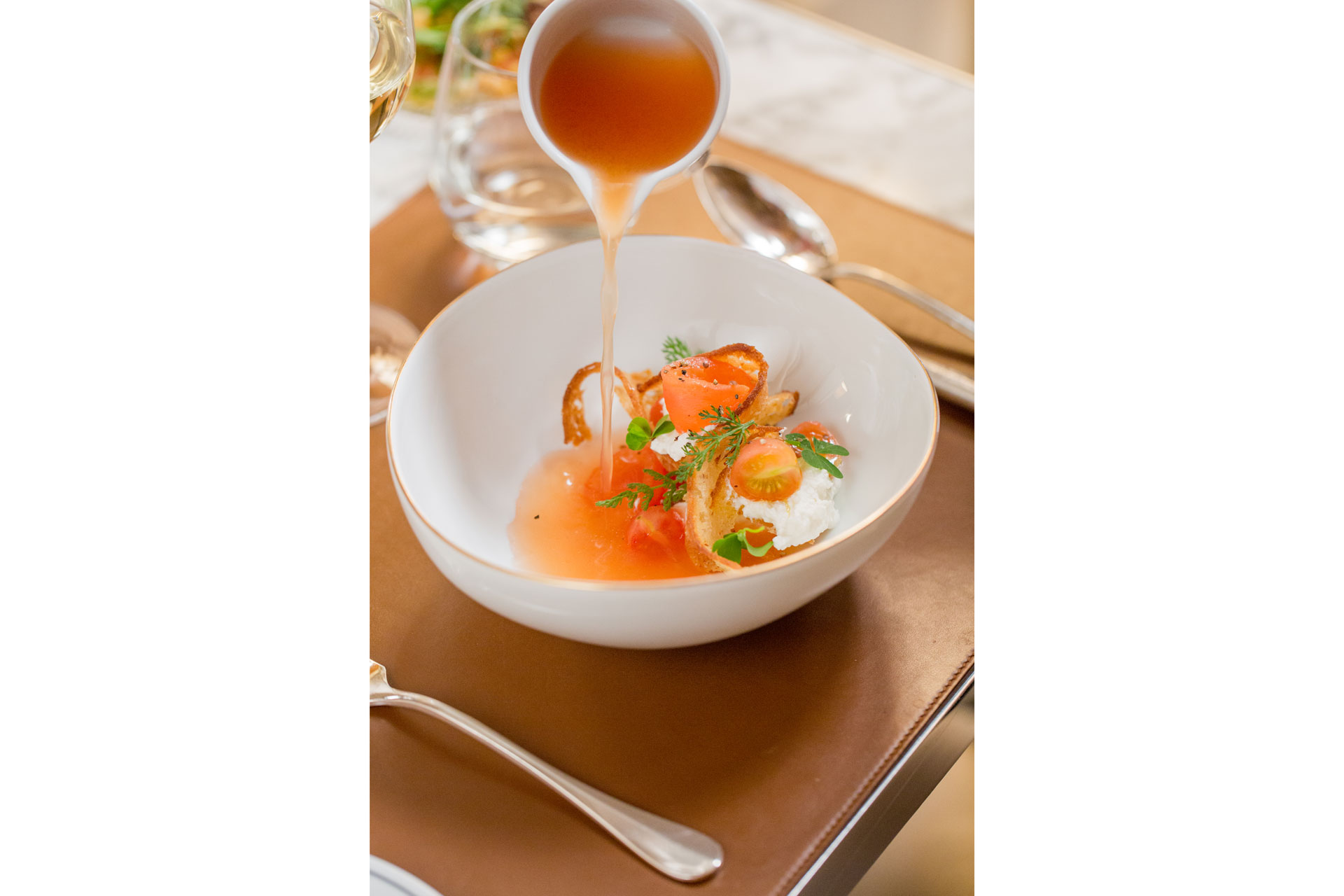 A top sommelier will guide you through the large wine list, and if you fancy a post-dinner cocktail head to the adjacent Bar 228, a chic library-style hangout with deep leather armchairs and live jazz.
Returning to the real world is a painful bump back to earth – but with any luck you'll carry the spirit of Dalí through the rest of your trip. Paris is the stuff of dreams, after all.
BOOK IT:
READ MORE: