Trine Hahnemann bakes an apple alternative to the traditional mince pie. Full recipe below…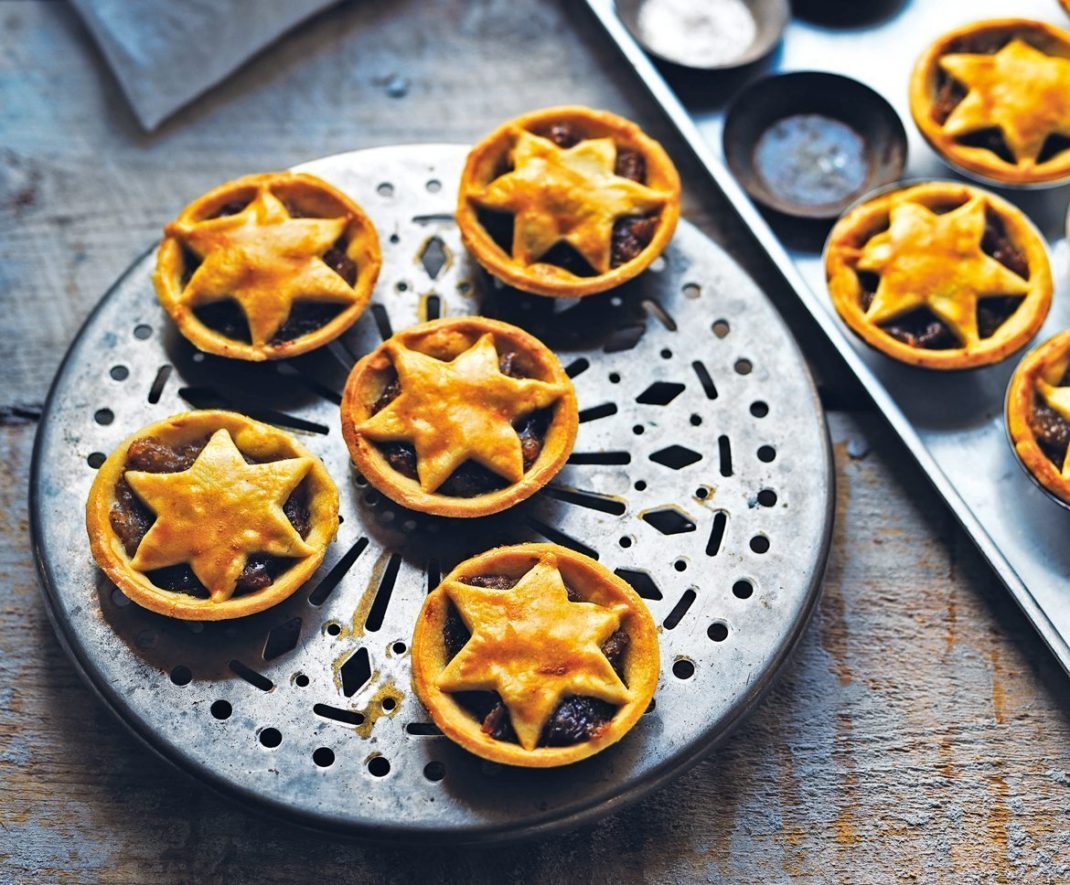 Little Spiced Apple Pies 
"Mince pies are not part of the Scandinavian Christmas tradition. When I moved to the UK for the first time, I had difficulty understanding what mince pies were, because I thought it had something to do with meat. You cannot buy mincemeat in Scandinavia, so back home in Denmark I started making small apple pies inspired by the spicing in a British mince pie." Trine Hahnemann
Ingredients
Makes 20 pies
For the pastry
110g icing sugar, plus more to dust (optional)
340g plain flour, plus more to dust
Pinch of salt
225g butter, chopped and chilled
1 egg, lightly beaten, plus more to glaze
For the filling
400g tart eating apples
100g caster sugar
1 tsp ground cinnamon
¼ tsp ground cloves
½ tsp ground cardamom
½ tsp freshly ground
black pepper
50ml calvados
Method
For the pastry, sift the icing sugar, flour and salt together, then mix in the butter, either in a food processor or by rubbing it in with your fingers, until it has the consistency of crumbs. Add the egg and mix the dough until it is firm and smooth. Wrap in cling film and let it rest in the refrigerator for at least one hour, or overnight if that's more convenient.
Peel the apples, core them and cut into small cubes, then tip into a saucepan with the sugar and spices and simmer for 10 minutes. Add the calvados and let it simmer for five minutes more, then leave to cool.
When the apple mixture is cold and you are ready to bake, preheat the oven to 180°C/350°F/gas mark 4.
Roll the dough out on a floured work surface to 5–8 mm thick, cut out 20 rounds with a 7cm cookie cutter and place them in two non-stick fairy cake tins. Fill with the apple sauce.
Cut out 20 smaller pastry shapes, using a small round or star cutter and place them on top of the apple sauce. Lightly press the rims together and brush the pastry with egg. Bake for 15–20 minutes or until golden brown. Let them cool on a wire rack and dust with icing sugar to serve, if you like.
Scandinavian Baking by Trine Hahnemann. Photography by Columbus Leth (Quadrille, £25)
READ MORE: Trine Hahnemann on hygge, fika and her favourite recipes
---